January 13, 2020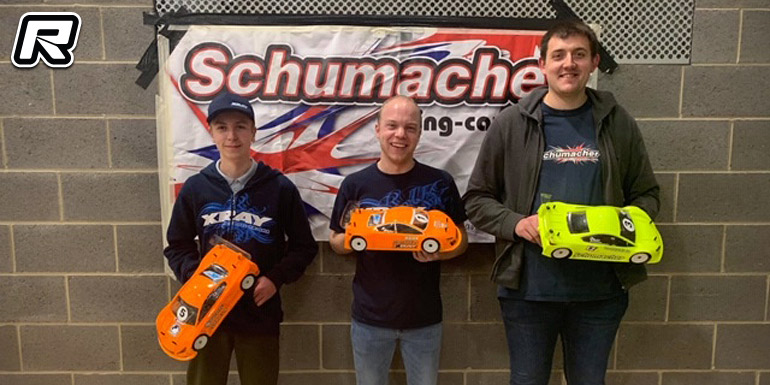 The fourth round of the 2019/20 Schumacher Winter Series presented by the Louth Radio Control Car Club took place over the past weekend. In Touring 13.5T Mitch Fiddling would set the initial pace in the early rounds before a fatal incident would end his day. Chris Lovely would pick up the mantle and take the further three rounds of qualifying with his Xray T4'20. Lisa Keen would find the pace with her Serpent, Alex Brocklebank would fit his Schumacher Mi7 into 3rd. Joseph Cocking debuting his new Yokomo BD10 would sit in 4th, ahead of Callum Chapman with his mid motor converted Xray, Jay Kay would show consistency with his Yokomo, Andrew Twigger would debut well with his Xray making the A-final.
In the single headed final, Chris would lead them away but the melee of the first corner would allow him to get away and have a tone to tone victory. The fight for the podium was fierce throughout the full five minutes. Callum Chapman would jump through the back and hold onto second for the majority of the race, but was hunted down by the experienced Alex Brocklebank with his Schumacher. Lisa would have recovery drive after earlier mistakes, with Joseph Cocking suffer tyre damage and coming home 5th. Jay Kay and Andrew Twigger would be remiss in their starting position rounding out 6th and 7th.
Touring Car 13.5 final result:
1. Chris Lovely – Xray
2. Alex Brocklebank – Schumacher
3. Callum Chapman – Xray
4. Lisa Keen – Serpent
5. Joseph Cocking – Yokomo
6. Jay Kay – Yokomo
7. Andrew Twigger – Xray
In the 17.5 Open class it was returning driver Tom Hardy who would set the early pace with his Schumacher. Harvey Greenfield had TQ runs but the tie break fell in Tom's favour. Peter Covell has strong runs to settle into 3rd, Martin Lawson would swap to 17.5 class for this round and would have a solid showing with his Serpent. Chris Chapman and Richard Howells would take 5th and 6th respectively with their Xrays. A debut A-final for Ian Taylor, who was debuting his Schumacher Mi7.
The start was busy from the off. Harvey would be able to get a move done on the first corner of which Peter would be able to move through as well. Tom would slip back into 3rd. Plenty of bumping for positions in the lower end of the field. At the front of field Harvey would push hard to create a gap and that would be his undoing as a small mistake would end his race. Peter would take the lead and have issues lapping the field, Tom would have a strong recovery drive and putting the pressure on Peter would make a mistake. Martin Lawson would take advantage and hold 2nd place to the flag behind Peter. Tom would hold 3rd just holding off Richard Howells, in front of Chris Chapman. Ian Taylor would round out the finishers of the final.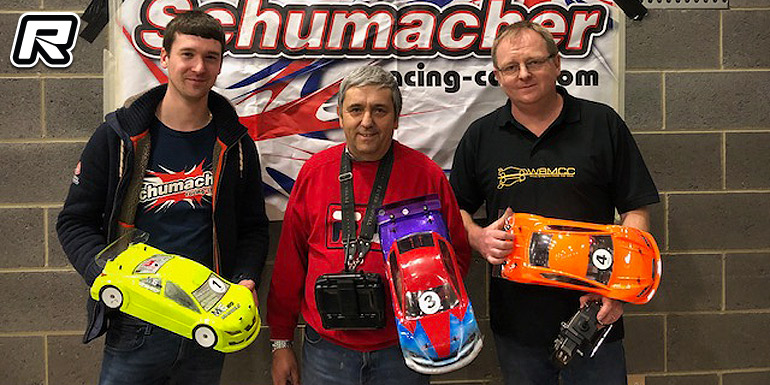 17.5 Open final result:
1. Peter Covell – Xray
2. Martin Lawson – Serpent
3. Tom Hardy – Schumacher
4. Richard Howells – Xray
5. Chris Chapman – Xray
6. Ian Taylor – Schumacher
7. Harvey Greenfield – Xray
The Tamiya Euro Truck class saw a depleted class for this round, none the less there was great track action. With everything near to kit, it keeps these cars simple and easy for the drivers. Callum Chapman would continue with his dominant form he has shown all season long to take the top qualifier spot. Richard Howells would be his closest competitor holding 2nd place, Simon Babb would have a strong showing to 3rd, and Matt Dutfield would round out the low number of entries in this class.
The final was a simple affair, a clean start from all the drivers and things would remain throughout the race. Each driver would be separated by a lap, meaning a comfortable race for each driver. The race would finish the same order as it started.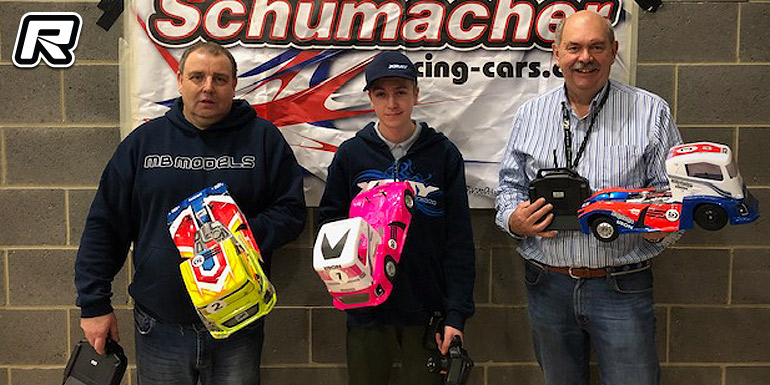 Tamiya Euro Truck final result:
1. Callum Chapman
2. Richard Howells
3. Simon Babb
4. Matt Dutfield
In the MTC and GT12 class, the class that has been new to this season. Due to the fluctuations in numbers these two classes have raced side by side, but this meeting would allow both to have a heat to themselves. GT12 was business as usual in the class, Chris Whiteside has been the dominant force all season long, but competition last time out was a set back for him. He would return to the dominant form to take the spot, Craig Illingworth would push him hard but would settle for 2nd, Paul Vincent would round out the GT12 runners.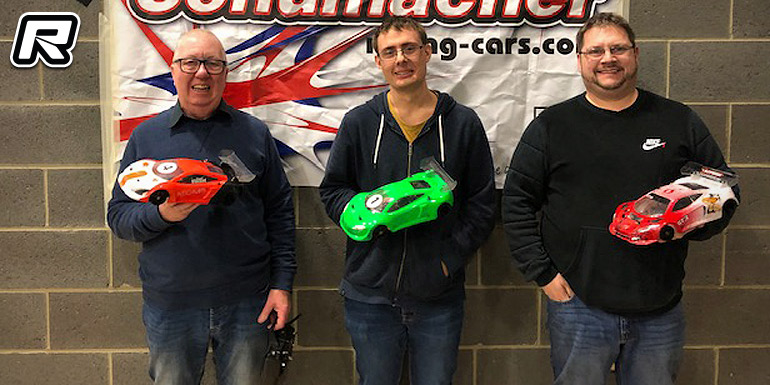 GT12 final result:
1. Chris Whiteside – Schumacher
2. Craig Illingworth – Schumacher
3. Paul Vincent – Schumacher
In the MTC/Tamiya class a few additional entries would shake up the class. Lisa Keen set the initial pace with her Xpress chassis, Simon Babb would show strong with his 2WD Tamiya. Lee Ward has lead the way all season long, would encounter problems this time out and bring home 3rd, John Yarnell would also encounter issues on his debut run with Xpress.
The final would see both classes come together. Chris Whiteside would lead away, but he pushed hard by Lisa and her MTC Xpress. The race was close to its conclusion and one mistake was Lisa's undoing as she pushed for victory. In the end she would settle 2nd behind Chris. Craig would have lonely race to 3rd, he would be within reach of the leaders but never close enough for challenge. Lee Ward would recover with his Xpress MTC to 4th, Paul would push him hard with his GT12 but not have enough for a pass. Simon would show well with his Tamiya chassis but not have the pace to fight the faster cars in the final. John would sadly not make the final.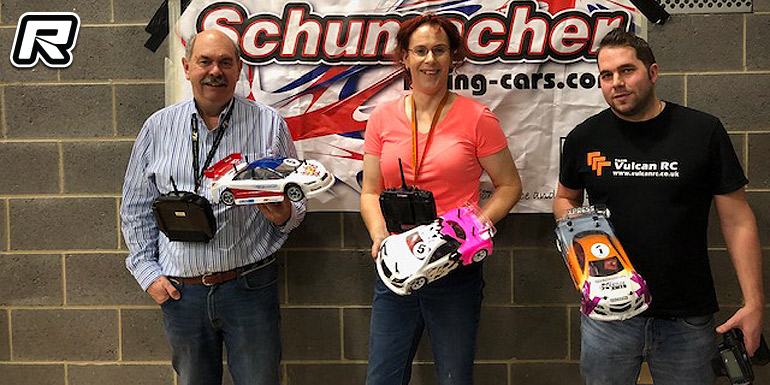 MTC final result:
1. Lisa Keen – Xpress
2. Lee Ward – Xpress
3. Simon Babb – Tamiya
The next event is on February 9th for round five of this tightly contested championship as things get to the business end of the series. All information can be found on the club's social media page and website.
Thanks to Chris Lovely for the report.
---