January 7, 2020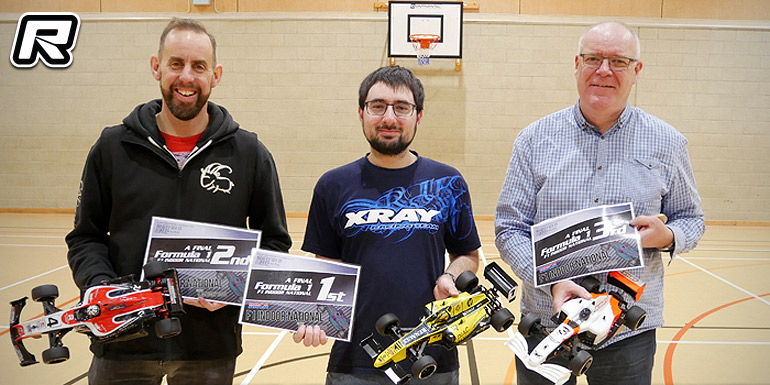 The BRCA F1 Indoor National Championship made its way to the Sheffield RC Racing Club for round 2 of the series last weekend. With championship leader Ben Cosgrove unable to make the meeting it was going to be a round that would shake up the title race. The field were greeted with a fast flowing track that had lower grip levels than the previous round. Major setup changes would be needed to get the new Volante tyres working. With grip levels building up, the first round of qualifying was very open. Stephen Lander was the driver to handle the conditions best and the only one to break into 22 laps. James Greener and Michael Lee weren't far behind though. Round 2 saw another increase in grip and allowed pre-race favourite Michael Lee to take control with a time that was over a lap faster. He continued this strong run in the third round to take the overall TQ. Stephen Lander had just managed to beat Graham to make sure he would be next in line on the grid. James Greener and Lee Carter would be the other hopefuls in 4th and 5th places respectively.
In the A-finals Michael Lee controlled the first leg perfectly, Stephen Lander suffered a poor start that pushed him to the back of the grid. Over the five minute race he managed to pull himself up to third but there was no catching a flawless run to second by Graham Raistrick. In the second leg Michael was surprised by a great move from Stephen which dropped him to second. But Stephen's lead only lasted two laps as Michael executed a perfect move into the centre chicane to take the lead. From there Stephen tried to stay with him but was force to race defensively when Graham started attacking. For half of the race the trio held an impressive train before a back marker got caught up with Graham. The incident allowed James Greener to move into third. As the leg came to an end it left Michael Lee with a very impressive overall win, Stephen Lander as runner up and Graham Riastrick in 3rd.
Top 3 result:
1. Michael Lee (Xray)
2. Stephen Lander (Capricorn)
3. Graham Raistrick (Xray)
The next round of the championship will be at Hinckley RCCC on Saturday 15 February 2020.
Source: BRCA [brca.org]
---