January 28, 2020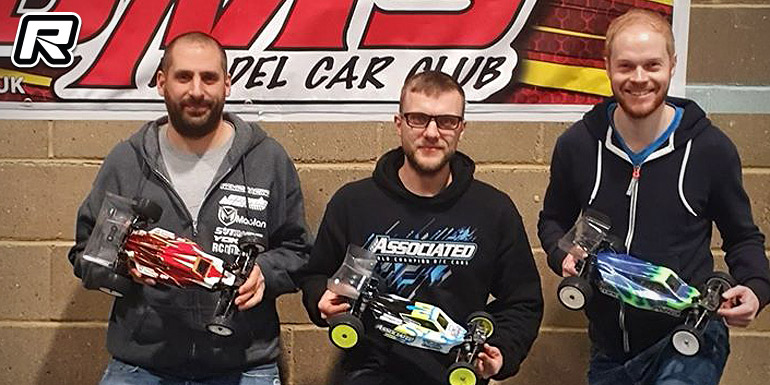 The fourth round of the X-Factory UK Winter Series took place last Saturday, with everyone keen to blow off the cobwebs after the break over Christmas and New Year. A very technical track was laid down for the racers and after all four rounds of qualifying had completed it was Kevin Hunt (Team Associated) who would take the TQ in the 2WD class with his round 3 time, followed by Alex Haywood (Team Associated) in 2nd who narrowly missed out on TQ after a costly roll on the last lap in round 4 whilst flashing for a new fastest time, Joe Renton (Team Associated) completed the AE 1-2-3 for qualifying in 3rd. Simon Hadley (Xray) was in 4th, Lex Cllrke (Xray) in 5th and Richard Miller (Yokomo) in 6th, the remaining A-final spots would be decided as usual via the bump-ups and those who would promote from the B.final.
In 4WD, TQ went to Darren Boyle (LC Racing) who took TQ in round 3, Nick Dale (Yokomo) was in 2nd from Ian Watson (Team C) in 3rd, Sam Breton (Corally) 4th, Luke Barnard (Kyosho) 5th.
The 2WD B-final was a great battle for the lead throughout the entire race between the top five drivers. Gareth Cutting (Team Associated) took the win from P3 with Matthew Gammons (Schumacher) coming from P6 to take the second and final bump to the A-main. Just missing out in 3rd was Mark Keen (Schumacher) who was just a split second behind 2nd place at the finish line.
In the 2WD A-final, pole man Kev Hunt led the field away and despite early pressure, eased his way to a comfortable lead from Alex Haywood in 2nd, however an error late on in the race handed Alex the lead, one which he would not give up, taking the overall win, Kevin came home in 2nd and Richard Miller completed the podium in 3rd from P6 on the grid.
So at the two thirds stage in the series, the series' 2WD top 10's look as follows.
2WD Buggies top 10:
1. Joe Renton – Team Associated – 577 pts
2. Gareth Cutting – Team Associated – 546 pts
3. Lex Clarke – Xray – 526 pts
4. John Renton – Team Associated – 526 pts
5. Charlie Leonard – Schumacher – 503 pts
6. Jason Clarke – Xray – 485 pts
7. allum Boyle – Team Associated – 476 pts
8. Daniel Renton – Team Associated – 455 pts
9. Chris Brady – Team Associated – 454 pts
10. Mark Lewis – Team Associated – 445 pts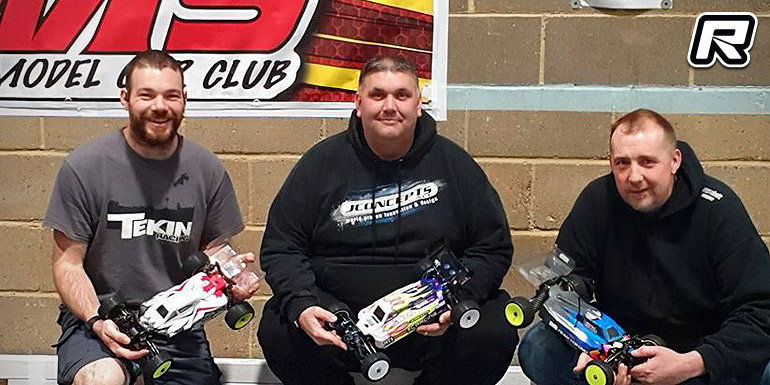 The 4WD A-final was taken by TQ man Darren Boyle with Nick Dale retaining his 2nd place grid start to come in on the runner-up spot. Sam Breton came in 3rd from P4. At the two thirds stage in the series, the series' 4WD top 10's look as follows.
4WD Buggies top 10:
1. Darren Boyle – LC Racing – 595 pts
2. Nick Dale – Yokomo – 444 pts
3. Oliver Szymanksi – Corally – 440 pts
4. Sam Breton – Corally – 437 pts
5. Ian Watson – Team C – 424 pts
6. Jonathan Szymanski – Corally – 287 pts
7. Sam Cook – Xray – 145 pts
8. Luke Barnard – Kyosho – 142 pts
9. Stephen Blake – Team Associated – 139 pts
10.Yoshi Ohmura – Xray – 138 pts
The next round is in 4 weeks time on February 22nd and online booking is now available here.
Source: DMS Model Car Club [dmsresults.co.uk]
---