February 19, 2020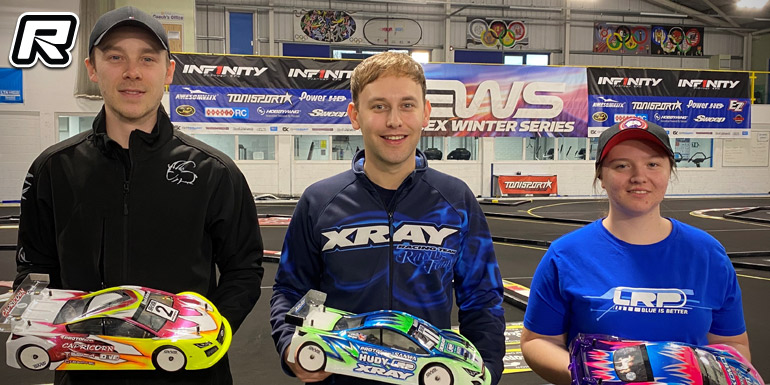 The penultimate round of the 2019/20 Essex Winter Series took place this weekend. With storm Dennis creating some difficult weather conditions around the country, the entry count ended up being a little lower than the usual full sell-out as some people were prevented from travelling. However, the competition was still close and battles for every position were important. Elliott Harper was already within touching distance of the overall Modified championship, but didn't get the event off to the start he would need to secure the title on the day – making a number of mistakes in Q1. This allowed Kyle Branson to take the first round with his Capricorn, just ahead of the Yokomo of Harley Eldridge and the Awesomatix of Chris Grainger. Elliott took fourth, with Billy Fletcher, now confirmed as the Super Stock Champion, switching to Modified for the final events and taking a very impressive fifth in round.

In Q2, Elliott got back to the top of the timesheets, some three seconds ahead of Kyle, with Chris and Harley in third and fourth respectively. Andy Murray, the recently crowned 1/12th Spec World Champion, took fifth for Schumacher. Elliott also topped Q3, with Kyle again around three seconds back. This time, Harley took third, with Chris in fourth and now-privateer Matthew White driving his Awesomatix to fifth. Elliott secured the overall TQ by again putting in the best time in the last qualifier, Kyle again took second with Chris getting the better of Harley this time, with Billy scoring another fifth in round.
With the overall TQ points, Elliott had effectively secured the overall championship title, but intended on rounding out the race with a dominant win. He established a one and a half second gap over the field in the opening handful of laps, and left the others to fight it out for second place. Kyle looked like he took a few laps to get comfortable with his car, allowing Harley and Chris to tail him for the initial minute of the run, before he was able to pull clear and leave them to battle for third place. As the five minutes ran down, Chris was close to Harley but never was able to make a real passing attempt, leaving the top four at the end in the same position they started. Matthew moved up to fifth overall as Billy struggled a little in the finals, unable to back up his great qualifying result on his first real race attempt in the modified class.
Touring Modified final result:
1. Elliott Harper – Xray/LRP
2. Kyle Branson – Capricorn/Hobbywing
3. Harley Eldridge – Yokomo/LRP
4. Chris Grainger – Awesomatix/Reedy
5. Matthew White – Awesomatix/Reedy
6. Andy Murray – Schumacher/LRP
7. Stefan Chodzynski – Capricorn/Hobbywing
8. Aaron Rose – Schumacher/Hobbywing
9. Billy Fletcher – Awesomatix/Orca
10.Lee Woodhams – Capricorn/Trinity
11.John Pape – Yokomo/LRP
In the Super Stock class, we'd get to see a new name at the top of the podium this time as Billy Fletcher, confirmed as champion, had stepped up to the Modified class following his title victory, and his closest challenger, Florian Joos, was unable to attend this round. But the field was bolstered by the return to EWS of Colin Jackson, who duly marked his return with the fastest time in the opening qualifier. Ashley Wiffen was just over two seconds behind in second place, with Tony Broad also making a return to the championship and taking third. Junior driver Adam Southgate took fourth in the round with Ricky Copsey in fifth. In Q2, Tony took his ARC to the top of the pile, beating out team mate Colin by one and a half seconds. Ashley took third with his Awesomatix, ahead of Adam's Xray and Richard King (Awesomatix) rounding out the top five. The third qualifier had Colin taking back the top spot, with Ashley second ahead of Richard and Adam, and Dan Moorey coming from the 'C heat' to take fifth. The last qualifier saw a tight fight between Colin and Tony as they were separated by just one tenth of a second at the end – Colin going quickest and securing pole position. Richard was third, with Nathan Parker taking his Awesomatix to fourth and Adam completing the top five.
In the single leg A Final, the battle from Q4 continued as Colin and Tony were separated by no more than a metre for the entire five minutes. Behind, there was a close fight for third between Ashley and Richard as the top four gapped the rest of the field. But, as in the Modified class, ultimately the top four finished up in the order they started, with Colin taking the win by four tenths of a second.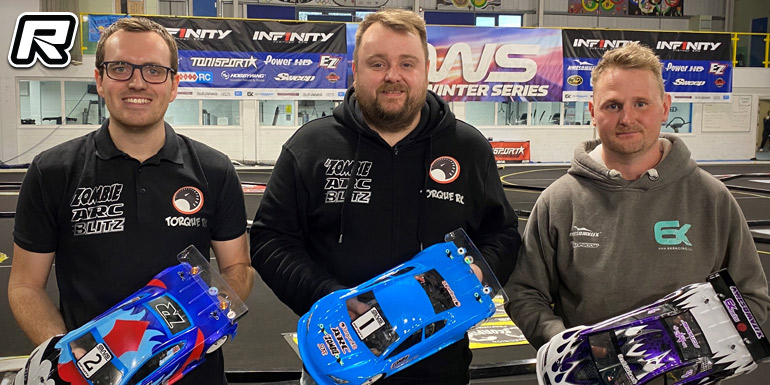 Touring Super Stock final result:
1. Colin Jackson – ARC
2. Tony Broad – ARC
3. Ashley Wiffen – Awesomatix
4. Richard King – Awesomatix
5. Ricky Copsey – Xray
6. Adam Southgate – Xray
7. Dani Young – Awesomatix
8. Jon Gray – Awesomatix
9. Nathan Parker – Awesomatix
10.Gareth Hollis – Awesomatix
11.Dan Moorey – Yokomo
Front Wheel Drive continues to provide fun racing but it still remained competitive. Craig Nutting was in a position where he could secure the overall championship if the points went his way today, and he made the perfect start by taking the first three qualifiers to lock up pole position. Luke Hobson was making his debut in FWD at EWS, and started second on the grid, with EWS team members Mark Caton, Gary Taylor and Paul Hill making up the rest of the top five starters.
Craig had a great start to the A Final, opening up a nice gap on the first lap as Luke had to quickly defend from a fast starting Paul. A mistake from Luke at the one-minute point allowed Paul into second, with a fight between Jason Butterfield and Gary Taylor now also separating Luke from the podium. Luke managed to sneak past Gary, with Jason his next victim a few laps later. But by now, Paul was too far ahead to allow Luke to gain any more places, and Paul was also too far back from Craig to prevent the championship being decided early.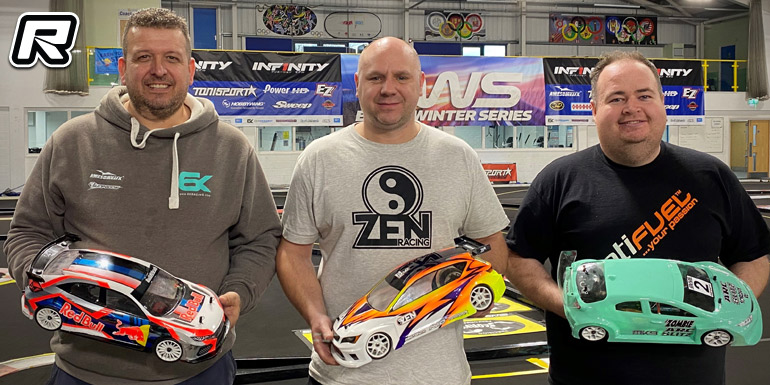 Touring Front Wheel Drive final result:
1. Craig Nutting
2. Paul Hill
3. Luke Hobson
4. Jason Butterfield
5. Gary Taylor
6. Alan Chipolina
7. Craig Woods
8. Mark Caton
9. Bill Boag
10.Mark Burgess
11.Adam McEwen
12.Peter Hill
Although the three overall championships are now decided, the other podium places are still very much up for grabs, along with the Masters and Sportsman categories in the Super Stock class, at the season finale – which takes place in early March.
Source: EWS [
www.ewsevents.co.uk
---