February 13, 2020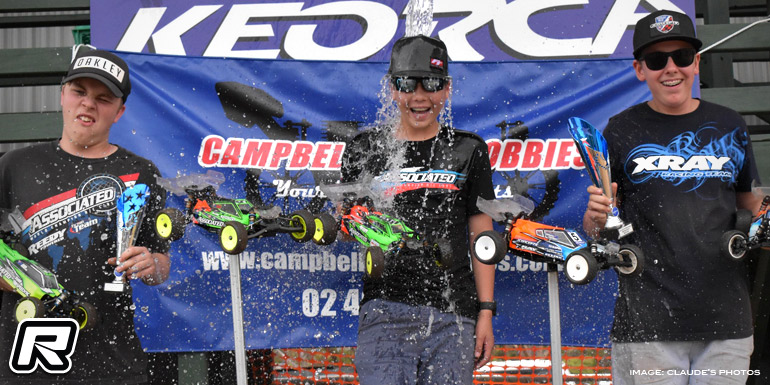 The Keilor Electric Off-Road Club of Melbourne, Australia hosted the 2020 Keilor Invitational last weekend. Australia's version of the Reedy Race, this event is held on an outdoors dirt track in the Australian summer with the Invite classes running 5 heats of 2WD and 5 heats of 4WD in addition to open classes for both modified and stock, with the winner of these getting a direct invite to the 2021 event. For the 2020 event just under 130 entries were received from all around Australia, with the big talking point being the new track surface which had been treated with Canola oil dramatically reducing dust and tyre wear and proving a big hit with all racers. The layout had been changed since the 2019 Nationals held at the same track with a combination of sweeping and technical sections with large elevations and jumps challenging all levels.
In the Modified Invitational class the 2WD day began with Lachlan Munday (Team Associated) getting out of the blocks quickly, taking two heat wins and two 2nd places in the first four races to end the day on top with 6 points. Jordan Isergin (Xray) finished the day 2nd with a heat win 10 points from defending champ Ray Munday (Team Associated) on 11 points and Jack McMillan (Team Associated) 4th. The 4WD day started off with Jack McMillan firing taking the first two heats after tough battles with Lachlan Munday and Isergin, then Isergin taking a heat and Jarod Ment also taking a heat. The final result came down to the last lap of the final race, Isergin taking the heat but Lachlan Munday was able to claim the overall win by 1 point from Isergin and McMillan 3rd. Reflecting the strength of the junior development scene in Australia, the podium average age was only 16 years old with Lachlan (14), Jordan (15) and Jack (19) all showing the older racers a clean pair of heels.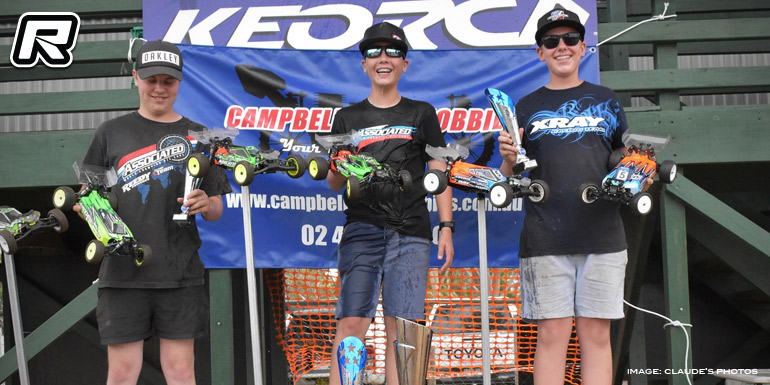 Modified Invitational top 3 results:
1. Lachlan Munday
2. Jordan Isergin
3. Jack McMillan
In the Stock Invitational class the 2WD portion saw previous Invitational winner and 2018 national champ Leigh Cheeseman (TLR) take the first two heats before 2019 national champ Andrew Selvaggi (Team Associated) got into his rhythm taking three in a row to end the day two points up from Leigh and Ben Howard (Team Associated) another 5 points back. 4WD day and Paul Mason (Team Associated) took the first heat before Selvaggi again took a three-peat of wins to seal the result with a round to go. Mason and Miller (Xray) tied for 2nd in 4WD but with the total points combined it was Selvaggi with the win and his first Invitational title, Cheeseman second and Ben Howard 3rd.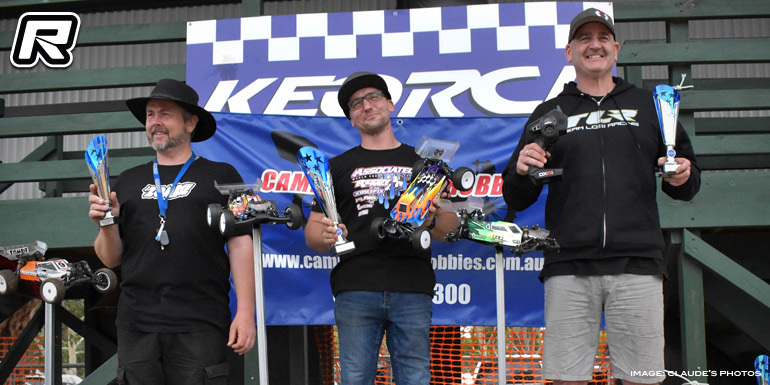 Stock Invitational top 3 results:
1. Andrew Selvaggi
2. Leigh Cheeseman
3. Ben Howard
In Open Modified 2WD and with a place in the 2021 Invite up for grabs, it was Simon Healy (Xray) dominating qualifying taking all three rounds to seal TQ for the single 7 minute final from Queensland hotshot Troy Milton (Team Associated), 'Little Man' Camden Camilleri (Team Associated) 3rd and Jon Philpott (Xray) 4th. From the tone Healy set off into the sunset and built up a strong lead before disaster struck just before the 5 minute mark, stripping a gear and having to retire. This promoted the battling Milton and Camilleri to the lead, with Camden showing maturity beyond his 10 years of age to drive smoothly to the finish and take out his first win in modified, a very popular victory and a place in the 2021 Invitational. Milton finished a close second and Philpott only a few seconds back in 3rd to complete the podium with 14-years old Nathan Healy a well deserved 4th.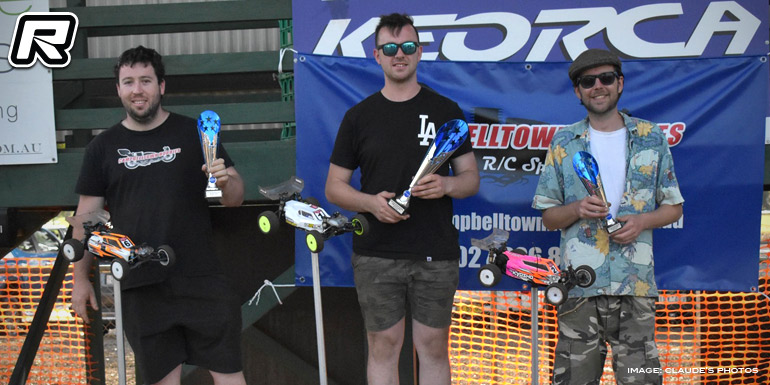 2WD Open Modified top 3 results:
1. Camden Camilleri
2. Trot Milton
3. Jon Philpott
In Open Modified 4WD and keen to make amends for his loss in 2WD, Simon Healy again dominated qualifying with a clean sweep of the 3 rounds to take TQ from Xray teammate Jon Philpott, son Nathan Healy a fine 3rd and Nathan Facciol 4th with his Team Associated. In the final Healy got off to a strong start and took a tone to tone victory, finishing 15 seconds clear of Philpott in 2nd with club president Jay Bloss (Team Associated) taking the final position on the podium after a last lap battle with Nathan Healy and Shelby Bloss moving from 10th grid position to finish 5th overall.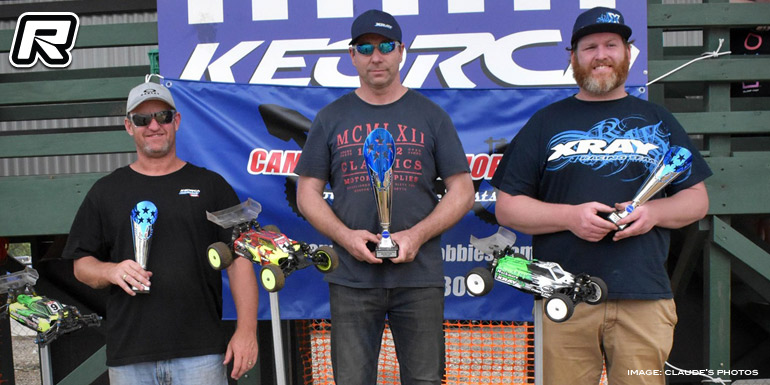 4WD Open Modified top 3 results:
1. Simon Healy
2. Jon Philpott
3. Jay Bloss
Open Stock 17.5T 2WD threw up a lot of surprises with the regular fast guys in the Invitational class. Biggest surprise was TQ by Brendan Sola (TLR), successful on-road racer who only recently had his first off-road race. In 2nd was Simon McHugh (Kyosho), local Tommy Jett (Xray) 3rd and multi time IFMAR concourse winning painter James Ainslie 4th. The final started with Sola off to a clear start with McHugh chasing, but as the race continued Michael Snedden (TeaM Associated) who had missed practice completely due to a delayed flight started to catch Sola and with half a dozen laps to go took the lead from Sola. The last few laps were epic with Sola then managing to re-pass Snedden with 2 laps to go and go on to take the win, Snedden 2nd and McHugh 3rd.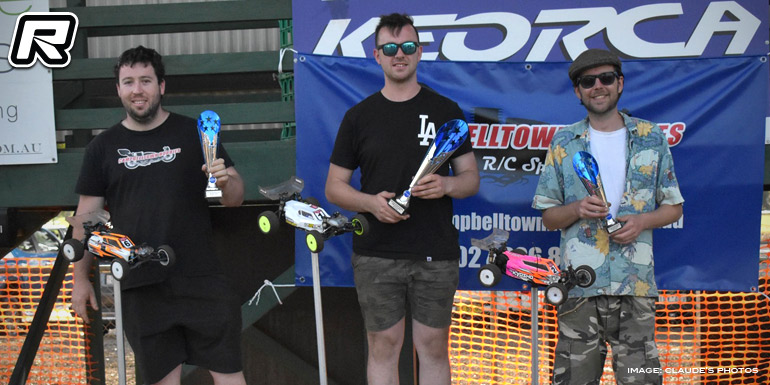 Open Stock 17.5T 2WD top 3 results:
1. Brendan Sola
2. Michael Snedden
3. Simon McHugh
In Open Stock 13.5T 4WD and after getting practice in during the 2WD day, Snedden (Team Associated) came out swinging on 4WD day taking all three qualifiers for TQ from Tommy Jett (HB Racing) and Glenn Grinter (Team Associated). A nervous start to the final for Snedden saw him drop the lead to Chris Jordan (Xray) who had come through from 4th on the grid. 6 laps in Snedden overtook Jordan for the lead and didn't look back, locking in his place in the 2021 event with a 5s win over Jordan and Michael Bruce (Team Associated) coming from 7th on the grid to complete the podium.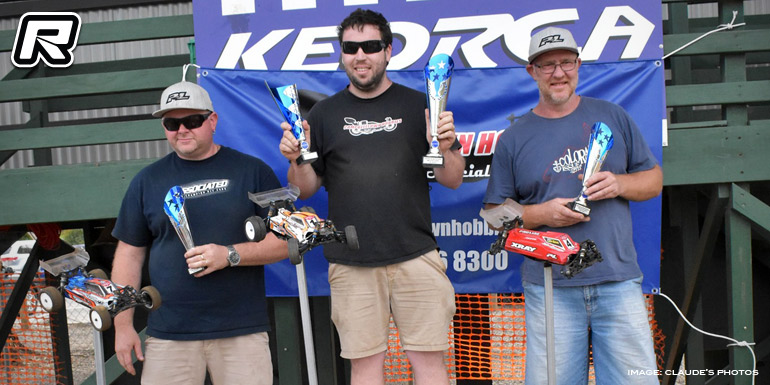 Open Stock 13.5T 4WD top 3 results:
1. Michael Snedden
2. Chris Jordan
3. Michael Bruce
Junior racing is very strong in Australia and for this event 10 juniors (under 16yo) lined up to battle for the title. Travelling from Tasmania, Zackary Scott (Xray) took out round 1 before local Kane Schembri (Xray) took rounds 2 and 3 for TQ from Scott with younger brother Sash Schembri (Xray) qualifying 3rd from Angus Browne and Kohen Mould. The final was a great battle between Zachary and Kane, with Kane dropping back early before fighting back to get the lead, then Zachary re-claimed the lead with 2 minutes to go. Zach held on to take the title to Tasmania from the two Schembri brothers, giving Xray a podium sweep from Brown and Mould.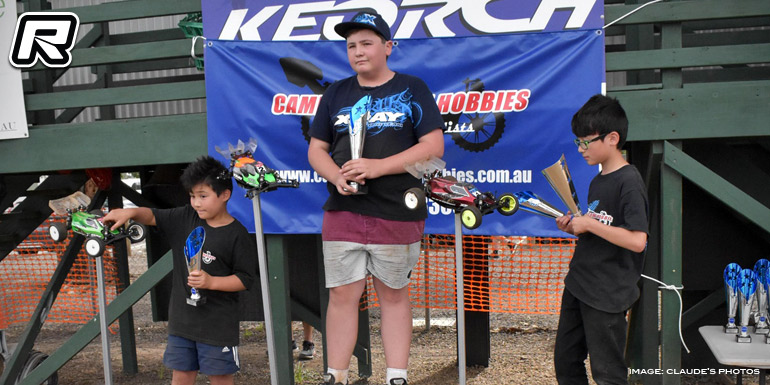 Junior 17.5T 2WD top 3 results:
1. Zachary Scott
2. Kane Schembri
3. Sash Schembri
Full race results can be found here.
Thanks to Ray Munday for the report. | Images: Claude's Photos
---