February 7, 2020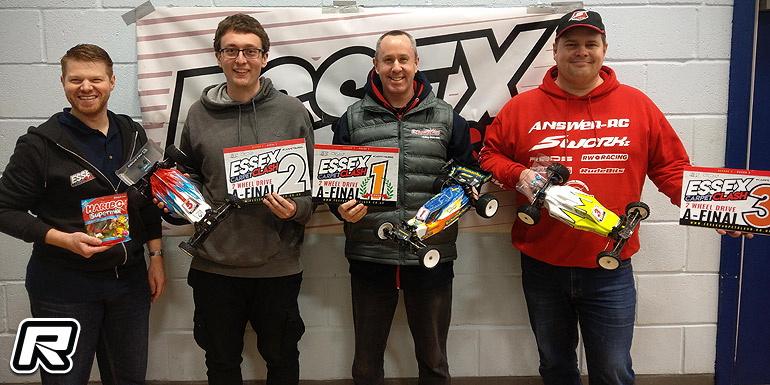 Round 5 of the popular Essex Carpet Clash took place last weekend, with a track layout with a couple of jump sections that many found difficult to master. In 2WD Buggy Ellis Stafford confirmed his pole position for the finals, by taking rounds 1, 2 and 3 of qualifying. Kyle Moon lined up 2nd after being at the top of the score sheets consistently in qualifying. Stephen Brown also up at the sharp end of qualifying managed to line-up 3rd just ahead of Christopher Delves. In 4WD, it was a three-way battle for pole position. With Mark Lewis topping the score sheets in round one. Stephen Brown then took the second round but it was John painter who has been fast all season, managing to take the last two rounds of qualifying and giving him pole position for the final. Brown would line-up 2nd on the grid with Lewis in 3rd only separated by half a second on the count back scoring system. Jamie pickles would line-up 4th.

In the 2WD A-mains Stafford managed to take leg one with a comfortable lead, while a fast Jimmy Whitehall negotiated his way to take 2nd. With a couple of errors from everyone during the run, Brown managed to secure the win in leg 2, beating Whitehall across the line by 0.3 of a second. It was all down to legs 3 to finalise the podium positions for the day. Stafford managed to hold on to the one spot in front of a chasing Moon in 2nd. Jimmy Whitehall came across the line in 3rd, having another top 3 finishing position. Overall it was Ellis Stafford with the win from 2nd placed Jimmy Whitehall and Stephen Brown in 3rd.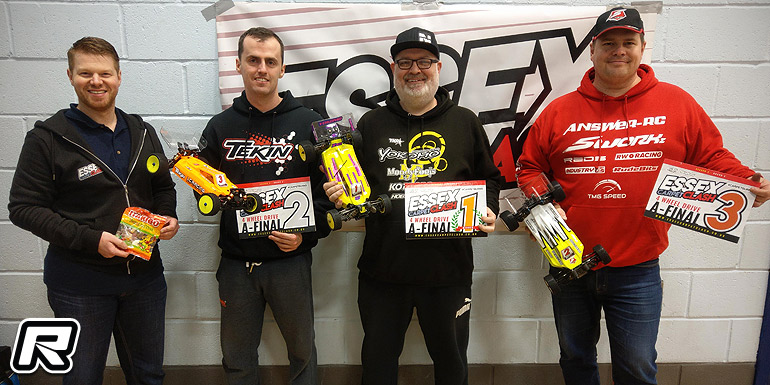 John Painter having had a very successful qualifying, narrowly missing out on a double a final in both classes, would continue his success and confirm the win for the day by taking the first two leg wins in 4WD. Mark Lewis was able to secure 2nd place overall, taking the last leg of the finals, after battling consistently with Stephen Brown, who ended the day in 3rd. Jamie Pickles having had a decent day narrowly missing out on a podium position, finished 4th.
The last round of the championship is in a month's time. 2WD will come down to the wire and the last meeting to confirm the top 3 podium positions. 4WD is close and will sort out the bottom steps of the podium.
Source: Essex Carpet Clash [essexcarpetclash.co.uk]
---