February 20, 2020
The opening round of the popular monthly Champ Stadium off-road series was held at the RC Champ Stadium indoor off-road dirt track in Sagamihara, Japan last weekend. The event saw the running of buggy and truck classes and in 2WD Mod Buggy it was Kouki Kato with the overall TQ from Ono in 2nd and Saito in 3rd. At the start of the 5-minute A-main event Kouki made contact and dropped down the order a bit, handing Saito the lead with Ono in 2nd, however Kouki was able to recover quickly, taking over P2 and starting to put pressure on the leader. Saito was able to hold onto the lead until the very last lap, when he made a mistake under the pressure of Kouki Kato who would in return take the lead and also the win in the single-legged A-final.
Over in 4WD Mod Buggy it was again Kouki with the overall TQ from Saito in 2nd and Iyo in 3rd. At the start of the single 5-minute A-main, Kouki and Saito here able to separate a bit from the field while Sakamoto was able to get into P3. About mid-race Kouki lost some time and also the lead when he ran into trouble trying to lap the field which allowed Saito to take the lead. After a tight battle and going side-by-side, Kouki however managed to regain P1 and bring home his second win this weekend.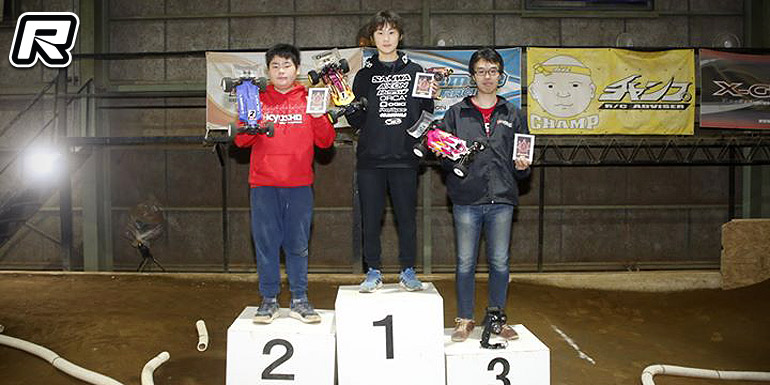 Thanks to Daisuke Kato for the report.
---