February 10, 2020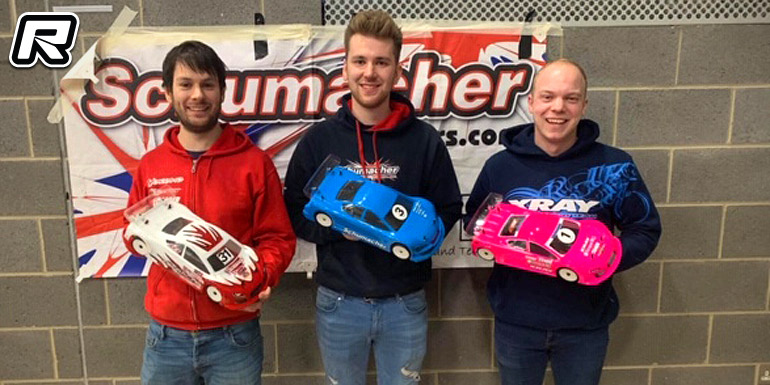 The fifth round of the 2019/20 Schumacher Winter Series presented by the Louth Radio Control Car Club took place over the past weekend. In Touring 13.5T Mitch Fiddling would set the initials pace in the opening round. Chris Lovely would pick up the mantle and take the further two rounds of qualifying with his Xray T4'20. Alex Brocklebank would take his Schumacher Mi7 to take the top spot in the final qualifying round giving him 2nd overall. Callum Chapman would take his mid-motor Xray to 4th with some consistent driving. Joseph Cocking take his Yokomo BD10 to 5th, Jay Kay with his BD9 would slot into 6th and Daniel Burks would round out the A-final with his Xray T4'20.
In the single headed final, Chris would lead them away but the melee of the second corner would see him and Alex drop to the rear of the field. Mitch Fiddling would take advantage to lead the field, Joseph Cocking would Jump from 5th to 2nd. These two would gap the field and battle it out all race. Mitch would hold on with Joe settling for 2nd. The fight for the podium was fierce throughout the full five minutes. Chris and Alex would surge back through, Chris would come back through to 3rd and Alex to 4th. Callum would get caught in battles, but bring home a strong 5th, Jay Kay would battle throughout but hold onto his starting place with Daniel rounding out the final.
Touring Car 13.5T final result:
1. Mitch Fiddling – Schumacher
2. Joseph Cocking – Yokomo
3. Chris Lovely – Xray
4. Alex Brocklebank – Schumacher
5. Callum Chapman – Xray
6. Jay Kay – Yokomo
7. Daniel Burks – Xray
In the 17.5 Open class it has been an open championship all season long. Joseph Cocking would juggle two classes, and take the top honours with his arrowmax yokomo running in blinky Alex. Behind him were the regular championship contenders. Martin Lawson would find the pace in the latter rounds of qualifying with his Serpent Project 4X, championship front runners Peter Covell and Harvey Greenfield wouldn't have easy days but would slot into 3rd and 4th. A smaller A-final would see Paul Sleight take the final spot in the final, showing great race craft from the lower heats to make the main.
A good start to the final would see Joseph put in some fast laps to gap the field. The fights behind were close all race long. Championship challenger Peter Covell would drop out early with damage. Paul Sleight would lose touch with the leading pack but always be in striking distance of something went wrong. Martin and Harvey would fight till the flag, with Martin doing enough to hold off Harvey for 2nd and 3rd.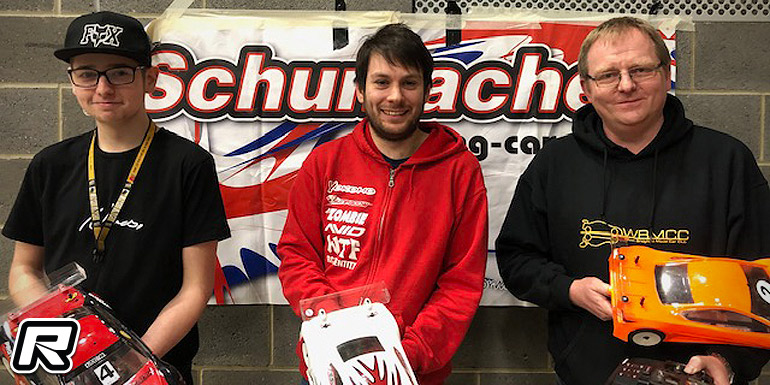 Touring Car 17.5 Open final result:
1. Joseph Cocking – Yokomo
2. Martin Lawson – Serpent
3. Harvey Greenfield – Xray
4. Peter Covell – Xray
5. Paul Sleight – Xray
The Tamiya Euro Truck class saw a boost in drivers for this round. With everything near to kit, it keeps these cars simple and easy for the drivers. Callum Chapman had the championship down up and would sit out of this round. Richard Howells would pick up the top spot, it was close between himself and returning James Beckett. Matt Dutfield would have his best round to date to sit in 3rd, 4th place would below to Simon Babb. Adam Jessop would be 5th ahead of returning racer Garry Hobson, and rounding out the proceedings it was young racer Charlie Jessop.
The final was a simple affair at the front of the field, a clean start from all the drivers. Richard Howells would be closely followed by James but mid race would be able to pull the gap. The pair holding place till the flag and a comfortable two lap gap over the rest of the field. Simon would jump a place to 3rd showing good race craft, Matt would drop back a place to 4th, Charlie would jump up the field from the back to beat his dad Adam who would end up 6th. Garry Hobson would have a strong final and round out the field.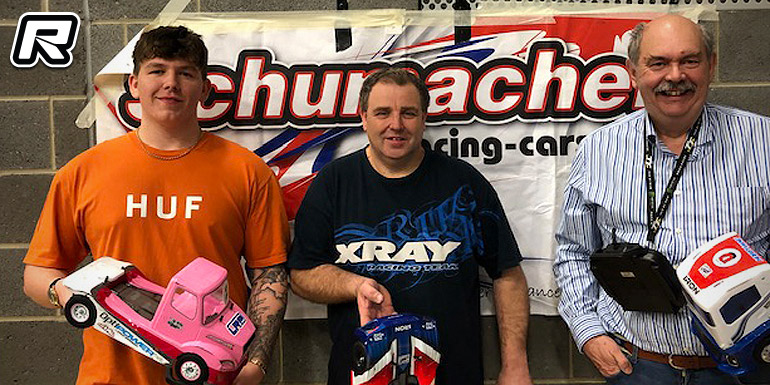 Tamiya Euro Truck final result:
1. Richard Howells
2. James Beckett
3. Simon Babb
4. Matt Dutfield
5. Charlie Jessop
6. Adam Jessop
7. Garry Hobson
In the Tamiya M-Chassis and GT12 class, the class that has been new to this season. Due to the fluctuations in numbers these two classes have raced side by side. GT12 was business as usual in the class, Chris Whiteside has been the dominant force all season long, he had strong competition on this occasion. A winner of one of the previous rounds Matt Cook returned and wild start slow but would find his pace later in qualifying. Chris would take the top honours with Matt in 2nd. Craig illingworth would sit happy in 3rd, Paul Vincent was consistent in 4th, the same said for 5th and 6th of Matt Dutfield and Adrian Hensby in his debut at the club.
The Tamiya class only saw two cars, but they were close all race. Simon Babb would head Michael Burks both very close every round on the track.
The final would be close run. Chris Whiteside would lead them away. Matt would start slow but always close the gap down but mistakes would prevail. Chris would keep it smooth and consistent. Matt would settle for 2nd in a close contest. A lap back Craig Illingworth was comfortable and under no pressure from the cars behind, Paul Vicent wouldn't have an answer for Craig and settle for 4th. Adrian Hensby round the speed he had been missing and came up from the back of the pack. The Tamiya M cars were in the mix with Simon heading Michael on this occasion. Matt wild slip down the field and round out the final.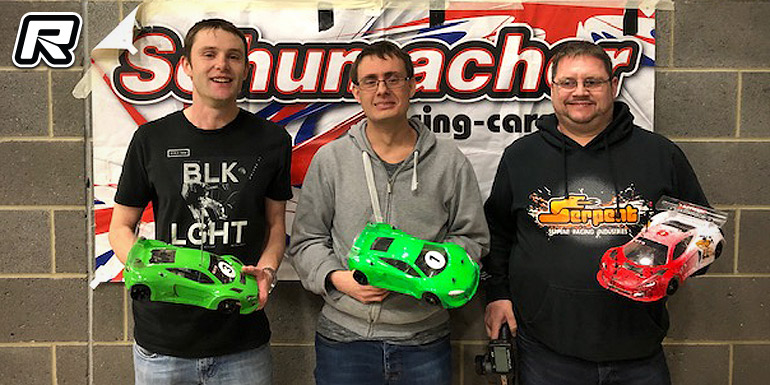 GT12 final result:
1. Chris Whiteside – Schumacher
2. Matt Cook – Schumacher
3. Craig Illingworth – Schumacher
4. Paul Vincent – Schumacher
5. Adrian Hensby – Schumacher
6. Simon Babb – Tamiya
7. Michael Burks – Tamiya
8. Matt Dutfield – Schumacher
The next event is on March 8th for the final round of this championship as things get to the business end of the series. All information can be found on the club's social media page here.
Thanks to Chris Lovely for the report.
---