February 11, 2020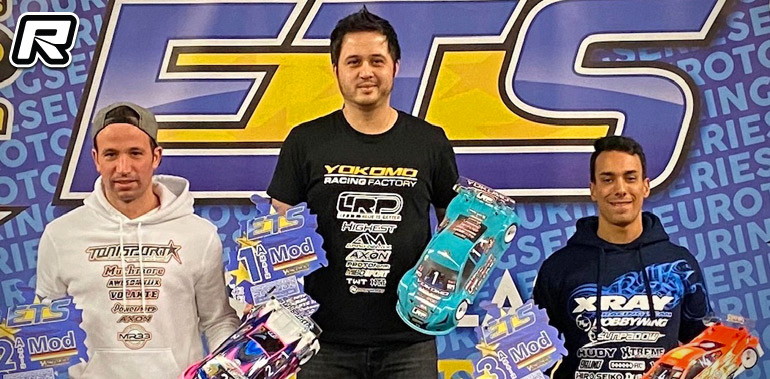 Ronald Völker took a spectacular victory at the ETS in Daun, Germany this weekend, as the Yokomo driver made advantage of his pole position to hold off two intense challenges from the second place starting Marc Rheinard. The first A Final was one of the closest races in Touring Car for many years, as Marc sat glued to the rear bumper of Ronald for the first half of the race. Marc, now racing for Tonisport following his departure from the Infinity team at the end of 2019, was using an Awesomatix chassis and showed to be evenly matched on pace with Ronald. Twice Marc managed to get his car alongside his long-time rivals, but both times, Ronald was able to fight back and narrowly hold the lead. Into the second half of the race, Ronald seemed to settle into a better rhythm and was able to open a small gap to Marc. Bruno Coelho, starting fourth on the grid for Xray, got past third place qualifier Yannic Prumper as the attention of the crows was focussed on the top two.
In A2, Once again Marc applied immense pressure to Ronald from the starting tone, as the two former ETS champions once again raced hard for the victory. It became an almost carbon-copy of A1, however, with Marc unable to get past the 2016 World Champion, who again in the second half of the race was able to open a small gap and run to the flag for the overall win. Behind, contact between Bruno and Yannic allowed Christopher Krapp to take third and Alexander Hagberg fourth.
With Ronald sitting out A3, it was a relatively straight forward win for Marc this time, to cement the runner-up position. This time, Yannic was able to hold off Bruno in the fight for second, with the two even starting to close on Marc by the end of the five minutes. This was enough to give Bruno the final step of the podium.

Touring Modified A-final result:
1. Ronald Völker – Yokomo/LRP
2. Marc Rheinard – Awesomatix/Muchmore
3. Bruno Coelho – Xray/Hobbywing
4. Christopher Krapp – Yokomo/Racing Performer
5. Alexander Hagberg – Xray/Hobbywing
6. Freddy Sudhoff – Awesomatix/Hobbywing
7. Yannic Prumper – Awesomatix/Maclan
8. Elliott Harper – Xray/LRP
9. Michele Manzo – Awesomatix/Muchmore
10.Yugo Nagashima – Serpent/Dash
11.Marco Kaufmann – Xray/Muchmore
In the Pro Stock class, Jan Ratheisky had secured the pole position, but whilst leading A1, he took a roll from the kerbs, allowing second starter Ollie Bulkynck into the lead, which he wouldn't relinquish. Managing to put this behind him, Jan kept a cool head for A2 and held on for the win, with Ollie chasing him hard but making a big mistake on the penultimate lap, allowing Alexandre Duchet up to second and Leo Arnold into third. It was another close race in A3, and it was Ollie who again made the mistake – this time much earlier in the run. This put Alexandre into second again, with Simon Lauter coming out the better of a side-by-side tussle with Ollie as he recovered to take third. Out front, Jan then had an un-interrupted run to the flag to take the overall win. Alexandre and Simon would join him on the podium.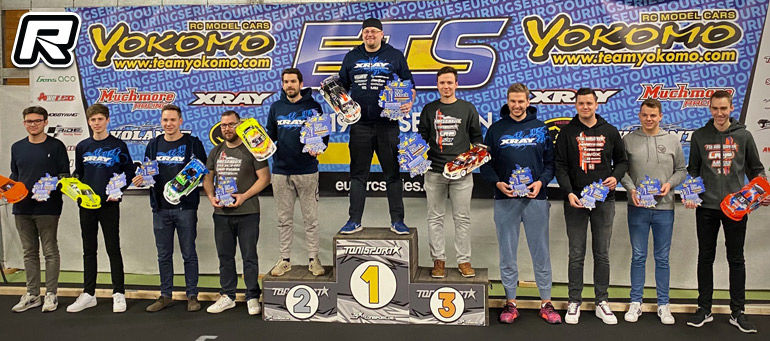 Touring Pro Stock A-final result:
1. Jan Ratheisky – Xray
2. Alexandre Duchet – Xray
3. Simon Lauter – Awesomatix
4. Ollie Bultnyck – Awesomatix
5. Leo Arnold – Xray
6. Lukas Ellerbrock – Xray
7. Dominic Vogl – Awesomatix
8. Kevin Nielsen – Xray
9. Valentin Hettrich – Awesomatix
10.Oliver Krahemann – Awesomatix
11.Frederik Mikkelsen – Awesomatix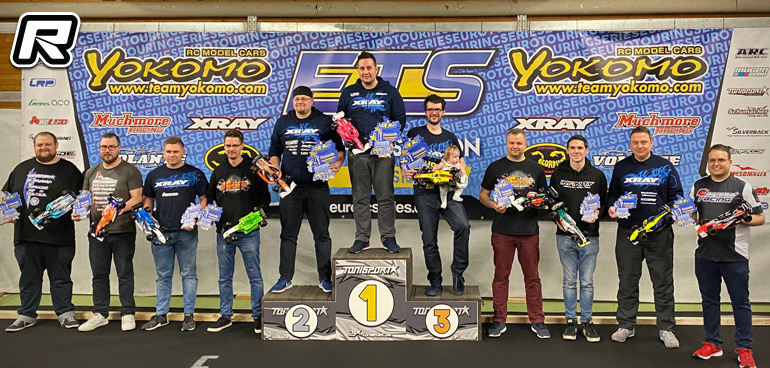 Jan Ratheisky had secured pole in the Formula class as well, but as in Pro Stock, it wasn't to be for him in A1. Rolling his car whilst in the lead, Matej Dobnikar came from fourth on the grid to win. Jan fought back in A2 with a clear run to take the victory, with Matej moving up once again and taking second, to force it to a third final. In A3, a messy first lap between front half of the grid saw Matej once again the big winner, coming through to lead lap one – a lead he'd never give up on his run to his first ever ETS victory. Jan recovered to second, with Luke Lee making it an all-Xray podium.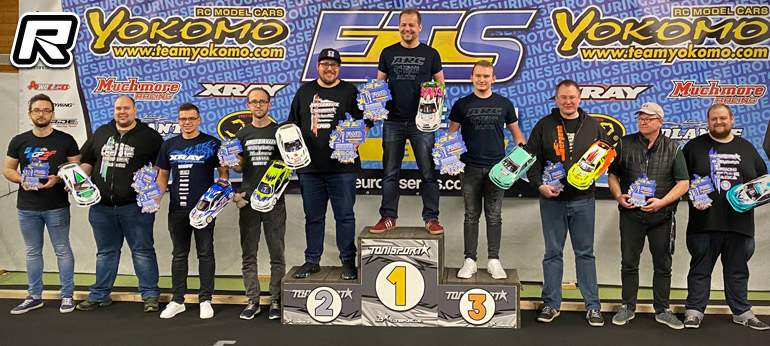 Front Wheel Drive saw another first-time victory at the ETS, this time it was one of the drivers who had been part of the Series since its very first year, Henrik Heitsch. The ARC driver took pole, and the first two A Finals to secure the victory. Marwin Reidelbauch kept him very honest in the first two finals, but wasn't able to get past, and was rewarded for his effors with a win in A3 and second overall. Enrico Jung, the winner of the ETS in Vienna, rounded out the podium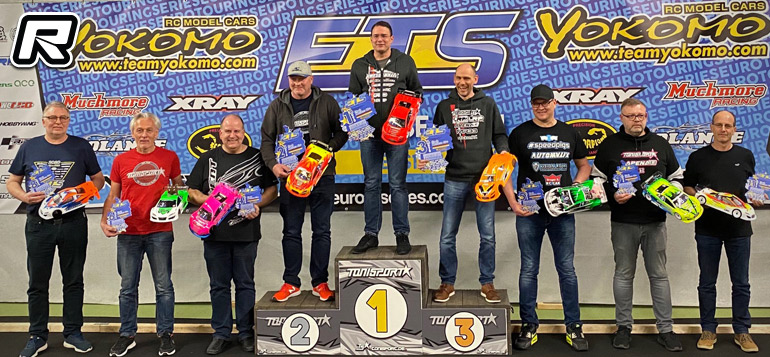 The Masters class has been dominated by Alexander Stocker, and that continued in Daun with a TQ and wins in A1 and A2. Andreas Weyhoven was certainly 'best of the rest', qualifying second and winning A3 to secure the runner up position. Werner Schmitzer took a popular podium result from fourth on the grid.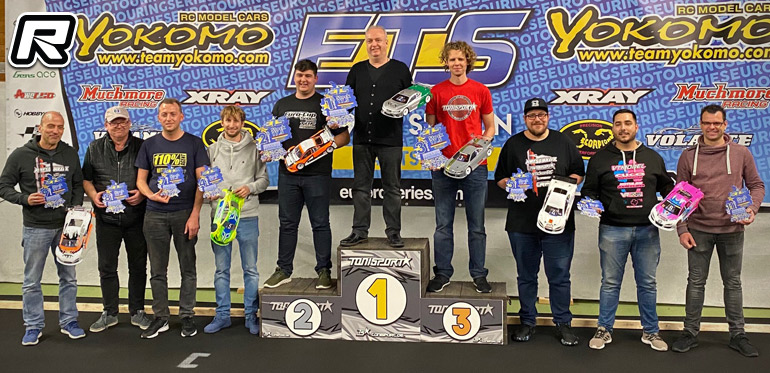 Stock 17.5 always provides close racing, but top qualifier Dominik Ruf seemed to have a slight gap to the rest of the field in lap times. But despite the speed, luck seemingly wasn't on his side, as he rolled in both A1 and A2 whilst leading. This meant Joachim Altenhof was victorious, receiving a huge cheer from the crowd as he took his first ETS win, with Dominik relegated to second and Alexander Muller completing the top three.
Source: ETS [eurorcseries.com]
---