February 23, 2020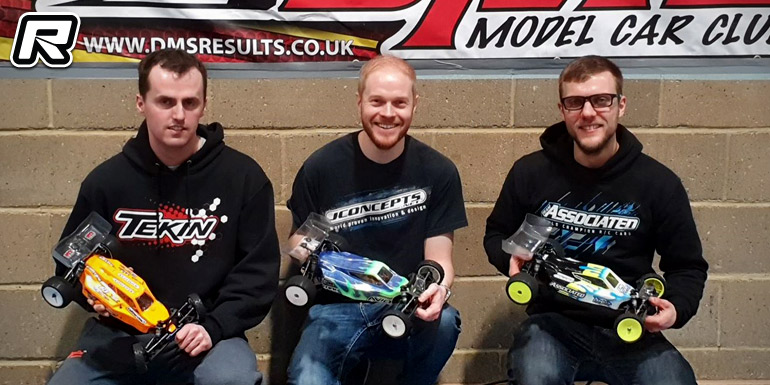 This past Saturday saw the fifth and penultimate round of the X-Factory UK Winter Series take place, with a nice break indoors away from the torrential wind and rain happening outside. A twisty, tricky and technical track greeted the racers for this round and after all four qualifiers had run it was Mark Lewis (Team Associated) who would take the TQ in the 2WD class with his round 3 time, followed by Alex Haywood (Team Associated) in 2nd who just missed out on TQ in round 4 by just over 1.5 seconds, Kevin Hunt, who was switching cars all day (Team Associated/X-Factory UK) completed the top 3 qualifying in 3rd. Richard Miller (Yokomo) was in 4th, Abe Lyons (Schumacher) was 5th and Mark Keen (Schumacher) was last man straight into the A in 6th, the remaining A-final spots would be decided as usual via the bump-ups and those who would promote from the B-final.
In 4WD, TQ went to Nick Dale (Yokomo) with his round 3 time, Darren Boyle (LC Racing) was in 2nd from Oliver Szymanski (LC Racing) in 3rd, Sam Breton (LC Racing) 4th, Jonathan Szymanski (LC Racing) 5th and last man in was Simon Helson (Xray) the rest would have to wait to see if they could bump from the B.
The B-final was a great battle for the lead throughout the entire race between the front two. Polesitter Pete Lyons (Schumacher) took the win with Lex Clarke (Xray) holding position to take the second and final bump to the all important A-main. Just missing out in 3rd was Oscar Keen (Schumacher) who had made his way up from 8th on the grid after bumping from the C final. The 2WD A-final was the last race of the day, poleman Mark Lewis led the field away with Kevin Hunt in close attendance behind him. Kevin would eventually take the win from P3 with Mark 2nd and Alex Haywood completing the podium in 3rd.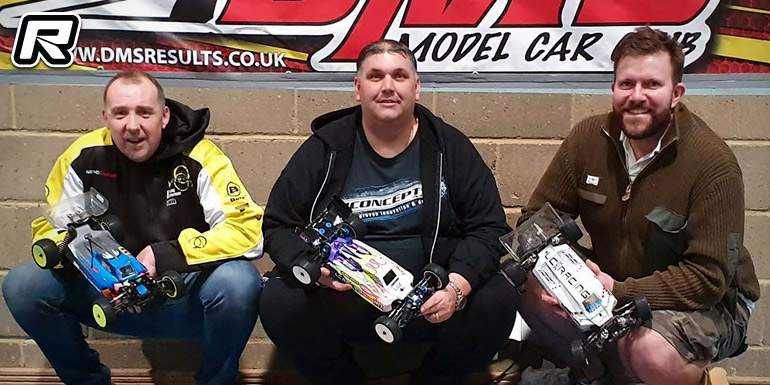 In the 4WD class, the B-final was taken by poleman Ian Watson (Team C) with Jason Clarke (Xray) taking the bump-up spots with young Joseph Di-Ioia (FTX) missing the cut in 3rd. The 4WD A-final, was taken by Darren Boyle from P2 with Jonathan Szymanski taking 2nd place from P5 on the grid and poleman Nick Dale taking the last spot on the podium in 3rd.
So with just one round left to go in the series, the series' top 10 spots look as follows:
2WD Buggy overall top 10:
1. Mark Lewis – Team Associated – 594 pts
2. Joe Renton – Team Associated – 577 pts
3. Richard Miller – Yokomo – 567 pts
4. Gareth Cutting – Team Associated – 546 pts
5. Mark Keen – Schumacher – 543 pts
6. Lex Clarke – Xray – 539 pts
7. John Renton – Team Associated – 528 pts
8. Charlie Leonard – Schumacher – 503 pts
9. Mike Ketteringham – Schumacher – 497 pts
10.Oscar Keen – Schumacher – 493 pts
4WD Buggy overall top 10:
1. Darren Boyle – LC Racing – 597 pts
2. Nick Dale – Yokomo – 592 pts
3. Oliver Szymanksi – LC Racing – 584 pts
4. Sam Breton – LC Racing – 579 pts
5. Ian Watson – Team C – 565 pts
6. Jonathan Szymanski – LC Racing – 432 pts
7. Sam Cook – Xray – 145 pts
8. Luke Barnard – Kyosho – 142 pts
9. Stephen Blake – Team Associated – 139 pts
10.Simon Helson – Xray – 138 pts
The next and final round is in four weeks time on March 21st. Online booking in is now available on the club's website here.
Source: DMS Model Car Club [dmsresults.co.uk]
---