March 13, 2020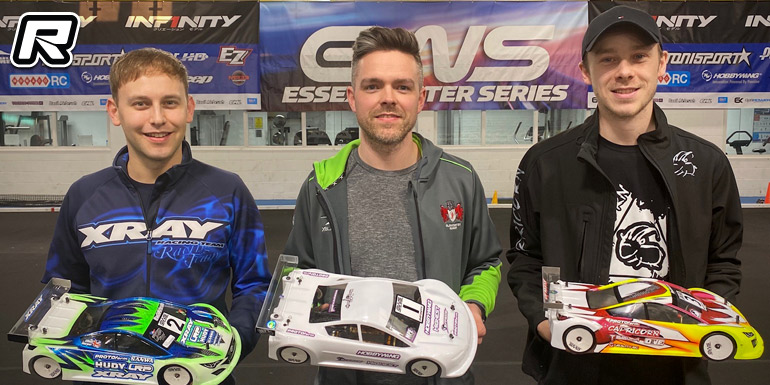 The final round of the Essex Winter Series took place last weekend. Concluding once again with a sell-out entry, the overall championships in the Modified, Super Stock and Front Wheel Drive class had already been wrapped up but the other podium places were still to be decided. Olly Jefferies made his return to the EWS at this event, now driving a privately entered Xray following his departure from Schumacher last month. He got things underway by setting the best time ahead of Champion-elect Elliott Harper, with Harley Eldridge taking third ahead of Kyle Branson and Chris Grainger. Elliott moved his Xray to the top in Q2, with Olly taking second. Kyle was best of the rest, in third for Capricorn, ahead of Harley's Yokomo and Aaron Rose's Schumacher in fifth. Round three had Olly moving back up top, beating Elliott by two tenths of a second. Kyle and Harley were again third and fourth, with Florian Joos (Xray) in fifth this time. Olly secured pole by taking the last round ahead of Elliott, with Kyle locking up third with another P3 result. Florian jumped up the grid with his fourth place in round and Harley stayed in the mix with fifth.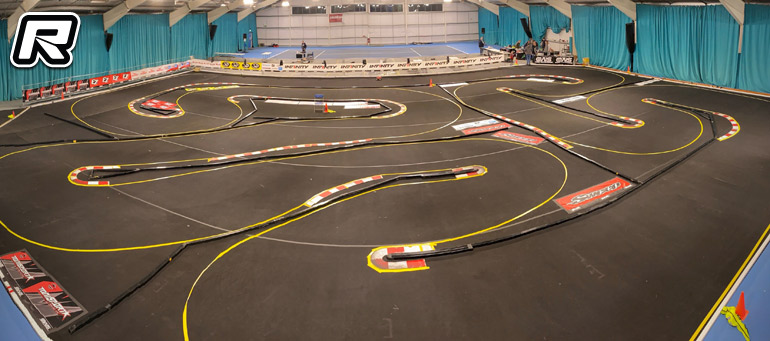 In the A-final, Olly was able to build a small gap over Elliott through the opening stages, getting up to one-and-a-half seconds ahead by the half way point. In the second half, Elliott began to reel in the 2019 National Champion, but wasn't able to do enough and crossed the line four tenths of a second back. Behind, Kyle had a reasonably lonely race in third, with Harley staying in the hunt but around a second behind Kyle, never quite able to challenge for a podium spot. Florian rounded out the winter with a fifth place result in the A-final.
Modified Touring final result:
1. Olly Jefferies – Xray/Hobbywing
2. Elliott Harper – Xray/LRP
3. Kyle Branson – Capricorn/Hobbywing
4. Harley Eldridge – Yokomo/LRP
5. Florian Joos – Xray/Hobbywing
6. Chris Grainger – Awesomatix/Reedy
7. Aaron Rose – Schumacher/Hobbywing
8. Stefan Chodzynski – Capricorn/Hobbywing
9. Matthew White – Awesomatix/Reedy
10.Phil Chambers – Capricorn/Hobbywing
11.Billy Fletcher – Awesomatix/Orca
The result secured Kyle Branson as the runner up in the overall championship, with Chris Grainger in third overall.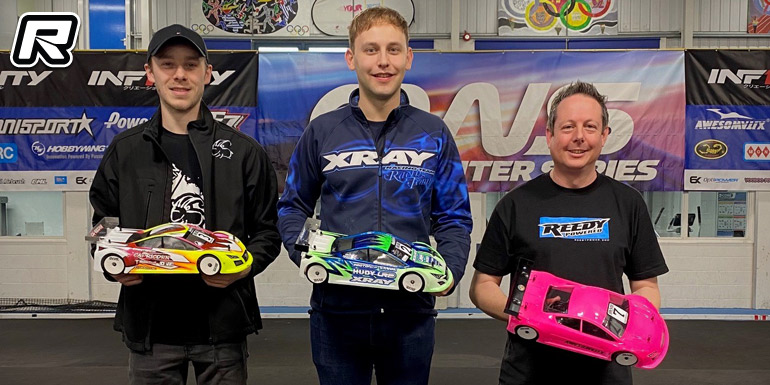 Modified Touring championship top 10:
1. Elliott Harper – 600
2. Kyle Branson – 592
3. Chris Grainger – 590
4. Harley Eldridge – 586
5. Matthew White – 574
6. Florian Joos – 573
7. Stefan Chodzynski – 572
8. Aaron Rose – 560
9. Alan Bickerstaff – 551
10.Lee Woodhams – 541
In Super Stock, Florian Joos was looking to confirm himself as runner-up in the points standings and set himself up for that with a TQ in the first round, ahead of Sam Law, Tony Broad, Ashley Wiffen and James Hart. Sam took his Awesomatix ahead of Florian's Xray in Q2, with Dani Young (Awesomatix) third, ahead of James Hart's Schumacher and Marcus Askell's Xray. Florian was back on top in the third round, with Sam second, Tony taking his ARC back to third, and the top five completed by Marcus and then Ashley (Awesomatix). Florian secured pole with a Q4 best time, ahead of Sam once again. Dani took another great third place, with Tony fourth and Ashley again fifth in round.
The A-final featured a five-minute battle between our top two qualifiers as they raced nose to tail and side by side for the duration. Both took turns to lead, pulling off multiple passes and showing how close the racing was. In the closing stages, Sam got back to the front in a move that Florian felt was unfair, but the on-looking referees and race direction team saw no issues on Sam's part and told the drivers to race on. Sam maintained the lead to the finish line, taking the win by just half a second. Behind, Tony moved up to a podium place as Dani dropped down the order after some more great battles throughout.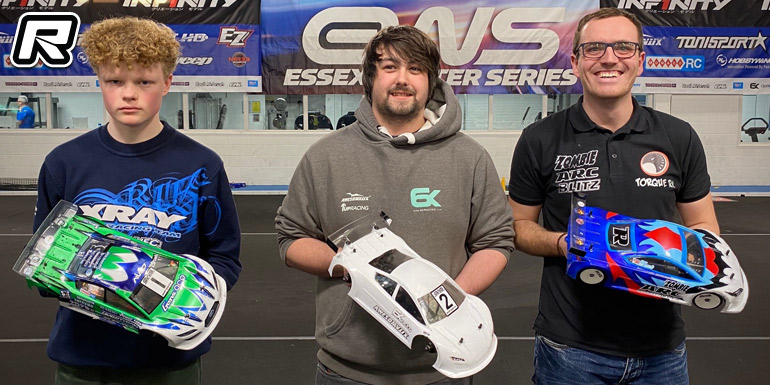 Super Stock Touring final result:
1. Sam Law – Awesomatix
2. Florian Joos – Xray
3. Tony Broad – ARC
4. James Hart – Schumacher
5. Ben Moorey – Yokomo
6. Dani Young – Awesomatix
7. Ricky Copsey – Xray
8. Nathan Parker – Awesomatix
9. Mark Buonaiuto – Awesomatix
10.Ashley Wiffen – Awesomatix
11.Marcus Askell – Xray
This moved Sam Law up to third in the overall standings, as he beat out Tony Broad and Ashley Wiffen by just a single point.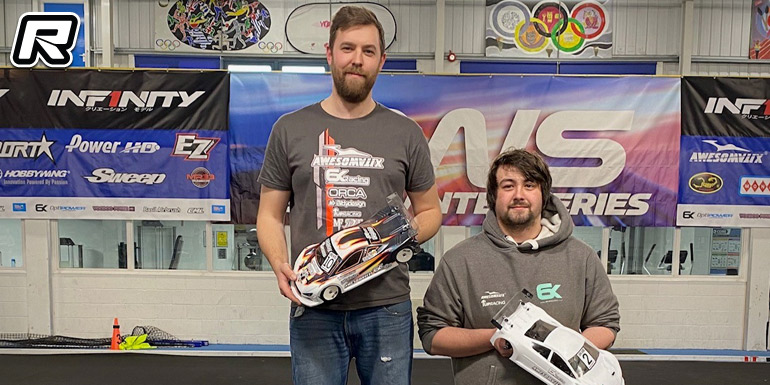 Super Stock Touring championship top 10:
1. Billy Fletcher – 598
2. Florian Joos – 594
3. Sam Law – 582
4. Tony Broad – 581
5. Ashley Wiffen – 581
6. Richard King – 576
7. Adam Southgate – 576
8. Nathan Parker – 569
9. Dani Young – 563
10.Ricky Copsey – 557
Within the Super Stock championship, the EWS also awards the top Sportsman (drivers who have not made an A, B or C-final last season, and make no more than 1 C-final this year). Adam Downing took a narrow win by just a single point in the final rankings.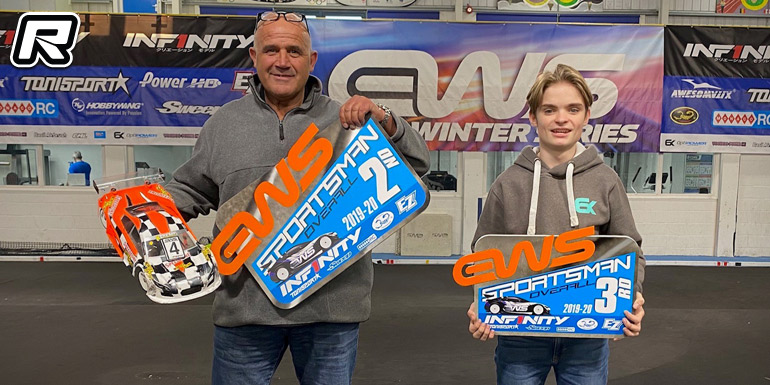 Sportsman top 5 result:
1. Adam Downing – 430
2. John Godbehere – 429
3. Oscar King – 424
4. Shane Chipolina – 413
5. Jack Day – 388
A Masters league is also in place for the over-40 drivers. Richard King was the run-away champion this year, but there was a tight fight to get onto the podium.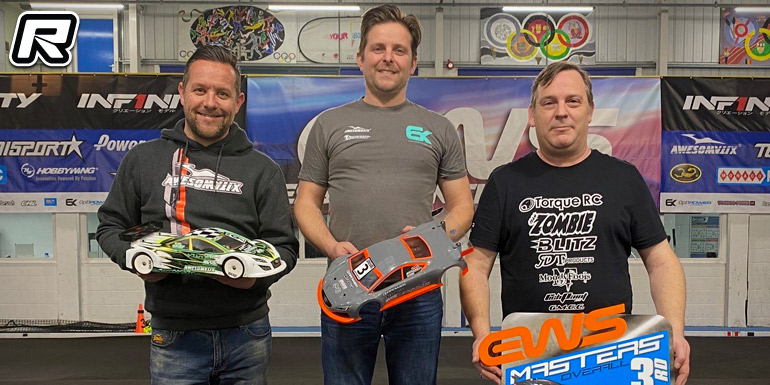 Masters top 5 result:
1 Richard King – 577
2 Tristan Wilby – 503
3 Mark Young – 463
4 George Munns – 462
5 Dave Ringsell – 459
Finally, in the Front Wheel Drive class, it was another domination from Craig Nutting, as he secured pole position and a clear A-final win. Paul Hill was best of the rest, taking second in qualifying and second in the final, whilst Jason Butterfield lined up third on the Final grid, but was beaten by Gary Taylor in the single-leg final, with Mark Caton rounding out the top five on the day.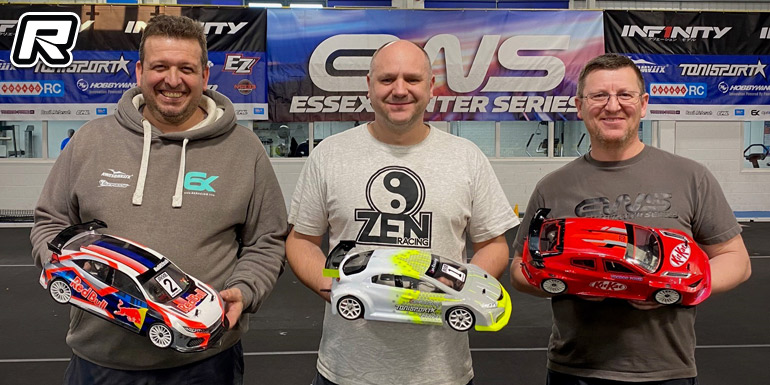 FWD Touring final result:
1. Craig Nutting
2. Paul Hill
3. Gary Taylor
4. Jason Butterfield
5. Mark Caton
6. Martin Southall
7. Mark Burgess
8. Craig Woods
9. Alan Chipolina
10.Peter Hill
11.Bill Boag
12.Jody Symons
This result gave Paul the runner-up spot in the championship, with Gary taking third overall.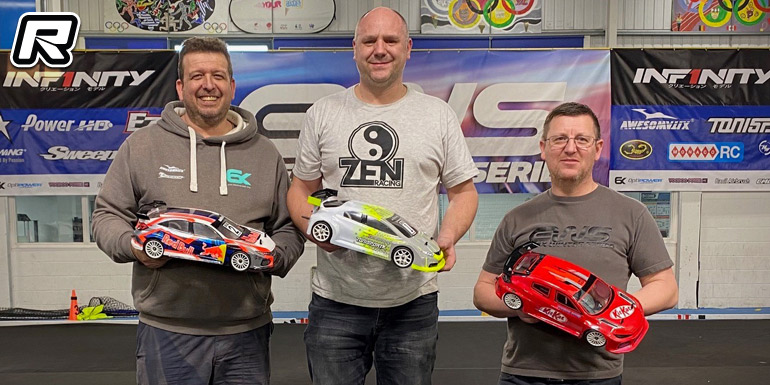 FWD Touring championship top 10:
1. Craig Nutting – 600
2. Paul Hill – 591
3. Gary Taylor – 589
4. Jason Butterfield – 584
5. Mark Caton – 582
Source: EWS [ewsevents.co.uk]
---