July 23, 2020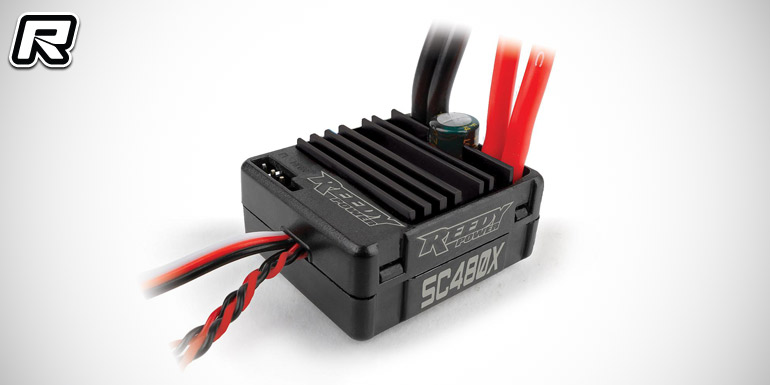 Associated Electrics have introduced the new Reedy SC480X brushes crawler speed controller. Trail tested and proven, the speedo is a simple to use, economical, and powerful ESC for trail truck and crawler enthusiasts. Excellent forward/reverse/brake feel, a wide range of adjustability, and robust hardware make the SC480X suitable for both trail truck and crawler applications. The pre-programmed default ESC settings work very well in most situations, but if owners want access to additional settings for fine-tuning, they can do so using optional Program Card #27034.
Features:
– Crawler/Trail Truck operation
– Dual auxiliary power leads
– Durable case with aluminum heat sink
– Water-resistant and dust proof
– Precision throttle, reverse, and brake control
– Fully adjustable brake and throttle functions (requires program card #27034)
– LiPo low-voltage protection
– Heavy-duty silicone wires
– Low-resistance T-plug battery connector
– Bullet motor connectors
Specifications:
– Cells: 2-3 LiPo, 5-9 NiMH
– Current (A): 80 cont./320 burst
– Resistance: 0.0014
– Motor Limit, 2S LiPo/5-6 NiMH: 540/550 12T 3-slot; 8T 5-slot
– Motor Limit, 3S LiPo/7-9 NiMH: 540/550 15T 3-slot; 10T 5-slot
– Low-Voltage Cutoff: Yes
– Dimensions (mm): 32 x 37 x 18
– Weight (g): 43
– BEC: 7.4V/5A
– Power Wires: 16-gauge
– Connectors: Battery: T-plug. Motor: Bullet. Aux: FUT-J.
Source: Associated Electrics [associatedelectrics.com]
---