August 16, 2020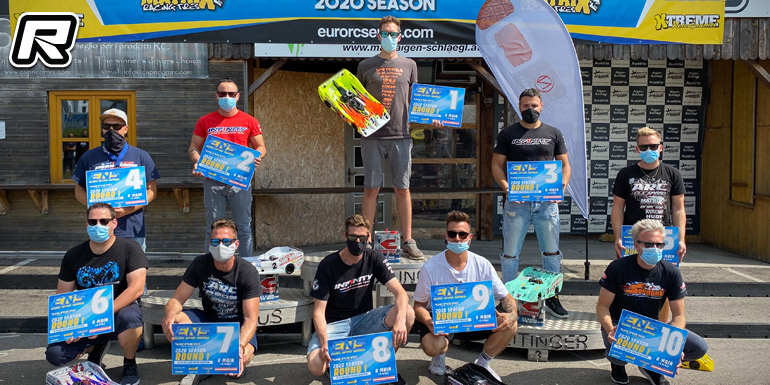 The first round of the 2020 Euro Nitro Series took place this weekend at the popular MAV Aigen-Schlagl track in the Austrian countryside. In the 1:8 Scale Class, Simon Kurzbuch secured pole position for Shepherd after the organisers were able to conduct the fifth qualifying round on Saturday morning, beating Infinity's Dario Balestri in the shootout. In the Main Final, Balestri pressured Kurzbuch over the first few laps, as third place starter Carmine Raiola dropped back and allowed Robert Pietsch into third. However, an early tyre stop didn't work out for Balestri as taking just two tyres made his car unbalanced and hard to drive. This allowed not only Kurzbuch to pull a big advantage, but also Pietsch and Raiola to pass Balestri and move into second and third respectively. However, following a later four tyre stop, Balestri was back on pace and moved up to second once again – however too far back to challenge Kurzbuch for the win. Pietsch and Raiola battled hard for third, with the positions switching during pit stops. Raiola eventually made up for his bad start, and secured third at the finish line to make it two Infinity cars in the top three.
1:8 scale final result:
1. Simon Kurzbuch – Shepherd/OS Speed
2. Dario Balestri – Infinity/Max Power
3. Carmine Raiola – Infinity/Max Power
4. Robert Pietsch – Mugen/Ielasi Tuned
5. Silvio Hachler – ARC/OS Speed
6. Lars Hoppe – Shepherd/Reds
7. John Ermen – ARC/Reds
8. Rick Vrielijnck – Infinity/Max Power
9. Shasa Lackner – Mugen/ASM Nuclear
10.Merlin Depta – Serpent/OS Speed
In 1:10 Scale, Jilles Groskamp started on pole for Infinity, but it was Capricorn driver Dominic Greiner who moved into first place on the opening lap. Dominic was clearly quicker in the long 45 minute final, pulling a gap over the Dutch driver. Melvin Diekmann started third and, despite a scare with a flame out for his Capricorn in the pits, also finished in that position. Dirk Wischnewski had a battle in the middle and second half of the race with Diekmann, with Wischenewski taking just two fresh tyres on his Mugen (whilst all the leaders made a four tyre stop) to jump Diekmann during the tyre phases. However Diekmann had the better speed thanks to his four new tyres, and was able to secure the final podium position. Milan Holthuis continued to impress in the ENS season and secured another top five result for Infinity.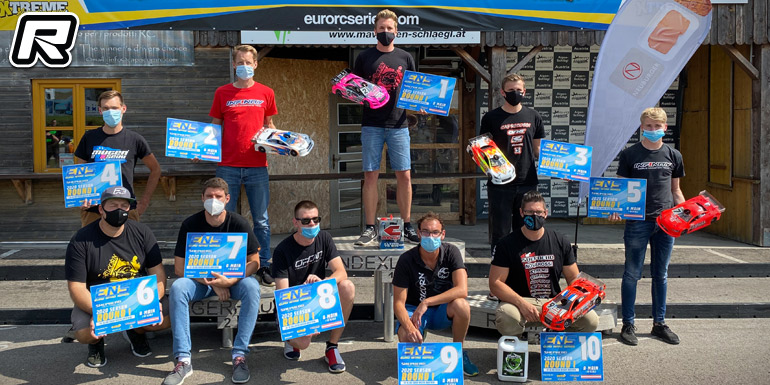 1:10 scale final result:
1. Dominic Greiner – Capricorn/OS Speed
2. Jilles Groskamp – Infinity/OS Speed
3. Melvin Diekmann – Capricorn/ONE
4. Dirk Wischnewski – Mugen/Orcan
5. Milan Holthuis – Infinity/Gimar
6. Thilo Todtmann – Capricorn/ONE
7. Juan Hidalgo – Serpent/Novarossi
8. Jakub Rozycki – Xray/Orcan
9. Quentin Leroux – Capricorn/ONE
10.Toni Gruber – Shepherd/Novarossi
Finally, in the 1:8 +40 Masters class, Michael Salven put on a masterful display in the final, leading from pole position to take a comfortable win. Good fights between Andrea Hachler, Arie Manten and Gerhard Kandelhart eventually saw Kandelhart take second overall, with Manten having to settle for third after a late race trip onto the grass saw him needing fresh bodyclips to hold his shell in place. Hachler looked to be rewarded with a good result after a tough qualifying, but a failure in technical inspection saw the Swiss driver demoted to tenth as he looks to improve on last year's championship runner-up position.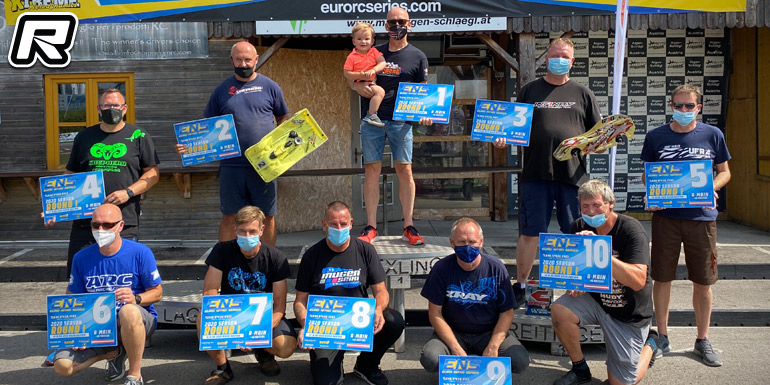 +40 Masters final result:
1. Michael Salven – Serpent/Gimar
2. Gerhard Kandelhart – Shepherd/Ielasi Tuned
3. Arie Manten – Infinity/OS Speed
4. Franz Engel – Shepherd/Novarossi
5. Remy Hasler – Mugen/OS Speed
6. Olaf Engelmann – ARC/OS Speed
7. Rudi Scherer – Shepherd/Max Power
8. Martin Wenger – Mugen/OS Hasi
9. Juraj Hudy – Xray/FX
10.Andrea Hachler – ARC/OS Speed
The second round of the series takes place in September in Apeldoorn, the Netherlands.
Thanks to Oli Meggitt for the report.
---