August 12, 2020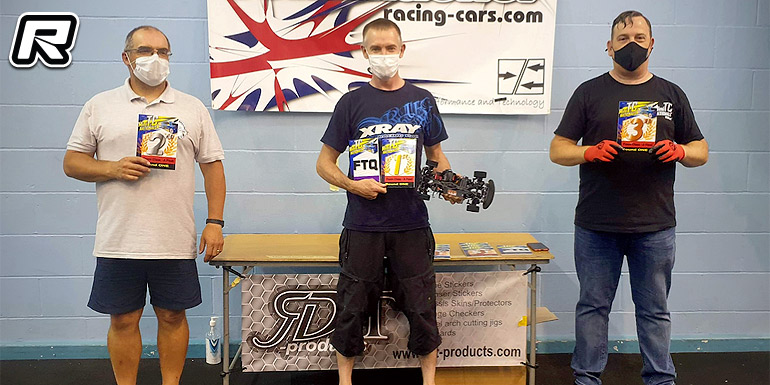 Round 1 of the MTC Nationals was held at EARCC in Norwich. The club's venue is in Easton College in the very big sports hall. The drivers were greeted with a well prepared track with a great layout and a carpeted pitting area which had ample room for the racers. This year there are three classes with the MTC Rubber and Foam classes being the main ones, but also each round has a support class so that those yet to enjoy MTC can still join in the fun on the day. In the Foam class qualifying was a two-way battle between Dave Rand and Mark Barford to take the P1 for the finals. Dave took FTQ by just over a second from Mark with Michael Chapman rounding out the top 3.
Leg 1 of the A-mains saw a coming together at the start which saw Mark Young move up from P4 who then chased Dave down, but as hard as he tried Dave was pulling a gap every lap to take the win from Mark. Meanwhile there was a great battle for 3rd place going on to the finish line with Michael Chapman taking the place 1 second clear of Mark Barford. Leg 2 was full of excitement from start to finish with the top 4 cars trading places. The battle at the front was eventually won by Dave Rand with Mark Barford 1 second behind as they crossed the finish line. Michael Chapman took 3rd in this leg followed by Mark Young. Dave Rand took a well deserved first A-final win with his RRP 3 Racing M4 Pro. The next three were all joint on points and on count back Mark Barford took 2nd place with his modified 3Racing M4 Sport and Mark Young 3rd place with his 3Racing M4 Pro, also taking the fastest lap of the day. This made it a 3 Racing podium lockout. A brilliant end to a great days racing.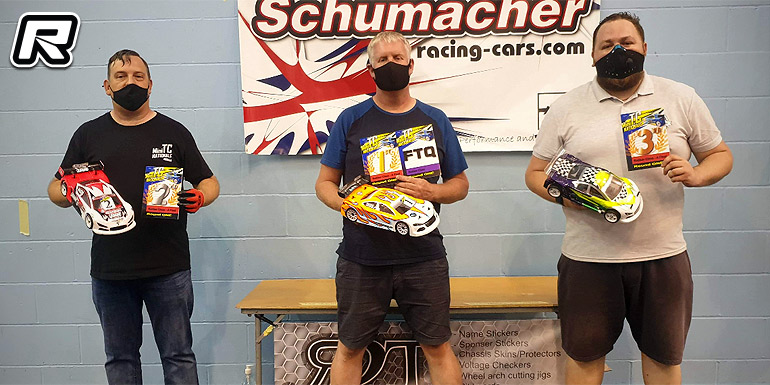 Stu Rand was in a league of his own in the Rubber class qualifying. Stu was using a RRP mid motor Xray conversion to full effect by taking FTQ by well over a lap of the rest of the field. Mark Young using his 3 Racing M4 Pro took P2 with Michael Chapman rounding out the top 3 with his M4 Pro. In leg 1 and with a flying start Stu Rand lead the field away with Mark Young chasing him down. With Stu's consistent pace he easily pulled away until lap 22. After clipping a corner he had to wait for a marshall at an awkward point on the track, so Mark moved into the lead, Stu chased him down but it was to little to late and Mark took the win from Stu and Jack Anderson just made the line before Michael Chapman. Leg 2 saw another great launch off the start line for Stu and he never looked back this time. He had to win this leg of the finals to secure the overall win, which he did in fine style with his RRP Xray taking the win by 1 lap and with overall victory. Mark had another solid run to 2nd place 3 seconds clear of 3rd place Michael Chapman. The overall finishing order after the countbacks were calculated were 1st place Stu Rand, 2nd Mark Young, 3rd Michael Chapman.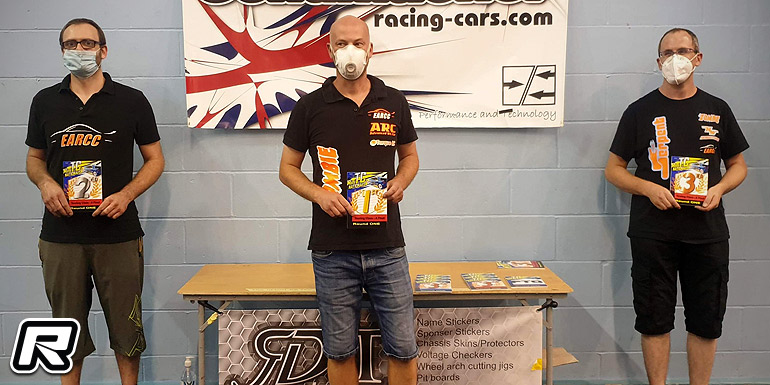 The TC support class qualifying saw Rob Brighton taking P1 for the A-final from Daniel Chilvers and Mark Ratcliffe. In the finals Rob stamped his authority on both legs to take the overall win. Mark and Daniel were joint on points with Mark taking the 2nd podium place with a faster time than 3rd place Daniel.
Round 2 is on the 23rd of August at SRCCC near Southend, Essex.
Thanks to Mark Young for the report.
---