August 13, 2020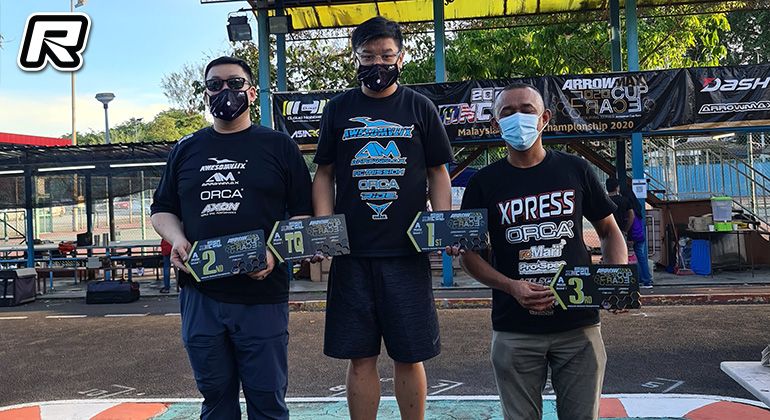 Postponed from March due to the Covid-19 pandemic, the Malaysia National Championships took place last weekend and for the first time in its history was run alongside another race series, the Arrowmax Cup. A much anticipated race as everyone was not able to race for the last 5 months they received more than 70 entries across 4 different classes, ranging from 13.5T Boosted, 17.5T Blinky GT, 17.5T FWD and 17.5T Racing Truck. With Arrowmax being the main sponsor for the series, the controlled tire was the 30 shore Asphalt NC tires.
Right off the bat it was Wong Kokwai, driving his Orca powered Awesomatix MMX that took the TQ spot in the 1st qualifying round of 13.5T Boosted to secure the only 20 lapper with a time of 5:15.886, with Michael Lo, also with his Orca powered Awesomatix MMX following closely with a 19 laps, 5:01.310. Third was Azri Amri driving his Orca Powered Xpress XQ10, with a 19 laps, 5:02.152. These positions would be held constant while the rest of the A Main was made up by some very fast drivers utilising their 2nd set of allocated tires to climb further up the A Main grid.
Final 1 was a tough fight between Wong Kokwai and Michael Lo as they exchanged positions numerous time through the 5 minutes nearly coming into each other's path on more than 1 occasion, but being teammates, they knew where to draw the line and not jeopardise each other's race. As Azri struggled in Final 1 and was only able to come in 5th for Final 1.
Final 2 was pretty much a Wong Kokwai walk over as he was gone from the get go and never to be seen while Michael Lo was hampered a little by his car's setup and was having a little fight with Shahrin who qualified 4th on the grid, coming in side by side in one of the corners, but Michael Lo was luckier to have got off without any issue and went on to take 2nd in Final 2 with Shahrin finishing 3rd.
Final 3 was not so exciting for Wong Kokwai as he has already won the race with 2 x 1st positions, Michael Lo basically guaranteed a 2nd position with 2 x 2nd positions, it was a battle between the rest for the 3rd position. From the get go, it was Wong Kokwai again leading with Michael Lo having a little slide on the first lap which allowed Azri to pass to take 2nd and eventually Azri would be able to pass Wong Kokwai as Wong Kokwai was not in contention for the points. While Shahrin would pass Michael Lo in pursuit to the front 2 runners on lap 4. It was Wong Kokwai who was pushing Azri Amri for the position while Shahrin was not able to make any headway to catch Azri Amri for the next three and a half minutes, allowing Azri Amri to take Final 3.
In the end the Final standing are as follows:
13.5T Boosted (Superstock) Class:
1. Wong KokWai (TQ) – Awesomatix MMX
2. Michael Lo – Awesomatix MMX
3. Azri Amri – Xpress XQ10
4. Shahrin – Xray T4'20
5. Andy Dass – Xray T4'20
6. Billo – Awesomatix MMX
7. Adik Haikal – Xpress XQ10
8. Eric – Awesomatix MMX
9. Peter Cheong – Xray T4'20
10.Naz – Xray T4'20
17.5T GT Blinky Touring Class:
1. Safwan
2. Zainy
3. Eddie (TQ)
4. Rojak
5. Imran
6. Amm Melaka
7. Salim JB
8. Apix Melaka
9. Jamal Bahar
10.Hiro
17.5T FWD Blink Class:
1. Shahrin(TQ) – Xray T4F'21
2. Kew SauGie – Awesomatix A800FX
3. Zaki – Xpress FT1
4. Wafie – Xray T4F'21
5. Michael Lo – Awesomatix A800FX
6. Arief KR – Xpress FT1
7. Shukri – Xpress FT1
8. Wak Rose – Awesomatix A800FX
9. Sham Sakura – Xpress FT1
10.Halim Hafni – Xpress FT1
17.5T Racing Truck Class:
1. Wandy Moore(TQ)
2. Eddie
3. Shukri
4. Epin
5. Aziff
6. Faizal Sulu
7. Razwan
8. Abg Jamal
9. Rohimi
10.Rudy
Source: Arrowmax [arrowmax-rc.com]
---