September 21, 2020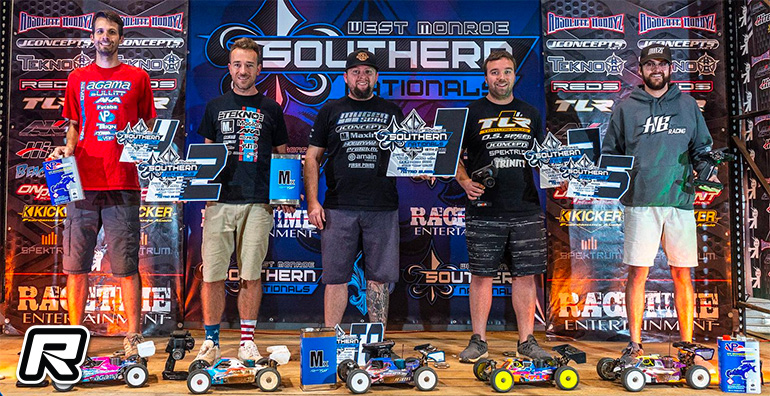 The Southern Nationals 2020, run by Racetime Entertainment, were held last weekend in West Monroe, Louisiana on a beautifully presented dirt track at the Ike Hamilton Expo Center. Attracting most of the US 1/8th scale top guns, the blue ribboned Pro Nitro buggy class saw Mugen/JConcepts driver Ryan Maifield lead the field in qualifying, doing a clean sweep in all 3 rounds. Behind, Spencer Rivkin (Associated) would line up in 2nd with Dakotah Phend (TLR), Ryan Lutz (Agama) and Jared Tebo (Tekno) completing the top 5. Getting his head down early in the race, Maifield was able to convert the top starting spot into the win to bring it home just over 7 seconds ahead of Tebo who took just some 7 laps to move up from 5th into the runner up spot. Dakotah Phend would take the 3rd spot, having dropped back early, finishing where he started. Ryan Lutz would bring his Agama home in 4th with HB driver Cole Ogden 5th of the 18 starters in the 30 minute main.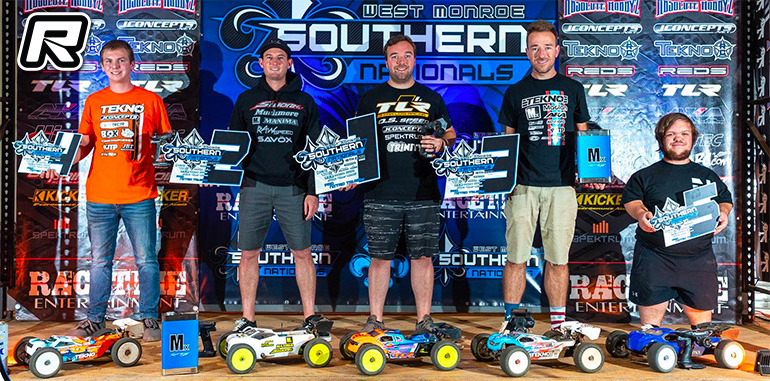 Pro Nitro Truggy qualifying was more of the same for Ryan Maifield, again taking all rounds of qualifying to start the main again from pole, with Dakotah Phend lining up in 2nd and Ryan Cavalieri (Sworkz) starting from 3rd. Phend would push early and get passed the Mugen driver, only for Maifield to drop out of contention at the halfway point allowing Cavalieri up into 2nd place and Spencer Rivkin into 3rd, only for the Associated driver to fall back near the end of the event with technical problems promoting Jared Tebo (Tekno) up into 3rd where he would stay til the end, behind winner Phend and Cavalieri in the runner up spot. Seth Vandalen (Tekno) would come home in 4th, with Brandon Rose (Agama) taking 5th at the end.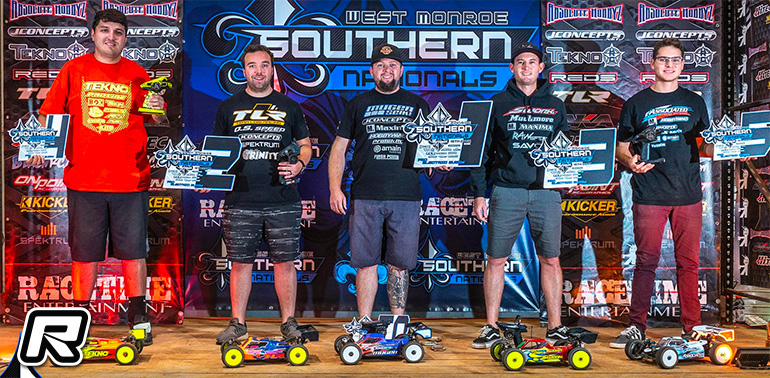 Pro E-Buggy again saw a dominant performance in qualifying from Maifield and this time he could again convert the pole position into victory. Winning the opening A-main ahead of Dakotah Phend and Joe Bornhorst, the second and final A-main was a disaster for Maifield as he ended the race in 8th. However his winning time from A1 was enough to give him the tie break over Phend who was the winner of A2. Ryan Cavalieri would end up in 3rd, with Joe Bornhorst and Spencer Rivkin rounding out the top 5.
Images: Racetime Entertainment [facebook.com]
---