April 2, 2021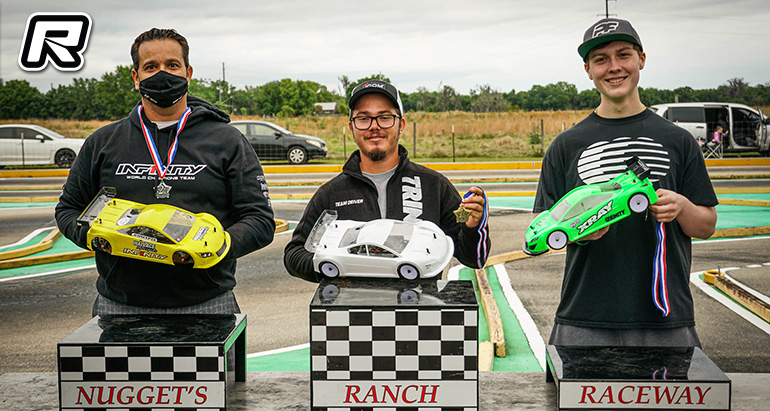 Another Strong 80 entry event at the Nugget Ranch raceway for the 6th round of the FSEARA series. One of the bigger size tracks for the series. Saturday's practice was filled with lots of laps, the weather was cold for this time of the year, but Sunday was even colder. With the wind again a challenging factor just like Rd5 at Coral Spring. It was hard for most racers as the cold front totally came out of nowhere. The high speed and the sudden cold weather made this track unforgiving. Many broke their cars in practice on Saturday. As time went on, many were able to adapt to have enough parts to continue for Sunday's event. The highlight of the battle for the weekend was for sure in 17.5 TC.
Last round Winner Cory Parson set the pace with a brand-new car again in this round. This time a 2021 Xray T4. Having a strong Q3 run, he was able to TQ this round. The close battle this time around was his chassis team mate Chad Peets. Having strong Q1 and Q2 runs, he only fell short to Cory by 1secs. 3rd in qualifying is another Xray chassis driver James Morris with just 1sec behind Chad. It was a perfect top3 qualification for team Xray. In the Amain. It seems the usual front runner found their pace. Corey Record and Dave Vera were able to battle their way back to challenge top 3 again. Early in the race, Cory Parson led the pack while Corey Record on Chad Peet was fighting for 2nd. But due to the raw speed of Corey Record, Chad couldn't hold on the position and allow Corey Record to squeeze by. The Race was intense after that, Corey Record doing everything he can to attack the leader. But the awesome defensive line by Cory Parson was able to maintain the lead. In the end, the attack of Corey Record gave himself an opening, allowing Dave Vera to catch up. The battle for the remainder of the race was between Dave and Corey. In the end, Dave was able to squeeze by and took 2nd.
1. Cory Parsons (Xray T4 2021)
2. Dave Vera(Infinity IF-14 2)
3. Corey Record (Xray T4 2021)
In Mod TC it was Xpress Driver Felix Law who won standing on top in this race. Corey Record was able to put on a small challenge to Felix in Q2, But only to let Felix extend the lead again in Q3. In the A Main, Felix Law was able to put together a flawless run and gap 2nd place by 13sec, while Corey had a small mistake and fell back to 5th and had to fight to regain his 2nd place position. James Morris had a good start jumping from 6th to 3rd driving a nice and steady round out the podium.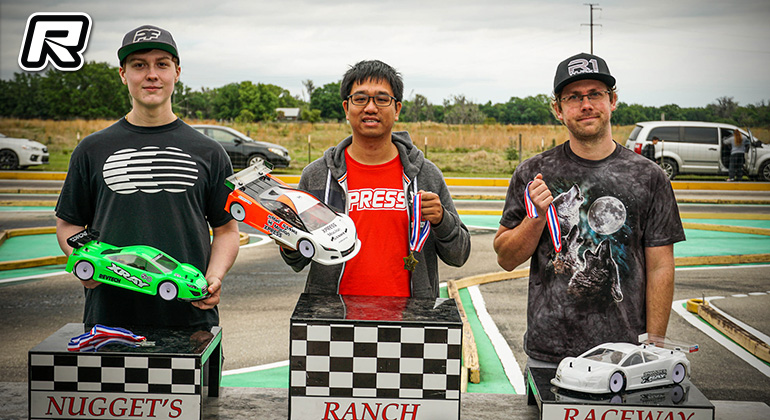 1. Felix Law (Xpress XQ10)
2. Corey Record (Xray t4 2021)
3. James Morris (Xray T4 2021)
In USGT the FWD vs 4WD Story continues. While Reuben Diaz represented the FWD pack pretty well, Eddie Shaffer and Jesus Diaz were in their own league. Eddie Shaffer had a small advantage throughout the qualifier, but in the end, the last Qualifier decided all. With the better overall consistently, Eddie was about to take Q3. In the main, Eddie was able to stretch the lead to 6sec while Jesus was steady in 2nd. Reuben had to fight to regain his 3rd from a small mistake to finish on the podium.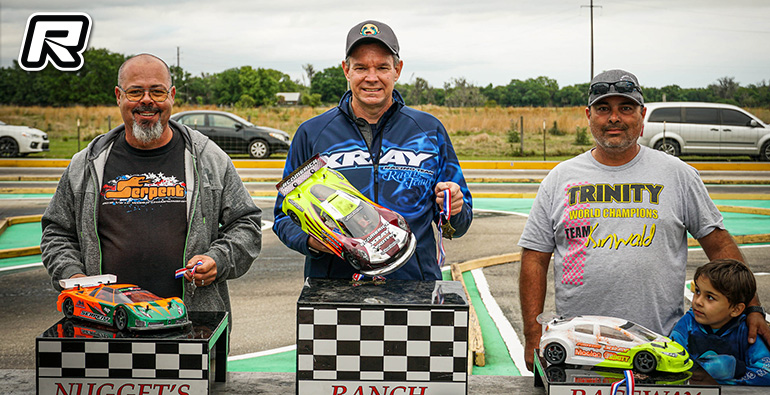 1. Eddie Shaffer (Xray ZeroTrible Conversion)
2. Jesus Diaz (Serpent 4x)
3. Reuben Diaz (Xpress FT1S)
As the 17.5 handout TC class seems to fade out, our 2 class veteran Eddie Shaffer and Brandon Diaz still keep this class alive. Eddie had the clear advantage this time. He was able to TQ and take the win. Brandon finished 2nd and Rob Haskell finished 3rd.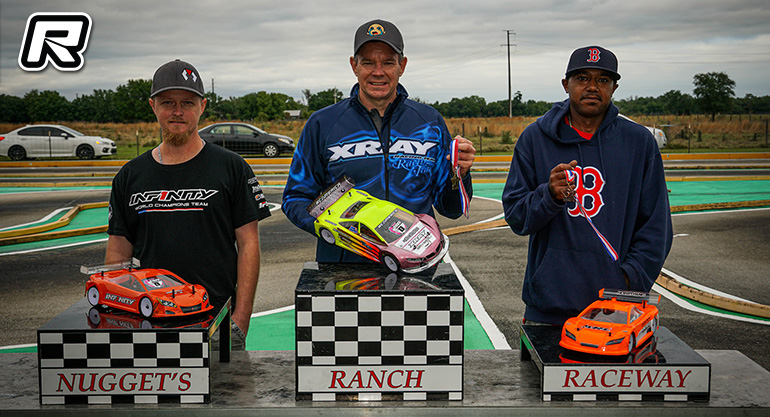 1. Eddie Shaffer (Xray ZeroTrible Conversion)
2. Brandon Diaz (Infinity IF14-2)
3. Rob Haskell (ARC R11)
In VTA it was RaceVTA store owner Greg Rojna who set the pace in the VTA class using his brand new Xpress XQ2s. With him setting the pace, He was the only one able to get the 16 laps in qualifying. But in the Amain, something totally went wrong, he chose the wrong tire and this caused him to retire early. This Allow Jake to overtake and gap 1st for the remainder of the race. It was the first ever win from Jake using an old School Team Associated TC3. Brandon Drove a safe race and finished 2nd while Scott Koob Finished 3rd.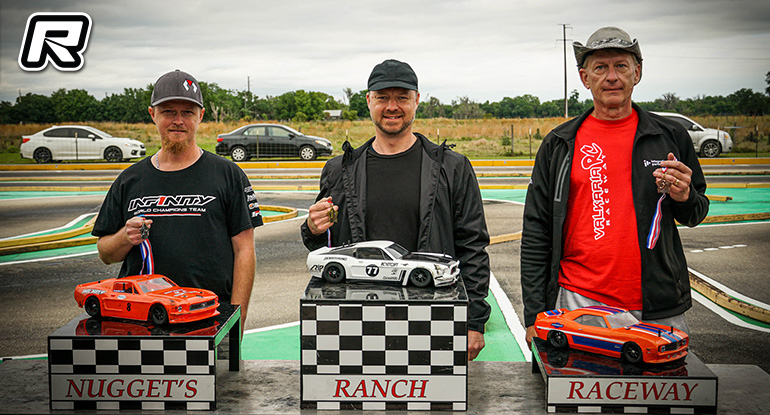 1. Jake Engstrom (Team Associated TC3)
2. Brandon Diaz (infinity IF14-2)
3. Scott Koob (Xray T4)
In GT12 the winner of RD 5 Jesus Diaz was unpressured this time around. Gaping the TQ. But to only have some lap counter problems in the main. Jesus was able to maintain a large enough lead to able record his run afterward. As the race goes on, every position remains the same. Brandon finish 2nd while Stephen Kamin rounds out the podium.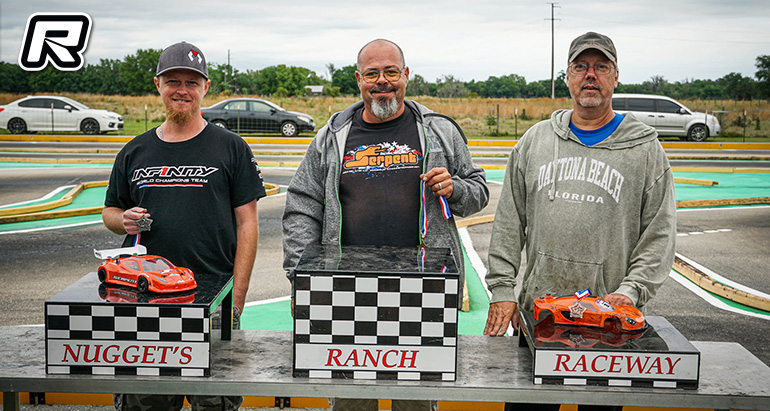 1. Jesus Diaz (Serpent S120)
2. Brandon Diaz (Serpent S120)
3. Stephen Kamin (Xray X12)
F1 was a battle to watch in Qualifying. Carpet Specialist Richard Carpenter was able to gap Q1 with a good amount of gap, but to only get challenged by Miami Mike in Q3. In the end, Miami Mike was able to pull himself together to get the overall TQ after a super bad day in his equipment failure. In the main, Miami Mike maintains a fast pace check out from the field. While Richard had a big crash and destroyed his rear tire and had to retire from the race. Yuilen Rodriguz and Jon Hutton were able to maintain a gap and finish 2nd and 3rd behind Miami Mike.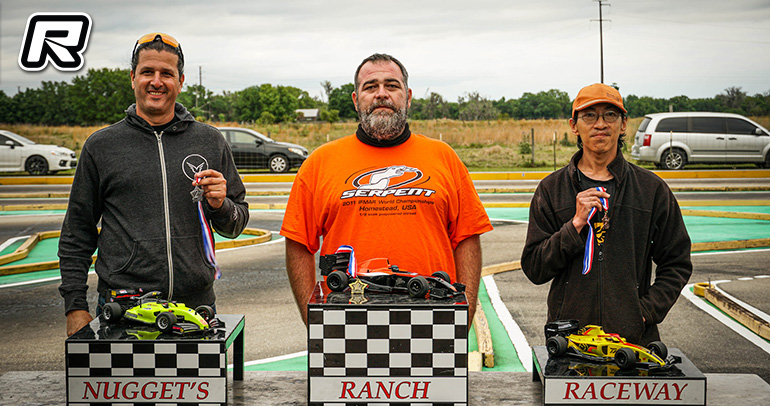 1. Miami Mike (Serpent SF4)
2. Yuilen Rodriguz (Serpent SF4)
3. Johnathan Hutton (Xray X1 2019)
Source: FSEARA [facebook.com]
---