June 9, 2021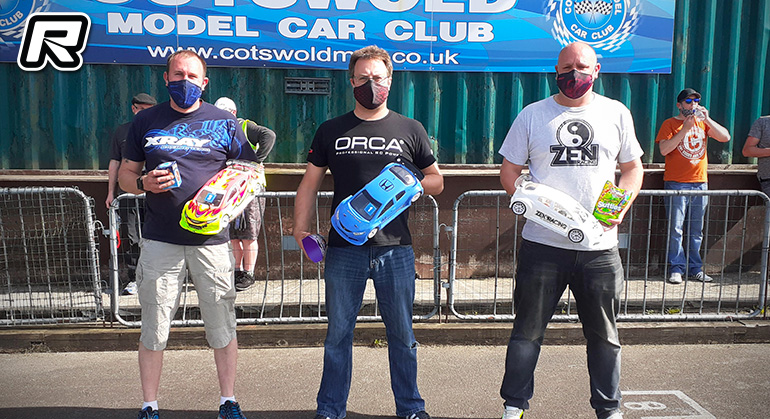 The first BRCA 1/10 Electric Circuit meeting of 2021 was held at the Cotswold Model Car Club situated in Cotswold Airport, Gloucestershire recently. This was Round 1 of the BRCA Clubmans series now in its 10th year. Saturday practice saw a good turn out of drivers practicing after many months of bench wrenching. With very healthy numbers in attendance from all of the 3 classes racing this weekend, TC 17.5 Blinky, Frontie and Formula One being this years classes. Sunday race day came and we had even more racers with those that couldn't make the Saturday practice session. There was a real buzz in the air with quite a few racers meeting up for the first time in many months. Sunshine was forecast for the day but as with the previous day we wouldn't see it until later in the day, but just in time for the finals.
Qualifying:
This being the first year for the new FWD class it was anyone's guess who would top the time sheets at the end of qualifying. Christopher Brian would prove the one to watch with his car spot on for qualifying, taking a clean sweep of first places in all four rounds. Craig Nutting would keep him on his toes though with two second places and the only one close to his fastest time. James Millbank also took two fine second in round places to line up third on the grid for the A Finals.
With 48 entries the 17.5 TC Blinky class is proving popular as ever. The racing throughout the day was very intense and exceptionally close. The top 10 in qualifying were all on the same lap and split by 10 seconds, so we were in for some interesting finals, where tyre saving throughout the day would no doubt come into play. Pole position eventually went to Chris Gunter, P2 Zak Finlay, P3 Andy Murray. There was absolutely nothing between the top 3 in qualifying so we were in for some great scraps in the finals.
22 Formula One cars had entered this event and we had some new chassis's for this year to spice things up. The F1's looked more at home on this sized track and really got to put the power down. However it took a certain technique to slow them down enough from high speed, more of a controlled drift into the high speed corners, great to watch. Luke Lee was at it again taking a brace of 1. in round places to line up P1 for the finals. Michael Lee lined up P2 with three 2nd places in front of P3 Stephen Lander with two 3rd places.
Finals:
Leg 1 of FWD saw Christopher Brain led away the first A final of the day at a blistering speed with Craig Nutting chasing him down until just half way into the race with a small error. This let James Millbank through to second place, which he held until the finish tone following Chris across the the line a few seconds adrift. Craig taking 3rd place.
Leg 2 saw Christopher lead away again from pole position with Craig again chasing but a little too hard on lap two where he dropped six seconds after a crash by race control. This saw James take second place once more and again hold on to it until the end of the race, even though Craig was turning in some great lap times. Chris made it a perfect weekend with a clean sweep through qualifying and the finals.
Overall results:
1. Christopher Brain
2. James Millbank
3. Craig Nutting
After having an exceptional days qualifying Chris Gunter had some bad luck in leg one of TC 17.5 Blinky. A pass by Zak Finlay through after the back chicane caught Chris out when he put the power down which resulted in a collision giving Andy Murray the lead with Zak make an excellent recovery and now back up to second. Lap after lap Zak was pulling Andy in, we also had Colin Jackson now up to third place from fifth on the grid and this was the finishing order after a hectic first leg.
Leg 2 and all still to play for saw Chris power off the start line on a mission from Zak and Andy, Chris went wide on turn 2 handing the lead to Zak. Lady unlucky stuck again for Chris 4 laps from the end being tagged by a back marker then Andy who had nowhere to go, this dropping him out of the running. Zak now had now pulled out a huge five second lead on Ben Cane who had a stellar drive from seventh place to cross the line behind our winner Zak and ahead of Andy. This was such a close finish to the day, second to sixth being split by less than two seconds.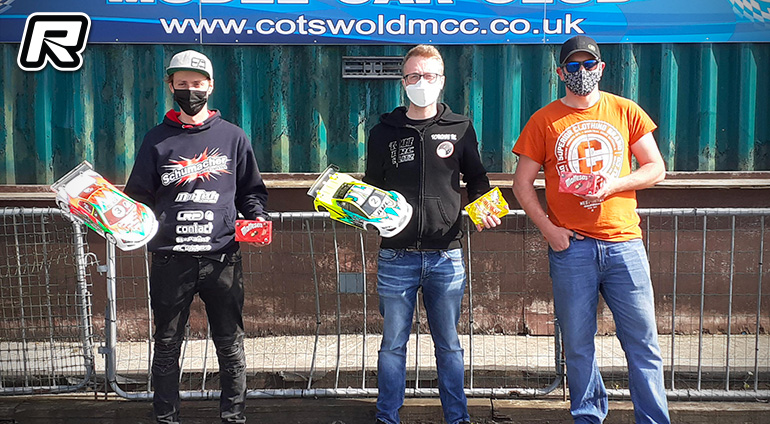 Overall results:
1. Zak Finlay
2. Andy Murray
3. Ben Cane
Leg 1 of Formula One and with Luke Lee on his usual pole position it would be a brave bet against him taking the win. That he did with a flag to flag first leg. The real battle was for second place between Stephen Lander and Michael Lee. As they both crossed the line Stephen took second but only just from Michael less than Michael second adrift.
Leg 2. Luke Lee led off the last final of the day and as in leg one was the only driver to achieve a 15 lap run which was almost identical to his leg 1 run, even his quickest lap was the same. Michael Lee held on to his second place grid slot for the whole race and Andy Murray took third place.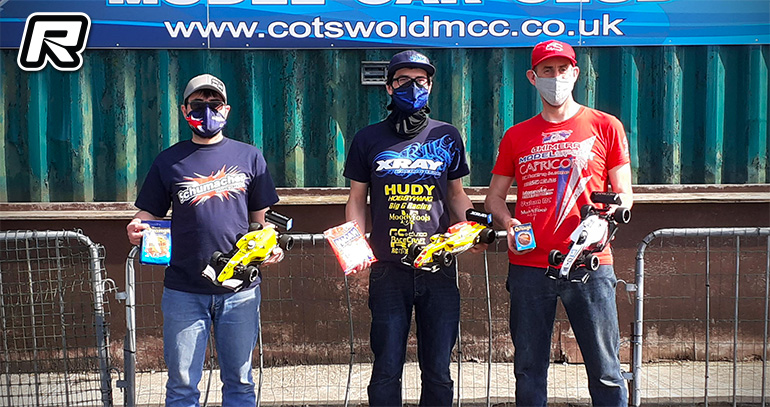 Overall results:
1. Luke Lee
2. Michael Lee
3. Stephen Lander
It was a fantastic to be back racing for the first BRCA Clubmans race weekend of the year, we saw some memorable finals at our first round and I'm sure there will be many more to come this year. The Cotswolds club did themselves proud with the running of the event which was faultless. The track lived up to all expectations and the work the crew have put in over the past year has greatly improved and already outstanding venue. Congratulations to all the competitors win, lose or draw we all had a great weekend.
Onto Round 2 in July at the midlands based Bedworth club in Coventry, this is proving to be a popular destination on the racing calendar, a super smooth track and very absorbent if we do see the sky water.
Thanks to Mark Young for the report.
---