June 15, 2021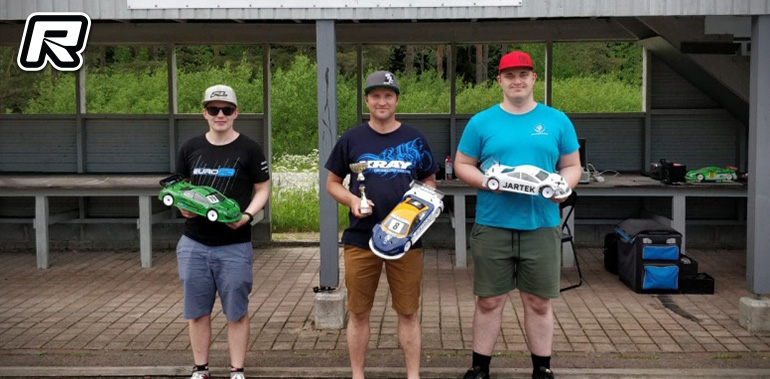 KyPak Touring Race was the first touring car race of 2021 in Finland, and it was hosted last weekend by the KyPak Circuit in Kouvola. Founded in 1990 KyPak (Kymenlaakso's Model Racing Club) is the oldest club solely focused on model car racing in Finland. The club has great facilities for both outdoor and indoor onroad racing and dedicated staff for hosting RC Racing events for over four decades now. This said, the KyPak Touring Race was nothing short of great. Everyone was eager to get back to racing after a long hiatus in RC racing in Finland. The race itself was held in two classes, Modified Touring and 21.5T Stock Touring. The KyPak Circuit is a great venue with very smooth tarmac and a very technical layout. It bathed in sunny June with temperatures as high as 25 degrees Celsius and with very little cloud cover and small gusts of wind. It was a perfect day for RC racing.
In Modified Touring the competition was extremely tight between Xray drivers Sami Takkinen and Valtteri Eklund both winning 2 rounds of the qualification with a margin of under 3 seconds. It was Takkinen who took the TQ with his Xray T4 after the time comparison, which was in favour of Takkinen just by 1 second! Xray driver Jyrki Malinen qualified third.
The finals were a tight race between Eklund and Takkinen. Xray driver Takkinen kept his cool and was able to win all the 4 finals ahead of Eklund by the advantage gained from the pole position and the clear track ahead of him, at the very technical layout of the KyPak Circuit. Race OPT driver Sisu Kuuslahti finished third as Malinen was experiencing troubles with his ESC. Eklund set the fastest lap of the day with his Xray T4.
Modified results:
1. (TQ) Sami Takkinen – Xray T4
2. Valtteri Eklund – Xray T4
3. Sisu Kuuslahti – Race OPT
In Stock Touring the competition in qualifying heated between the young talented Xray driver Ville Ahola and Xray driver Janne Koivisto. Ahola took a strong hold of the TQ title by winning all four qualifying rounds with roughly a 3 second margin to his fellow Xray driver Koivisto and setting the fastest lap of the qualification. Xray driver Aapo Koivisto qualified third.
The Stock finals were in 4 leg format, and it was a real thriller! All four finals were door-to-door, bumper-to-bumper racing, with multiple overtakes between Xray drivers Ville Ahola and Janne Koivisto. It was Koivisto who took the title before Ahola by winning 3 of the 4 finals. Xray driver Aapo Koivisto finished third. Ahola set the fastest lap of the day with his Xray T4.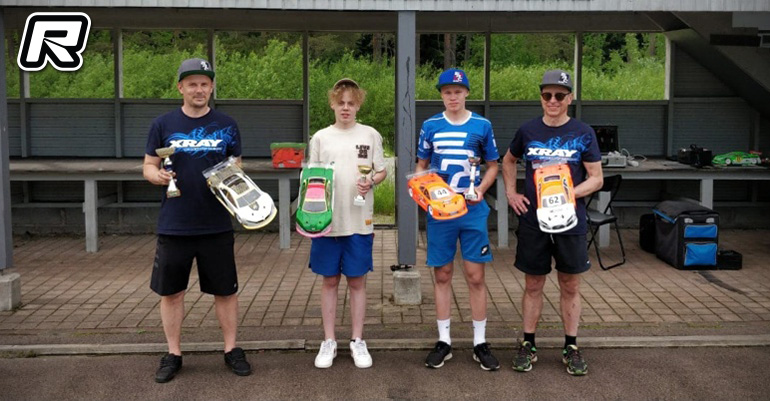 Stock results:
1. Janne Koivisto – Xray T4
2. (TQ)Ville Ahola – Xray T4
3. Aapo Koivisto – Xray T4
Source: Xray [teamxray.com]
---