July 27, 2021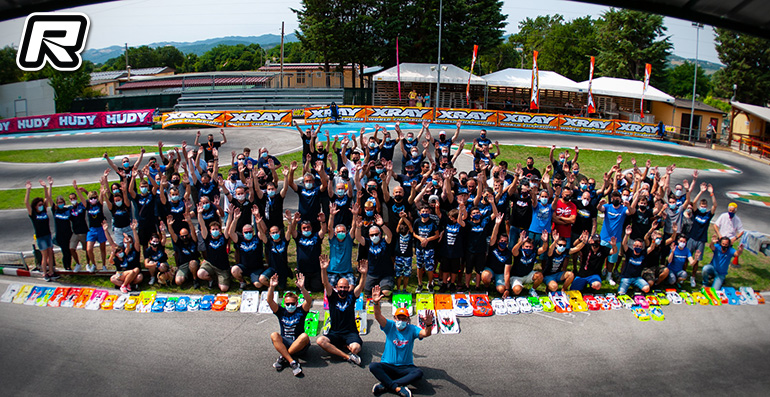 The 2021 edition of the XRS Italy on-road event was held at the beautiful facilities of Club Automodellistico 5 Colli in Gubbio, Italy. Some 110 entries in 5 different classes competed over the course of the weekend of 24-25th of July 2021. Perfect weather conditions, and a great atmosphere was present all throughout the event. The modified TC class was won by the world champion Bruno Coelho, followed by Alexander Hagberg, and Xray team manager and designer Martin Hudy in 3rd. Bad luck struck the 3rd qualifier, Alessio Menicucci, who dropped down the order in the finals.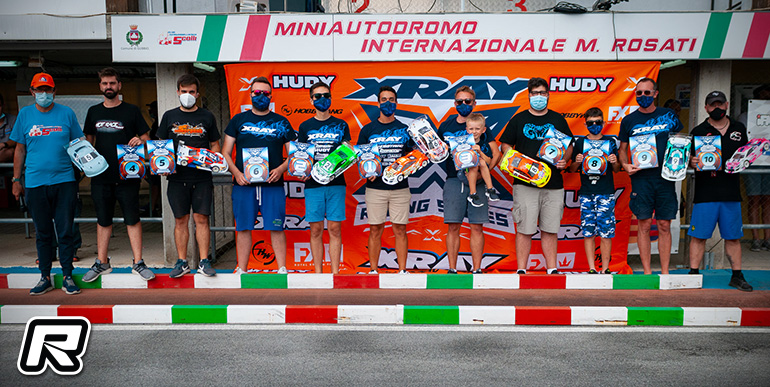 1/10 Modified results:
1. Bruno Coelho – Xray T4'21
2. Alexander Hagberg – Xray T4'21
3. Martin Hudy – Xray T4'21
The 1/10 Stock F2 category was won by Marco Gentili, after a close fight with young Francesco Domanin, and Luca Popoli. Marco and Francesco took a strong 1-2 finish for the Xray T4'21.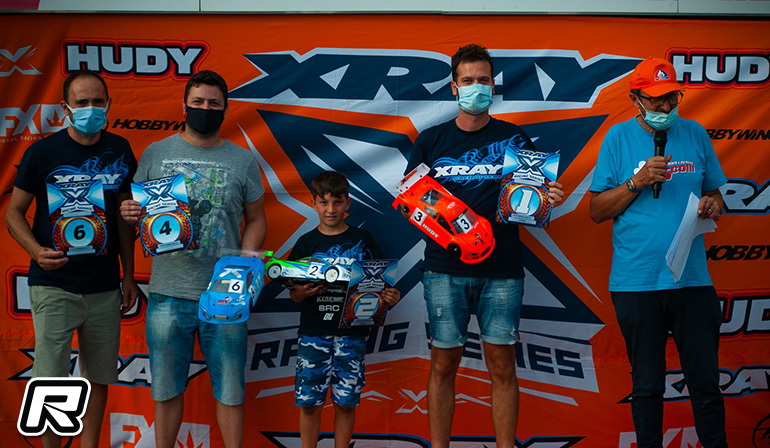 1/10 Stock F2 results:
1. Marco Gentili – Xray T4'21
2. Francesco Domanin – Xray T4'21
3. Luca Popoli
The very competitive 1/10 Stock category was dominated by our team driver Nico Catelani, followed by Alessio Valentini in the runner up spot, and Andrea Efficace in 3rd. Nico converted his TQ into a win in the finals.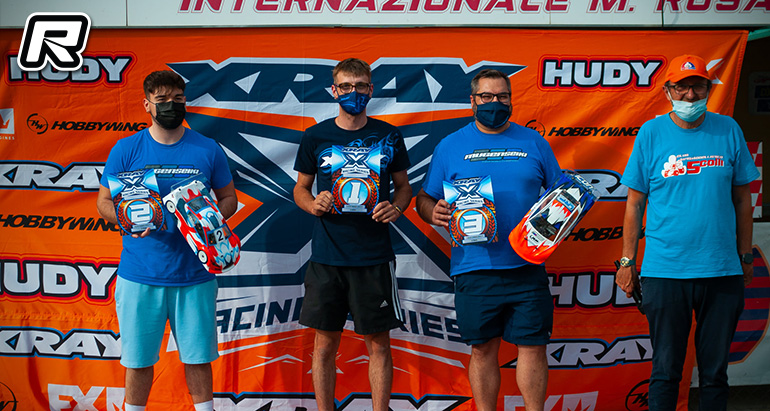 1/10 Stock results:
1. Nico Catelani – Xray T4'21
2. Alessio Valentini
3. Andrea Efficace
The trending 1/8 GT category saw a rare entry from Francesco Martini, who ended up dominating the class with a TQ & win. Attilio D'Angelo finished in the runner up spot, and Luca De Santis rounded out an all-Xray podium.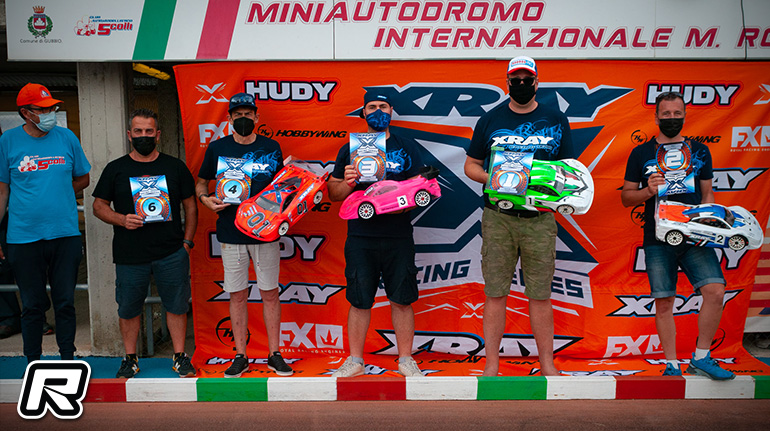 1/8 GT Electric results:
1. Francesco Martini – Xray GTXE
2. Attilio D'Angelo – Xray GTXE
3. Luca De Santis – Xray GTXE
In 1/10 Nitro, the Xray team driver Mario Spiniello took the TQ spot in front of Matteo Menichetti, both running Xray NT1 cars. But it was Alessio Agostinelli who ended up 2nd at the end of the 30 minute encounter, making it an 1-2 finish for Xray. Alessandro Balboni rounded out the podium in 3rd.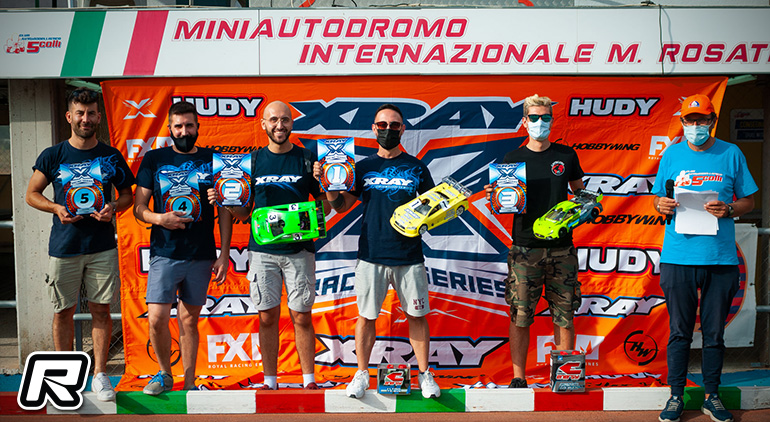 1/10 Nitro results:
1. Mario Spiniello – Xray NT1
2. Alessio Agostinelli – Xray NT1
3. Alessandro Balboni
Jonathan Gandin TQ'ed and won the well attended 1/8 category in a dominant fashion. Jonathan didn't put a wheel wrong all weekend. In the 30 minute final, Roberto De Cesare ended up 2nd, with Dante Piersante in 3rd, running an Xray RX8 as well.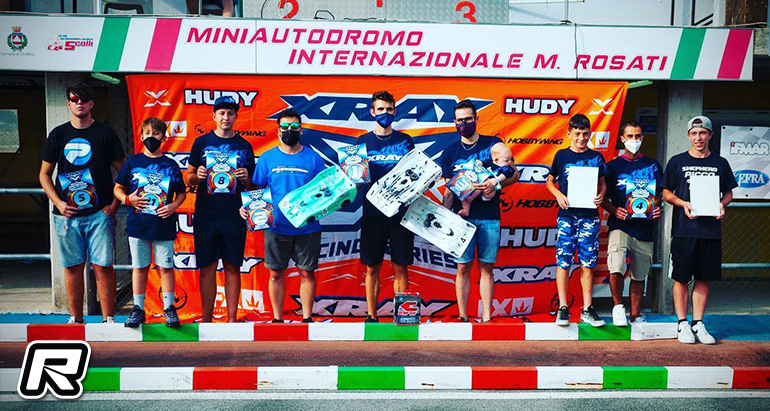 1/8 Nitro results:
1. Jonathan Gandin – Xray RX8
2. Roberto De Cesare
3. Dante Piersante – Xray RX8
Big thanks to the Gubbio club, as well as Fabio Domanin of SRC for putting on a spectacular event! The event was both competitive and fun, which has become the trademark of our XRS races worldwide.
Report by Alexander Hagberg.
Source: Xray [teamxray.com]
---