July 22, 2021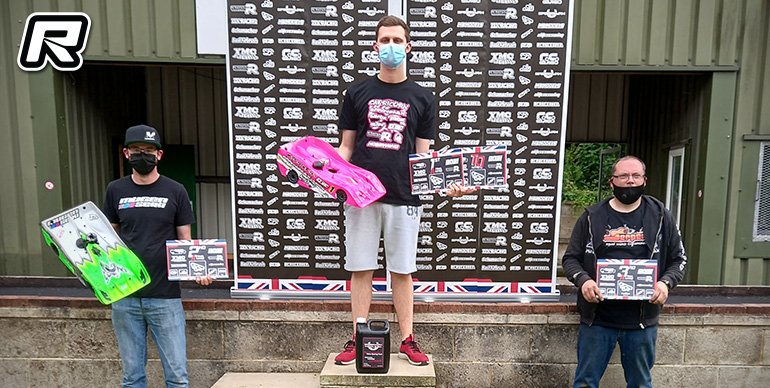 The newly resurfaced Halifax circuit hosted round 3 of the BRCA 1/8 Circuit series, the new surface and facilities providing the UK with a circuit up there with the best in Europe thanks to all the hard work of John Russell and club members. Many drivers had arrived before the weekend to test on the new surface with a mixed forecast due, Saturday morning saw downpours resulting in controlled practice being turned into open practice as it began to dry mid-way through the afternoon. Drivers managed to all get a few dry runs in later on and it was usual guys at the front with many different chassis being used in the Nitro class such as Serpent, Capricorn, Shepherd, Mugen, ARC and Xray. The Electric class is still being dominated by Capricorn and Serpent but was good to see Bob Harley running Xray. Around 40 drivers were competing at this event.
Race Day began dry for the practice round but unfortunately there was another downpour with most drivers sitting out the first couple of rounds. Only Mark Green and Rob Mckenna ran in round one while the track was completely wet, by round two it was slightly better with Neil Wallace venturing out in Electric and Rob Mckenna went quickest in the nitro class from Jack Brann both running Mugen chassis. Round three the track was damp and majority of the drivers went out and the times were falling, Alex Thurston, Andrew Hastings and Karl Dransfield topped the times. In Electric it was Michael Walton, Bob Harley and Kieran Adamson in the top 3.
So it came to the final round with conditions almost fully dry and no room for mistake as we use FTD qualifying, in Electric the order stayed pretty much the same with Michael, Kieran and Bob Harley the top 3. Heat two it was Steve Davis setting the pace from Jon Withington and Ralph Crampton all on 15 laps, Jon Melton the clear winner of heat 3 as others made mistakes in the slightly slippery conditions. In heat 4 the pace was much quicker with 17 laps Niall Cochran, John Carr with Rob Scott and Steve Smith doing enough to also book places in the A-final. In the top heat Alex secured FTD from Karl, Tim Wood took third with Andrew Hastings, Mark Green and David Spashett also doing enough to claim A-final spots.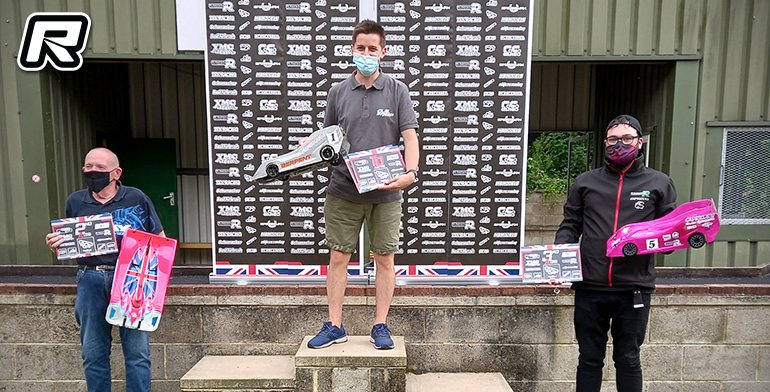 In the Electric finals Michael Walton (Serpent) dominated the three legs with Bob Harley chasing (Xray) and Lee Henson taking a well-deserved third (Capricorn).
The 30 minute A-final was lead off by Alex Thurston with Karl Dransfield in second for the opening minutes, Tim Wood and Andrew Hastings were to come through while Mark Green did the best he could using his wet car. Alex was able to drive consistently keeping out of trouble to take the win for Capricorn a lap in front of Tim (Shepherd) and Andy (Mugen), unfortunately Tim was to lose his second after scrutineering promoting Andy H up to second and Mark Green third. We are off to Wombwell near Barnsley for round 4 24/25th July see you there.
In the C final Rob Mckenna (Mugen) won by 2 laps from Criag Illingworth and newcomer Aadil Mughai took third. The B final was a race of attrition, Jon Withington (Xray) was left out on his own and able to take the win by some 5 laps as others had problems, Ralph Crampton (Shepherd) took a fine second as he settles back into racing and Jack Brann took third having shown good pace but had some issues later on in the race.
Nitro A Final
1. Alex Thurston (Capricorn) – 124 laps
2. Andrew Hastings (Mugen) – 121 laps
3. Mark Green (Serpent) – 120 laps

Electric A Final
1. Michael Walton (Serpent)
2. Bob Harley (Xray)
3. Lee Henson (Capricorn)

Nitro B Final
1. Jon Withington (Xray)
2. Ralph Crampton (Shepherd)
3. Jack Brann (Mugen)

Nitro C-final
1. Rob Mckenna (Mugen)
2. Craig Illingworth (Serpent)
3. Aadil Mughai (Serpent)
th
---