July 9, 2021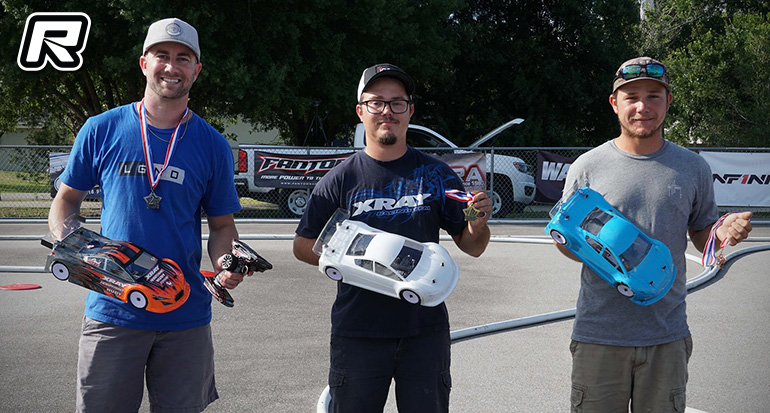 The final round of the FSEARA Series. South Regional Raceway / 941 RC Raceway is a brand-new track to the series also to racers as well. The asphalt was laid down over a year ago, but due to Covid shutdown, this track was never able to get activity approved by the city to host the event. This time of the year, we are lucky to be the first group to test this brand-new surface. The highlight of the battle for the weekend was for sure in 17.5 TC. It was a battle between the series top contenders. Dave Vera set the early pace with Infinity IF14. Cory Record came up just short to match Dave's TQ, but he was having a tough time with this track. He was able to come up with a last min setup change to put himself 2nd overall. Cory Parsons, the last round winner, had a bad last round of qualifier and had to settle for 3rd.
In the A main event, Dave Vera and Corey Parsons were able to check out, The battle was intense as Cory Parson's car seemed to regain pace from the struggle qualifying run. He was able to put a pass to Dave Vera to take over the lead. While Dave try to battle his way back for position, Dave made a mistake and broke the car after the S section of the track. This allowed Chad Peets to find himself from 5th to 2nd. While Jarrett Parsons also benefited from finishing 3rd.
1. Cory Parsons (Xray T4 2021)
2. Chad Peets (Xray T4 2021)
3. Jarrett Parsons (Xray T4 2021)
In Mod TC, while many accidents happened during the qualifier, Cory Parsons was able to put on a dominant run. While Felix Law was struggling to put together a run to finish the qualifier. Dave Vera was able to pull a good RD 3 but just came short of Cory's TQ run. In the A-main, Felix was quickly pressuring Dave for the pass, the battle was between Cory Parsons & Felix Law for the entire race, the gap remained the same throughout. In the end, Cory was able to take the win by 1.6 sec over Felix while Dave finished 5.8 sec behind taking 3rd.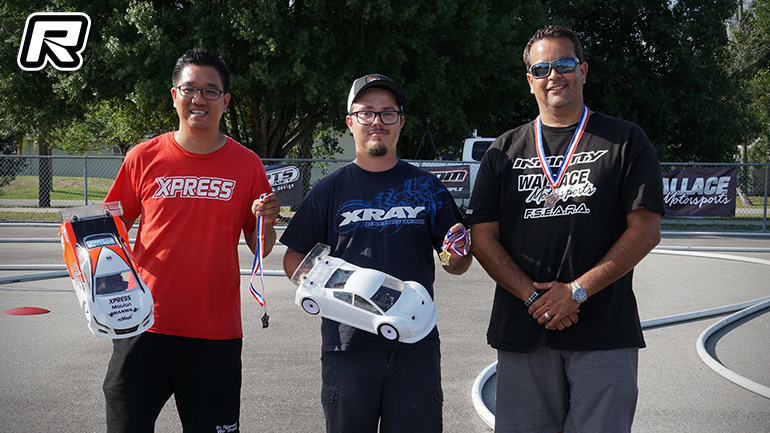 1. Cory Parsons (Xray T4 2021)
2. Felix Law (Xpress XQ10)
3. Dave Vera (Infinity IF-14 2)
In USGT the Fwd wasn't competitive this time. The 4wd army was on top with Eddie once again leading the field. But the battle this time wasn't as easy as it sounds. F1 specialist Sean Wager was battling closely with Eddie fighting for TQ. In the end, Eddie was able to squeeze by taking the TQ with just under 0.1 sec over Sean. In the A-main, Eddie once again led the field, But VTA expert Greg Rojna was able to capture Sean's mistake to take 2nd. The race remained the same, the gap was close but yet so far away. In the end, Eddie was able to take 1st, Greg finished only 1.2 sec behind take 2nd and Sean rounded out the podium in 3rd.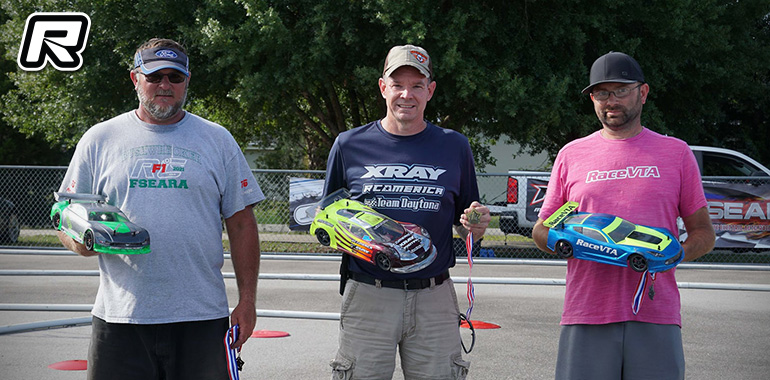 1. Eddie Shaffer (Xray T4)
2. Greg Rojna (3 Racing Sakura)
3. Sean Wager (Xray T4)
Finally, some life back into the 17.5 handout TC at the final round of the series. The Race announcer Chris Crowder himself joined the race to give Eddie Shaffer challenge for this class. Eddie still has the edge over his competition. TQ the class with over 10 sec. In the A-main, Chris Crowder was able to hang with Eddie Shaffer, But still came up short and finished 2.5 sec behind.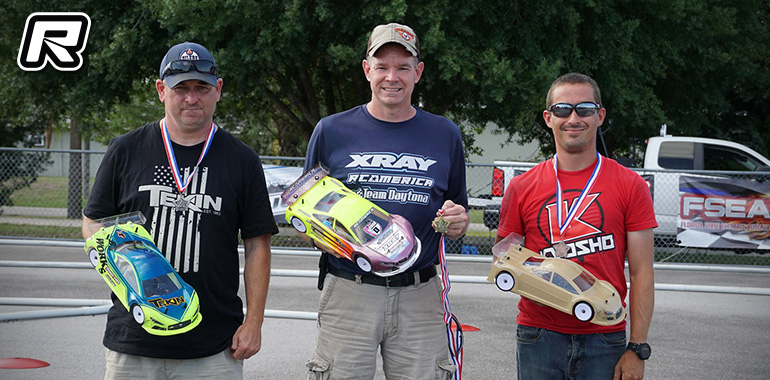 1. Eddie Shaffer (Xray T4)
2. Chris Crowder (Xray T4)
3. Wesley Ramsdell (Serpent X20)
In VTA the Valkaria RC Raceway representative Scott Koob brought on the A game. It was an intense battle in the qualifier. Between all 3 drivers, Scott Koob, Jake Engstrom and Greg Rojna. Jake was able to take RD 1, But the Intense battle was in RD 3 which Soctt ended up gaping TQ over Greg by 0.2 secs. In the main, Scott Koob never looked back and took home the win. Greg Rojna made a mistake in the middle of the race and allowed Jake Engstrom to take 2nd.Greg was able to recover from his mistake and take 3rd.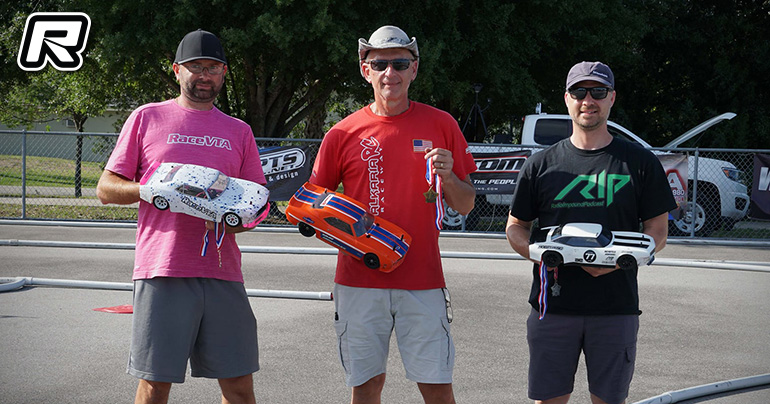 1. Scott Koob (Xray T4)
2. Jake Engstrom (Team Associated TC3)
3. Greg Rojna (Xpress XQ2s)
Richard Johnston continued his domination in GT12 qualifier. Gaping TQ for over 4 secs over 2nd Patty Schuster. In the Main Patty Schuster stepped up his game, passing Richard Johnston on the first lap and never looking back. Richard was having a hard time with his car in the Main, this allowed Miami Mike to pass and close in on Patty. Miami Mike was just 1 sec off Patty's time in the end and gap 2nd Richard had to handicap his car to finish 3rd.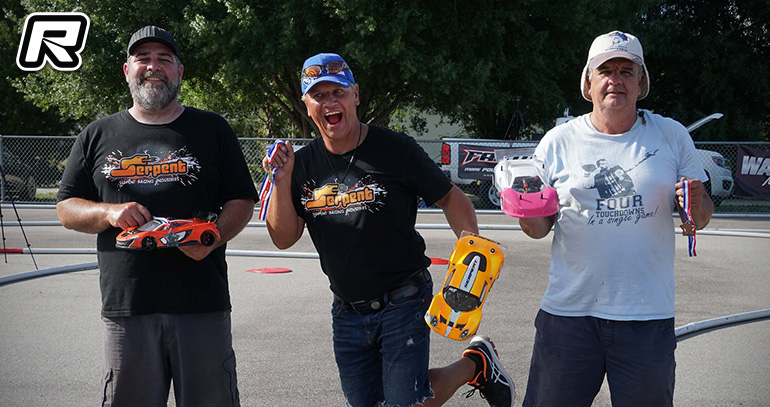 1. Patty Schuster (Serpent S120)
2. Miami Mike Bean (Unknown)
3. Richard Johnston (Roche P12)
In F1, Sean Wager pretty much dominated the race in the qualifier. In the Main, Just when Sean was ready to cruise to finish, he made a fatal mistake and hit the pipe and allowed Franco Desiderio take over the lead. Sean wasn't able to keep pace after that crash and Franco just never looked back and took 1st. Sean was only able to finish 1 lap behind in 2nd while Johnathan Hutton finished 4sec behind Sean for 3rd.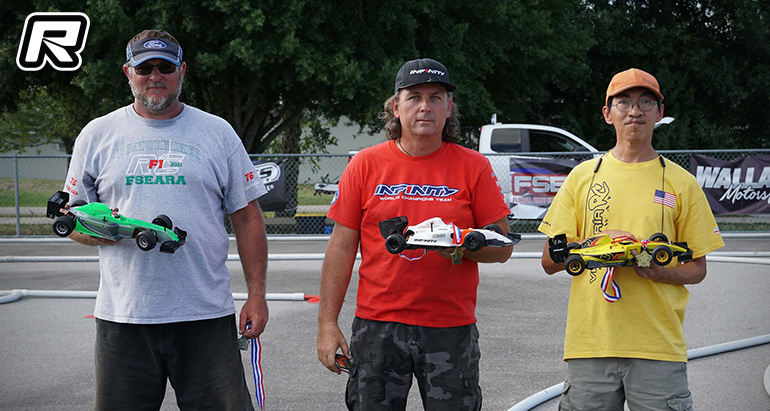 1. Franco Desiderio (Infinity IF11)
2. Sean Wager (Xray X1)
3. Johnathan Hutton (Xray X1)
Source: FSEARA [facebook.com]
---