July 20, 2021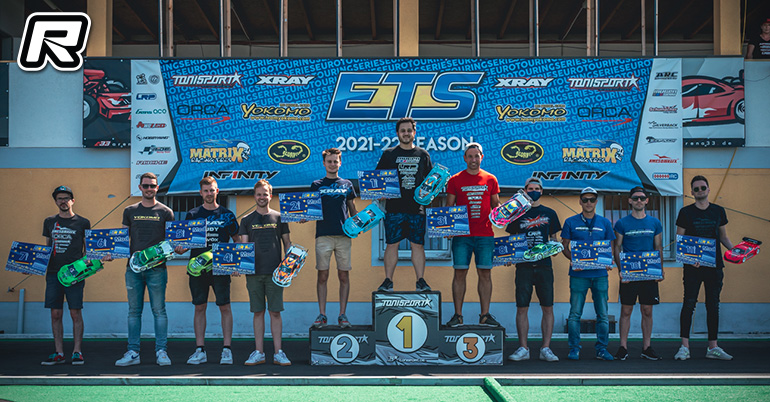 The ETS started into season 14 last weekend at Arena33 in Andernach, Germany where last season ended in September 2020. With 200 entries it was a great turnout for the ETS as there are still some countries with very strict Covid-19 restrictions limiting people traveling to races. The free practice day (Thursday) started with a wet track at Arena33 but after the asphalt dried out, the weather stayed in good conditions during the whole weekend. The Matrix Modified class saw a dominant Ronald Völker winning all four rounds of qualifying ahead of Antoine Brunet who had a flawless weekend showing excellent driving and pace. Behind them, Lucas Urbain and Marc Rheinard lined up third and fourth with Christopher Krapp also in the mix starting from the fifth position.
In the triple A-Mains the spectators saw great racing from all drivers, and Ronald Völker was taking the win in A1 and A2 to seal the big deal at ETS Rd1 in the first big race with his new Mugen Seiki Team. Antoine Brunet, who had a bad first final after Rheinard touched his car unintentionally, tried everything to create serious pressure on Völker in A2, but the German ace didn`t show any nerves and won the race in a dominant way. A3 then saw a fight between Brunet, Rheinard and Krapp for the remaining spots on the podium of the Matrix Modified class. Brunet was able to resist the pressure from the slowly closing pack of Rheinard, Krapp and Urbain to win the run and taking second overall in front of Marc Rheinard, who snatched away the final spot on the podium from Christopher Krapp.
Matrix Modified A-Final results
1. Ronald Völker – Mugen Seiki/LRP
2. Antoine Brunet – Xray / Hobbywing
3. Marc Rheinard – Awesomatix/Orca
4. Christopher Krapp – Yokomo/Racing Performer
5. Marco Kaufmann – Xray
6. Yannic Prümper – Yokomo/Dash
7. Lucas Urbain – Awesomatix/Orca
8. Michal Orlowski – Schumacher/LRP
9. Robert Pietsch – Mugen Seiki/LRP
10.Eric Dankel – Mugen Seiki/Hobbywing
11.Tim Wahl – Awesomatix/Orca

Winner B-Main: Thimo Weissbauer
Winner C-Main: Frederik Hovgaard
In the Xray ProStock class, qualifying was in the hands of Alexandre Duchet who took the first three rounds at Arena33. Max Mächler was able to take the last round which secured him second spot on the grid for the triple A-Mainis. With Jan Ratheisky and Simon Lauter starting third and fourth, the finals looked very promising in case of spectacular ProStock racing.
In the finals, French driver Duchet always looked strong, and he drove just perfect in the first and second leg calling himself the overall winner of the ProStock class after A2. Behind Duchet, it was a very intense battle for the top 5 positions between Mächler, Ratheisky, Lauter, Kunkler, Kretschmer and Jung. All had the pace for the runner up spots but in the end, it was Ratheisky finishing second in front of Simon Lauter in third.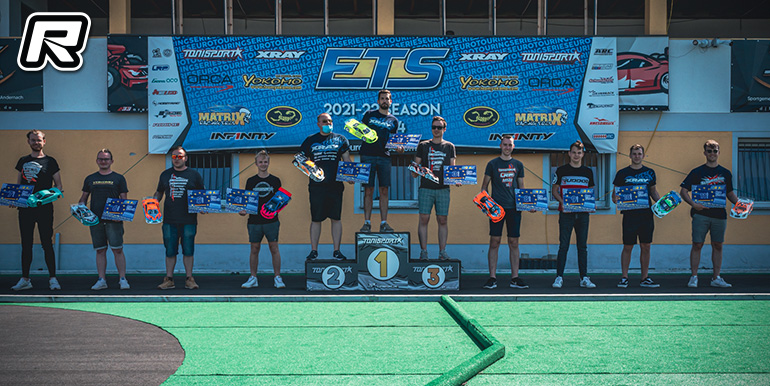 Xray ProStock A-Final results
1. Alexandre Duchet (Xray)
2. Jan Ratheisky (Xray)
3. Simon Lauter (Awesomatix)
4. Louis Kretschmer (Awesomatix)
5. Max Mächler (Awesomatix)
6. Enrico Jung (Yokomo)
7. Alex Kunkler (Mugen Seiki)
8. Frederik Mikkelsen (Awesomatix)
9. Valentin Hettrich (Awesomatix)
10.Lukas Ellerbrock (Xray)
11.Nicolai Lindegaard (Schumacher)

Winner B-Main: Olivier Bultynck
Winner C-Main: Richard Oversloot
Winner D-Main: Dave Lunenburg
The Hobbywing Frontwheel class saw Steven Olsen taking pole position ahead of Henrik Heitsch, Stefan Schulz, Patrick Müller and Kevin Sparbier. With all drivers being on pace in the finals, it was Steven Olsen from Denmark who finally celebrated his first ever ETS win in front of Henrik Heitsch and last year's race winner Stefan Schulz. It was great to see the famous FWD cars on track at Arena33 and the drivers showed great side by side battles and fair racing action all weekend long.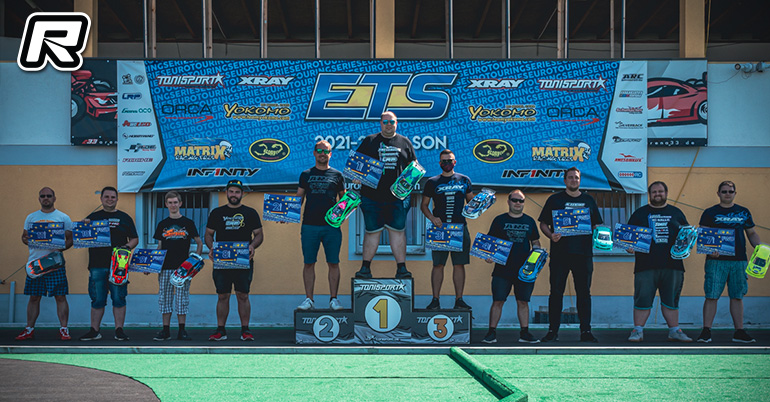 Hobbywing Frontwheel A-Final results
1. Steven Olsen
2. Henrik Heitsch
3. Stefan Schulz
4. Kevin Sparbier
5. Sebastian Meibörg
6. Jaques Libar
7. Simon Stegmeier
8. Patrick Müller
9. Sören Sparbier
10.Max Weffers
11.Ulrich Dinger

Winner B-Main: Karsten Bartsch
Winner C-Main: Christian Sandner
Winner D-Main: Michael Kieber
Great racing was also shown in the ETS 17.5 Stock class. Here it was Thomas Bemmerl who looked very strong by winning the first three rounds of qualifying. With the overall TQ decided, young and very talented Maximilian Unterschütz took Q4 to line up second on the grid behind Bemmerl. Reigning ETS champion Daniel Pöhlmann qualified third ahead of Dominik Reile and Joachim Altenhof.
With his outstanding qualifying performance giving him a lot of confidence, Thomas Bemmerl never looked back in the first two finals. He controlled his gap to the field and after two clinical runs he repeated the success he had at Arena33 at last years ETS race. Behind Thomas Bemmerl, champion Pöhlmann was able to claim second spot after winning A3 and Dominik Reile took the final step on the podium.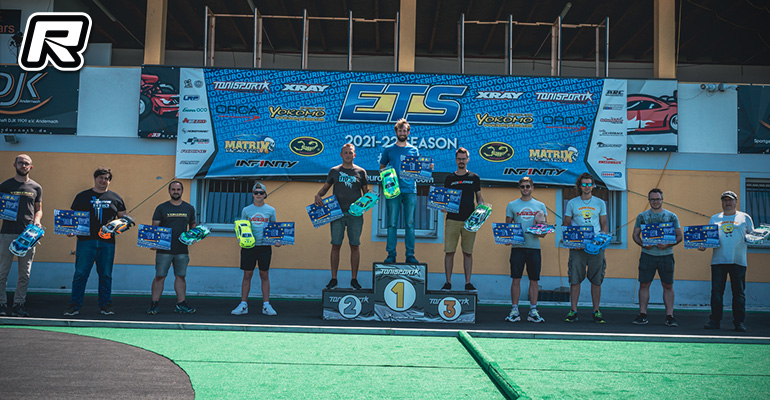 17.5 Stock A-Final results
1. Thomas Bemmerl
2. Daniel Pöhlmann
3. Dominik Reile
4. Joachim Altenhof
5. Roman Borschel
6. Alexander Müller
7. Felix Schneider
8. Maximilian Unterschütz
9. Klaus Waldmann
10.Dominik Ruf
11.David Kuschnarew

Winner B-Main: Domenic Grabher
Winner C-Main: Michael Lipperheid
The Infinity 40+ Masters class saw three different TQ`s in qualifying with Karsten Bartsch, Ulrich Dinger and Christian Müller on top of the field. Before the finals, nobody thought that the overall race winner will start from the sixth position.
In the first leg of the finals, Soren Boy Holst, who started sixth, found himself leading the race after a big mess with a lot of crashes in lap number one. He took A1 and was happy about it. In the second final the miracle happened, and somehow Boy Holst won this final again to take the overall win from his Danish countryman Caspar Morgen and Mirco Thalheimer. The three podium finishers started from the sixth, tenth and seventh position into the finals – sometimes racing can be curious and amazing at the same time.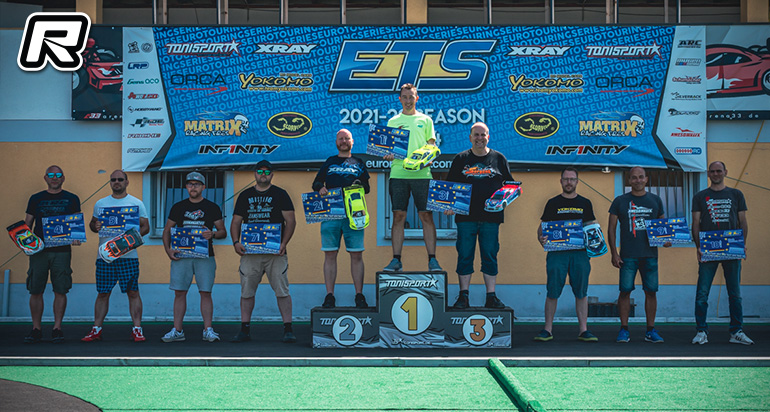 Infinity 40+ Masters A-Final results
1. Soren Boy Holst
2. Caspar Morgen
3. Mirco Thalheimer
4. Thomas Oehler
5. Ulrich Dinger
6. Ingo Braun
7. Manuel Stankowitz
8. Christian Müller
9. Karsten Bartsch
10.Werner Schmitzer
11.Thorsten Baggendorf

Winner B-Main: Christian Drießle
Winner C-Main: Holger Wittek
In the Scorpion Formula class, we saw a well-known battle between long-time rivals Jan Ratheisky and David Ehrbar. With Ehrbar looking faster in practice, Jan picked up the pace with the start of qualifying and placed his formula car on pole position in front of David Ehrbar, Renè Kölbel, Herbert Weber and Olivier Bultynck.
The triple A-Mains saw Ratheisky cruising to a relatively unchallenged win ahead of Ehrbar, with Renè Kölbel making the podium in third position overall. Behind them, Herbert Weber and Olivier Bultynck roundet up the top 5.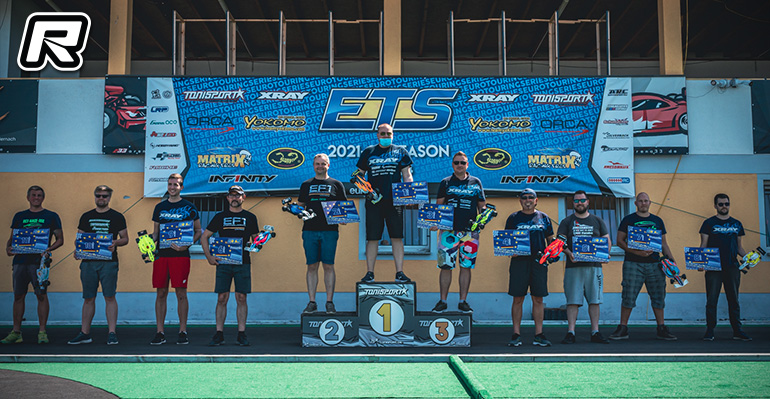 Scorpion Formula A-Final results
1. Jan Ratheisky
2. David Ehrbar
3. Renè Kölbel
4. Herbert Weber
5. Olivier Bultynck
6. Chris Grenz
7. Patrik Sadrinna
8. Michael Wojcik
9. Luka Jovicic
10.Tim Benson
11.Markus Gruen

Winner B-Main: Thomas Schröder
ETS Rd2 will see drivers coming to Arena33 again in August, where the Layout will be driven clockwise to give drivers kind of a new challenge.
Source: ETS [eurorcseries.com]
---