August 17, 2021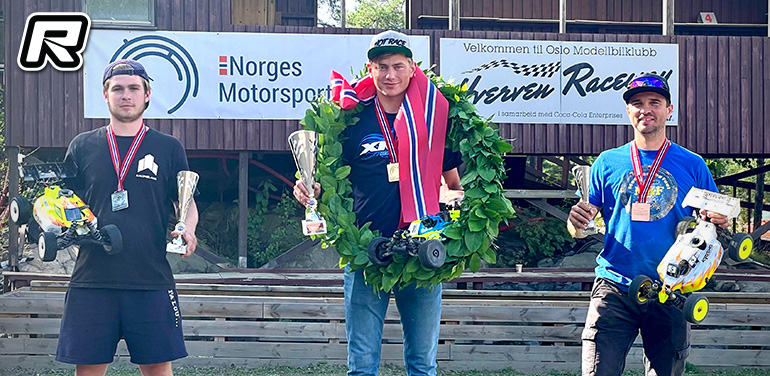 The 2021 Norwegian 1/8th scale offroad Nationals took place last weekend at Hverven Raceway in Oslo. The club put down new clay and prepped the track just one week prior to the event and during qualification the surface got very loose and many drivers had problem with getting small stones into drivetrain or clutch, but track got better and better, and by the finals there was no problem anymore. It became a real offroad track with sharp bumps and you needed to find new lines every time you went out on track. Daniel Kobbevik had full control in qualification and took overall TQ and would also win his semi final to start from pole with his Xray XB8. Mathias Fink would line up second with his Mugen Seiki and Vincent Ruger in third with his Agama.
At the start of the final Daniel pulled out a big gap and quickly lapped the whole field and would continue to put in consistent laps. to bring home in first and claim the National title. Vincent jumped into the second place at the start and managed to keep a safe distance to the fight of third place. Mathias Fink and Rune Karlsen followed each other from start to the end, switching places throughout, but in the end Rune got in front and Mathias made some mistakes that gave Rune a gap that he managed to keep to the end to complete the podium.
1. Daniel Kobbevik – Xray
2. Vincent Rüger – Agama
3. Rune Karlsen – Kyosho
4. Mathias Fink – Mugen Seiki
5. Lars Erik Mo – Xray
6. Danny Kwiatkowski – Kyosho
7. Hans Magne Berg – Agama
8. Bastian Andreassen – Xray
9. Anders Mehren – Serpent
10.Patrick Mork – Kyosho
Thanks to Magne Kobbevik for the report.
---