September 6, 2021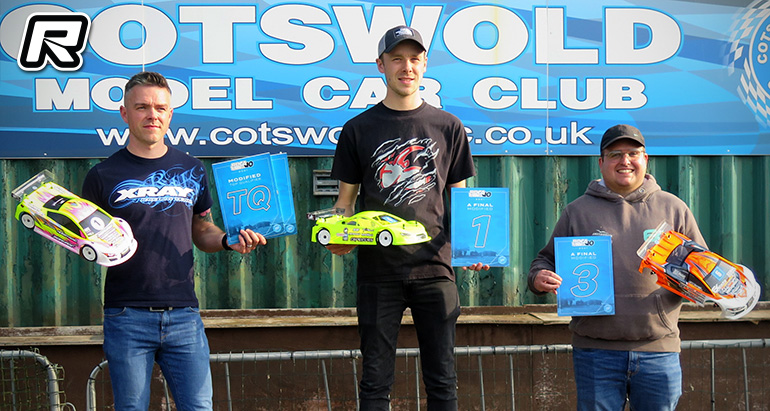 The Cotswolds track hosted round four of the BRCA Touring Car series, a venue popular with UK drivers with a great layout and a good mix of fast and slow corners. Coming into this round the modified championship looked well within the grasp of Xray driver Olly Jefferies, given the way the points are allocated Jefferies would need just one more A final win to retain his modified title but there was strong opposition in his way from the likes of Chris Grainger, Kyle Branson and Zak smith, all four drivers had shown good speed in testing and this one looked hard to call.
In 13.5 stock it was equally as hard to pick a pre-race winner, Marcus Askell led the class coming into Cotswolds, but this was a track where Zak Finlay usually performs well, throw into the mix an on-form Andy Murray and this was possibly where the big battle would be on track.
Jefferies dominated modified qualifying taking all four rounds and setting a new track record, the new Xray looking to have a clear performance advantage over the chasing pack. Askell made it TQ in stock so a lockout for the Xray team going into the two leg A finals.
The first modified A final had two pockets of interest, up front Jefferies was being chased hard by Schumacher's Zak Smith, behind the front two a pack of three drivers led by Kyle Branson were fighting for the final podium place, then all change up front as Smith and Jefferies came together, the chasing pack were through and the whole look of the A final changed in an instant and Branson took leg one with his Capricorn from Ben Cosgrove and Harley Eldridge.
Leg two and a dominating A final win for Jefferies that would secure the championship title, second place for Zak Smith and third for Branson, a result good enough to give Branson the overall win in front of Jefferies and Cosgrove.
TC Mod – A Final
1. Kyle Branson – 4pts
2. Olly Jefferies – 5pts
3. Ben Cosgrove – 6pts
4. Zak Smith – 7pts
5. Harley Eldridge – 8pts
6. Daniel Robins – 14pts
7. Peter Eagles – 14pts
8. Chris Ashton – 16pts
9. Shaun Ogden – 16pts
10.Chris Grainger – 20pts
In stock leg one it was a hard-won victory for Askell from pole as Zak Finlay piled the pressure on right from the start, Andy Murray who is starting to mount a serious challenge for the stock title completed the podium in leg one.
Leg two of the stock A final and three minutes in and the top two came together coming on to the straight, in the mayhem James Hart and Andy Murray made it through as the top two qualifiers tumbled down the order, Murray's second place behind Hart gave him the overall win in stock, Chris Gunter was third in the second leg but the overall result went to Andy from Zak Finlay and Marcus Askell.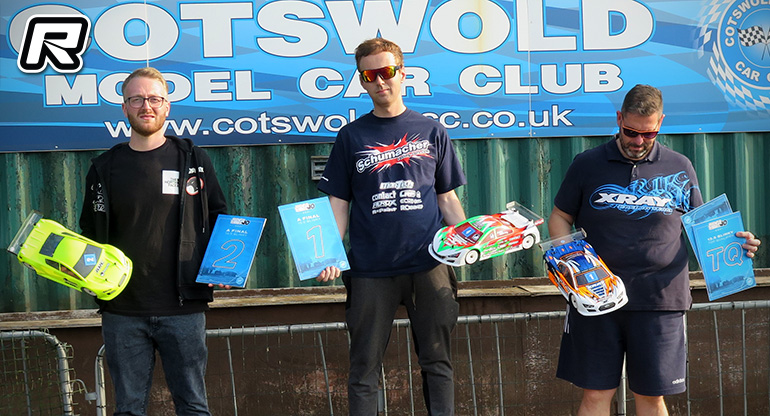 TC 13.5 – A Final
1. Andy Murray – 5pts
2. Zak Finlay – 6pts
3. Marcus Askell – 7pts
4. Chris Gunter – 7pts
5. James Hart – 8pts
6. Sam Nicholls – 10pts
7. Colin Jackson – 13pts
8. Tony Broad – 17pts
9. Glenn Westwood – 18pts
10.Billy Fletcher – 19pts
The stock title will now be decided at the final round at Bedworth later this month, it's a tight one to call and should be a good watch.
Source: BRCA [brca.org]
---