September 6, 2021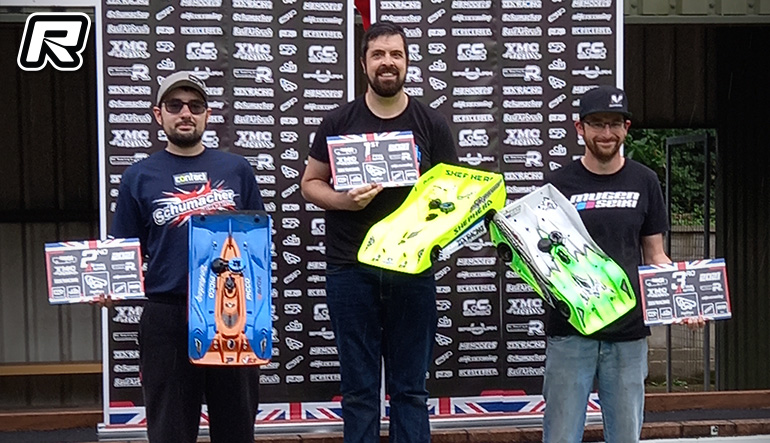 The British weather played a big part in the latest round of the 1/8 Circuit series hosted at the newly resurfaced Halifax circuit in the north of the UK recently. A bumper entry was in for the weekend's racing with both nitro and electric classes competing. The electric class gaining popularity again with many newcomers and returning drivers attracted to the class. Saturday saw heavy rain with most drivers not going onto the track for timed practice. Sunday started similarly with rain fall and standing water on the track, it was to be a day of tricky conditions and a mostly damp track which never really fully dried. Qualifying was to come down to one round where conditions were somewhat better so pressure was on drivers to ensure they got a respectable time in.
In the nitro class current championship leader Alex Thurston unfortunately became a casualty of the conditions as he unable to get a clean run in the one round that was clearly drier meant he missed the A-final, Tim Wood was on form though and he would take pole for Shepherd from Karl Dransfield (Shepherd) and James Connolly (Capricorn) the grid further down was slightly mixed up due to the damp conditions. Other noticeable good performances came from Michael Lee usually running electric managing to qualify 7th for the nitro A-final, also Matthieu Dambrine qualified an excellent 10th. Top of the B- final was Bjorn Baldwin and Ralph Crampton topped the C-final.
There were a few people unable to run in electric which left us one final but it was very competitive with the addition of Schumacher employee Andy Murray running 1/8 for the first time to spice things up at the front, Mikey Mansell continued his great run in qualifying to take his second pole in a row for Capricorn with Lee Henson lining up second also running Capricorn and John Walton (Serpent) third. Again the damp and wet conditions played a big part and would give some entertaining finals.
Finals
Electric
The first leg of Electric was a very wet affair with some sitting it out, Andy Murray and Mikey battled at the front with Andy taking it with Neil Wallace getting third. Leg two saw some close racing at the front with Mikey Mansell trying to hold on but Andy and Michael Walton had more grip and in the end forced their way through. Franck Dambrine wasn't far behind either to take fourth which would turn out to be important in the overall podium standing. So to the final leg with the track drying Michael Walton made a good start and was out front in the lead but his damps started to wear out others behind began to catch him, it was very close between the top 4 and in the end Andy caught Michael but some contact between the two allowed Mikey and Franck through. This allowed Franck to get into the lead as he battled with Mikey and the win in the leg. So overall win went to Andy Murray running his Contact tyres supported drive a brilliant performance on his debut in the class, ahead of Mikey who scored important points in the championship and Franck took third thanks to his great result in leg 3.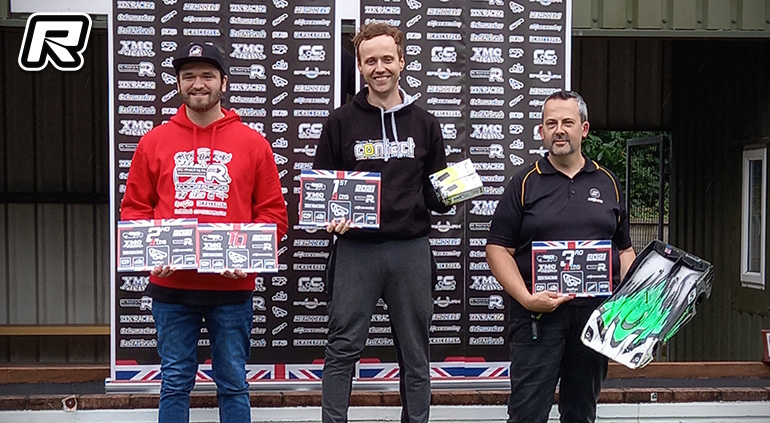 1. Andy Murray – (Contact)
2. Mikey Mansell – Capricorn
3. Franck Dambrine – ARC
Nitro
The C-final was another damp affair with many cars going off onto the grass as drivers tried to overcome the tricky conditions, Chris Snell would take fastest lap but John Wadsworth continued his great form driving a Serpent to take another C final win from Jon Melton and Barry Doran in third. In the B-final it was a close battle for the podium positions but Alex Thurston was obviously in a league of his own winning by 3 laps, behind him Daniel Ludena, Bjorn Baldwin, Geraint Williams, Steve Davis and Wombwell winner Jamie Paton were all in the mix. Jamie getting the fastest lap but unable to convert it into a top 3 this time, Daniel (Mugen) drove a great race to take second from Steve Davis third running Mugen for the first time.
The A-final saw a very messy start with a collision which unfortunately took out pole sitter Tim Wood, Richard Hicklin and a couple others went off, both drivers managed to return but were well down the order. John Carr (Shepherd) managed to sneak through into the lead and never really looked back, the quick guys behind him were Andy Hastings and Michael Lee, Andy having to do a recovery drive after losing time. Michael Lee had David Spashett in the pits guiding him through his first 1/8 30-minute final. So after 30 years of racing John would take his first A-final win with Phil as mechanic and Cath watching on a well-deserved victory after years of hard work. Second was Michael Lee running a Shepherd also and Andy Hasting (Mugen) would take third just ahead of James Connolly and Matthieu Dambrine who were all on the same lap.
1. John Carr – Shepherd
2. Michael Lee – Shepherd
3. Andy Hastings – Mugen
The series moves onto Brookland in Kent next 11/12 September.
Thanks to Michael Walton for the report.
---