September 21, 2021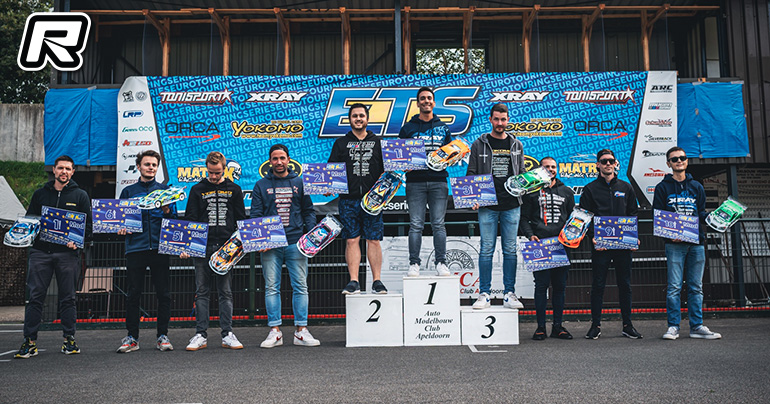 The third round of ETS Season #14 2021/22 took place on the ground of the AMCA Apeldoorn in the Netherlands. With 200 entries in the six ETS racing classes, the event started with a free practice day on Thursday and a good weather forecast for the whole weekend. As always at the ETS, the race included 4 rounds of qualifying followed by triple mains for everybody. Everything was prepared in a perfect way by the AMCA Apeldoorn and the amazing racetrack was awaiting all drivers. In the Matrix Modified class it was Xray's Bruno Coelho who was able to win three rounds of qualifying with his teammate Alexander Hagberg taking the other round. With Coelho being on pole, Mugen Seiki's Ronald Völker scored three second places which let him start second on the grid in front of Yokomo`s Yannic Prümper (3), Xray`s Alexander Hagberg (4) and Awesomatix driver Marc Rheinard (5). The field of modified drivers was on a super high level once again and the fight for the A-Main spots was as close as possible in between some hundreds of a second.
In the triple A-Mains, Bruno Coelho was able to convert his starting position into two straight wins in A1 and A2 in front of Ronald Völker who was chasing Coelho during the runs with a gap between 0.8 and 1.5 seconds. For Coelho and Xray, the overall victory was very important as they made their official race debut with the new Xray X4 touring car platform. In the third A-Main Ronald Völker took the win with his Mugen Seiki car to secure the second position in front of a very strong looking Yannic Prümper from team Yokomo who booked P3 on the podium for a second time in a row now!
Overall results of the Matrix Modified class (Car/Electronics)
1. Bruno Coelho (PT) Xray/Hobbywing
2. Ronald Völker (DE) Mugen Seiki/LRP
3. Yannic Prümper (DE) Yokomo/Dash
4. Marc Rheinard (DE) Awesomatix/Orca
5. Christopher Krapp (DE) Yokomo/Racing Performer
6. Antoine Brunet (FR) Xray/Hobbywing
7. Loic Jasmin (FR) Yokomo/LRP
8. Michele Manzo (CH) Awesomatix/Hobbywing
9. Eric Dankel (DE) Mugen Seiki/Hobbywing
10.Alexander Hagberg (SE) Xray/Hobbywing
Winner B-Main: Michal Orlowski (PL) Schumacher/LRP
Winner C-Main: Rémi Callens (FR) Mugen Seiki/Hobbywing
In the Xray ProStock class, qualifying was close as well and Tim Benson (Mugen Seiki) came out on top as he had the faster runtime compared to Simon Lauter (Awesomatix) and Alexandre Duchet (Xray) while the trio was equal on points after four rounds of qualifying. Lauter started second on the grid in front of Duchet (3), the Awesomatix of Max Mächler (4) and the Xray of Lukas Ellerbrock (5).
The finals produced some amazing racing, especially in the front between Simon Lauter and Tim Benson who took the win in the first leg ahead of Simon Lauter. Everything looked like Benson would walk away with the win from Apeldoorn as they entered the last chicane in the second A-Main, but Simon passed Benson with an insane move to take A2 as the crowd went crazy on the tribunes beside the track. The decision for the overall win came down to A3 and the leaders raced nose to tail once again until they had a contact on the main straight when they were running side by side. Benson's car moved just a little to the left and touched Lauters car – with the better end for Lauter as Benson's car flew off the track. After that, Lauter brought home a well-deserved and hard-fought victory in the Xray ProStock class after an amazing fight with Tim Benson. Lukas Ellerbrock finished third overall after a showing great pace in the finals.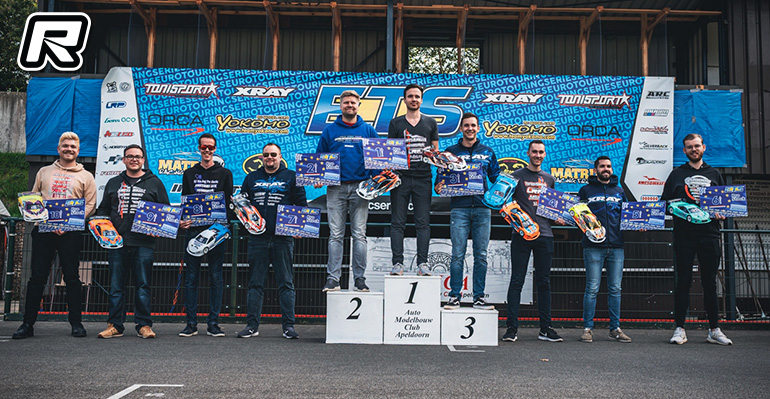 Overall results of the Xray ProStock class (Car/Battery)
1. Simon Lauter (DE) Awesomatix, LRP
2. Tim Benson (DE) Mugen Seiki, Nosram
3. Lukas Ellerbrock (DE) Xray, LRP
4. Frederik Mikkelsen (DK) Awesomatix, LRP
5. Alexandre Duchet (FR) Xray, Orca
6. Alex Kunkler (FR) Awesomatix, Ruddog Racing
7. Jan Ratheisky (DE) Xray, Sunpadow
8. Rob Janssen (NL) Awesomatix, Sunpadow
9. Max Mächler (DE) Awesomatix, Sunpadow
10. Martin Hofer (DE) Awesomatix, Nosram
Winner B-Main: Nicolai Lindegaard (DK) Schumacher
Winner C-Main: Fabian Bucher (DE) Awesomatix
Winner D-Main: Benjamin Elbisser (FR)Xray
The Hobbywing Frontwheel class saw the continuation of the fight between Stefan Schulz and Steven Olsen for race wins and the lead in the overall championship. They had great battles so far this season and in Apeldoorn it was Stefan Schulz who was able to TQ the event in front of Steven Olsen and Mischa Kroos. In the finals Olsen tried everything, and he was able to set Schulz under enormous pressure. But Schulz was able to stand his ground and defended his position in a perfect way from Olsen who had to settle for second in the end.
Behind race winner Stefan Schulz and runner up Steven Olsen, it was Mischa Kroos who finished third on the podium after he missed it at RD2 in Germany some weeks ago where he finished fourth overall.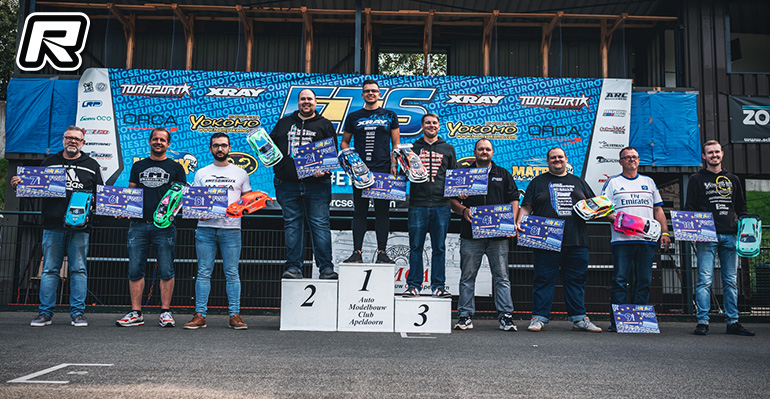 Overall results of the Hobbywing Frontwheel class
1. Stefan Schulz (DE) Xray
2. Steven Olsen (DK) Awesomatix
3. Mischa Kroos (CH) Awesomatix
4. Manuel Stankowitz (DE) Awesomatix
5. Nicolas Delisè (BE) Awesomatix
6. Henrik Heitsch (DE) ARC
7. Oliver Kaufmann (DE) Awesomatix
8. Jacques Libar (LU) Awesomatix
9. Torsten Baggendorf (DE) Awesomatix
10. Frederik Hovgaard (DK) Yokomo
Winner B-Main: Kevin Sparbier (DE)
Winner C-Main: Georg Rolshoven (DE)
Winner D-Main: Stéphane Delisè (FR)
The Orca 17.5 Stock class is one of the most popular classes at the ETS and delivers great action all the time from the very ambitious group of racers. Great racing was shown once again from them in the Netherlands, and it was Dominik Reile who had a perfect weekend with sealing the TQ in qualifying and bringing home the overall win after two clinic runs in A1 and A2. It was his first ever ETS race win and he was very happy to break the winning streak from Thomas Bemmerl who won the last three races in a row. The reigning champion Daniel Pöhlmann was able to take second place in the end in front of Thomas Bemmerl who is still leading the overall championship in the Orca 17.5 Stock class. Elena Fuchs was also in the spotlight this weekend as the young, and very fast lady was able to qualify herself for the A-Main for the first time in her ETS career.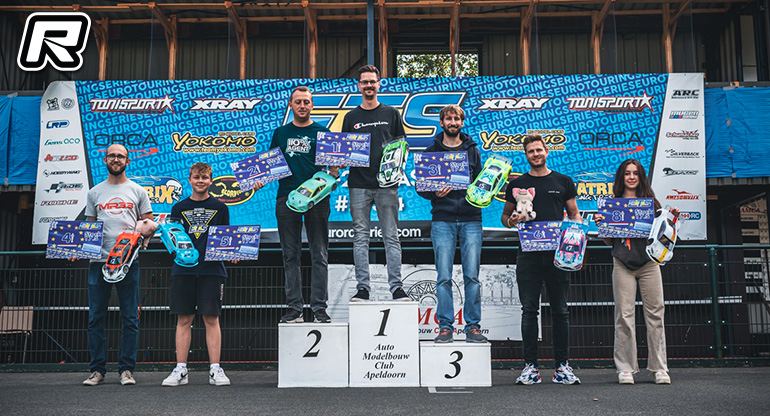 Overall Top 10 of the Orca 17.5 Stock class
1. Dominik Reile (DE) Awesomatix
2. Daniel Pöhlmann (DE) Awesomatix
3. Thomas Bemmerl (DE) Awesomatix
4. David Kuschnarew (DE) Yokomo
5. Maximilian Unterschütz (DE) Mugen Seiki
6. Felix Schneider (DE) Awesomatix
7. Max Körner (DE) Mugen Seiki
8. Elena Fuchs (DE) Awesomatix
9. Roman Borschel (DE) Awesomatix
10. Tristan Bergheim (DE) Awesomatix
Winner B-Main: Niklas Hinz (DE) Mugen Seiki
The ToniSport 40+ Masters class was the class with the highest number of entries and seems to get more and more popular between the group of 40+ RC racers. Local hero Elibert Sievers dominated qualifying and lined up first in front of Toni Mateo and Manuel Stankowitz.
After Elibert Sievers had a terrible first A-Main where he only finished in P9, he got his rhythm back in A2 and A3 and took the overall win after a brilliant drive at his second ever ETS race – what a great success for him! Toni Mateo, who won the first final, joined Sievers on the podium in second spot and Manuel Stankowitz finished third overall in the ToniSport 40+ Masters class.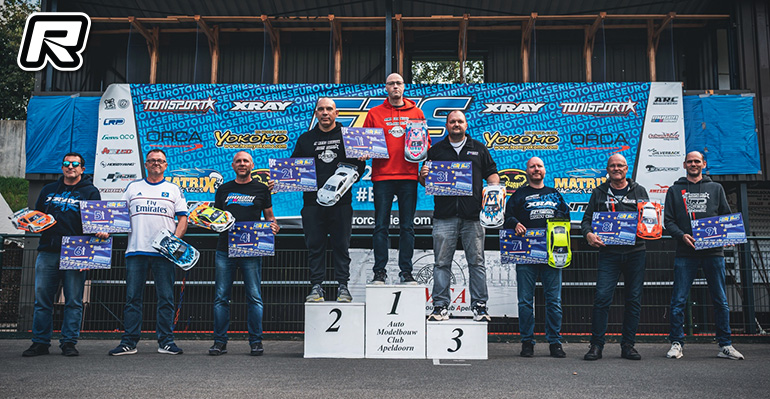 Overall result of the ToniSport 40+ Masters class
1. Elibert Sievers (NL) Awesomatix
2. Toni Mateo (ES) Awesomatix
3. Manuel Stankowitz (DE) Mugen Seiki
4. Thomas Oehler (DE) Mugen Seiki
5. Torsten Baggendorf (DE) Awesomatix
6. Flavio Paladin (IT) Xray
7. Caspar Morgen (DK) Xray
8. Ron van Bergen (NL) Awesomatix
9. Werner Schmitzer (AT) Awesomatix
10. Andy Kühne (DE) Awesomatix
Winner B-Main: Ingo Braun (DE)
Winner C-Main: Marc de Witt (DE)
Winner D-Main: Luc Wouters (BE)
Winner E-Main: Martin Fessler (AT)
In the Scorpion Formula class, it was Jitse Miedema who came out of qualifying on the top spot. He lined up first on the grid in front of David Ehrbar and Jan Ratheisky. In the finals Jitse was on a mission as he never looked back and won the first two legs in a dominant way. Second place starter David Ehrbar had an unlucky series of finals and found himself only in sixth position in the end while Jan Ratheisky and Bram Lagerwey completed the podium of the Scorpion Formula class in Apeldoorn.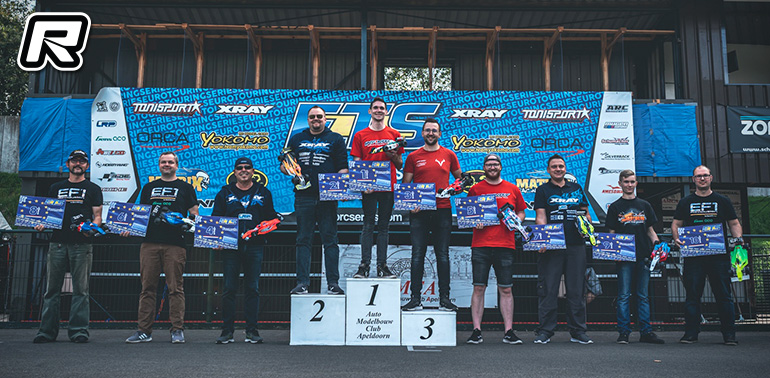 Overall Top 10 of the Scorpion Formula class
1. Jitse Miedema (NL) Infinity
2. Jan Ratheisky (DE) Xray
3. Bram Lagerwey (NL) Infinity
4. Herbert Weber (AT) Xray
5. Robin van Gog (NL) Infinity
6. David Ehrbar (DE) Ehrbar Engineering
7. Renè Kölbel (AT) Xray
8. Chris Grenz (DE) Ehrbar Engineering
9. Sören Sparbier (DE) Serpent
10. Michael Lipperheide (DE) Ehrbar Engineering
Winner B-Main: Tomáš Sova (CZ) Xray
Source: ETS [eurorcseries.com]
---