September 7, 2021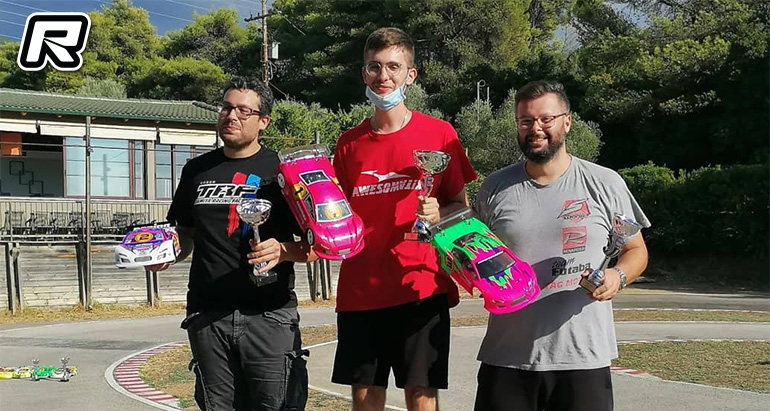 Last weekend the second round of the 2021 Greek Nats in Touring Modified and Stock classes took place in the fast but also technical track of Modelodromio Patras. In the Modified class, Dimitris Ioannidis (Awesomatix) took pole position in front of Filippos Isaakidis (Tamiya) and Kostas Sidiropoulos (Mugen Seiki). Ioannidis was able to capitalise on his TQ spot winning the first 2 legs against title rival Isaakidis awarding him the overall win and securing his 1st in this class and 3rd overall Greek Championship with one race remaining in the 2021 championship having already won the first 2 races.
Modified A-Main Top 5
1. Dimitris Ioannidis – Awesomatix
2. Filippos Isaakidis – Tamiya
3. Kostas Sidiropoulos – Mugen Seiki
4. Michalis Kyriazis – Xray
5. Dimitris Dimitriou – Xray
In the Stock Class, Giorgos Kalantzakis (Xray) took pole position with Michalis Kyriazis (Xray) in 2nd and Christos Vasilopoulos (Xpress) in 3rd. The 3 finals were exciting with a lot of battles between the top 5 with Kyriazis taking the win in front of Kalantzakis and Vasilopoulos rounding out the podium leaving the championship wide open for the 3rd and last race of the 2021 season.
Stock A-Main Top 5
1. Michalis Kyriazis – Xray
2. Giorgos Kalantzakis – Xray
3. Christos Vasilopoulos – Xpress
4. Filippos Oikonomou – Awesomatix
5. Nikos Nikolakopoulos – Xpress
Thanks to the Dimitris Ioannidis for the report.
---