October 22, 2021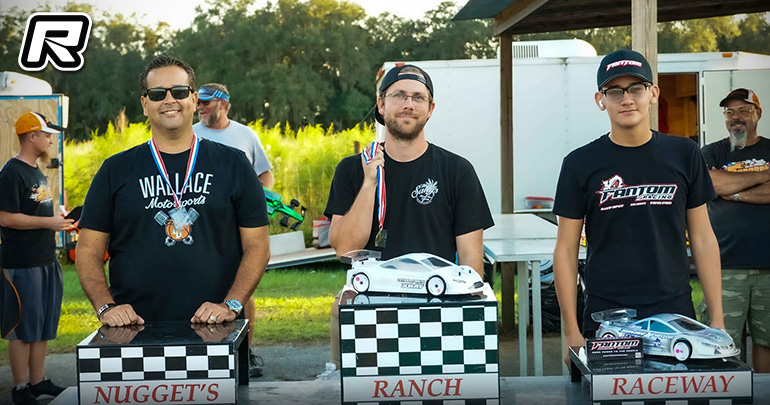 The FSEARA returned to Florida's famous backyard nitro track Nugget Ranch Raceway for the 2nd round of the series. With a successful first round last month, this is now the 2nd largest entry for the series with a total of 111 entries which is a record for this location. The big and high speed layout pushed average lap times close to 20 second per lap. It's one of the biggest tracks they go to for this series. The highlight of the battle for the weekend was for sure in 17.5 TC. For sure it was intense from the qualifier till the main. Round 1 TQ went to an up and coming youngster Lazaro Alonzo Jr. Only been driving EP touring for a few months coming from Nitro racing, he was on his A game for pace this weekend. Competition was tight and the round 2 TQ goes to the long time racing veteran Jimmy Morris. For anyone who has been watching the series, Jimmy has been a long time racer and with this tough competitive field this is the first TQ Jimmy was able to achieve after all these years. Congrats.
In the A main, it was not an easy race to describe. Lead change was all over the place between more than 4 drivers. At the start, Lazaro took the lead away from Jimmy, then quickly was challenged by Danny Horta, who started 3rd on the grid. But then got overtaken by Dave Vera from 4th place. The battle continues between drivers. A few laps later after the position settled, Jimmy found himself to battle once again for the lead. With this race so intense, the lead was given up and changed at any moment. In the end, Jimmy was the one who came out on top with a small breathing room over 2nd and 3rd which battled till the finish line for a photo finish only 0.1 apart. Dave Vera was the lucky one landing himself in 2nd place while Lazaro Alonzo Jr. finished 3rd.
1. Jimmy Morris
2. Dave Vera
3. Lazaro Alonzo Jr.
In Mod TC once again on the top pace, Xpress driver Felix Law found some magic in practice and it was miles ahead of the competition. The only driver able to reset previous track record with a blistering 17.0 sec lap. Cory Parsons was closest in pace but to find himself 6 sec behind in overall time. While Dave Vera in 3rd about 2sec back from Cory. With all 3 series, Veteran holds top 3, our series special guest Joaquin Desoto Jr. and Diego Morganti rounding top 5. In the A main, Felix Law once again checks out and pulls a close to 4sec lead while the battle heats up for 2nd between Dave Vera and 5th place Diego Morganti. Having a faster car in the final event, Diego was able to get by Dave for 2nd. When just about the race is over, with 30sec to go, Felix Law suddenly broke down due to driveshaft failure, this allow just enough time for Diego to take over the lead while Dave had to do a photo finish to over take Felix, in the end, it wasn't successful and just 0.1 short to over take for 2nd.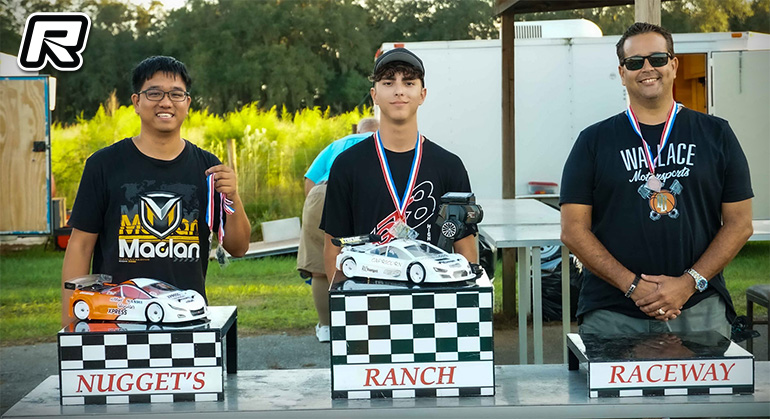 1. Diego Morganti
2. Felix Law
3. Dave Vera
Once again in USGT the battle is on between the Serpent and Xray, Eddie Shaffer vs Jesus Diaz. With Eddie having just a slight edge. Eddie ends up with TQ just 1 sec over Jesus. In the Amain, the battle is on, with jesus all over Eddie, and able to over take for the lead, a small mistake ends up giving up the spot back to Eddie, it was a good race between those 2, in the end Eddie was able to keep a 2 sec lead to take 1st, Jesus settle safely in 2nd while David Larry finish 3rd from 5th starting position.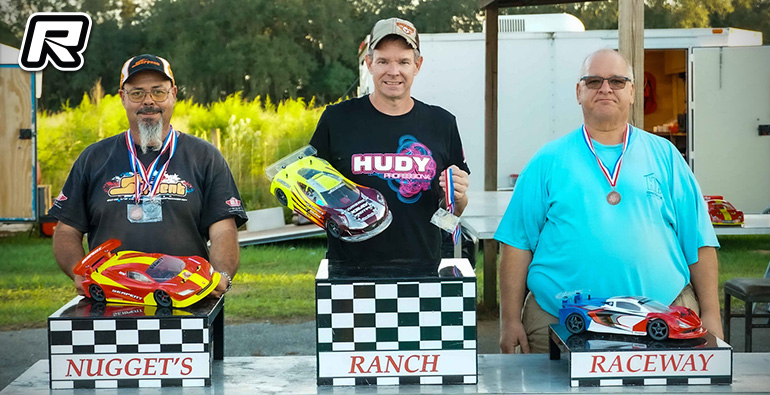 1. Eddie Shaffer
2. Jesus Diaz
3. David Larry
In 21.5 TC qualifying, Jarrett Parsons once again tried to be the party crasher by entering the event, this time in 21.5 touring, but having a badly hurt back problem decided to end the event with just having 1 rd of qualifying result. But with all this, the battle continued without him between Eddie Shaffer and Jesus Diaz. Bring the battle from USGT to 21.5 TC, it's all over again. With the 2nd qualifier having a better track, both drivers were able to better Jarrett's time. In the main, Jesus was able to capitalise Eddie's mistake and lead the way. Up until lap 10, Jesus wasn't able to hold on and allow Eddie to overtake. With 1 min to go, Michael Bruce starting from 6th had a fast car to challenge Jesus. Michael was able to make the move and overtake to finish 2nd while Jesus held on for the last podium spot.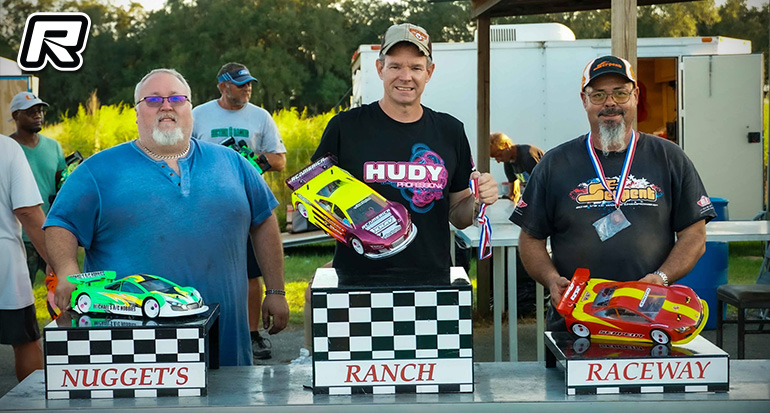 1. Eddie Shaffer
2. Michael Bruce
3. Jesus Diaz
The VTA specialist Greg Rojna once again on top of the field with his special xpress XQ2s. This time it was difficult to hold on to the hard dash from Jake engstorm TC3. His Shaft car is "Dialed" at this track. In the final, Battle was close between the 2, And gap stayed about the same as they were able to finish just about 2 sec apart. 3rd Scott Koob finished just 1 sec behind for 3rd.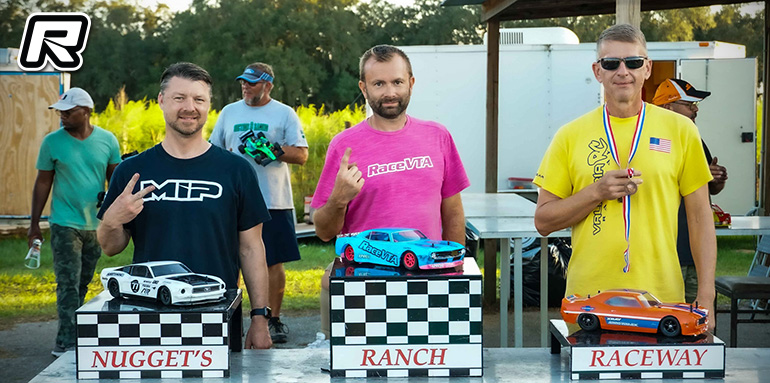 1. Greg Rojna
2. Jake Engstorm
3. Scott Koob
Fred Rodriquez was able to find the special magic setup in the GT12 qualifying. Impressive pace and able to set TQ with 6 sec faster overall time than 2nd place. In the main, Fred made a huge mistake right before the sweeper and spun out, this allowed 5th place Brandon Diaz to quickly jump to 1st place with an excellent start. Without looking back, Brandon was able to take the win with 6 secs breathing room. 2nd place Daniel Medina and Nick grabas had nearly a photo finish with only 0.5 sec apart. In the end, Daniel was able to retain his 2nd position .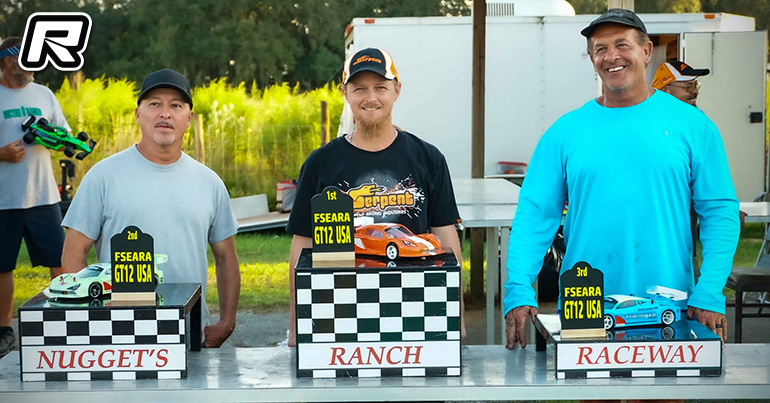 1. Brandon Diaz
2. Daniel Medina
3. Nick Grabas
Sean Wager once again brought on his A game in F1, but this time, so did Lazaro Alonso Sr. After testing a bunch of different cars, He went back to his Infinity IF11. It seems this car fit his driving style, so the result once again showed by just beating Sean Wager in Q2 to take overall TQ. In Start of the race, Lazaro suffered a major traction rolling issue and dropped to the back of the field, 3rd place Andy St Germain had his car figured out and was able to dash & attack Sean Wager. With Andy's impressive pace, he was able to overtake Sean for the lead. Sean didn't give up and was able to stay close until the last lap, Sean took advantage of Andy's last lap mistake, and regained his 1st position.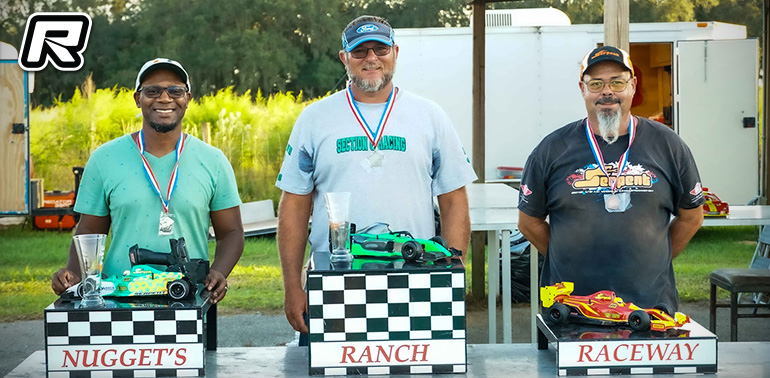 1. Sean Wager
2. Andy's St Germain
3. Jesus Diaz
In FWD without a sweat, Will Carrera was able to Gap TQ with his Xray FWD ride. In the end, Will continued his domination and never looked back. Wesley Ramsdell was the only driver able to stay on the same lap as Will jumped from 4th on the grid to 2nd overall. Jake Engstrom remained in 3rd place from his qualifying position.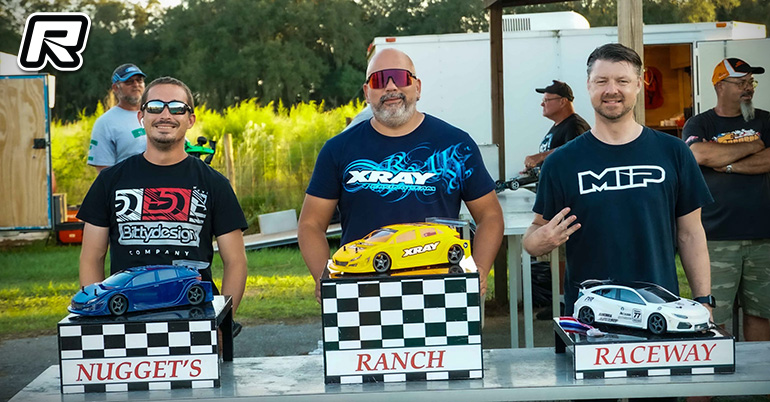 1. Will Carrera
2. Wesley Ramsdell
3. Jake Engstrom
Source: FSEARA [facebook.com]
---