November 23, 2021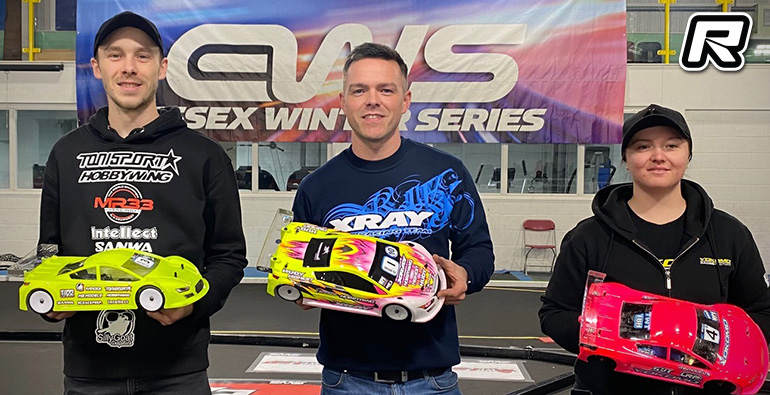 The second round of the Essex Winter Series took place this weekend with another packed out entry featuring all of the top on-road drivers in the UK across the four racing classes. The top-billed Scorpion Modified class saw Olly Jefferies repeat the pole position he had secured at opening event of the season in October, as the Xray driver topped three of the four qualifying rounds. It was only a car failure that prevented a clean sweep as a damaged spur gear in Q2 saw Olly out of the round, allowing Yokomo's Harley Eldridge to take a win which would ultimately secure her second on the A Final grid. Kyle Branson looked to be the third driver in the mix, the now Tonisport-backed driver took second in every round, to set himself third on the grid. Behind, it was the Capricorn of Alex Thurston who slotted into fourth overall, in front of multi-time UK National Champion Chris Grainger (Awesomatix).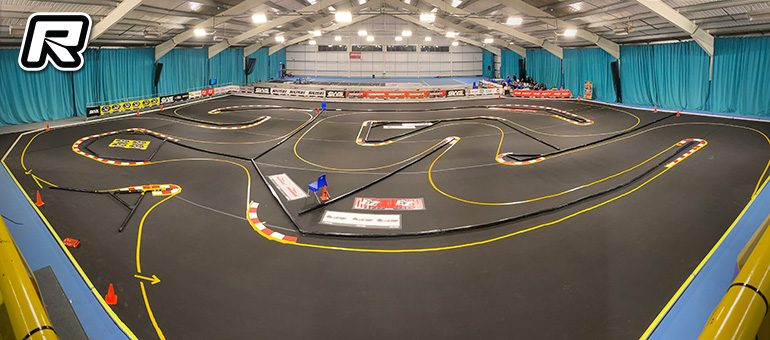 The single leg A Final saw Olly with some pressure – although not necessarily from the chasing cars. In October, Olly failed to convert his TQ advantage into any result as he had crashed on lap two – therefore it was vital he put in a clean run to get his championship challenge back on track. The current UK Touring Car champion did just that, with a faultless drive out in front to lead every lap of the main final. Behind, Kyle caught Harley napping at the start, as a lightning get-away from saw him jump in front at the first turn and, despite Harley sticking within half a second through the whole race, Kyle was able to hold onto the position and took second overall, with Harley rounding out the podium. Behind, Chris was unable to get past Alex despite having a clearly faster car eventually leading to a small tap between the two cars. This allowed Stefan Chodzynski, running a Yokomo, to move from seventh on the grid to finish fourth overall on the day.
SCORPION MODIFIED A FINAL RESULT
1. (1) Olly Jefferies – Xray/Hobbywing
2. (3) Kyle Branson – – /Hobbywing
3. (2) Harley Eldridge – Yokomo/LRP
4. (7) Stefan Chodzynski – Yokomo/Hobbywing
5. (6) Ben Moorey – Awesomatix/Reedy
6. (8) Billy Fletcher – Capricorn/Hobbywing
7. (4) Alex Thurston – Capricorn/Hobbywing
8. (5) Chris Grainger – Awesomatix/Reedy
9. (9) Peter Eagles – Xray/Hobbywing
10.(10) Richard King – Awesomatix/Vampire
11.(11) Damian Giddins – Xray/Hobbywing
In the Rush Super Stock class, it was Zak Finlay who picked up where he left off in October, taking three of the four rounds of qualifying. The only blot on his copy book was a mistake in Q3, which allowed Marcus Askell to take a TQ run with his Xray, strongly backed up with his other results to secure second on the grid. Tony Broad (ARC) and Ashley Wiffen (Awesomatix) looked like they just about had pace to match Marcus through the day, lining up third and fourth respectively, with Ricky Copsey's Xray rounding out the top five.
The A Final once again saw Zak in control, with a dominant drive out in front to take a pretty comfortable win. Marcus kept Zak honest in the opening stages, but as the race progressed, Zak's relentless pace out front was too much and the Xray pilot dropped to around four seconds behind the leader. Behind, Tony and Ashley had a great battle for the final podium spot. It looked like Tony had done enough to hold on to the position, but with four laps to run, he rolled his car and gifted the podium step to Ashley. Ricky had a lonely run in fifth place, but managed to break his car with one minute remaining – allowing Dani Young to continue her progress from ninth on the grid to finish in the top five.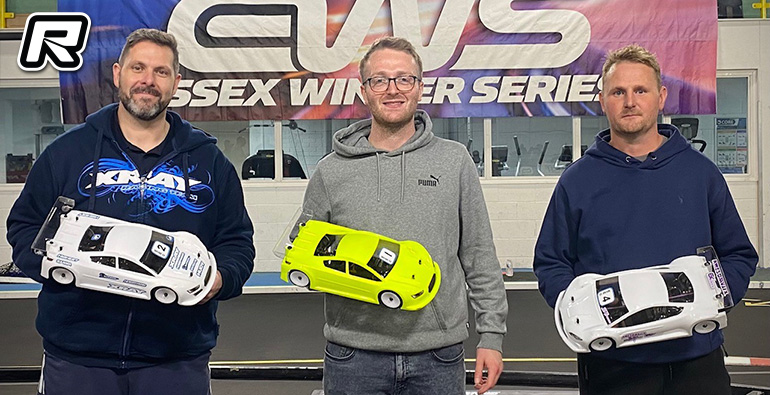 RUSH SUPER STOCK A FINAL RESULT
1. (1) Zak Finlay – Mugen/Zombie
2. (2) Marcus Askell – Xray/Hobbywing
3. (4) Ashley Wiffen – Awesomatix/Trinity
4. (3) Tony Broad – ARC/Zombie
5. (9) Dani Young – Awesomatix/Hobbywing
6. (7) Martyn Ross – Awesomatix/Hobbywing
7. (10) Mikey Mansell – Capricorn/Trinity
8. (11) Gabriel Henson – Capricorn/Trinity
9. (6) Sam Law – Awesomatix/Hobbywing
10.(8) Adam Southgate – Xray/Hobbywing
11.(5) Ricky Copsey – Xray/Hobbywing
The Infinity Front Wheel Drive class saw tight competition through qualifying, which eventually saw Paul Hill secure TQ ahead of Jason Butterfield and R1 winner Gary Taylor. Gavin Clinch and Craig Woods kept themselves in the mix by rounding out the top five on the grid.
The A Final also featured close racing – out front it was a battle between Paul and Jason for the full five minutes whilst Gary, Gavin and Craig fought over third place. But despite the close action we've come to expect in the Front Wheel Drive class, the closeness on speed from the hand-out motors kept a tiny gap between each car, meaning Jason never was able to attempt a pass on Paul, and Paul managed to soak up the pressure and kept his car on the track and out in front. Similarly, Gary was able to hold on to the podium place with third overall.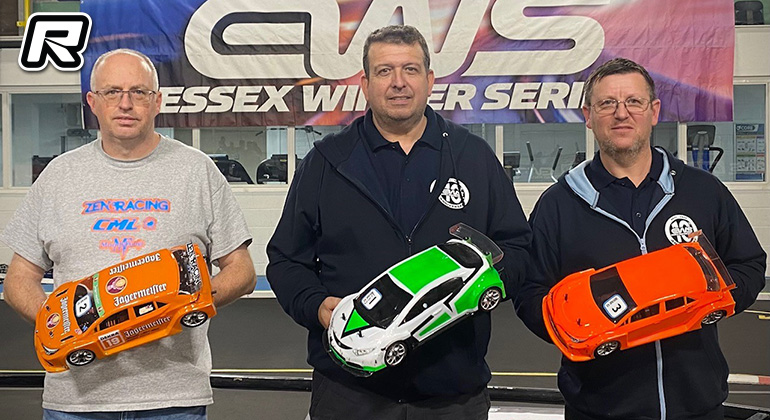 INFINITY FWD A FINAL RESULT
1. (1) Paul Hill
2. (2) Jason Butterfield
3. (3) Gary Taylor
4. (4) Gavin Clinch
5. (5) Craig Woods
6. (6) Oscar King
7. (7) Martin Southall
8. (8) Mark Caton
9. (11) Kevin Fenn
10.(10) Laith Shabib
11.(9) Bill Boag
12.(13) Peter Harridence
13.(12) Iain Gordon
Lastly, the Tonisport Sportsman Stock saw Tim Langdell take control and secure pole position with three TQ runs. Tim Woron stayed in touch with a single TQ run to take second overall, with Michael Chapman, Mark Young and Dave Ringsell making up the top five on the grid.
The A Final saw the two Tim's out at the front, with Tim Langdell staying in control during the race to take the overall win, and with it the championship lead, and Tim Woron holding onto second place. Behind, Dave made a good start to move up to third on the first lap, from which he had a clear run to the podium until the end. Behind the top three, Dan Moorey, who had bumped up from the B Final, had a fantastic race to take fourth at the finish, with Billy Kavanagh rounding out the top five.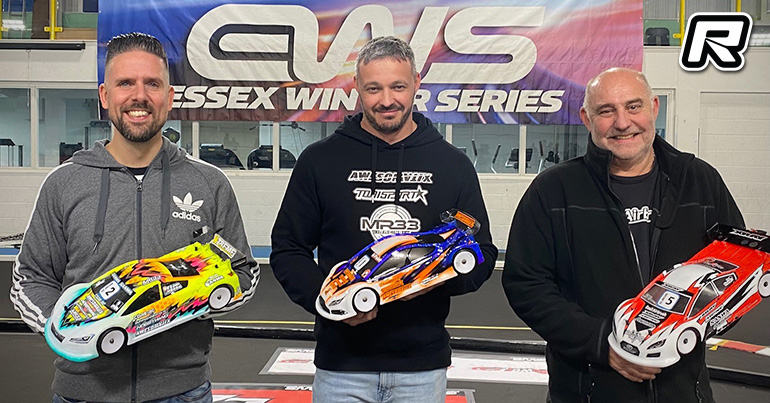 TONISPORT SPORTSMAN A FINAL RESULT
1. (1) Tim Langdell
2. (2) Tim Woron
3. (5) Dave Ringsell
4. (11) Dan Moorey
5. (6) Billy Kavanagh
6. (7) Steven Swan
7. (4) Mark Young
8. (3) Michael Chapman
9. (9) Masanori Oyama
10.(10) Gareth Hobson
11.(8) George Munns
The series now take a short break for the Christmas period, before continuing in January when the overall championship picture will start to become clearer. Most events are fully booked, but a few spaces remain and can be snapped up via the EWS website.
---