November 1, 2021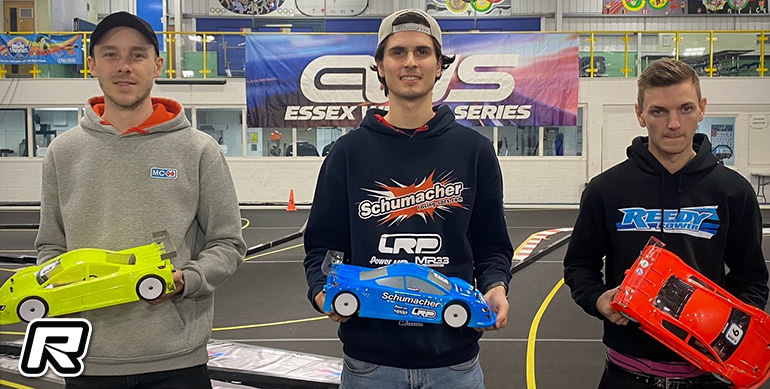 After an enforced year break due to COVID-19, the Essex Winter Series returned this weekend with the first event in its 10th Anniversary Season. Despite concerns as to the health of the industry, a fully booked meeting greeted all the racers, along with an expanded pitting area to allow for more space. It was also great to see many new faces joining the famous championship, as well as plenty of returning names. In the premier Scorpion Modified class, Michal Orlowski joined the UK front-runners, but it was current UK National Champion, Olly Jefferies, who came out on top after Qualifying. The Xray pilot topped three of the four rounds to secure pole position, with Capricorn's Kyle Branson pushing Olly close and taking Q3 – but seemed to be just that little bit behind Olly. Michal took a strong third for Schumacher, improving every run as he got used to the EWS track, with Andy Murray (Schumacher) and Chris Grainger (Awesomatix) completing the top five on the grid.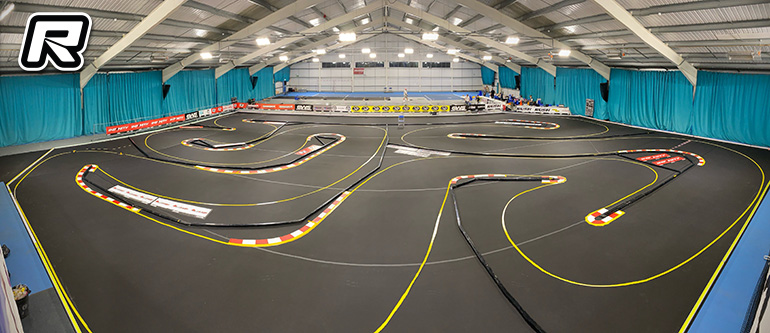 Olly led the field away for the single-leg final, but disaster struck on lap two as he rolled his car going through the tight infield complex, leaving him on his roof and dropping him to the back of the field. This put Kyle out front with Michal behind, and the leaders started to stretch away from the rest of the field. This turned into a fantastic race up front, with the gap never stretching to more than three-quarters of a second. Kyle initially looked to have the upper hand, cemented by having track position, but in the second half of the race it became evident that Michal had the faster car and looked to be a matter of when, rather than if, he would be able to attempt a pass on the Nitro World Championship podium finisher ahead of him. Michal had a number of attempts in the closing laps, and finally found a way past Kyle with just two laps remaining, in a perfect move. Kyle stuck on Michal's bumper for the remaining two laps, but was not able to return the favour, leaving the Polish driver to be the first name on the EWS winners list in 2021. Behind the top two, an intense battle and some messy mistakes saw a shake-up of positions a number of times, with Ben Moorey coming from sixth on the grid to take third overall with his Yokomo, Chris Grainger having to settle for fourth and Harley Eldridge (Yokomo), as Olly had a race to forget with a ninth place finish.
SCORPION MODIFIED A FINAL RESULT
1. (3) Michal Orlowski – Schumacher/LRP
2. (2) Kyle Branson – Capricorn/Hobbywing
3. (6) Ben Moorey – Yokomo/Reedy
4. (5) Chris Grainger – Awesomatix/Reedy
5. (7) Harley Eldridge – Yokomo/LRP
6. (8) Alex Thurston – Capricorn/Hobbywing
7. (9) Stefan Chodzynski – HB Racing/ORCA
8. (11) Billy Fletcher – Capricorn/Hobbywing
9. (4) Andy Murray – Schumacher/LRP
10.(1) Olly Jefferies – Xray/Hobbywing
11.(10) Richard King – Awesomatix/Vampire
Zak Finlay was the man to beat in the Rush Super Stock class, as he topped three qualifiers with his privately-entered Mugen car. Behind him, Marcus Askell (Xray) was the only driver seemingly close enough, and Marcus benefited from a mistake from Zak in Q3 to take that round. Tony Broad was best-of-the-rest, setting his ARC third on the grid ahead of a close three-way battle for fourth overall, which went the way of Ashley Wiffen's Awesomatix, in front of the Xrays of Ricky Copsey and Adam Southgate.
Zak continued his strangle-hold over the 13.5 class in the final, not putting a wheel wrong in a commanding drive that saw him pull out a 1.5-second lead in the opening minute, which he then sensibly maintained until the chequered flag to take his 13 th win in the history of EWS. Behind him, Marcus had a rather lonely race in second, comfortably ahead of the third place battle but not able to match Zak's pace out front. This meant the action in the race was the fight for the final podium step. Initially, a three-way fight between Tony, Ashley and Ricky, Ricky put himself out of contention as he rolled his car off the track half way through. Ashley appeared stuck to Tony's bumper, the two drivers so evenly matched on pace as they have often been at EWS. But this time Tony had the upper hand and Ashley wasn't able to find a way through and thus Tony was able to take the third step on the podium.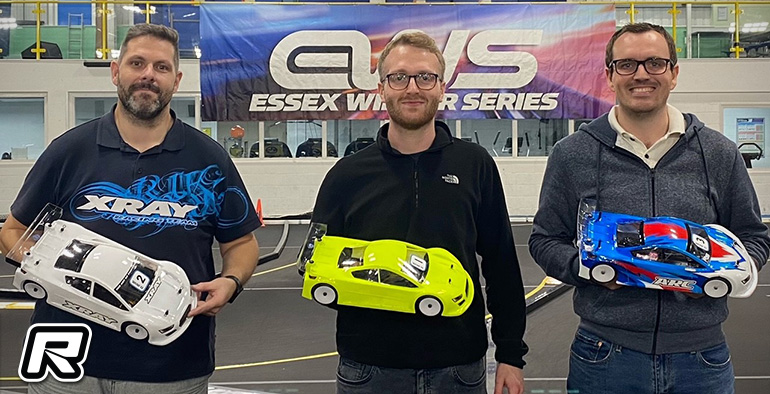 RUSH SUPER STOCK A FINAL RESULT
1. (1) Zak Finlay – Mugen/Zombie
2. (2) Marcus Askell – Xray/Hobbywing
3. (3) Tony Broad – ARC/Trinity
4. (4) Ashley Wiffen – Awesomatix/Trinity
5. (6) Adam Southgate – Xray/Hobbywing
6. (5) Ricky Copsey – Xray/Hobbywing
7. (7) Liam Hendy – Awesomatix/Revtech
8. (8) Martyn Ross – Awesomatix/Hobbywing
9. (10) Dani Young – Capricorn/Hobbywing
10.(9) Mark Buonaiuto – Xray/Surpass
11.(11) Mikey Mansell – Capricorn/Trinity
The Front Wheel Drive class always attracted a good crowd to watch with hand-out motors and the limited grip providing very close racing. This time, Gary Taylor mastered the conditions to take pole position, with Craig Woods securing second overall and pre-event favourite Paul Hill having to settle for third. The new carpet and updated tyre for this season clearly had thrown a curve-ball at many drivers, with a grid line up that few would have predicted; Mark Caton and Oscar King rounded out the top five starters.
Gary led the final off and opened a slight lead over Craig and Paul. Paul was the first to blink, with a mistake dropping him down and allowing Oscar into third from fifth on the grid. Oscar then set about closing on Craig, and clearly had got his car dialled in for the finals as he caught up to the second-place car and after a few laps of fighting, found a perfect inside-line move around the fast teardrop corner at the end of the main straight. Craig therefore slipped back to third, but the following lap a mistake dropped him to fourth and promoted Gavin Clinch (who had started eighth and carefully worked his way up the field) into third. Oscar now had the bit between his teeth and was reeling in Gary by three-tenths of a second every lap. On the final lap, Oscar caught up to the leader. Despite Oscar's clear pace advantage, Gary managed to hold his nerve and crossed the line to take the win.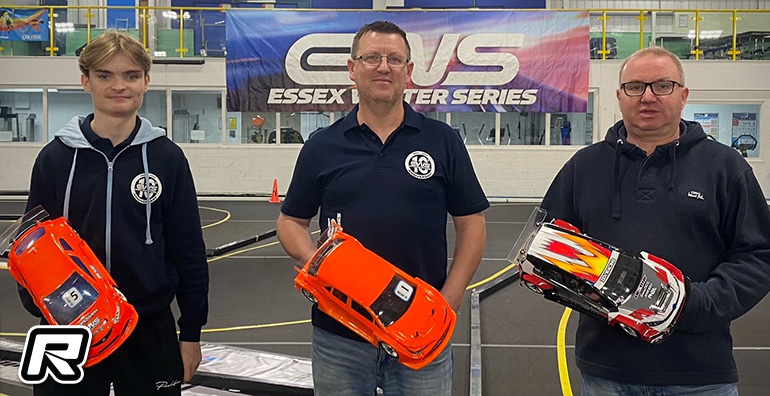 INFINITY FRONT WHEEL DRIVE A FINAL RESULT
1. (1) Gary Taylor
2. (5) Oscar King
3. (8) Gavin Clinch
4. (2) Craig Woods
5. (6) Jason Butterfield
6. (3) Paul Hill
7. (7) Kevin Fenn
8. (4) Mark Caton
9. (10) Peter Harridence
10.(9) Iain Gordon
11.(11) Bill Boag
Finally, a new class for this season is the Tonisport Sportsman Stock – a class for 17.5 turn motors that doesn't allow drivers with a chassis sponsor or those who have made the A Finals in National-level races. This allows a mix of the young racers to show their skills, and the 'old guys' to stay in the mix. Tim Langdell initially led this class after Q1 and Q2, but then Stuart Rand found some more speed in Q3 and Q4 to snatch the pole position away. Matt Quinlisk qualified third with Tim Woron and Michael Chapman making up the top five.
The single-leg final had Stuart leading the field away, and the top three settled into a comfortable rhythm, appearing very even on pace in the early runnings. As the race headed towards the half way point, Matt closed on Tim ahead of him, forcing Tim to start to think about defensive driving and dropping back from Stuart. As the two drivers continued to fight over the runner-up position, Matt was placing Tim under some serious pressure and managed to sneak through to second with one minute remaining. Tim didn't give up and kept the pressure on Matt in what was turning into a fight that looked like it was going down to the wire. However, the race was effectively ruined for Matt and the positions decided when the pair came up to lap a back-marker car. Despite being called by the announcer, the lap-down car refused to allow the battling drivers past, and then collided with Matt, allowing Tim to take second place on the final lap. Unfortunately, Matt therefore had to settle for third, as Michael Chapman took fourth at the finish ahead of Dave Ringsell.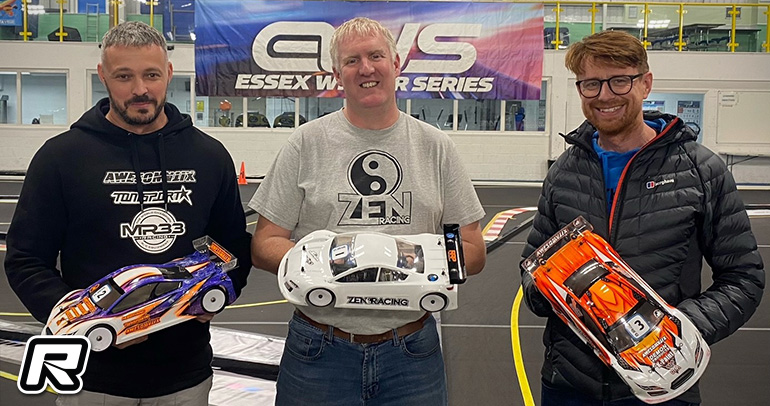 TONISPORT SPORTSMAN STOCK A FINAL RESULT
1. (1) Stuart Rand
2. (2) Tim Langdell
3. (3) Matt Quinlisk
4. (5) Michael Chapman
5. (7) Dave Ringsell
6. (11) George Munns
7. (10) Billy Kavanagh
8. (4) Tim Woron
9. (9) Gareth Hobson
10.(8) Mark Young
11.(6) Dan Moorey
With winter racing now in full swing, the next round of the EWS Championship takes place on 21 November, with the headline EWS International scheduled for 3-5 December. Entries for both events can be made via the EWS website.
---