December 13, 2021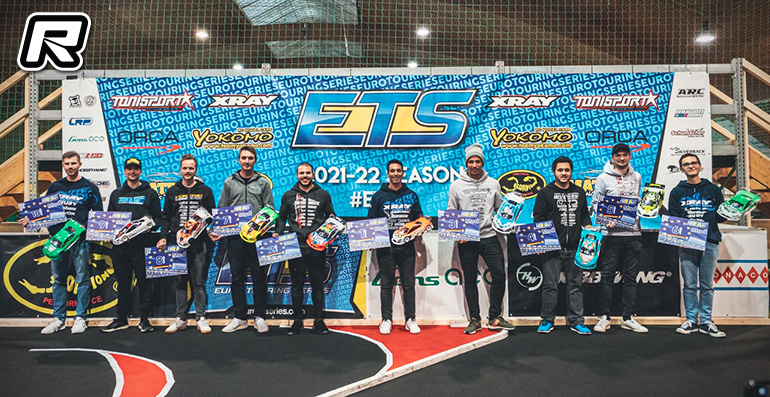 ETS Rd4 took place at Chuck's Raceway in Neumünster/GER last weekend. The ETS crew organised the event under strict Covid-19 rules, and everybody was vaccinated or recovered and an additional daily test was responsible for the maximum safety of all participants. The race saw 220 entries in six classes and the event started with a free practice day on Thursday, followed by 4 rounds of qualifying and triple finals for everybody. In the Matrix Modified class, Bruno Coelho was able to come out of qualifying on top of the field. Marc Rheinard lined up directly behind him with a fantastic driving Michele Manzo in third, and championship leader Ronald Völker in fourth position.
When the finals started it was game on and we saw some great races. In the first leg, Coelho and Rheinard had a close fight right from the start until Marc slightly touched Bruno coming onto the main straight. Both lost positions and for Bruno it ended in P6 for that race. Marc was able to recover better as his car showed a great speed and he was able to overtake the second placed Ronald Völker. But out front it was Michele Manzo who controlled the race until the end with a fantastic drive. Rheinard finished second and Ronald Völker third.
The second main was even more thrilling as Rheinard was all over Coelho for the entire run. Marc tried some passing attempts on Coelho and scratched Bruno's rear for a several times with his front splitter. It was hard racing for sure, but it didn't end in kind of a crash as Rheinard used all his experience from his career to keep it clean with the highest possible pressure on the car in front of him. Bruno showed strong nerves and brought home A2 in front of Rheinard and Manzo.
In A3 it was all on the line for the win with Coelho, Rheinard and Manzo all having a shot for the victory. Bruno looked a bit stronger this time and was able to drive a few tenths in front of Rheinard without giving him any chance for a pass. With his win in A3, Bruno Coelho sealed the deal and the overall race win at ETS RD4 in Germany. Michele Manzo scored a fantastic second place and Marc Rheinard stepped on the third spot of the podium in the Matrix Modified class. The overall championship is wide open now after Coelho won the last two races and Völker having won the first two encounters of the season!
Overall results of the Matrix Modified class (Car/Electronics)
1. Bruno Coelho (PT) Xray/Hobbywing
2. Michele Manzo (CH) Awesomatix/Hobbywing
3. Marc Rheinard (DE) Awesomatix/Orca
4. Ronald Völker (DE) Mugen Seiki/LRP
5. Tim Wahl (DE) Awesomatix/Orca
6. Alexander Hagberg (SE) Xray/Hobbywing
7. David Ronnefalk (SE) Awesomatix
8. Christopher Krapp (DE) Yokomo/Racing Performer
9. Karri Salmela (FI) Awesomatix/Reedy
10. Marco Kaufmann (DE) Xray
11. Antoine Brunet (FR) Xray/Hobbywing

Winner B-Main: Jan Ratheisky (DE) Xray/Hobbywing
Winner C-Main: Robert Pietsch (DE) Mugen Seiki/LRP
Winner D-Main: Mads Koue (DK) Awesomatix
In the Xray ProStock class, Simon Lauter continued where he stopped in Apeldoorn at RD3 – he won the race. Simon was the fastest in qualifying and started on pole position into the triple A-Mains.
Alexandre Duchet, his main contender for the overall ETS title, started second and Max Mächler lined up third on the grid. In the finals we saw a lot of interesting battles between the ProStock drivers for the positions, but in front it was a dominant Simon Lauter who took the win in A1 and A2. After this strong race he is the top favourite for the title, and it will be interesting to see if Alexandre Duchet can fight back in the last two races of the season in Daun and at the Hudy Arena.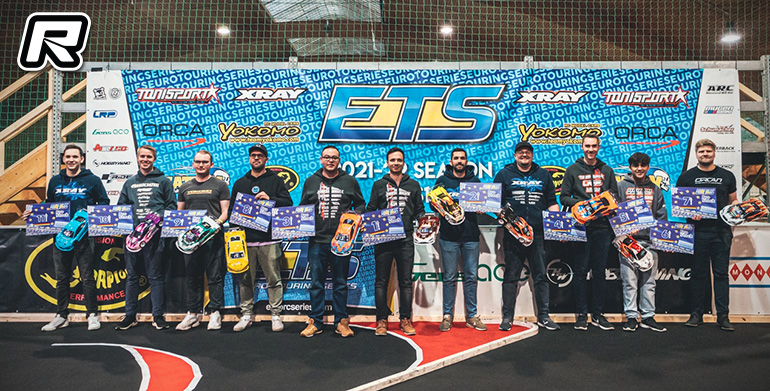 Overall results of the Xray ProStock class (Car/Battery)
1. Simon Lauter (DE) Awesomatix/LRP
2. Alexandre Duchet (FR) Xray/Orca
3. Max Mächler (DE) Awesomatix/Sunpadow
4. Jan Ratheisky (DE) Xray/Sunpadow
5. Frederik Mikkelsen (DK) Awesomatix/LRP
6. Berkan Kilic (TR) Mugen Seiki/GensAce
7. Tim Benson (DE) no data on MyRCM
8. Jonas Völker (DE) Mugen Seiki/LRP
9. Enrico Jung (DE) Yokomo/GensAce
10. Jesper Rasmussen (DK) Awesomatix/Reedy
11. Lukas Ellerbrock (DE) Xray/LRP

Winner B-Main: Louis Kretschmer (DE) Awesomatix
Winner C-Main: Dominik Schmid (DE)
Winner D-Main: Kevin Sparbier (DE) Mugen Seiki
Stefan Schulz celebrated another win in the Hobbywing Frontwheel class at ETS RD4. He earned a hard-fought pole position in qualifying and was standing his ground in the finals with some strong competitors behind him. Marvin Fritschler, who raced the first time at the ETS, was on pace and chased Schulz around the track in A1 and A2 with Steven Olsen and Jonas Völker right behind him. It was great racing in the FWD class and Stefan Schulz is now very close to the overall ETS title with three wins on his score card this season. Steven Olsen finished third behind Jonas Völker and he needs to win the next two rounds now if he likes to take the title from Schulz in the very last minute.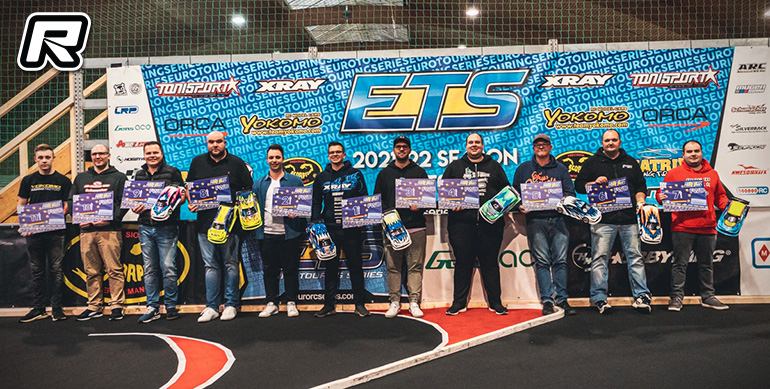 Overall results of the Hobbywing Frontwheel class
1. Stefan Schulz (DE) Xray
2. Marvin Fritschler (DE) Awesomatix
3. Jonas Völker (DE) Awesomatix
4. Steven Olsen (DK) Awesomatix
5. Torsten Baggendorf (DE) Awesomatix
6. Manuel Stankowitz (DE) Awesomatix
7. Kevin Sparbier (DE) Mugen Seiki
8. Meik Niemann (DE) Awesomatix
9. Max Körner (DE) Awesomatix
10. Der Shoemaker Schuster (DE) ARC
11. Tim Dübel (DE) Yokomo

Winner B-Main: Henrik Heitsch (DE) ARC
Winner C-Main: Nicolai Nelsen (DK) Awesomatix
Winner D-Main: Patrick Sommer (DE)
Winner E-Main: Lars Harnack (DE)
The Orca 17.5 Stock class saw Thomas Bemmerl taking his third win of the season. But this time he had to find a way by the TQ and reigning champion Daniel Pöhlmann who was fastest in qualifying. Pöhlman had a perfect start into the finals and was able to win the first leg ahead of Bemmerl. In the second run, Bemmerl chased Pöhlmann hard around the track and after they had a side-by-side contact in lap 5, Bemmerl took over the lead and took the win in A2. The third and deciding final saw the two cars of Daniel Pöhlmann and Thomas Bemmerl leading the race, until Bemmerl had a bad exit out of the hairpin onto the main straight where he touched the tail of Pöhlmann`s car. Both lost their positions, and third placed Jan Gehrig took over the lead followed by Dominik Reile. The fight for the overall win was now even more exciting as Gehrig also had the chance to win. He crossed the finish line ahead of Reile after five minutes and was equal on points with Thomas Bemmerl. But with Bemmerl's win in A2 being the fastest overall runtime, he was the lucky guy to win ETS RD4 in Neumünster in front of Jan Gehrig and Daniel Pöhlmann.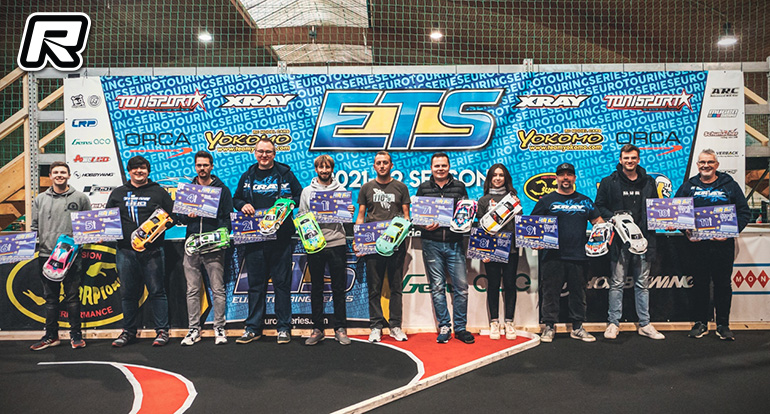 Overall Top 10 of the Orca 17.5 Stock class
1. Thomas Bemmerl (DE) Awesomatix
2. Jan Gehrig (DE) Xray
3. Daniel Pöhlmann (DE) Awesomatix
4. Dominik Reile (De) Awesomatix
5. Dominik Ruf (DE) Tamiya
6. Kevin Schmid (DE)
7. Max Körner (DE) Mugen Seiki
8. Elena Fuchs (DE) Awesomatix
9. Patrick Sommer (DE)
10. Georg Rolshoven (DE)
11. Kim Lendegaard (DK) Xray

Winner B-Main: Wolfgang Swoboda (DE)
Winner C-Main: Niclas Storm (DE)
The ToniSport 40+ Masters class saw Toni Mateo taking the win after he was able to convert his pole position into A1 and A2 wins. Ulrich Dinger and Caspar Morgen joined Toni Mateo on the podium of the ToniSport 40+ Masters class after they gave everything, they had to challenge Mateo. Overall, the 40+ Masters is still growing and the ETS is happy to see so many drivers signing up for this class for all ambitious racers above the age of 40 who want to race each other in a competitive environment with a great camaraderie. Toni Mateo was the fourth different winner this season (together with Boy Holst, Morgen and Sievers) and Caspar Morgen is still leading the championship with the best chances for winning the 40+ ETS title.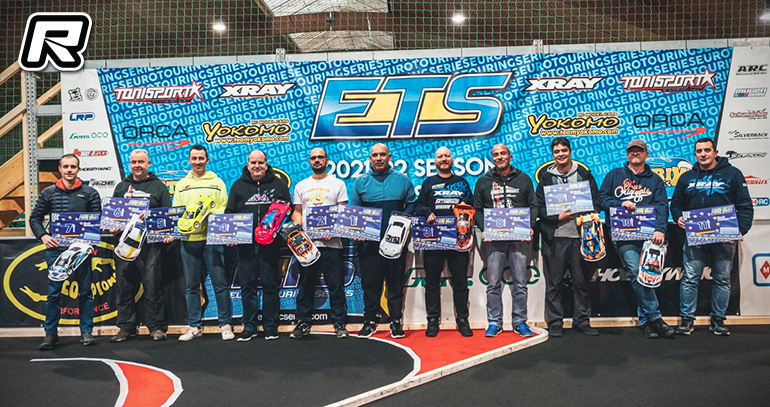 Overall result of the Infinity 40+ Masters class
1. Toni Mateo (ES) Awesomatix
2. Ulrich Dinger (DE)
3. Caspar Morgen (DK) Xray
4. Mirco Thalheimer (DE) Serpent
5. Søren Boy Holst (DK) Gizmo
6. Frank Fuchs (DE) Awesomatix
7. Ronald Arts (NL) Awesomatix
8. Karsten Bartsch (DE)
9. Andy Kühne (DE) Awesomatix
10. Torsten Baggendorf (DE) Awesomatix
11. Flavio Paladin (IT) Xray

Winner B-Main: Manuel Stankowitz (DE) Awesomatix
Winner C-Main: Klaus Ryeskov (DK) Xray
Winner D-Main: Thomas Welzig (DE) ARC
Winner E-Main: Arie van der Steen (NL) Awesomatix
In the Scorpion Formula class, it was once again Jan Ratheisky who was simply unbeatable for the rest of the field. Renè Kölbel was his greatest competitor and he finished second on the podium with Sören Sparbier coming home third. It was the first race for the Scoprion Formula class on foam tires and they seem to work well with the right car setup. Jan Ratheisky booked his third win of the season and is very close to win another ETS title in the Formula class.
Overall Top 10 of the Scorpion Formula class
1. Jan Ratheisky (DE) XRay
2. René Kölbel (AT) Xray
3. Sören Sparbier (DE) Serpent
4. Tomáš Sova (CZ) Xray
5. Patrik Sadrinna (DE)
6. Alexander Bremer (DE)
7. Michael Lipperheide (DE) EF1
8. Markus Greune (DE)
9. Marek Sova (DE) Xray
10. Meik Niemann (DE) Ehrbar Engineering
11. Kai Asmer (DE) Xray

Winner B-Main: Chris Grenz (DE) EF1
Source: ETS [eurorcseries.com]
---