December 6, 2021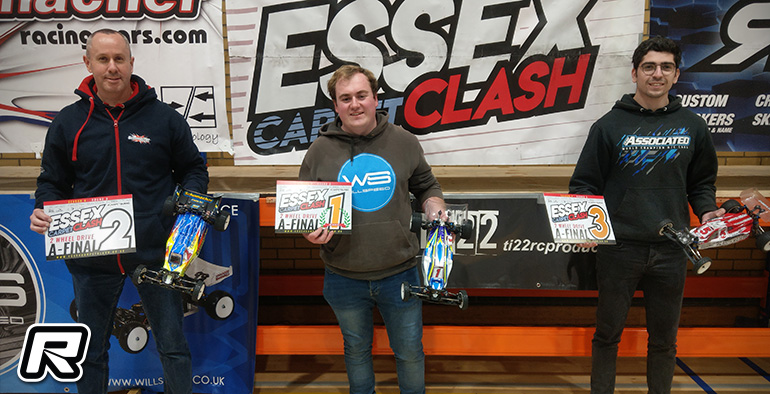 Last weekend was round 3 of EssexCarpetClash4 and the drivers arrived to find a track layout that was to test a lot of people's skills on track. A little more technical from previous rounds and included a cross over, but getting the lap correct would pay dividends on the timing sheet. In 2wd, Ellis Stafford found his feet easily taking the 1st 2 rounds and looked comfortable to take pole. Kyle moon had other thoughts and would take the last 2 rounds and took pole position having had a better time, demoting Stafford to the 2 spot. Harley Eldridge lined up 3rd ahead of Richard Gasson who had a good qualifying.
4wd qualifying was a mixed bag with 3 different drivers topping the the timing sheets in the different rounds. Stephen Brown edged the pole position ahead of Harley Eldridge, with John Painter lining up 3rd doe the finals.
In the finals, pole man Moon would make the most of his situation and was able to wrap up the meeting win by taking the first 2 leg wins. Stafford had to make the last 2 legs count after a poor leg 1 result, but managed to beat William Venables who had qualified mid pack to the 2 spot, (although joint on points).
1. Kyle Moon,
2. Ellis Stafford
3. William Venables
In 4wd, Stephen Brown would take top honours by turning his pole position in to wins for each leg of the 3 leg finals and taking the meeting win. Eldridge had to settle with 2nd in each final and would be where she ended up overall. Freddie Russell who had turned his hand to 4wd for this meeting managed to negotiate decent finishes and would take the final step of the podium.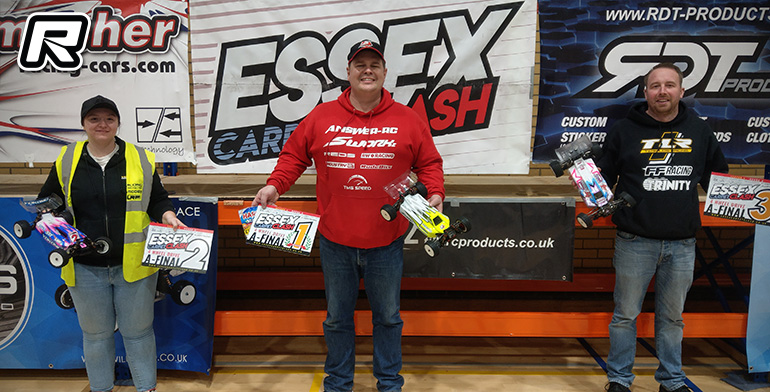 1. Stephen Brown,
2. Harley Eldridge
3. Freddie Russell
Source: EssexCarpetClash [facebook.com]
---