January 18, 2022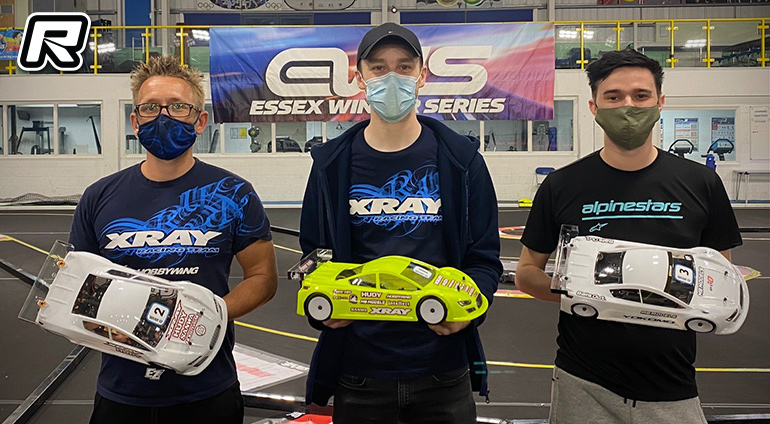 The 2021/22 Essex Winter Series reached its midway point with Round 3 taking place last weekend. The Christmas break had seen a number of drivers changing teams and in the Scorpion Modified Class it was Kyle Branson, now leading the Xray charge in the UK, who set the fastest time in the opening qualifier. Kyle was just over two seconds ahead of Alex Thurston's Capricorn and Xray designer Martin Hudy, who had made the trip over from Slovakia to support his newly-signed drivers. Harley Eldridge, another new recruit to the Xray team, was fourth ahead of Stefan Chodzynski and his semi-privateer Yokomo.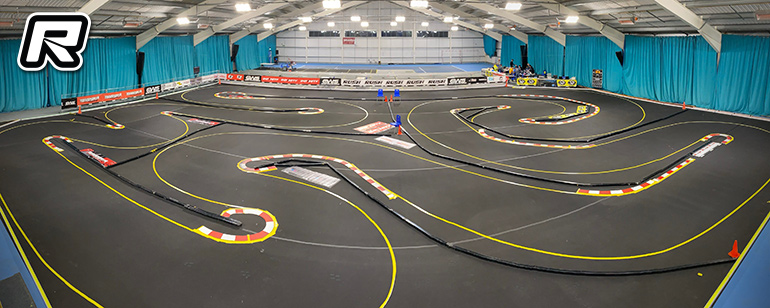 Q2 also went the way of Kyle, with Stefan stepping up his pace and taking second, ahead of Alex and Martin, before Kyle wrapped up the overall TQ by taking the third qualifier too. This time, Martin was dialled into the EWS track and set the second best time, with Stefan third and Daniel Robins, also making his EWS debut, taking fourth for Schumacher. The last qualifier saw the same top three as Q3, with Alex Thurston recovering his pace to take fourth. Overall, with Kyle on pole, the fight for second went to Martin, narrowly ahead of Stefan and Alex, with Harley rounding out the top five.
With Kyle's dominance in qualifying, the single leg A Final seemed a bit of a foregone conclusion, with Kyle making a strong start and the field struggling to match his pace. As Kyle streaked away at the front, the fight was between Martin and Stefan for second. The two drivers were no more than one second apart, but crucially Martin had both the track position and the speed to stay in front. Despite Stefan's best efforts, he was never able to mount a real attack and thus the podium positions were as they started. Behind, Alex and Harley had a similar fight over fourth place, with Daniel hanging onto their coattails for a sixth place finish.
Scorpion Modified A-Final result
1. (1) Kyle Branson – Xray/Hobbywing
2. (2) Martin Hudy – Xray/Hobbywing
3. (3) Stefan Chodzynski – Yokomo/Hobbywing
4. (4) Alex Thurston – Capricorn/Hobbywing
5. (5) Harley Eldridge – Xray/LRP
6. (6) Daniel Robins – Schumacher/LRP
7. (9) Ben Moorey – Awesomatix/Reedy
8. (7) Andy Murray – Schumacher/LRP
9. (11) Richard King – Awesomatix/Hobbywing
10.(10) Damian Giddins – Xray/Hobbywing
11.(8) Chris Grainger – Awesomatix/Reedy
In the Rush Super Stock class, Zak Finlay picked up where he left off at the end of 2021 despite also switching teams. Zak made it an Xray top three in the opening qualifier as he led Tony Broad and Marcus Askell. Ben Cosgrove was a late entry but found pace straight away to take fourth for the round with his Awesomatix, with Ricky Copsey (Xray) in fifth. The second qualifier also went to Zak, as Ben closed to within a second of Zak to take second ahead of Marcus, and the Awesomatix pairing of Martyn Ross and Ashley Wiffen. Q3 also went Zak's way to secure the overall Pole Position, with Ben and Marcus again making up the rest of the top three – which was then repeated in the final qualifier too.
The A Final promised to be exciting, as everyone watched on to see if Zak's dominance of the class would come to an end as Ben continued to show an improved pace every time his car hit the track. That proved to be the case, as Ben set off in pursuit of Zak from the start tone. Throughout the whole five minutes, Ben mounted a number of challenges to Zak's lead, getting his car right onto the bumper a number of times. But Zak was able to keep his car on the racing line and despite Ben taking a few looks at a pass, it was a clean battle between the two and Ben had to settle for second place. Behind the top two, Marcus Askell had a slightly lonely race to third, whilst Ashley and Adam Southgate were able to move up and round out the top five. Taking his third win of the season also meant that Zak sealed the overall title in the class, but the fight for the remaining places will continue over the next two rounds.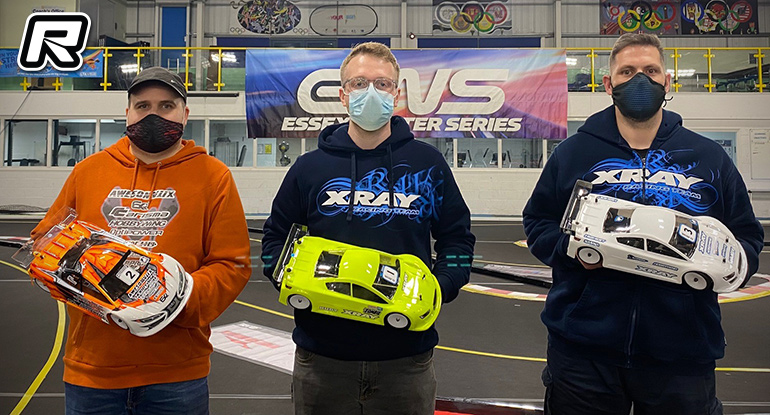 Rush Super Stock A-Final result
1. (1) Zak Finlay – Xray/Zombie
2. (2) Ben Cosgrove – Awesomatix/Hobbywing
3. (3) Marcus Askell – Xray/Hobbywing
4. (6) Ashley Wiffen – Awesomatix/Trinity
5. (8) Adam Southgate – Xray/Hobbywing
6. (7) Martyn Ross – Awesomatix/Hobbywing
7. (5) Ricky Copsey – Xray/Hobbywing
8. (9) Mark Buonaiuto – Awesomatix/Trinity
9. (10) Dani Young – Awesomatix/Hobbywing
10.(4) Tony Broad – Xray/Trinity
11.(11) Chris Page – Xray/Hobbywing
The Infinity Front Wheel Drive class provided some of the closest times during qualifying. Gary Taylor, the winner at Round 1 of the series, took the opening qualifier, with Mark Caton topping Q2 and then Paul Hill (winner in November's Round 2) going fastest in the third round. Therefore the last qualifier would settle the overall grid positions. Paul had the momentum and topped the last round, to secure the top starting position ahead of Mark and Gary, with Jason Butterfield, who had also been mixing it up but wasn't able to take a top time, lining up fourth on the grid.
Paul led the field away, and a battle immediately developed for second place between Mark and Gary, with Jason just about staying with these two as well. Gary put Mark under pressure and just before the half way point, a mistake from Mark allowed Gary up to second place. Gary then tried to set about catching Paul, but it appeared the damage had been done with Paul holding a strong lead out front. Jason now closed in on Mark, but Mark was able to hold off Jason's charge to the finish line. Out front, Paul ran out the winner, with a four-second gap over Gary who took a solid second place.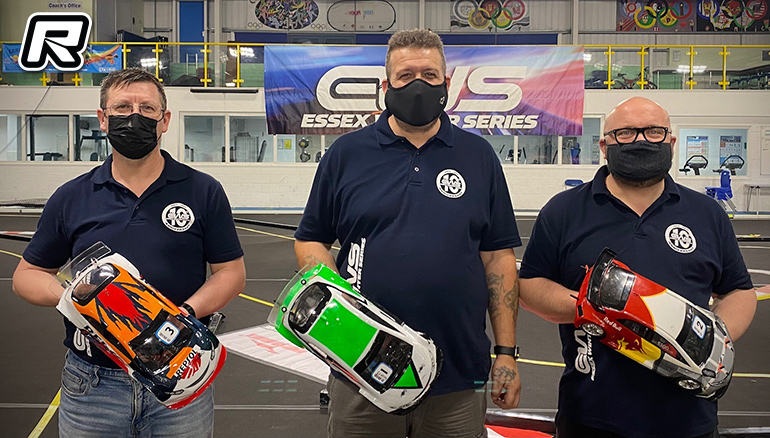 Infinity FWD A-Final result
1. (1) Paul Hill
2. (3) Gary Taylor
3. (2) Mark Caton
4. (4) Jason Butterfield
5. (7) Craig Woods
6. (5) Oscar King
7. (9) Laith Shabib
8. (8) Kevin Fenn
9. (6) Bill Boag
10.(10) Iain Gordon
11.(11) Peter Harridence
The Tonisport Sportsman Stock class also saw qualifying going down to the wire. Tim Woron topped Q1 ahead of Tim Langdell and Stuart Rand, whilst Stuart went fastest in the second round in front of Dan Moorey and Tim Langdell. The third qualifier also went to Stuart, with Tim Langdell second and Steven Swan in third. Tom Langdell took the final round, with Stuart second and Steven third – meaning Stuart would start on pole, ahead of Tim Langdell and Tim Woron, with Steven fourth and Dave Ringsell fifth. The final saw Stuart making a good start and opening up a gap early on as Tim Woron dropped back, allowing Steven up to third. Billy Kavanagh had a great first few laps, moving from eighth on the grid up to fifth. Tim Langdell and Steven raced hard for second place, allowing Stuart to escape out front, and Billy then slipped past Dave to move up to fourth. As the race reached the closing stages, a technical issue for Steven saw all his hard work undone as he was forced to retire, allowing Billy to be right on Tim Langdell's tail. Billy got in front of Tim to move to second, but a lap later Tim returned the favour to secure second overall, with Billy's third place still a great result from his starting place.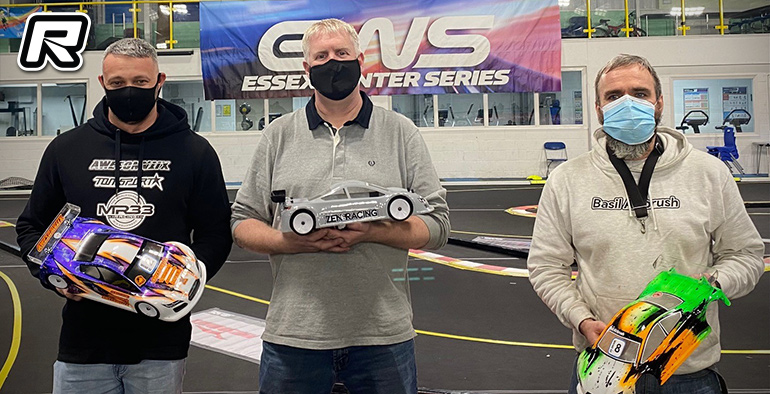 Tonisport Sportsman Stock A-Final result
1. (1) Stuart Rand
2. (2) Tim Langdell
3. (8) Billy Kavanagh
4. (4) Dave Ringsell
5. (3) Tim Woron
6. (7) Michael Chapman
7. (10) Matthew Prigmore
8. (11) Matt Butcher
9. (9) Gareth Hobson
10.(4) Steven Swan
11.(6) Dan Moorey
With just two rounds remaining, the championship is still very much open in Modified, Front Wheel Drive and Sportsman Stock – Round 4 in February should give us a clearer picture of the contenders.
Source: EWS [ewsevents.co.uk]
---