January 27, 2022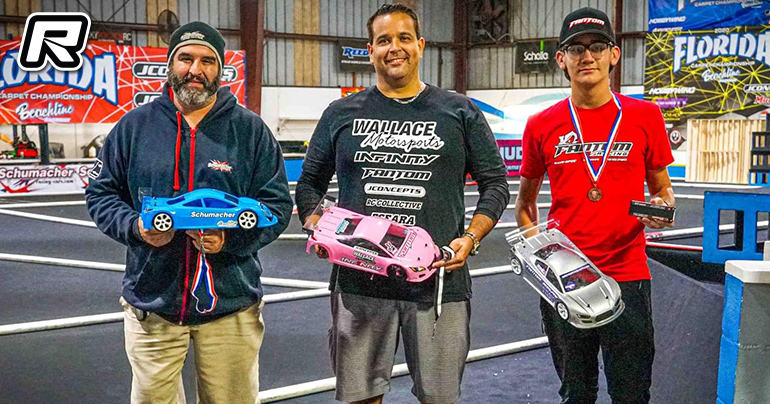 Another strong 115 entries event at the Beachline Raceway for the 4th round of the FSEARA Series. It has been a tradition every January that there is a big FL Warm up race for the world-famous Snowbird National and this year was no exception, Robbie Michael continued this tradition to host it at Beachline Raceway. Using the track & space to duplicate the layout of the Snowbirds, Robbie did a great job as he prepared and opened the track early on Friday to give racers the chance to lay down some traction for the race day. There are many drivers from all around FL to attend these 3 days to get this final chance in order to prepare for the Snowbird Nationals.
The highlight of the battle for the weekend was for sure in 17.5 TC. Corey Record was clear on fire at this event, with the Blistering pace, he was able gap himself from the rest for over 4sec in qualifying. 2nd Dave Ramos, your local carpet off road racer trying on road for the first time, he had a close battle with 3rd place Brain Larkin only 0.07secs apart.
In the A main, Corey made a huge mistake on the 2nd lap and allowed Dave Ramos to make the move and took the lead. In the back of the field, the infinity driver dave vera was able to take advantage of a few mistakes up front slowly close to Dave Ramos starting from 5th place. Half way through the race, Dave Vera overtook Ramos for the lead. The battle heated up as Dave Ramos never gave up. In the end, he wasn't able to make the pass back from Dave Vera. Lazaro Alonzo Jr was also able to pull it off starting from 6th place and finishing 3rd overall.
1. Dave Vera
2. Dave Ramos
3. Lazaro Alonzo Jr.
In Mod TC , there was a big drama this past weekend with battery and run time. It seems like this layout. It was a 50/50 drivers choice between a full size pack and lcg shorty pack. During the qualifying, there were many drivers who ran out of battery with just 1 lap to go. With this drama in place, some drivers suffered and weren't able to get some good qualifying results. Corey Record chose to run with a full size pack and was able to edge out express driver Felix Law by just 0.2 sec. with Felix Law trying to reset the TQ pace, but just ran out of battery in the last lap to deny his run.
In the A main, Corey Record seemed to have a very good start, beginning to pull away from Felix, But in about 2 laps in, Felix began to catch up and make a pass on Corey. It seems that was it, Felix was able to keep gapping away from there on. Corey's record seemed to be held on to 2nd, but got intensely challenged by Cory Parsons. After a few min, Cory was able to get by, but killed himself by making a huge mistake crash out of the position. In the back, Lazaro Alonzo Jr. was having a bad day from lap 1, but was able to find himself to battle for 2nd at the end of the race. Corey made another big mistake and allowed Lazaro to secure 2nd. Steve Mcnichols was able to run a perfect safe race to finish 3rd while both Cory and Corey bumped out of top 3.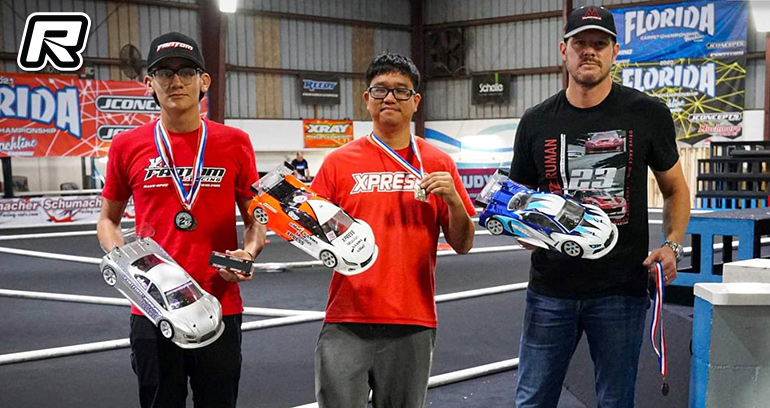 1. Felix Law
2. Lazaro Alonzo Jr.
3. Steve Mcnichols
In USGT, battle was between Michael RC hobbies owner Michael Bruce and Eddie Shaffer. In Q1, Michael was able to gap Eddie by 4 secs. With Michael failing to complete Q2, Eddie Shaffer was able to beat Michael's TQ by 4 secs.
In the Amain, Eddie brought his A game and checked out, without looking back, He was able gap himself to lap the entire field. Michael had a rough start and fell to 3rd battle serpent driver Jesus Diaz. With Michael regaining his rhythm, he was able to over take Jesus for 2nd. Jesus was able to hold 3rd with 2secs behind Michael.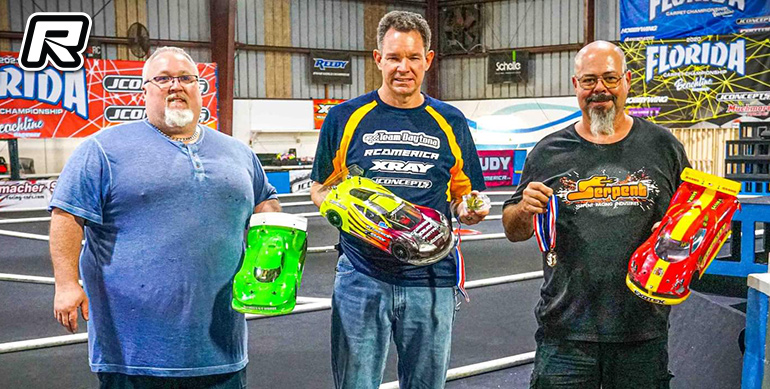 1. Eddie Shaffer
2. Michael Bruce
3. Jesus Diaz
In the 21.5 Stock TC class, It was the battle between the old school long time racer Furman Walker who had the upper hand, battle with the series point leader Eddie Shaffer. In Q1, Furman was able to win by just 1sec, in Q2, he extended his position by over 6 secs.
In the Main, The race remains the same as qualifying. Furman quickly extended his gap, but Eddie was able to close in by the end of the race, both drivers were consistent, and battled standing 1 car lane apart. In the end, Eddie wasn't able to make a move to pass Furman. James Morris was able to battle his way from 5th to 3rd to round out the podium.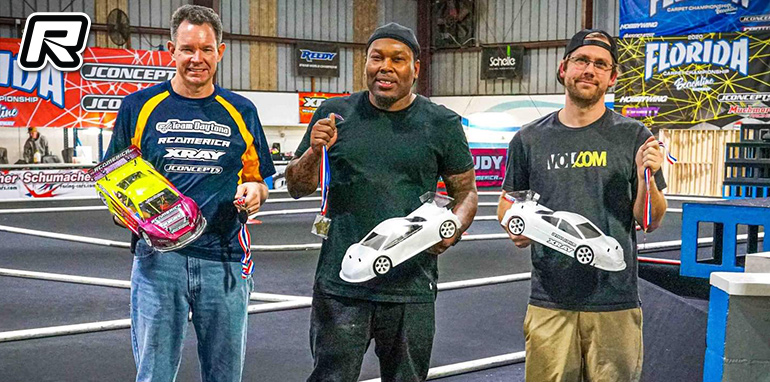 1. Furman Walker
2. Eddie Shaffer
3. James Morris
Come out of nowhere again, we believe every year he uses this race to get ready for Snowbird, Rich Boehmler was never seen in the VTA class before this event pulled out of his Xray T4 2021 . sure he showed the pace, while in qualifying, He was the first to make 30 laps. In Q2, he bettered his TQ by 5 secs in order to keep in front of Scott Meeks. In the main, Rich continued to dominate while Greg was safely in 2nd getting a good start. The main battle to watch was between 3rd place Jake Engstrom and Scott Meek. In the end Jake was able to hold off Scott for 3rd.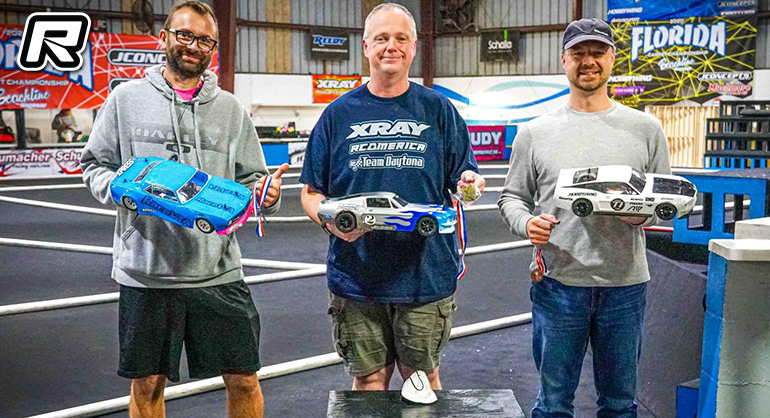 1. Rich Boehmler
2. Greg Rojina
3. Jake Engstrom
One of the biggest classes here at Beachline, it seems that the perfect fit size and ease of setup attract a lot of racers in the GT12 class. The battle was close all weekend, but it seemed Mike Bean was on point with just a small edge ahead of the field. Shad Galante and Nathan Mc Nichols were extremely close in the battle of 2nd, with just 0.01 apart, Shad was able to hold off Nathan. In the main, Mike Bean was able to extend his lead without looking back, while Shad had some fighting to do to hold off 5th place qualifier Team Raskin. With a quick recovery move, Shad was able to keep his 2nd place while Team Raskin had to Seattle for 3rd.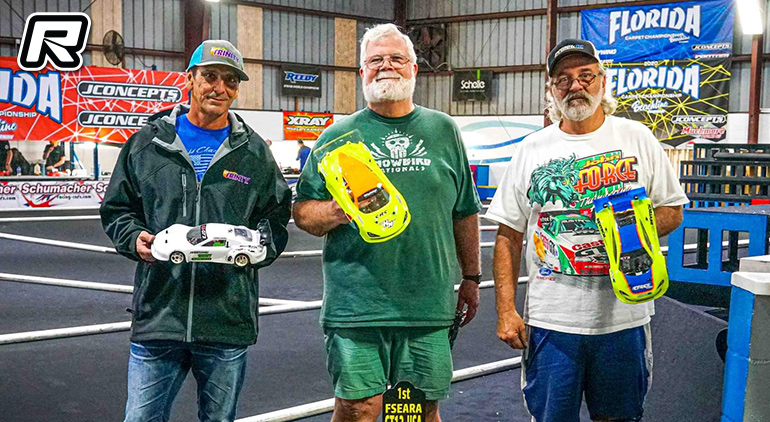 1. Mike Bean
2. Shad Galante
3. Team Raskin
Sean Wager is back again. The undefeated winner only changed batteries on the carpet and was able to TQ again by a huge margin. Almost 1 lap over the field. In the A main, just when we all thought it's over, Sean made a huge mistake and lost multiple spots and allowed 4th qualifier Randy Miller to take the lead. But the fast paced TQ Sean Wager was able to regain his rhythm to finish and take Randy for the lead. Randy fell back to battle with Starling Gibson which started from 5th on the grid and just lost out 2nd from Randy by 0.02 secs.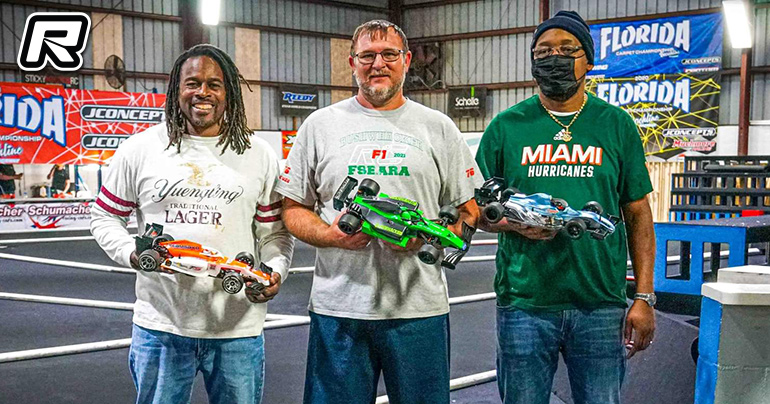 1. Sean Wager
2. Randy Miller
3. Starling Gibson
The FWD class by itself was able to be popular each round in the series. Your series point leader Anthony Schimizzi was able to once again gap himself in qualifier. 2nd closest was Serpent CEO himself Joaquin Desoto with just about 3 secs back. In the A main, Anthony once again checks out and never looks back. He almost lapped the entire field. Will Carrera finished 2nd while Ashton Brinson finished 3rd.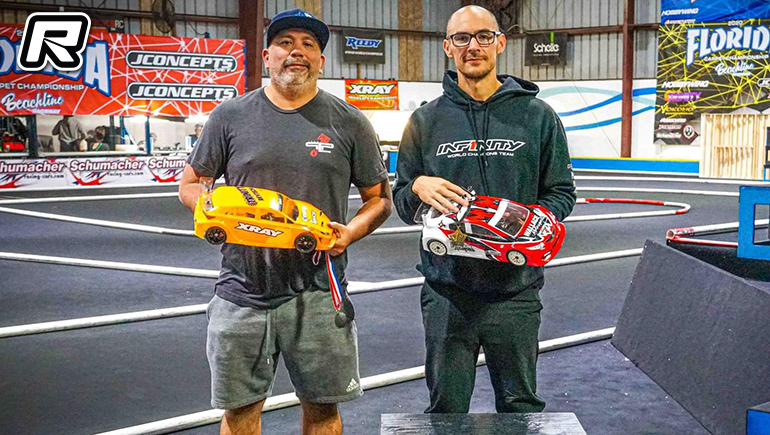 1. Anthony Schimizzi
2. Will Carrera
3. Ashton Brinson
13.5 1/12th was a Snowbird warm up class which was good to see some 1/12 with GTP bodies. Steve McNichols was able to lap the field in the qualifier showing good pace. But in the Amain, the tide turns while Steve struggled to find traction, Bobby steps up his pace to win the race by 2 laps, In the middle of the race, Steve was able to regain his pace, but it was little too late.
1. Bobby Horan
2. Steve McNichols
3. Mike Bean
Source: FSEARA [facebook.com]
---