March 5, 2022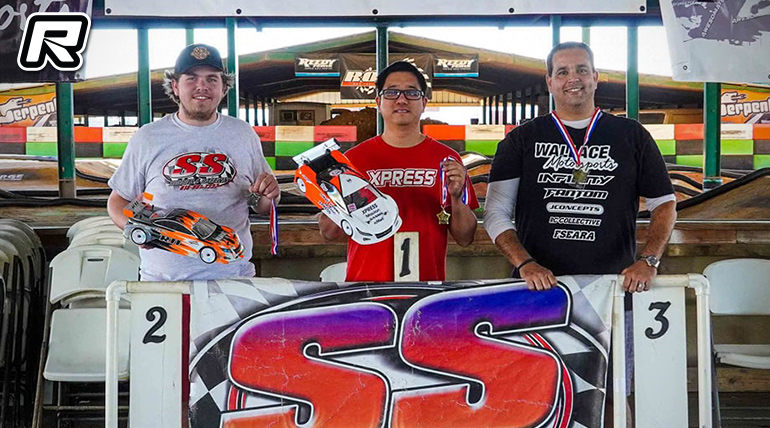 For round 5 of the FSEARA the series returned to asphalt, this time at the Tampa FL SS Raceway. This is a brand new track for this season and is one of the most famous RC tracks in Florida offroad having last year hosted the ROAR 1/8th E buggy nationals. But many didn't know they also have an on road track as well. Sharing the same driver stand as the off road track, it's best of both worlds to be able to have a 'covered' on road track. Due to the dust and dirt around the track, many found this track to be challenging. Having a very narrow driving line, staying in the groove was the key to this track. The surface turned out to be one of the most consistent matching with the series Control Xpress 40x V3 tires. Just with a few packs of break in, 1 set of tires would be enough as the tire will get faster and faster throughout the run. It was surely never seen before from any other asphalt track.
The highlight for the weekend was in Mod TC. Team Associated factory driver in off road Lee Setser driving an ARC for this race was trying to put on a show, being at home, even with a small amount of On road experience, his raw speed was still impressive to be competitive. He was able to set the early TQ in Q2 qualifying after a bad mistake in Q1. Xpress Driver Felix Law, the last event winner, was up to the challenge, answering with a better run even with an accident flipping the car from traffic. Infinity driver Dave Vera was also on a good run to overtake TQ but just came up short toward the 2nd half of the Q2 and finished just behind Lee.
In the A main, Xpress driver Felix Law never looked back, taking advantage of the pole position and checkout. The battle was mainly between 2nd-4th. Lee was leading the pack, but a small mistake by Lee was enough to allow Dave to take over 2nd. Without giving up, Lee was then able to regain his rhythm to overtake for 2nd once again toward the end of the race.
1. Felix Law
2. Lee Setser
3. Dave Vera
In 17.5 TC. Brother of Lee Setser, the TLR driver in off road Kenny Setser joined the battle. Same as his brother, driving an ARC to compete for this race. Showing a good race pace and being able to challenge for TQ early on. But series contender Corey Record and Infinity driver Dave Vera were on point this weekend. Corey Record was once again posting fast laps. He was able to set the early TQ in Q1, but Dave Vera was able to figure out in Q2 and over took the TQ.
In the A-main, Infinity Driver Dave Vera had a rough start, got unlucky and received body tuck, falling down the order to last place. Corey Record was able to take advantage and lead this one from beginning to the end. Kenny was able to also benefit and hold his 2nd position up until Dave Vera made a hard charge to challenge Kenny. Dave Vera was able to overtake Kenny at the 4 min mark and maintain his position, Kenny will have to settle for 3rd.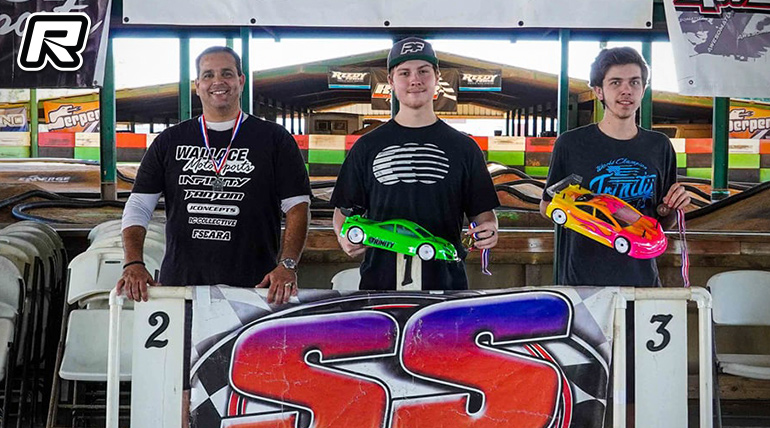 1. Corey Record
2. Dave Vera
3. Kenny Setser
In USGT, Xray driver Eddie Shaffer once again on fire, he was in a league of his own. Without looking back, he won all of his qualifiers and finals by lap. Serpent Duo Jesus Diaz and Brandon Diaz were able to round out the podium.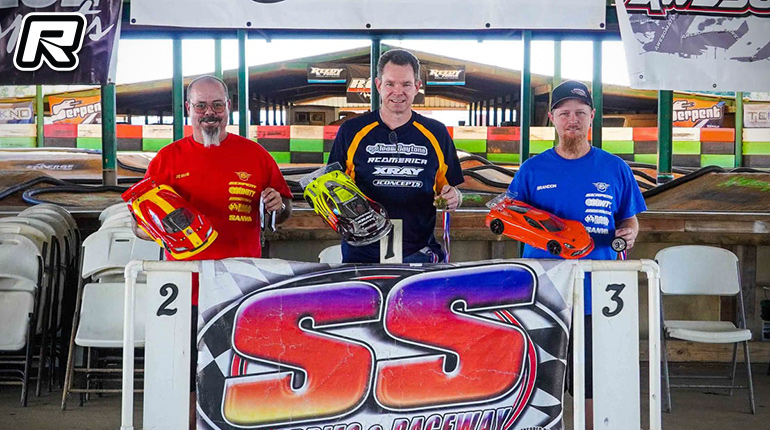 1. Eddie Shaffer
2. Jesus Diaz
3. Brandon Diaz
In the 21.5 Stock TC class, it was the battle between both series contenders. Eddie Shaffer vs Michael Bruce. In this class, Eddie wasn't as comfortable as USGT, Michael Bruce was able to put up a good fight for the battle. In Qualifying, Michael was able to gap in Eddie, but in the end, still 2 secs short to best Eddie's TQ. In the Main, Michael Bruce never let go and stood with Eddie from beginning till the end, But just like in qualifying, he was just short of making any moves to overtake for position.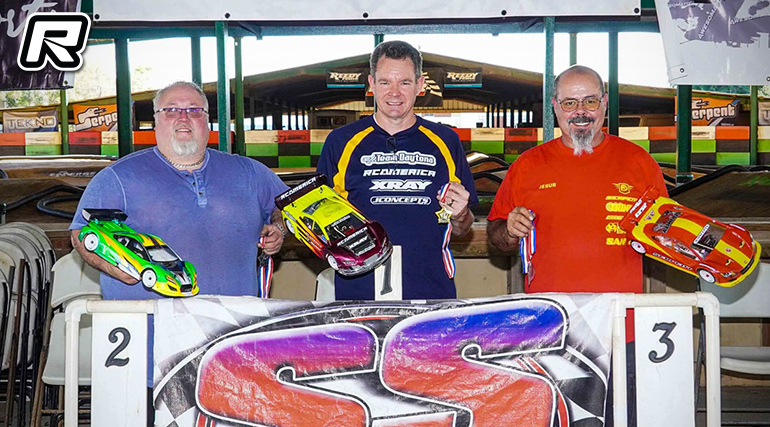 1. Eddie Shaffer
2. Michael Bruce
3. Jesus Diaz
In USVTA, It was a close battle between the newest car and the oldest car in the market. Jake Engstrom was able to take his Team associated TC3 to battle Abner Telelbrico's Xray X4. The qualifying result proves that the old school still got it. Jake was able to just edge our Abner by 0.8sec.
In the A main, Jake had a bad start and fell back to last while Abner was able to take the lead. With winning clearly in sight, the seasoned veteran Greg Rojina was able to slowly creep up to Abner. With just some luck, Greg Rojina was able to capitalize on the accident of Abner to take the lead and win the race.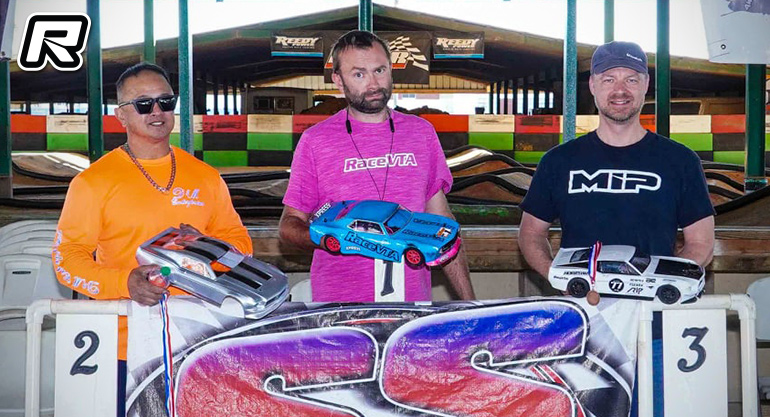 1. Greg Rojina
2. Abner Telebrico
3. Jake Engstrom
In GT12, It started out to be a disaster for Richard Johnston, skipping Q1 due to some technical problem, he was able to pull himself together and TQ. With only 26 laps, he was on fire. In the main, He continue to dominate and take the overall win, Brandon Diaz finished 2nd and Nathan Mcnichols finished 3rd.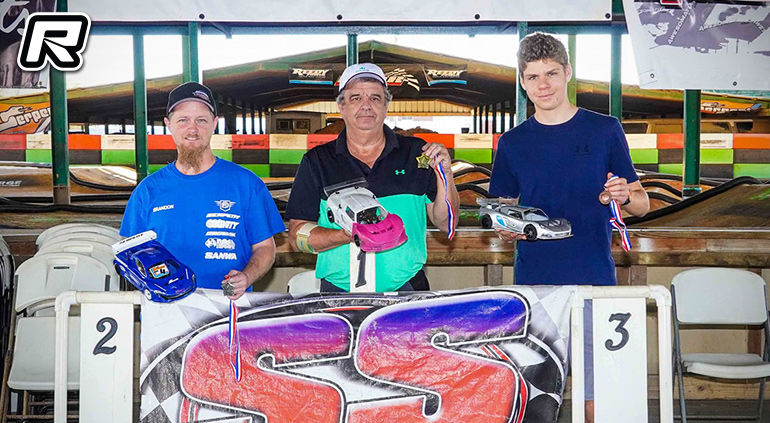 1. Richard Johnston
2. Brandon Diaz
3. Nathan Mcnichols
The FWD class by itself was able to be popular each round in the series. Your series point leader Anthony Schimizzi was able to once again gap himself in qualifier. 2nd closest was Wesley Ramsdell. In the A main, Anthony once again checks out and never looks back. He 2 lapped the entire field. Wesley Ramsdell finished 2nd and Jake 3rd.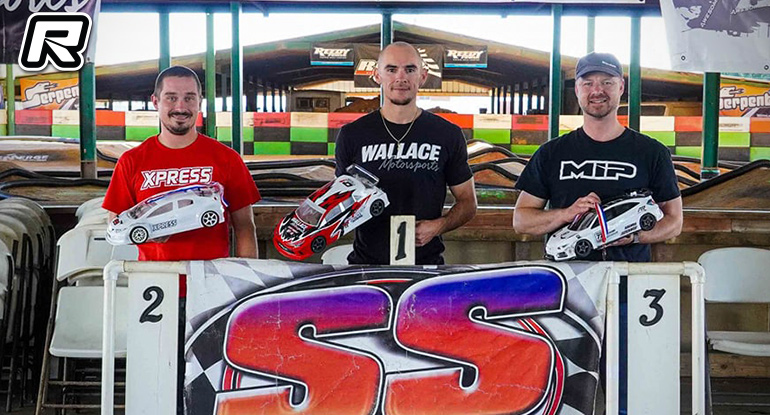 1. Anthony Schimizzi
2. Wesley Ramsdell
3. Jake Engstrom
Source: FSEARA [facebook.com]
---