March 15, 2022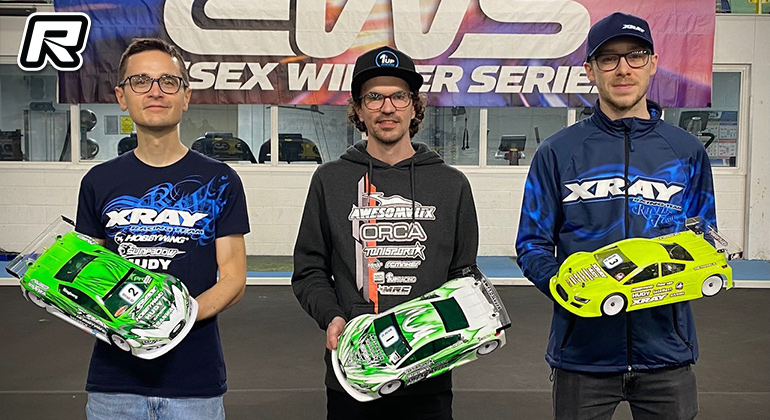 The final round of the 2021-2022 Essex Winter Series took place this weekend. Although the championship had been wrapped up in the Modified and Super Stock classes, it was far from decided in the Sportsman Stock and Front Wheel Drive categories as the 10th Anniversary Season came to a close. The Modified class saw two popular European racers join the field, Sweden's Alexander Hagberg and France's Lucas Urbain, but it was already-crowned champion Kyle Branson who set the pace in Q1 for Xray, narrowly ahead of Lucas's Awesomatix. Q2 saw Lucas move to the top, with Alexander the quickest Xray in second, and Kyle dropping to third, before Q3 saw Alexander take his turn at the top ahead of Lucas and Kyle, the top three again being covered by less than 2 seconds. This set up a showdown for pole, with Lucas eventually coming out on top after taking the final round ahead of Kyle – but Alexander lined up second thanks to his better time from Q3.

As the close times in qualifying showed, the A Final was a close race. Alexander applied pressure to Lucas right from the very start, forcing the Frenchman to even take some defensive lines at some point. Kyle sat in third, with the top three noticeably faster than the rest of the field. Around half-distance, a few small bobbles from Alexander allowed Lucas to open up a gap of around one-second, from where he could control his pace a little better and focus on driving his own lines than thinking about defending. Despite Alexander setting his fastest lap of the race in the final minute, he couldn't close the gap back, allowing Lucas to take the win. Behind the top three, there was a race-long fight for fourth place, which came down to the final lap. With a possible championship podium up for grabs, Alex Thurston, who had been running fourth the whole race, dropped to seventh on the final tour of the circuit, as Ben Moorey moved up to fourth and Harley Eldridge up to fifth. This left Harley and Alex tied on points for runner-up in the championship, with the tiebreak going to Alex thanks to a single better score at the previous event. Chris Grainger, absent from this event due to COVID took fourth in the series, with former champion Stefan Chodzynski rounding out the top five.
Scorpion Modified A Final result
1. Lucas Urbain – Awesomatix/Orca
2. Alexander Hagberg – Xray/Hobbywing
3. Kyle Branson – Xray/Hobbywing
4. Ben Moorey – Awesomatix/Reedy
5. Harley Eldridge – Xray/LRP
6. Stefan Chodzynski – Yokomo/Hobbywing
7. Alex Thurston – Capricorn/Hobbywing
8. Richard King – Awesomatix/Hobbywing
9. Jon Seals – Xray/Hobbywing
10.Damian Giddins – Xray/Hobbywing
11.Oli Meggitt – Mugen/LRP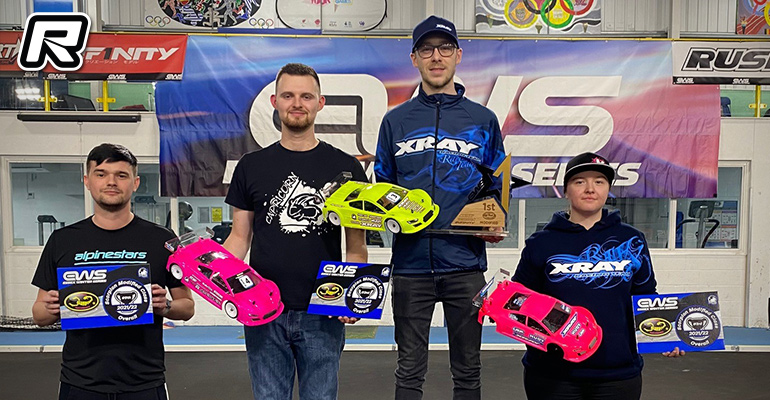 Scorpion Modified Overall Championship
1. Kyle Branson – 598
2. Alex Thurston – 583
3. Harley Eldridge – 583
4. Chris Grainger – 578
5. Stefan Chodzynski – 577
6. Ben Moorey – 577
7. Andy Murray – 568
8. Richard King – 554
9. Damian Giddins – 547
10.Billy Fletcher – 543
In Super Stock, Xray's Zak Finlay completed his domination of the series, once again topping every round of qualifying. This time, it was Ashley Wiffen who ran him closest with his Awesomatix, setting the second fastest time in three rounds, with Marcus Askell (Xray) set to line up third for the Final, with a single second place score. The top five on the grid would be completed by two further Xrays, with Adam Southgate and Ricky Copsey both setting a top-three time in a round to stay in the mix.
The A Final saw the top three break away from the rest of the pack as we had often seen this season – these three drivers being a step above everyone else in the Super Stock class at the moment. Again, as we've seen at the previous rounds, Zak was able to build up a small gap at the front, from where he could manage his pace and let Ashley and Marcus fight it out for second place. Ashley held the position for the first minute of the race, but then Marcus was able to slip by into second. Marcus then was able to match Zak's pace, but unable to reel in the five-time EWS champion, as Zak notched up his record-extending 17th victory at the famous series. Adam Southgate hung on to fourth overall, despite some late pressure from Martyn Ross, and in the overall championship this was good enough to give Adam fifth place, with Tony Broad's earlier rounds netting him fourth place.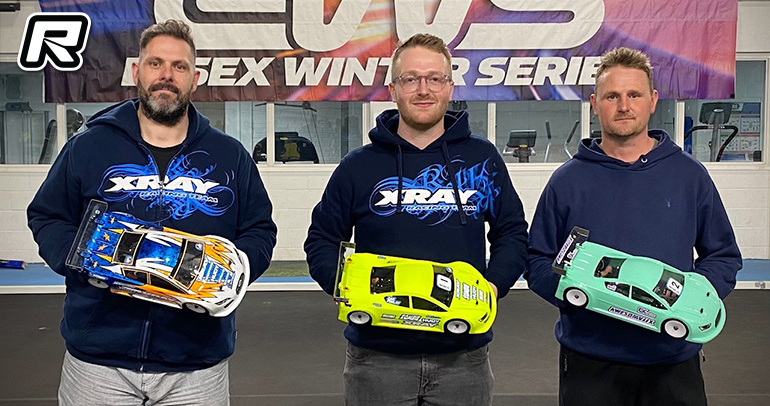 Rush Super Stock A Final result
1. Zak Finlay – Xray/Zombie
2. Marcus Askell – Xray/Hobbywing
3. Ashley Wiffen – Awesomatix/Ruddog
4. Adam Southgate – Xray/Hobbywing
5. Martyn Ross – Awesomatix/Hobbywing
6. Tony Broad – Xray/Trinity
7. Dani Young – Awesomatix/Hobbywing
8. Scott Scholey – Yokomo/Hobbywing
9. Matthew Lax – Xray/Zombie
10.Billy Fletcher – Battcave/Hobbywing
11.Ricky Copsey – Xray/Hobbywing
Rush Super Stock Overall Championship
1. Zak Finlay – 600
2. Marcus Askell – 594
3. Ashley Wiffen – 587
4. Tony Broad – 579
5. Adam Southgate – 574
6. Ricky Copsey – 569
7. Martyn Ross – 568
8. Dani Young – 565
9. Mark Buonaiuto – 553
10.Liam Hendy – 536
The Front Wheel Drive class would see the championship to be decided today. Gary Taylor need a perfect score of a TQ and Win, otherwise Paul Hill would take home the trophy. Perhaps the pressure of the championship was telling, as it was Oscar King who headed the field in both the opening two qualifiers, with Paul second in Q1 ahead of Gary, and Gary then taking the second best time in Q2 ahead of Jason Butterfield. Gary kept his hopes alive in Q3 by setting the bet time, just one-tenth of a second in front of Paul – leaving Gary still needing to set the best time in Q4 to force a final shoot-out. But when the time came, Paul took things into his own hands and topped the timesheets, crucially meaning that it would be Oscar who would line up on pole and thus confirming Paul as the champion. Despite the championship being decided, the top three on the grid put on a brilliant race in the A Final, never more than one second separating the three cars. But with them so evenly matched on speed it was impossible to make a clean pass, and so Oscar added his name to the list of EWS winners, with Gary and Paul rounding out the podium on the day. Jason slipped back from fourth early on, allowing Mark Caton up a place, before Jason rallied back to take fifth at the end and confirm his place on the overall championship podium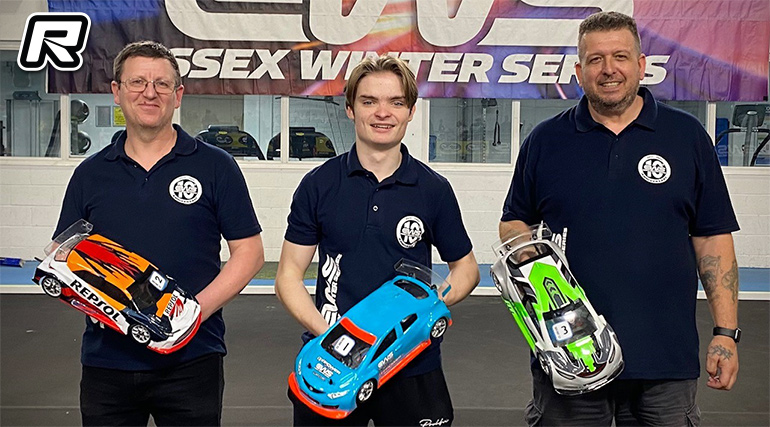 Infinity FWD A Final result
1. Oscar King
2. Gary Taylor
3. Paul Hill
4. Mark Caton
5. Jason Butterfield
6. Stuart Collard
7. Bill Boag
8. Kevin Fenn
9. Andy Faulkes
10.Laith Shabib
11.Iain Gordon
12.Peter Harridence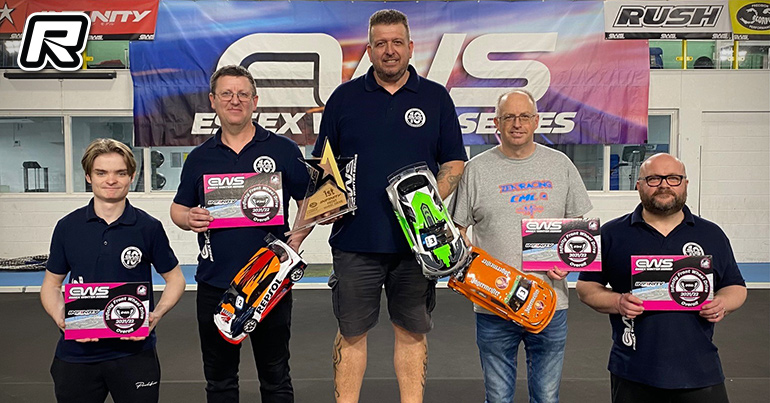 Infinity FWD Overall Championship
1. Paul Hill – 598
2. Gary Taylor – 597
3. Jason Butterfield – 589
4. Oscar King – 586
5. Mark Caton – 582
6. Craig Woods – 578
7. Bill Boag – 563
8. Kevin Fenn – 559
9. Laith Shabib – 551
10.Iain Gordon – 544
Finally, the Sportsman Stock class title was also undecided with Tim Langdell and Stuart Rand having two wins each so far in the series. Tim got off to the better start, winning Q1 but by only two-tenths of a second over Stuart, with Matt Quinlisk taking third. The top two remained the same in Q2, with Jon Gray taking third in the round, before Tim took a big step towards the title by topping the third qualifier, securing the overall pole position. Issues for both Tim and Stuart in Q4 saw Matt set the best time, crucially moving up to second on the grid and making Stuart's title chances a little slimmer as he would now start from third.
Going into the final, it was still very much all to play for, with multiple permutations depending on the outcome. However, the showdown for the trophy didn't even make the first corner, as off the starting grid the noise from Stuart's car indicated a stripped spur gear, immediately putting him out of the race before he could even get going. With that action, the title was guaranteed to go to Tim, but Matt had other ideas about letting the champion-elect go out on a high. Matt hounded Tim for the opening minute and a half, before pulling off a brilliant overtake on the brakes following the high-speed sweeper. Tim remained in touch, but perhaps with the thought that the title was already his, wasn't able to close back on Matt and look to re-take the lead. Behind the two leaders, Billy Kavanagh had another great final, to come from fifth on the grid up to third, with Jon Gray founding out the top four. Overall, not only did this mean Stuart missed out on the title, but the win gave Matt second overall in the series, with Stuart's terrible luck relegating him to third.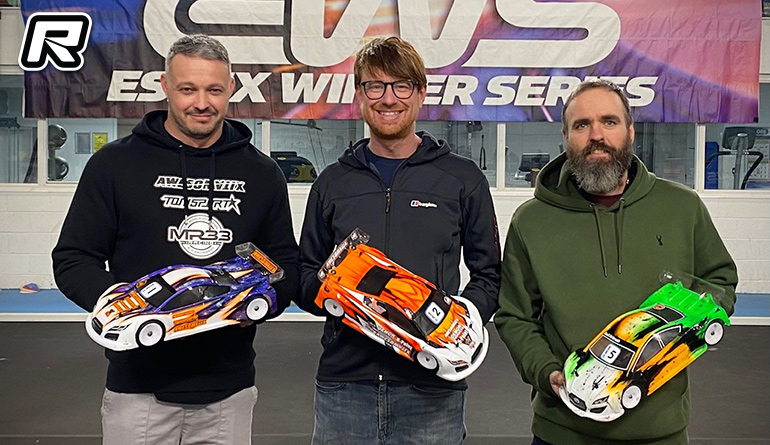 Tonisport Sportsman Stock A Final result
1. Matt Quinlisk
2. Tim Langdell
3. Billy Kavanagh
4. Jon Gray
5. Steven Swan
6. Dave Ringsell
7. Masanori Oyama
8. George Munns
9. Tim Woron
10.Dan Moorey
11.Stuart Rand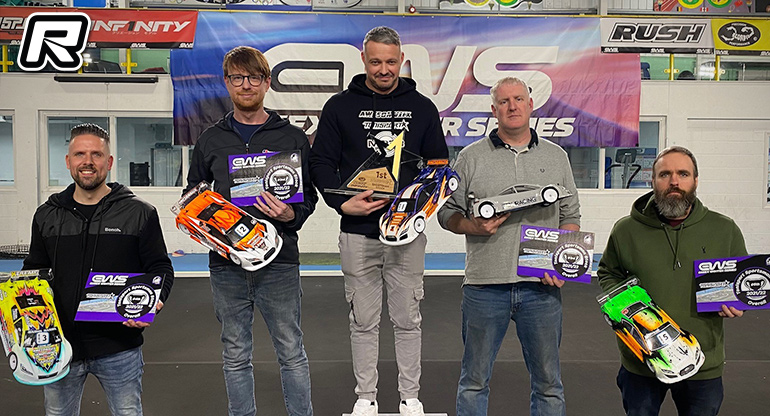 Tonisport Sportsman Stock Overall Championship
1. Tim Langdell – 599
2. Matt Quinlisk – 589
3. Stuart Rand – 588
4. Tim Woron – 582
5. Billy Kavanagh – 580
6. Dave Ringsell – 577
7. Steven Swan – 574
8. Michael Chapman – 573
9. Jon Gray – 557
10.George Munns – 555
The organisers of the Essex Winter Series would like to sincerely thank all the drivers, sponsors and fans for all their support of the championship this year. Although this race marked the end of the 10th Anniversary Season, plans are already kicking off for the Eleventh edition of the popular series.
Source: EWS [ewsevents.co.uk]
---