April 3, 2022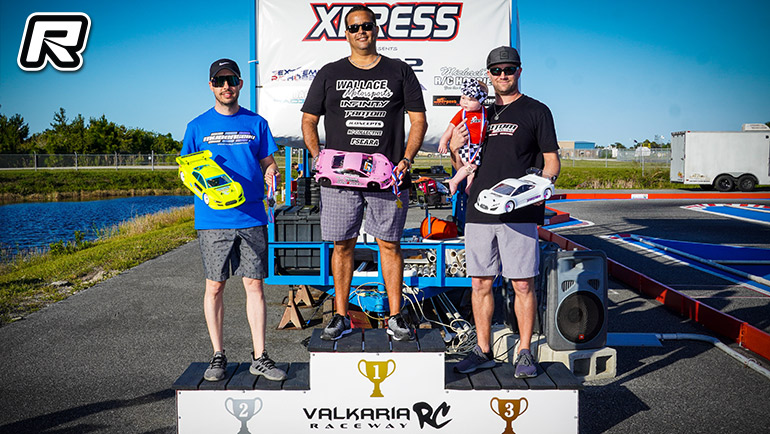 Racing was back once again at the Valkaria RC Raceway for Rd6 of the FSEARA series last weekend. Due to the increased interest and popular demand in order to practice this year's ROAR Regionals and Nationals, FSEARA revisit Valkaria for the 2nd time this season. This race is also considered the warm up event for the ROAR Regional due to the timeline of the event. With a solid 104 entries for the event, it was once again a successful turn out for this round. The highlight of the battle for the weekend was for sure in 17.5 TC. Infinity Driver Dave Vera, also our series director, leading the pack with his strongest performance yet. TQ both rounds of the qualifier without a sweat. With a brand new setup to his car, he was able to reset the qualifying record for this track hitting the first 27 lap run in Valkaria. A famous old school nitro racer also driving the Mugen MTC2 Danny Horta also joined the EP scene. Having an excellent weekend and able to qualify just ahead of series veteran Brian Larkin.
At the start of the A main, Dave Vera led while Danny Horta able close in to follow. Danny for sure found something in his car. The entire race was the battle between these 2, the gap remained 0.2- 0.5 sec apart from each other the entire race. With anyone making a mistake, any one of these 2 could take over the lead, but in the end, Dave was able to hold on with just 0.2 sec over Danny. The best for the rest goes to Chad Peets finishing 6.8 secs behind.
1. Dave Vera
2. Danny Horta
3. Chad Peets
In Mod TC it was a battle between Xpress Driver Felix Law and Infinity Driver Dave Vera. Having a good first run, Felix was able to set the fastest run and reset the track record of Valkaria once again. Having the fastest qualifying run in Valkaria, Dave wasn't going to give up this easily. In Q2, Dave tried to better Felix's TQ run but only to fail short by 0.4 secs.
At the start of the Amain, it was a bunch of drama due to the delayed start from a last minute grace, as the temperature went down, most tires went cold, and we saw many spin out from the start of the race. Out of the disaster, Dave Vera was able to pull himself together and lead the pack while Felix recovered to 2nd. The race remained the same as Felix was trying to make a move but unable to land it. Dave was able to keep the steady pace till the end with 0.6 sec ahead of Felix. The best for the rest goes to Dj Apolaro who started from 9th place on the grid up to 3rd, it was pretty impressive.
1. Dave Vera
2. Felix Law
3. DJ Apolaro
In USGT your Points leader Eddie Shaffer had some intense competition in this race. Daniel Bristol tried to give Eddie a run for his money by borrowing The local famous Jarret parson's "Unbeatable" Xray T4 and continuing its winning streak. While both drivers were close in battle for TQ, Daniel was able to just squeeze by for the 24 laps run.
In the Amain, Daniel was able to keep a 2 sec margin ahead of Eddie the entire race to take the win, Eddie had to settle for 2nd this time while Miami Mike Bean was able to round out the 3rd place.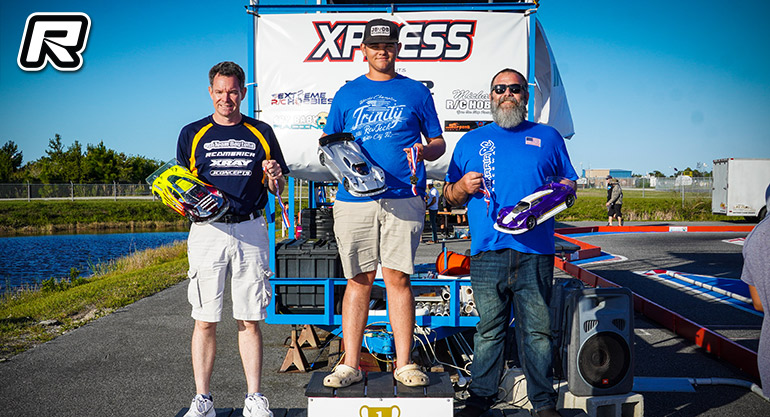 1. Daniel Bristol
2. Eddie Shaffer
3. Miami Mike Bean
Since it is one of the roar classes this year, the 21.5 TC class attracted many to run this time. It was an Xray battle across the field, but the older of the Xray T4 who came out on top. Both Chad Peets and Jarrett Parsons are ahead of point leader Eddie Shaffer in qualifying.
In the final, the battle was intense, and many collided up front. This gave a bunch of chances to the racer in the back of the field to make up time. This opportunity allowed Daniel Bristol, your USGT winner to lead the race from 4th place. But Eddie wasn't finished yet, slowly following the leader throughout the race. In the middle of the race, Daniel made a huge mistake and Eddie took over the lead, with all of the drivers from Chad, Jarrett and Daniel taking turns trying to challenge Eddie, but still came up short. Eddie ended up 0.7sec ahead of Daniel while Chad Peets finished 1.5 sec behind in 3rd.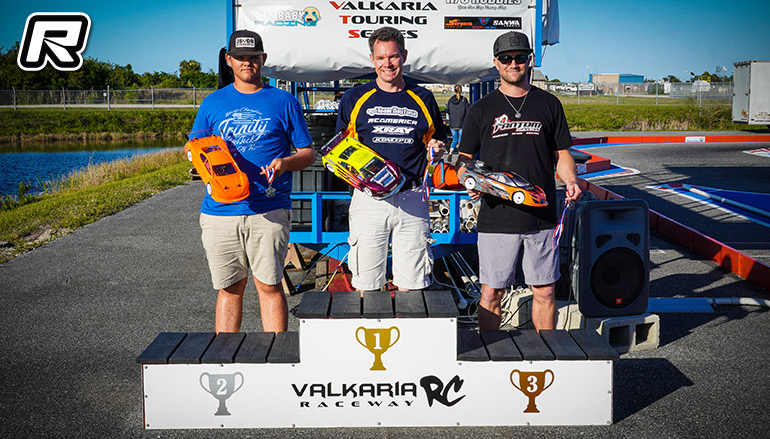 1. Eddie Shaffer
2. Daniel Bristol
3. Chad Peets
The VTA specialist Greg Rojna once again on top of the field In qualifying Just we thought Greg got this over, Ken Moss driving a rear motor Xray T4 end up gaping TQ in the Q2, your RD 1 winner and track owner Joe Dipinto end up 3rd on the grid.
In the final, Greg put his A game on, Running down Ken right at the start, within a few laps, he was able to make the move and took over the lead. The order remained the same for the rest of the race for these 2 while Jake Engstrom was able to overtake Joe Dipinto to finish 3rd.
1. Greg Rojna
2. Ken Moss
3. Jake Engstrom
In GT12, Mike bean was on fire all weekend in qualifying. He was able to stay consistent with a back to back 23 laps run, but Brandon Diaz was able to close in, but just a bit short to take the overall TQ in Q2.
In the main, Just when you think Mike Bean got it and check out, A random driver from 3rd in the grid Wesley Ramsdell found some magic in his car for the final. He was able to close in on Mike. As the race went on, it seemed Mike's car had a huge drop off in power, But Wesley's car still had plenty to go. In the end, Mike was still able to hold on with 0.5 sec ahead of Wesley. Richard Johnston ended up 7.5 sec back in 3rd.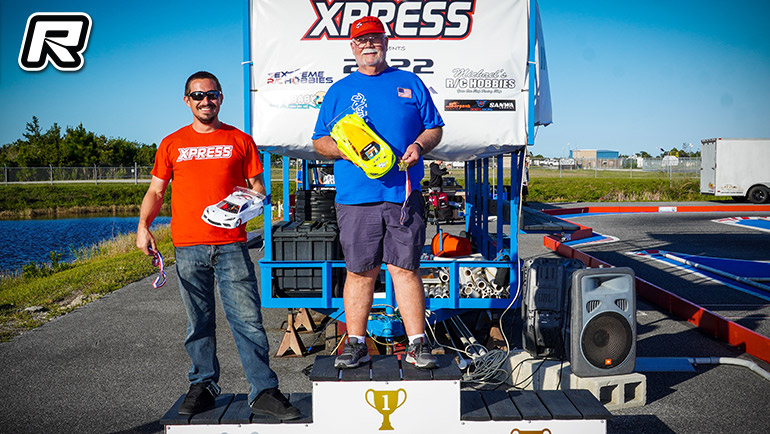 1. Mike Bean
2. Wesley Ramsdell
3. Richard Johnston
In F1 Sean Wager once again brings on his A game. He was nearly untouchable during qualifying. Gaping TQ by over 9 secs.
In the main, Sean was able to checkout and have 3 secs over 2nd place Andy St. Germain. Who qualifies 3rd. Johnathan Hutton finished 3rd 1 lap behind Andy.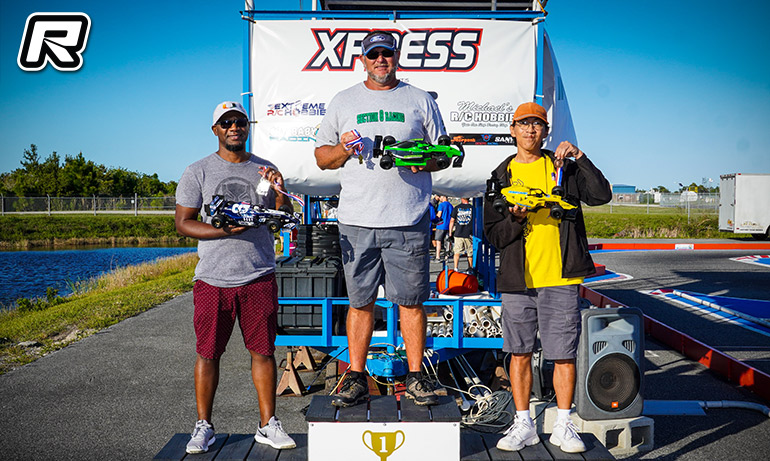 1. Sean Wager
2. Andy St. Germain
3. Johnathan Hutton
Infinity driver Anthony Schimizzi was once again the person to bet in FWD, with him being the Target this round, Both Cory and Jarrett Parsons are going for Anthony. In Q1, Anthony took the round, but Q2 was intense. The battle between Cory and Anthony was a close call. Cory endup taking overall TQ with just 0.001 secs, never seen and done before.
In the main, Cory turned on his A game, and checked out to a big lead while Anthony had some major bad luck with an incident with Will Carrera and fell to the back of the grid. Will Carrera was able to move up to 2nd while Jarrett Parsons on the move tried to overtake Will. With many try and fail, at the last minute, Jarrett finally made a move on Will and finished 2nd, Will had to Seattle for 3rd.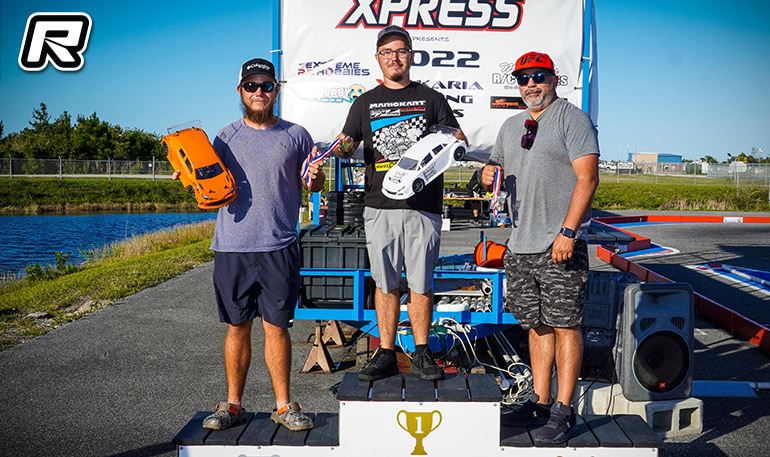 1. Cory Parsons.
2. Jarrett Parsons
3. Will Carrera
Euro Truck was a special class added for a local series between Valkaria and flagger RC. A local racer Allen Hall was able to gap his competition by laps to take the overall win.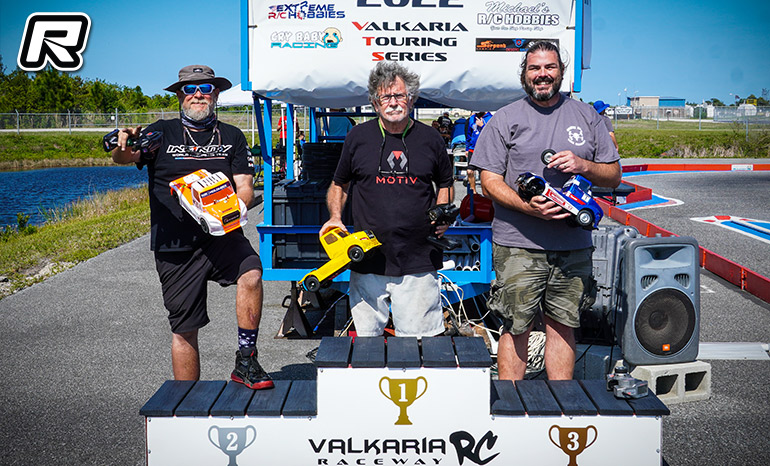 1. Allen Hall
2. Damian Kelly
3. Paul Curry
Source: FSEARA [facebook.com]
---