August 3, 2022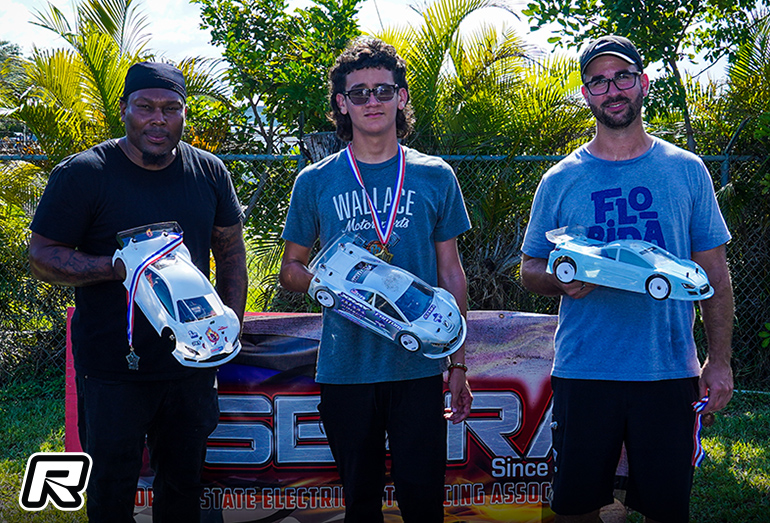 Mother Nature in Florida this year meant the finale of the Florida State Electric Auto Racing Association (FSEARA) onroad series concluded with three rounds of racing. A strong 80 entries travelled to the final round at Coral Spring RC Club with Saturday's practice filled with plenty of laps and tons of traction until an afternoon rainout. On Sunday, the weather looked bad once again, however Chris Crowder on the mic kept the program running smoothly and 2 rounds of qualifying rounds and the mains were able to beat the weather.
The highlight battle of the weekend was 17.5 TC. With points leader Dave staying out of this race, the local track addict Furman Walker running his Awesomatix was able to dominate in qualifier. The only driver to run 27 laps in this class, it was so fast, he would have landed himself 3rd overall in Mod.
In the main, Furman's car wasn't so dialled in the beginning of the race, made a huge mistake and fell back to 5th place. 2nd qualifier Lazaro Alonzo Jr. was able to capitalize this chance to run a perfect race finish without a sweat. Furman's blistering speed allowed him to recover to 2nd while Steven Hernandez finished 3rd same as where he qualified.
1. Lazaro Alonzo Jr.
2. Furman Walker
3. Steven Hernandez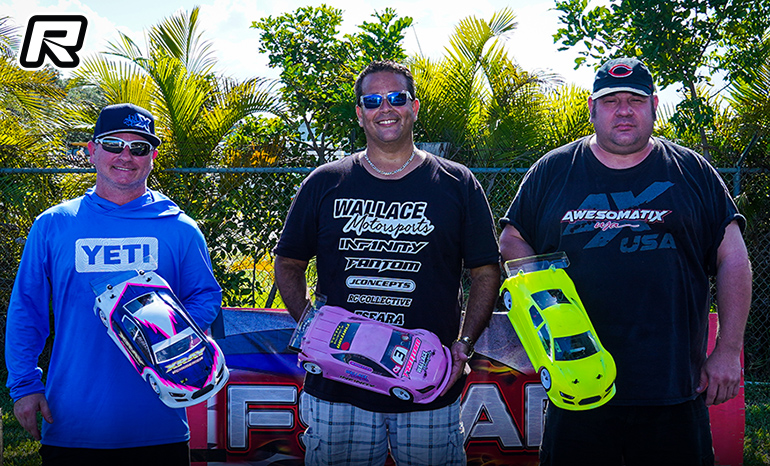 In Mod TC it was Xpress driver Felix Law who was the man to beat. By taking TQ 1 lap ahead of 2nd. He was untouchable in qualifying.
In the main, Just when Felix Law was about to check out, He ran into lap traffic and got flipped off the track. This allowed 2nd place Dave Vera to take over the lead. With Felix quickly closing in, Dave spun out in the straight and Felix was unable to avoid the accident and destroy his car to end his run. Dave was lucky to survive the accident and finish the remainder of the race. The battle then focused on 2nd and 3rd between Monti Panzica and Brian Larkin. In the end they both cross the finish line with just 0.7 sec between each other.
1. Dave Vera
2. Monti Panzica
3. Brian Larkin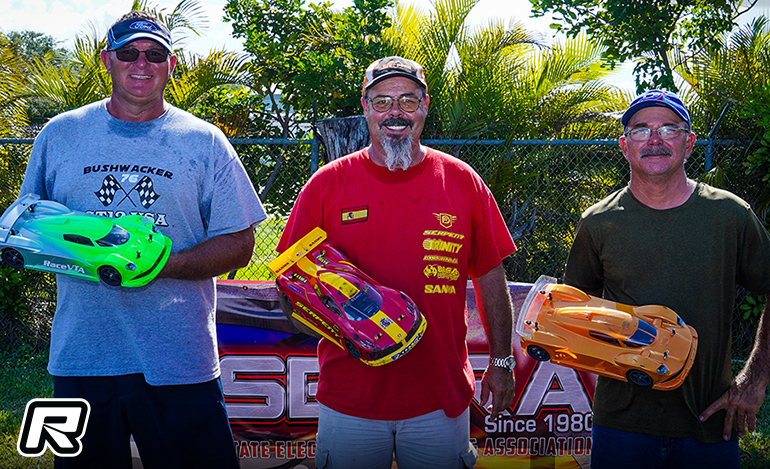 In USGT, it was the local serpent driver Jesus Diaz who dominated the class for the weekend. Using his Serpent 4x, he was able to gap 2nd by 2 secs in the qualifier.
In the main, The gap remains the same as the qualifier. Jesus was able to pull away to nearly a 1 lap lead, 2nd place Charles Parsons was able to keep a steady place behind for his podium spot. Sean Wager, who had a rough day, came back from 5th to 3rd overall.
1. Jesus Diaz
2. Charles Parsons
3. Sean Wager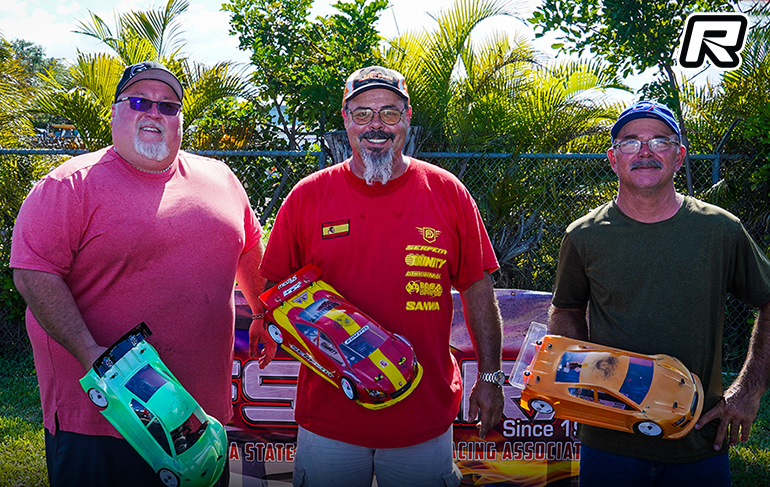 In 21.5 Stock TC, it was once again the local track addict Furman Walker once again leading the pack in qualifying. He was able to take TQ with the only 26 laps run in Stock TC.
In the main, just when we all thought he was checked out, He flipped off the track and landed himself a 22 secs lap. This quickly allowed Michael Bruce and Jesus Diaz who had battled for 2nd and 3rd to take over the lead. Jesus Diaz was able to take advantage of the opportunity, but Michael fell back to fight with Charles Parsons for the battle behind Jesus. In the end, Charles was able to keep a 1.6sec in front of Michael for 2nd place overall.
1. Jesus Diaz
2. Charles Parsons
3. Michael Bruce
In VTA, The local young off road star Miller Froyd is dusting off his on road car to enter. Running his Xpress XQ1 off the shelf for the first time this year, he was able to fight for TQ in qualifying. Having a consistent run, he was able to stay ahead of Johnathan Hutton for overall TQ.
In the Main, Miller was unable to warm up his tire and dropped himself down to 4th with a spin out. While series contender Jake with his Shaft TC3 was able to find himself to the lead check out in the main. Johnathan Hutton was steady in 2nd until the late dash by Miler trying to regain his position, but in the end, he was still 1.6 sec short from 2nd place.
1. Jake Engstrom
2. Johnathan Hutton
3. Miller Froyd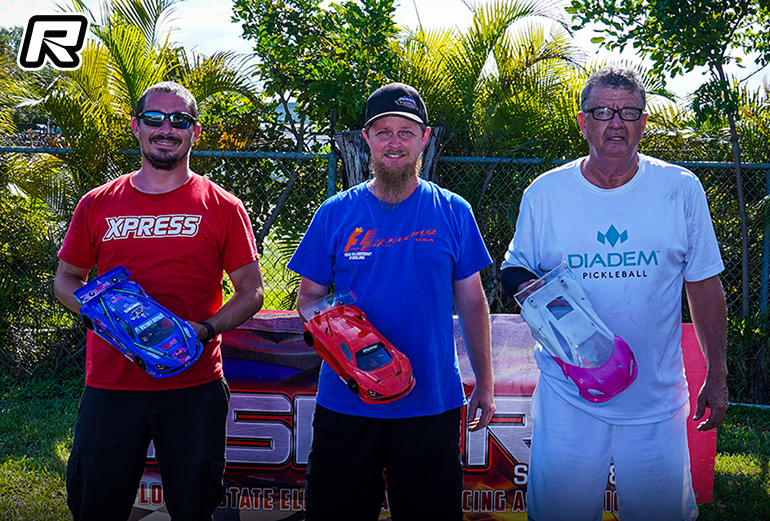 In GT12, It was all about the overall title between Richard Johnston and Brandon Diaz. In Q1, Brandon got off to a good start to take the early TQ, But in Q2, Richard Johnston found pace to step up his game, Finish with the only 23 laps run to take the overall TQ.
In the main, Richard clearly has the fastest car, his best lap in both qualifying and main is 0.6sec faster than everyone else. But somehow couldn't pull himself together and fell to the back. While Brandon took advantage of the chance and checked out in front. Brandon was able to lead every lap in the main race while Wesley Ramsdell was able to stay 2nd all by himself in the no man's land. Richard Johnston was able to finish on the podium and recover his bad start.
1. Brandon Diaz
2. Wesley Ramsdell
3. Richard Johnston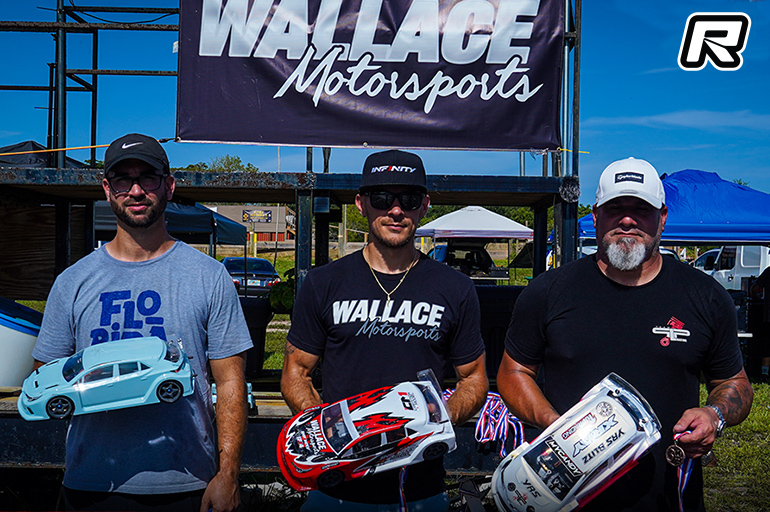 In Fwd, it was an intense battle between Anthony Schimizzi, the man to beat in Fwd class vs both Miami nitro due Steven Hernandez and Lazaro Alonzo SR. All 3 drivers were extremely close and only separated by 1 sec between all 3 drivers.
In the main, Anthony Schimizzi once again shows why he is unstoppable by staying consistent and leading the race from beginning to end. Steven and Lazaro were able to match lap time, but just short to be as consistent to keep up the pace. In the end, Steven finished 2nd, and Lazaro finished 3rd.
1. Anthony Schimizzi
2. Steven Hernandez
3. Lazaro Alonzo SR.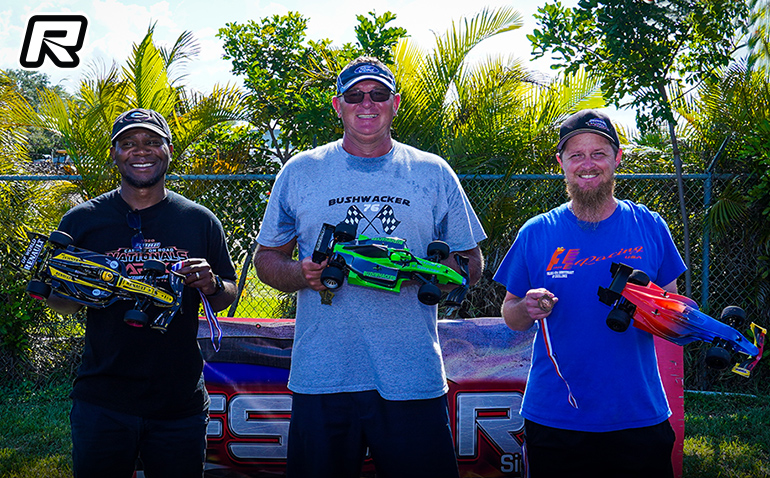 In F1, the battle heated up between local racer Andy St Germain and the series points leader Sean Wager. With the 1st qualifier going to Andy, Sean was able to take the TQ back in Q2. In the main, Sean once again held his pace to slowly pull away while Andy just try to stay closely behind. Both drivers were able to match each other's fast lap, but Sean was the more consistent driver that came out on top. Brandon Diaz was able to be the best of the rest and finish 3rd on the podium.
1. Sean Wager
2. Andy St Germain
3. Brandon Diaz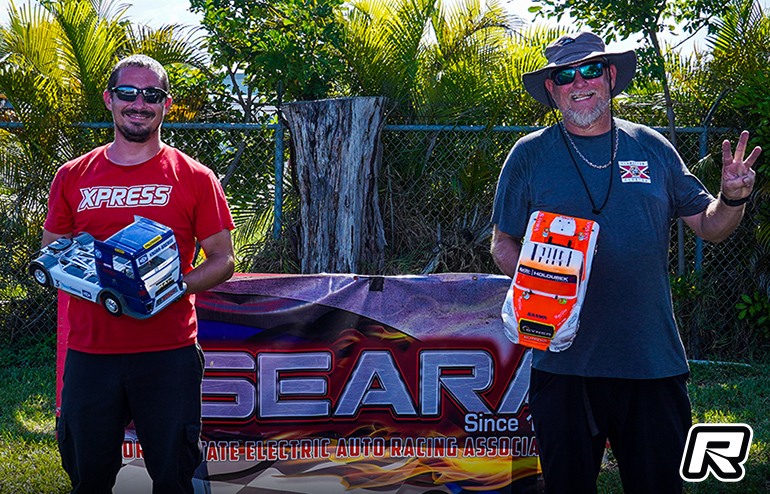 In Euro Truck, it was once again battle between the local track racer Wesley Ramsdell and FL famous Allen Hall. But this weekend, the advantage goes to Wesley, who was able to TQ both rounds in the qualifier. In the main, the opposite happens. Allen was able to lay down his consistent lap while Wesley made several mistakes and lost his last against Allen. Paul was the best of the rest and finished 3rd overall.
1. Allen Hall
2. Wesley Ramsdell
3. Paul Curry
Source: FSEARA [facebook.com]
---