August 9, 2022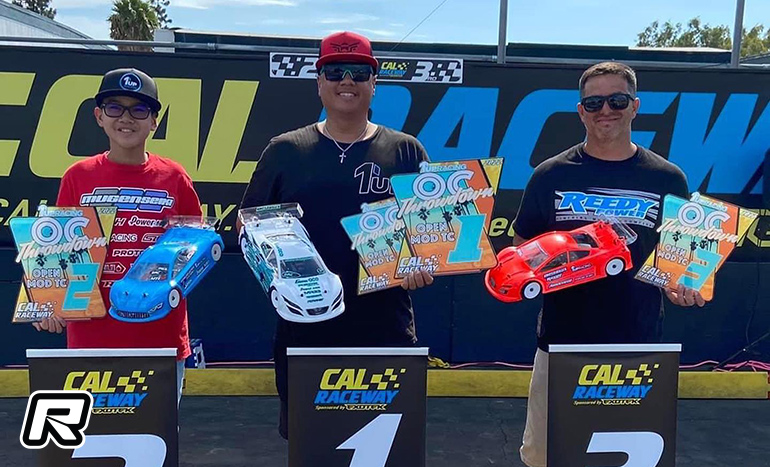 This past weekend was an inaugural event for 1up Racing at Cal Raceway in Orange County CA called the OC "Throwdown". It gathered racers from up and down California and San Diego reaching a mere 120 entries.  This was an open tire event for TC which enabled racers to choose best tire choice.  The racing format was open and controlled practice on Friday, Saturday with early morning seeding followed by three qualifiers.  The TQ was determined by a qual points system.  Sunday was triple mains.
In the modified division, on Saturday, it was Team Mugen driver young phenom Jacob Cruz who set the Top Seed for qualifying with an impressive 3 Lap time result. Leading up to Q1, it was Team Awesomatix driver Lex Tyler who took 0 points using Team Powers 36V2 tires with Cruz in 2nd using Team Solaris 36J tires and Team Associated driver Kyle Klingforth in 3rd using Team Solaris 36V2 tires.
In Q2, Cruz showed a good pace in possibly the hottest point of the day with track temperatures reaching a 140 degrees taking the 0 points for the round with Tyler in 2nd and 1up Racing's own Randy Caster in the 3rd. In Q3, it was Tyler who took the last 0 points round to secure TQ honours for the A-Main grid.
With a stacked field for the triple mains, there were multiple position changes made behind the leader and attempts to pass the leader. The track was technical making it more difficult to pass. Lex Tyler had a convincing win from tone to tone for both A1 and A2 with a hard charging Cruz Missile in 2nd followed by Team Associated on road ace Gonzalo Cortes in 3rd for the overall podium.
1. Lex Tyler – Awesomatix A800MMX
2. Jacob Cruz – Mugen MTC2
3. Gonzalo Cortez – Awesomatix A800MMX
4. Brandon Clements – Mugen MTC2
5. Kyle Klingforth – Awesomatix A800MMX
6. Aaron Lewis – Mugen MTC2
7. Joven Madriaga – Awesomatix A800MMX
8. Randy Caster – Mugen MTC2
9. EJ Evans – Awesomatix A800MMX
10.Anthony Bruno – Mugen MTC2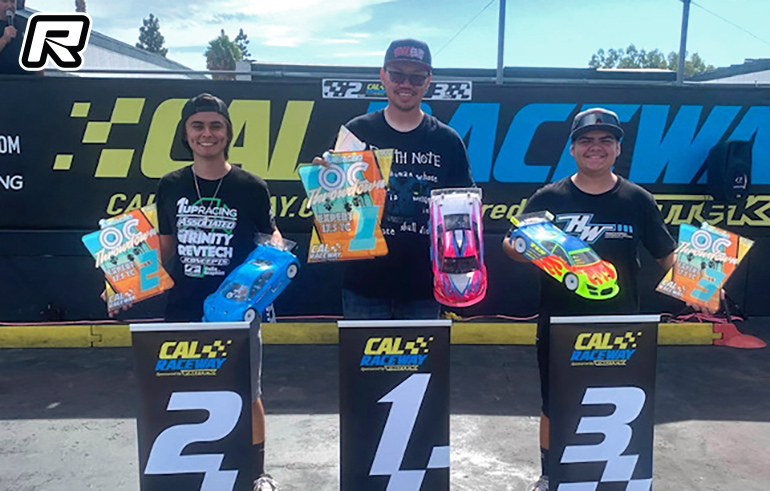 In the 17.5 division, it was local driver Duy Khuong using Team Xray X4 to secure TQ honours over young off road stars like Team Losi driver Frankie Contreras Jr. followed by 1up Racing Factory Team driver Matthew Gonzales in the 3rd. Duy Khuong showed a dominant performance for taking A1 and A2 allowing to sit out A3 to clinch the overall win with Matthew Gonzales in 2nd and Frankie Contreras Jr. in the 3rd.
1. Duy Khuong – Xray X4
2. Matthew Gonzales – Mugen MTC2
3. Frankie Contreras Jr. – Xray X4
Thanks to Lex Tyler for the report.
---