September 26, 2022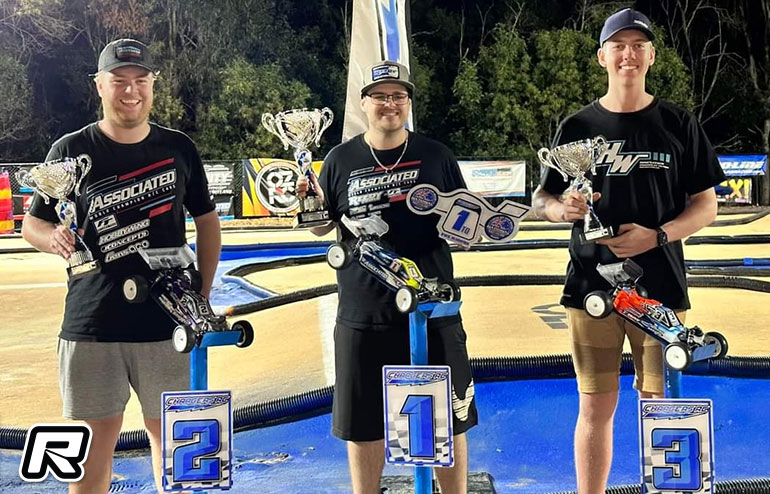 The 2022 RCRA Australian 1:10 Offroad Titles, sponsored by SpeedyRC, was held at Chargers RC over the weekend. While the 5 day event had its difficulties with rains cutting practice short, the big winner was Team Associated's Christopher Sturdy who took the TQ and win in 2WD, 4WD and Mod Truck for a National Title triple. The first of the Premier classes lived up to the hype, with all of Australia's best talent turning up to put on a show. Sturdy would take TQ all 4 rounds of 2WD qualifying with Lachlan Donnelly often nipping at the heels only a couple of seconds off. A clean display in A1 allowed Sturdy to pull a small gap over Donnelly. In A2 Donnelly was on song, following Sturdy around within a few tenths for most the race but Sturdy was not shaken and would also take victory in A2 giving him overall win.
2WD Mod Podium:
1st – Chris Sturdy (TQ)
2nd – Lachlan Donnelly
3rd – Jordan Isergin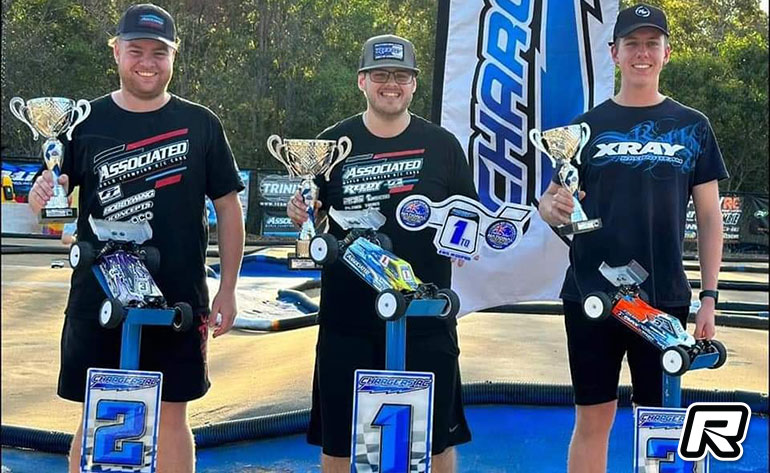 In 4WD, the racing open for contention for many drivers with Jordan Isergin taking the TQ for the opening qualifier. However it would be Sturdy that would close the gap in rounds 2,3 and 4 of qualifying securing the TQ spot for the finals. An early mistake would drop Sturdy out of winning contention in A1 allowing a battle to ensue between Lachlan Munday and Jordan Isergin. Isergin would narrowly edge out Munday, beating him to the line by a mere .3 of a second. In A2, Isergin firmly planted himself on the tail of Christopher Sturdy, hustling him around the track until lap 8 where unfortunate contact with a lapped car released Sturdy to take a comfortable win over Lachlan Donnelly. All on the line, and open for the win in A3 Christopher Sturdy would lead tone to tone, not stepping a foot out of place. Taking the win and overall title followed by Lachlan Donnelly a fee seconds back.
4WD Mod Podium:
1st – Chris Sturdy (TQ)
2nd – Lachlan Donnelly
3rd – Jordan Isergin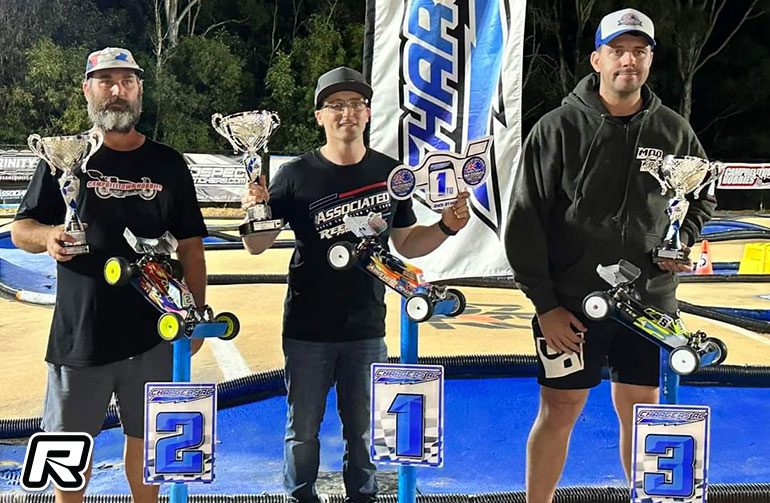 2WD Stock:
One name seemed to be dominant from the get go – Andrew Selvaggi, Taking TQ in all 4 rounds of qualifying often by 6s plus. This dominance would continue well into the finals with Andrew comfortably securing wins in A1 and A2 for the overall win.
Podium:
1st – Andrew Selvaggi (TQ)
2nd – Gopal Pavlich
3rd – Matthew Lawrence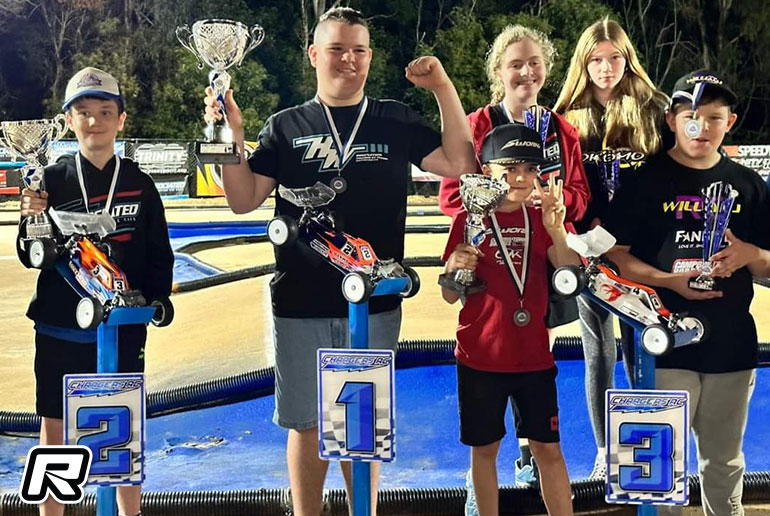 2WD Junior Stock:
A close knit group of young and upcoming talent formed at the front of a strong field of junior drivers. Phoenix Eggleton took first round TQ, Lachlan Pearson taking a second round TQ, but Samual Muffett secured both round 3 and 4, putting him on the TQ spider into finals. However it would be Lachlan Pearson starting from second who would come through for victory in all 3 mains, securing the Titles.
Podium:
1st – Lachlan Pearson
2nd – Lachlan Williams
3rd – Phoenix Eggleton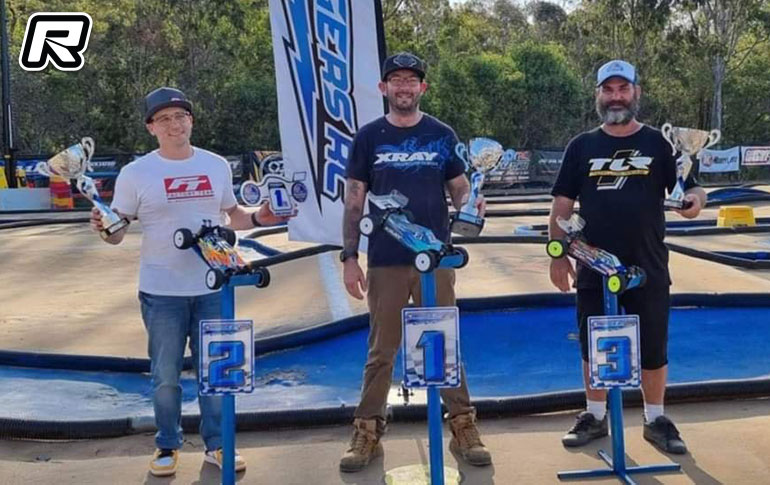 4WD Stock:
Once again, a familiar face would return to the top of the timing sheets with Andrew Selvaggi taking TQ in rounds 1,2 and 4. Michael Stone would take round 3 Tq placing him 2nd on the grids. A1 would see Selvaggi lead the first 3 laps before a small mistake losing the lead to Stone which Stone would never look back. A clean run to the line would give him a comfortable win in A1. A much better start in A2 for Selvaggi but unfortunately still wouldn't be, after a mid race mistake dropped him down the order, once again releasing Stone to take a Narrow win over Gopal Pavlich, securing the overall win.
Podium:
1st – Michael Stone
2nd – Andrew Selvaggi (TQ)
3rd – Gopal Pavlich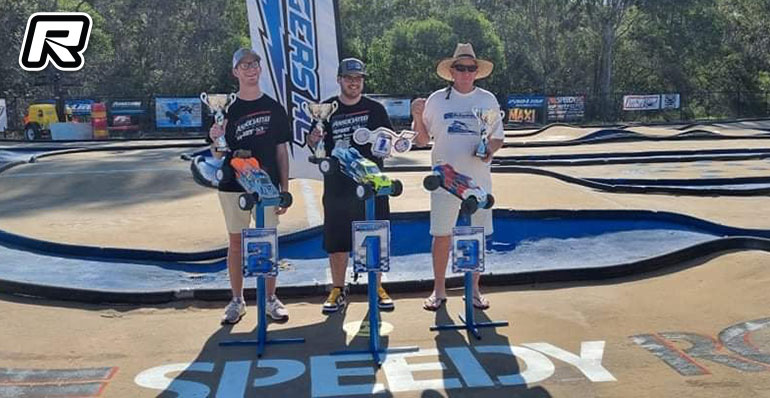 Stadium Truck:
Sturdy looking for 3 wins over 3 days would once again compete and secure TQ in truck after TQ'ing all 4 rounds of qualifying. A flawless run in A1 with close to a Lap lead over the field of drivers would settle the nerves coming into A2. Sturdy would of ce again run away with a comfortable victory over Meant in A2 securing the overall win and a Trifecta of wins over the 5 days of competition.
Podium:
1st – Christopher Sturdy (TQ)
2nd – Jarrod meant
3rd – John Perkins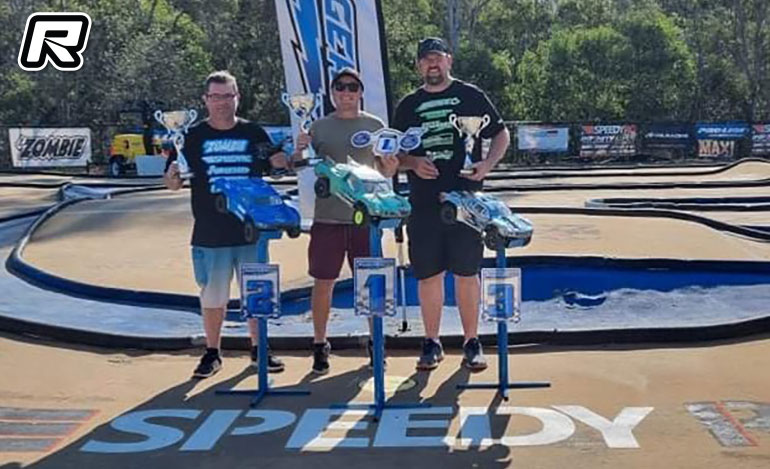 2WD 10.5t Short Course:
A solid field of short courses would entertain the final day of racing with a very tight top 10. Early qualifying showed Mitchell pratt had pace, taking TQ in rounds 1 and 2. Rob Maycock would however take TQ in round 3 and Tony Watson in round 4. Pratt starting on the top spot would make an early break, never looking back and taking the Win in A1. An early mistake from Pratt made for an entertaining 3 way fight between Watson, Maycock and pratt. A mistake by Watson left a 2 car battle all the way to the tone where Maycock with Pratt glued to his rear bumper would take the closest victory of the weekend by just 0.1s. All on the line, Pratt and Maycock break away from the pack early in A3 with what seemed like a role reversal of the previous race. A minefield of flipped cars seemed to make for even more challenging conditions where unfortunately Maycock would come off second best getting caught up in a collision, allowing Pratt to run away to victory and the overall win.
Podium:
1st – Mitchell Pratt
2nd – Rob Maycock
3rd – Tony Watson
Thanks to Mitch on the Mic for the report.
---