October 11, 2022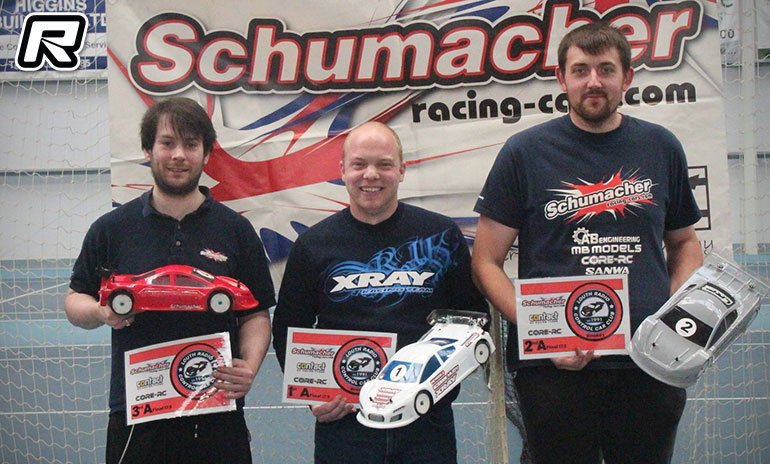 The first round of the 2022-2023 Schumacher Winter Series presented by the Louth Radio Control Car Club took place over the weekend. A new year, new faces offered some close and intense racing. The Core RC 17.5 class was the class for this season and was heavily entered, the class would have national drivers and regional drivers alike attend for this first round. In the end it was last season's 13.5 champion Chris Lovely who would pilot his Xray X4 to the top of the time sheets. Chris would top all 4 of the qualifying rounds, the race for second was strongly contested by the Schumachers of Alex Brocklebank, Daniel Burks and Joseph Cocking each of them staking a claim. Lisa Keen would have an ever improving day with the new Xpress chassis ahead of Gareth Jaine and his 1up Racing x4.
Chris would lead the field away for the single legged final, he would keep tight lines as Alex and his Schumacher would apply strong pressure in the early stages. Daniel Burks with his Schumacher would hold onto the front two for the early stages before a small mistake would allow Joseph Cocking to close up and take the place. Lisa Keen and Gareth Jaine would become a little detached but would have close racing between themselves. Alex would continue to pressure hard setting fast laps, along with Joseph pushing hard behind him. Daniel would reset and press on after early issues but would later rely on his car.  The cars would hold position to the flag.
Core RC 17.5 A Final Result 
1. Chris Lovely – Xray
2. Alex Brocklebank- Schumacher
3. Joseph Cocking- Schumacher
4. Lisa Keen – Xpress
5. Gareth Jaine- 1up Xray
6. Daniel Burks- Schumacher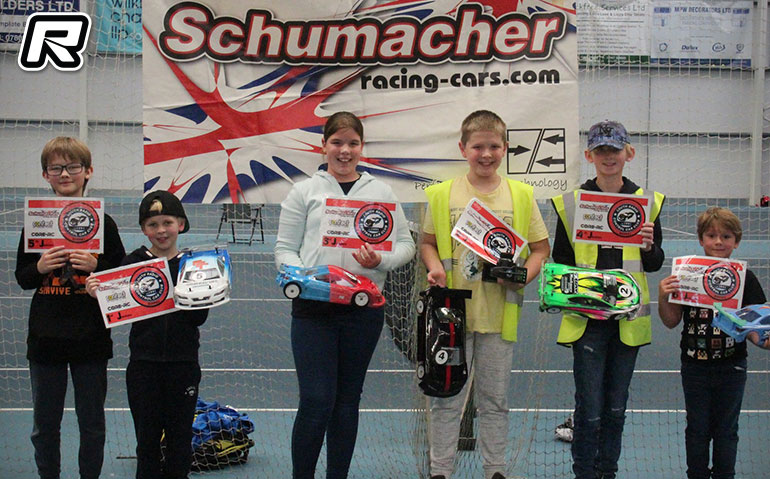 As well as the more established racers the series also have the Next Generation Cup, which is focused on the junior drivers at the club. The juniors start in a heat of their own, and at the end of the day they can climb the ladder like any other racer which is hoped to improve their racing.
After a fast, fun and frantic day of racing Lewis Chapman would come out on top in the Next Gen cup category as he was able to progress through to the final above. The rest of the juniors would remain together, but each of them showed some incredible driving improving each round and doing it with a smile on their faces. James Colebrook would have a great final getting his best laps together for the final to bring home 2nd, ahead of lady racer Lucy Dabb would improve and improve to third,Jack Lawson would drive well to 4th Oliver Jaine would drive super smooth to 5th ahead Mark Satchwell again plugging away improving with his best race coming in the final.
Next Generation Cup
1. Lewis Chapman
2. James Colebrook
3. Lucy Dabb
4. Jack Lawson
5. Oliver Jaine
6. Mark Satchwell
With the winter season away and running, attentions turn to round two that takes place on November 6th 2022. With the 3rd round a few weeks later in November.   The club and the series would like to thank its sponsors and supporters, Schuamcher Racing, Hobby Circuit and Fyrework Lipo, Silly Goat Graphics, RCraceprep, Battcav, Moodyfools, TTP, Skimrc Airbrushing, Vulcan rc, Racepace Bearings, Positive Perception.
Thanks to Chris Lovely for the report.
---