November 11, 2022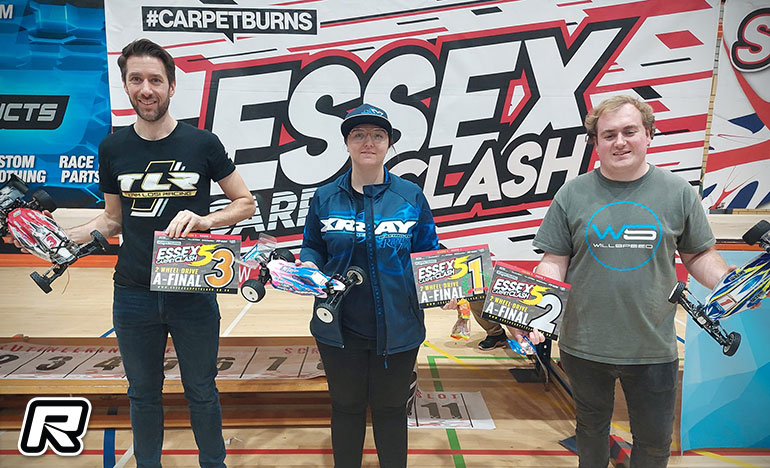 The second round of the EssexCarpetClash took place recently with drivers being greeted to an extra addition of carpet, making the track larger and allowing more space for all to race.  The layout would prove challenging for all abilities, with fast following sections followed by a couple of technically placed jumps for racers to negotiate.  Qualifying would see Christopher Delves (TLR) take the top spot for round 1, ahead of Ellis Stafford (Schumacher), and Harley Eldridge (Xray) who tangled with lapped cars costing her a few places in round.  Round 2 would see the likes of Ed Kerry (Serpent) mix it up with the top 5 cars along with Klye Moon (Willspeed) who this round took the top honours.  Moon was able to take another TQ round, with fellow team mate and creator Will Johnson (Willspeed) placing 5th in round.  The final qualifying round saw Eldridge take the round, having been consistently in the top 3 positions each round.  So, lining up for the finals would see pole man Moon, followed by Eldridge, Delves, Stafford, Kerry…
The finals saw some close racing from the front of the pack.  Eldridge would have some luck on her side, having rolled her car and giving Moon a little space, only for him to collect a tumbling back marker dropping him back behind Eldridge, where he would finish for leg 1. Luke Mills would have a steady run finishing 3rd.  Leg 2 saw more close racing, with Eldridge beating Moon to the line less than a second between them, Stafford coming home with a comfortable 3rd position.  Leg 3 and Eldridge would make it 3 from 3, with Moon taking second again.  Delves managed to take 3rd and gave him the last step on the podium, tied on points with Lewis Jones, having had 2 4th finishing positions.
2wd A-main results
1. Harley Eldridge
2. Kyle Moon
3. Christopher Delves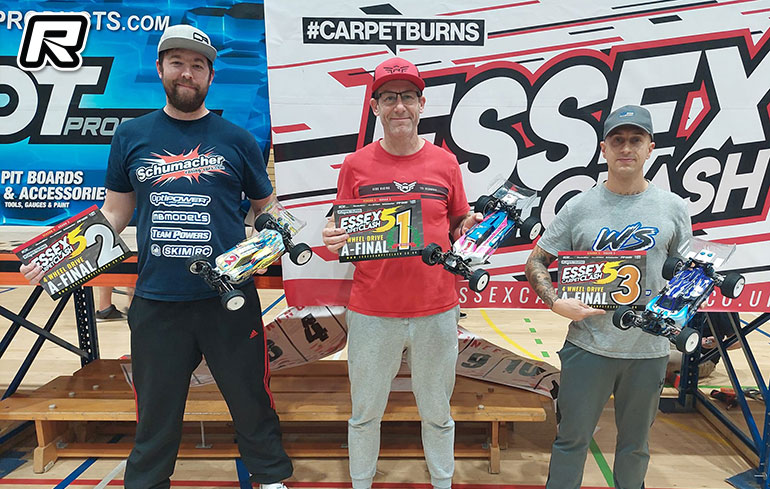 The 4wd heat saw 3 different drivers battle it out topping the timing sheets, but it would be Richmond Rogers who would edge the pole position getting 2 TQ runs in qualifying ahead of Billy Fletcher, Demetri Panayides and Stuart Collard, all with very similar run times.  
Fletcher managed to take leg1 ahead of Rogers, giving him the edge going in to the next finals.  Rogers would end up taking leg 2 and 3 and the meeting win in 4wd, ahead of Fletcher with a 1 and 2 counting score for him.  Panayides would draw on points with Collard who had been consistent and finished 3rd in each final, only to loose out on the bottom step of the podium as Panayides had a second place position counting for his overall score.
4wd A-main results
1. Richmond Rogers
2. Billy Fletcher
3. Demetri Panayides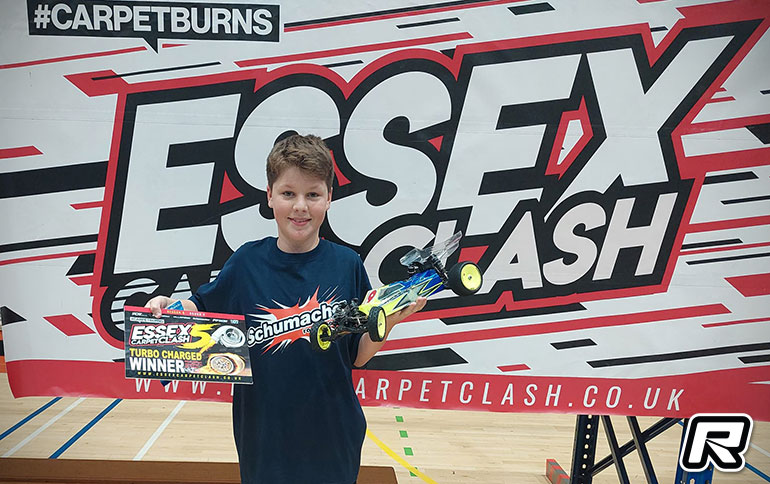 Congratulations to the TurboCharged winner Owen Mclanachan, who gained the most positions (8!) in his final, coming from 9th on the grid to take the win!
Source: Essex Carpet Clash [essexcarpetclash.co.uk]
---