November 6, 2022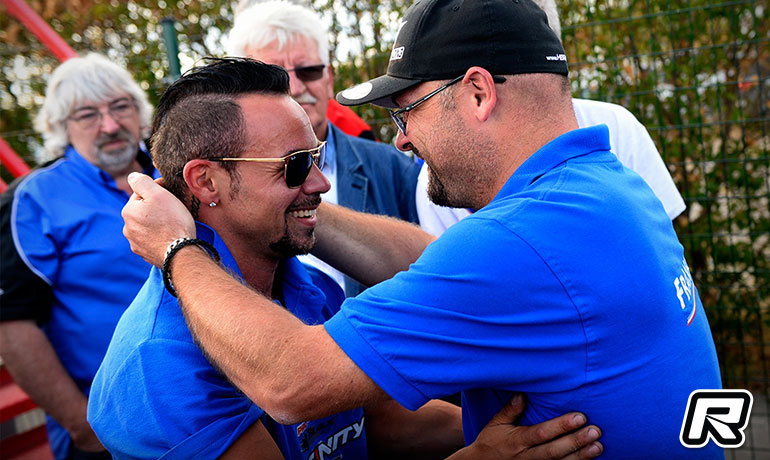 The first ever event Red RC covered was the 2007 1:10 Nitro Touring Car European Championship in Madrid, Spain. The class was still the new kid on the block and there was plenty of hype about the category. The race would be Xray's first venture into nitro with them bringing in star names Teemu Leino and Jilles Groskamp from electric touring car in their quest to win with their new NT1. Dario Balestri was the defending Champion and the real star of nitro onroad. He was Italian, he exclusively raced nitro, and he was one of chosen ones for iconic Italian engine manufacturer Novarossi. This was a time when your engine sponsor was the most important element of your race package – without the right power you weren't going to win and the makers of these little engines were very selective about who got one of the 'special' ones! The market also had a newcomer in the engine department in Team Orion, headed up by a certain Adrien Bertin, who to this day is still the only driver to have achieved the double of being World Champion of both 1:8 and 1:10. This was a golden era of 1:10 nitro onroad.
While the new kids on the block, Leino, Xray and Team Orion, starred in qualifying taking the overall TQ, for Dario trying to retain his title was not going anyway near expected and he qualified down in 26th. Still a time when most people discovered how the big races unfolded in a magazine weeks after the event, Red RC's daily internet coverage was new and on that occasion we were probably viewed as somewhat of a pain in the ass. EFRA was treating time sheets (no online timing back then) as if they were confidential FBI files and didn't like use asking to see them regularly each day.  Xray completed snubbed us when we asked if we could ask them a few in person questions about their new car.  Dario also wasn't very appreciative either of us questioning his lack of speed and why he was not at the top end of timesheets when race officials finally gave us a glimpse at them! Dario's excuse for avoiding the question was his lack of English which, to be fair, combined with the questions being put to him in a strong Irish accent, there was probably a certain amount of merit to the excuse.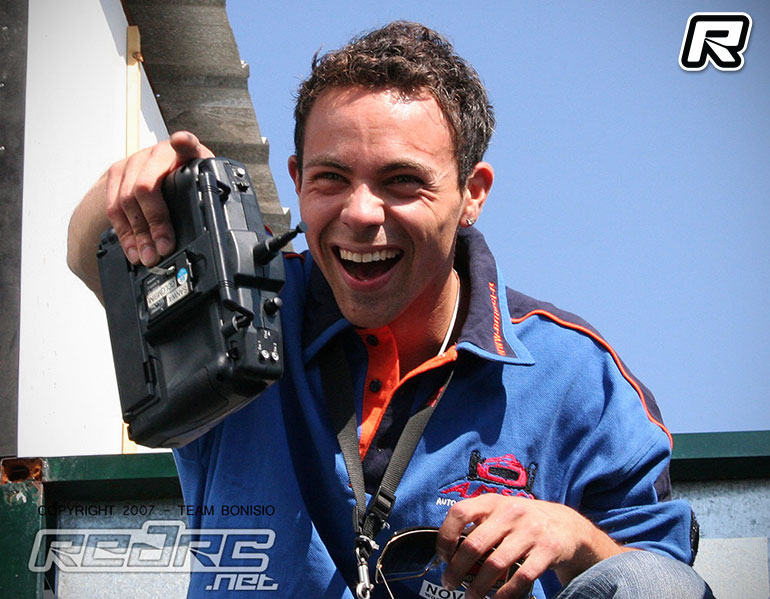 With qualifying in the books, what was to follow in the finals was nothing less than impressive and to this day is one of the reasons we have the height of respect for the driving talents of Dario Balestri. Winning his Quarter Final, he moved to the Semi Final which he also won from 8th on the grid to progress to the final.  There he would pull off the come back of all come backs to successfully defend his title winning ahead of Groskamp and then young rising star & future European Champion Alessio Mazzeo.  In our final report from Madrid we described Dario as RC Racing's answer to Valentino Rossi, this at a time when nothing could stop the MotoGP legend from winning races.  We also called it 'one of the greatest title defences the sport has seen'. A decade later when he became the 1:8 Onroad World Champion in France we wrote he 'delivered a long overdue victory' and we were genuinely delighted to see him with a title he truly deserved. Now as we head into the 9th running of the 1:10 World Championship in Thailand, and with his main rival Dominic Greiner referring to him as 'one of the greatest nitro drivers ever', could Dario finally achieve the WC double?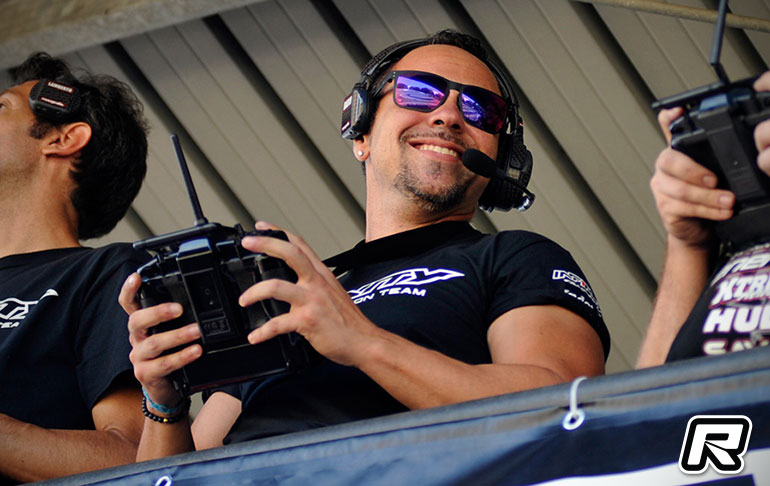 Following years of practice interpreting the Irish accent, and, having become a dab hand a speaking English himself, we caught up with Dario over the phone as he was making final preparations for the trip to Bangkok. Another driver who is more regularly to be found racing 1:8 than 1:10, Dario said 'there is no doubt about it that I am now a 1:8 specialist' adding 'I do one race a year in 1:10' – that number doubling this year due to the WC. On his preparations for Thailand, he summed them up as 'not perfect' given his focus on 1:8 but he made it clear he is not making the long haul flight to make up the numbers, 'I am there to try give my best'. Beginning his testing 2-weeks before the race he explains it takes '10-hour days for the 2-weeks to get ready. All the work is done before the race, when you are there you just perfect the car set-up but the important work is all done before the race'.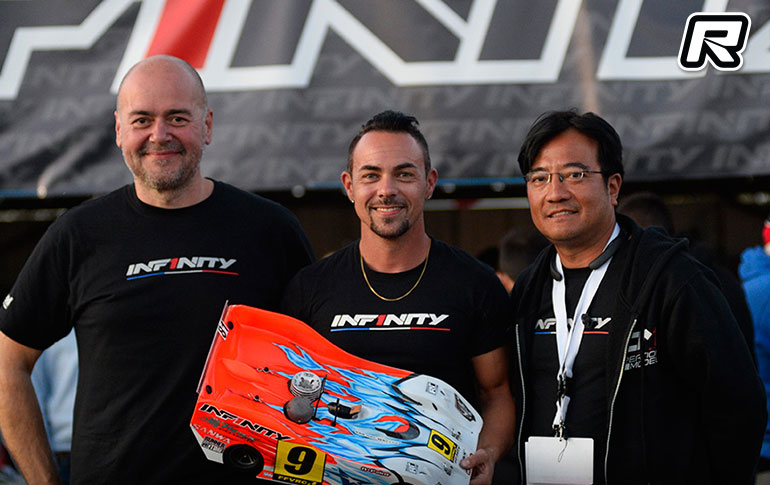 Testing at his home track, 'it was not perfect for 1:10 as it is a big track' but he knows he has the advantage of his Infinity team-mates having in dept knowledge of the RC Addict track. On switching from 1:8 to 1:10 he said, 'the difference in driving style is not a problem, it is understanding how to adapt the car for the conditions' on what he rightly described as 'a specialist track' given its high traction. Sizing up his opponents, he was quick to name his main sparring partner saying, 'Dominic without doubt'. Within his own team he named reigning Champion Naoto Matsukura and two other electric touring World Champions,  'Naoto will be fast on this track, Jilles & Andy (Moore) are also going to be fast.' Having been Meen Vejrak's team-mate when he took a fairytale home World Title at RC Addict in 2012 with KM Racing, he added, 'It is Meen's home track and he has won here before. He'll be fast'.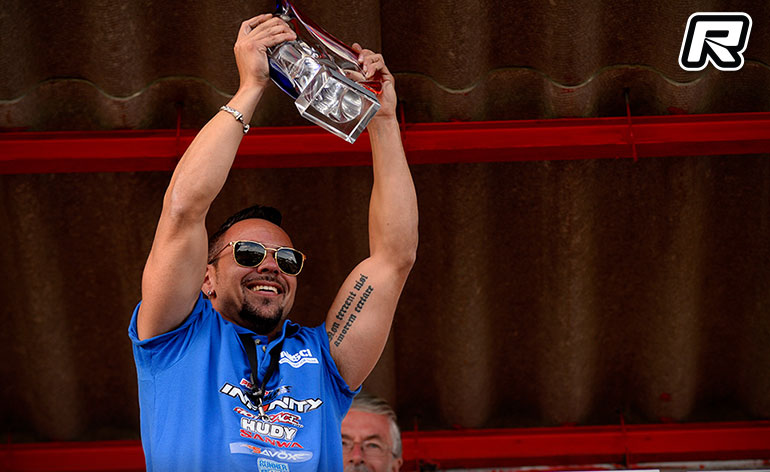 Asked about his motivation having been a contender at every WC for over a decade, Dario responded, 'All the years are like the first. I never give up wanting to win'. The motivation for the 1:10 Worlds is even greater, 'I have been European Champion in both so this is the missing piece'. A driver who has vast experience of the brilliant highs and also the gutting lows of racing, he has a very realistic view of the challenges of achieving the Worlds double. 'When it is your day it is your day. It is crazy what happens when everything is going right. Luck is really important'. He's talking from experience having TQ'd the last Worlds in Miami only to finish 7th in the final after a penalty at the start and later running out of fuel. Having followed Dario's career over the 16 years Red RC is in existence, the Dario of today appears a much more contented racer, something that can be attributed to the relationship he has with Infinity owner Kenji Taira.  Having spent the last 5-years with the manufacturer, Dario doesn't have to prove himself to the World anymore, he has done that with his win in France.  Everyone recognises he is one of the greatest nitro drivers of all time but that said getting the double done next Saturday would be the icing on the cake and Dario knows it.
Our coverage starts tomorrow (Monday).  The entry may not be as big as the 146 drivers that took on the European Championship in 2007, but there is still plenty of cream at the top so it is going to be exciting to see how it plays out over the next 6-days.
---