November 28, 2022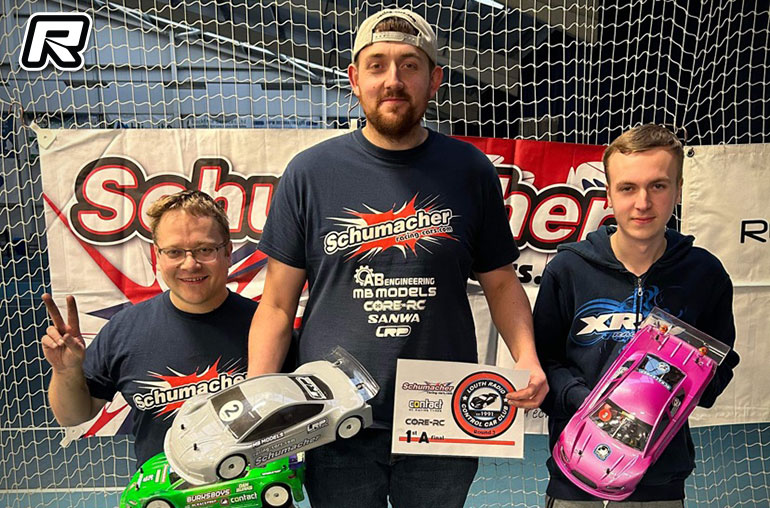 The third round of the Schumacher Indoor Winter Series presented by the Louth Radio Control Car Club took place on Sunday and with 45 entries it was another good turnout.  Four rounds of qualifying would pitch a six car field for the finals. After the first two rounds it was Schumacher pilot Alex Brocklebank who looked like he may walk away with it, q2 was close between himself and Xray driver Chris Lovey separated by 8 thousandths of a second. Chris would fight back and take TQ in round 3 and 4 and set the fastest time in the process. Callum Chapman and his Vulcan RC Xray t4 showed consistency and pace only being a few seconds back of the leading pair. Another Schumacher driver of Dan Burks would build during the day improving his round results to take 4th on the grid. Matt Cook and his Mugen would leave it until the finals qualifying rounds to solidify his place in the a final, ahead of the Awesomatix of Dan Leonard. So with the top six drivers sorted it was heads down for the single legged final.
All would appear well, but as the buzzer went every car would leap off the grid apart from Chris Lovely who would have an electrics fail. With Chris out of the running Alex Brocklebank would take the bull by the horns and build a lead, lap by lap pulling a gap until comfortable enough. The race for the final podiums places was close. Dan, Callum and Matt seemed to be in the running Dan Leonard would be cut adrift.  Dan, Callum and Matt would fit until a mistake from Matt would see him needing assistance and he would fall out of the podium running. Dan would get ahead of Callum and then do what was needed to hold Callum off, never see pasted by much. Matt Cook would rejoin and show podium pace but being laps down unable to do much. Dan would just hold of Callum to the flag, Dan Leonard would gather speed in the later stages of the race and only be a few seconds adrift. Matt would strongly recover to fifth and wonder what might have been. And Chris would round out the final unable to make the start.
Core RC 17.5 class
1. Alex Brocklebank – Schumacher
2. Daniel Burks – Schumacher
3. Callum Chapman – Xray
4. Daniel Leonard- Awesomatix
5. Matthew Cook – Mugen
6. Chris Lovely – Xray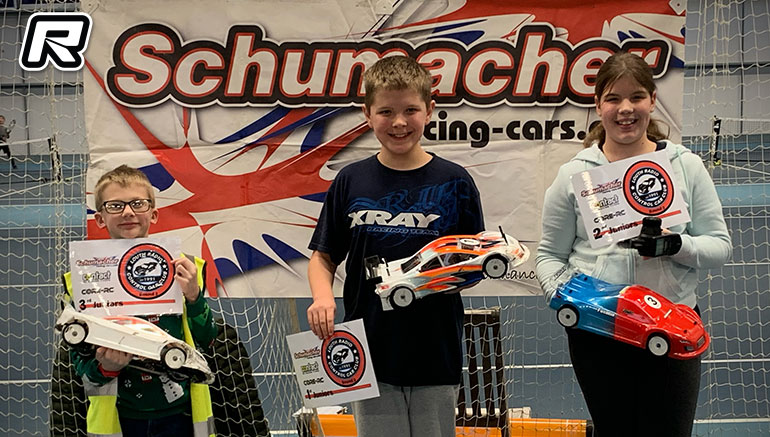 For the next generation cup it's all about the juniors and a platform for them to grow. James Colebrook showed a much improved pace to take the top spot today ahead of Lucy Dabb, Oliver Pepper was the third of the juniors today. A depleted  number of juniors but non the less they are al improving each time they get on the track. James and Lucy had a great race with them both never separated by much. At the end of five minutes only a second would separate them. Oliver Pepper was cut adrift from the leading pair but saved his best racing for the final and would round out our junior drivers.
Next Generation Cup
1. James Colebrook – Xray
2. Lucy Dabb – Xray
3. Oliver Pepper – Xray
Thanks to Chris Lovely for the report.
---