September 18, 2023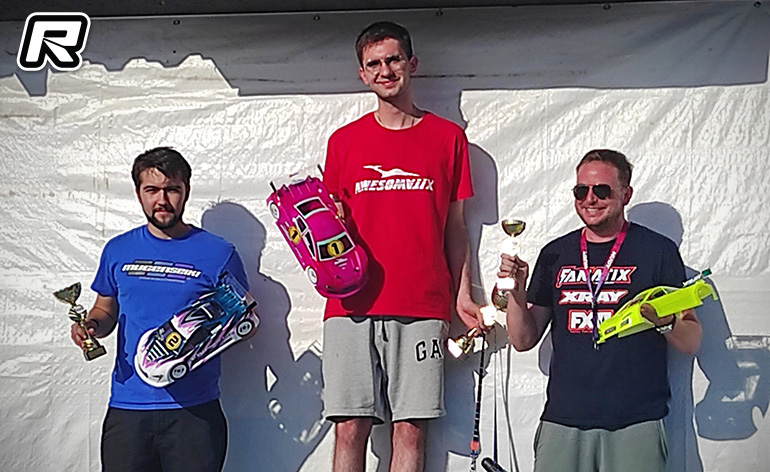 Over the weekend the 3rd round of the Greek Nationals in 1:10 EP Touring took place in the technical track of RcManiacs located in Argos, Greece.  The weather was hot with asphalt temperature reaching 50oC making it challenging for all drivers to fine-tune the setup of their cars.  In the Touring Modified class, it was reigning Greek Champion and Awesomatix driver Dimitris Ioannidis who was ahead of the pack taking TQ early on by taking Q1,Q2,Q3 and winning leg 1 and leg 2 of the finals tone to tone securing the overall victory and making it 2 out of 2 wins this season.  On his way to victory, he was able to break the lap track record becoming the first driver to do a sub-10second lap in the track's 7-year history and the 5-minute track record in qualifying. Behind him, fast Mugen Seiki driver Andreas Koutras was able to secure P2 overall after also starting P2 on the grid, lacking a little bit of pace compared to P1 but doing a solid job indeed.  Rounding out the podium was Greek Nitro 1:10 Champion Dimitris Dimitriou (Xray) who started from P3 on the grid and was able to secure another podium finish in the Modified class.
Top 5 Modified Touring
1.Dimitris Ioannidis (TQ) – Awesomatix
2.Andreas Koutras – Mugen Seiki
3.Dimitris Dimitriou – Xray
4.Chris Kidis – Xray
5.Giorgos Kazoglou – Xray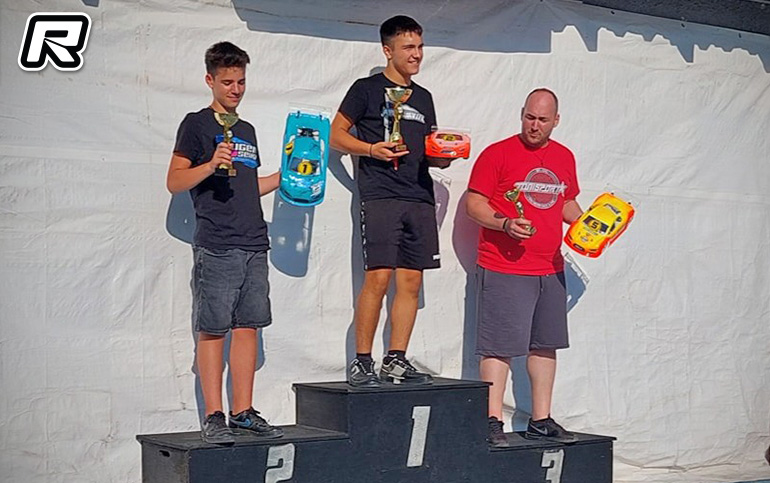 In the Stock class, it was a tough and competitive battle between 2 young guns. Andreas Kouretas (Mugen Seiki) was able to take the pole position early on after winning Q1, Q2, and Q3 which were hotly contested by Filippos Oikonomou (Awesomatix). Filippos secured P2 in the grid in front of Stock Greek champion Giorgos Kalantzakis (Mugen Seiki) who battled it out with veteran Chris Kidis (Xray) and another Greek Stock champion Giorgos Maricholas (Awesomatix) who secured P4 and P5 in the grid respectively. In the finals, the two youngsters battled it out with Filippos winning leg 1 and Andreas winning leg 2. In leg 3, it was Filippos who just took the win for 0.021s after a very risky but brave overtaking attempt from Andreas in the last lap where the 2 drivers touched with each other at the finish line making it 2 out of 2 wins for Awesomatix. Consequently, Filippos also secured his first Greek championship. As for the last podium place, there were big battles between Kalantzakis and Maricholas while Kidis, Vasilopoulos (Xpress) and Nikolakopoulos (Xpress) were also in the mix with Maricholas being able to eventually secure P3 overall.
Top 5 Stock Touring
1.Filippos Oikonomou (TQ) – Awesomatix
2.Andreas Kouretas –  Mugen Seiki
3.Giorgos Maricholas – Awesomatix
4.Giorgos Kalantzakis – Mugen Seiki
5.Christos Vasilopoulos – Xpress
Thanks to Dimitris Ioannidis for race report.
---