November 15, 2023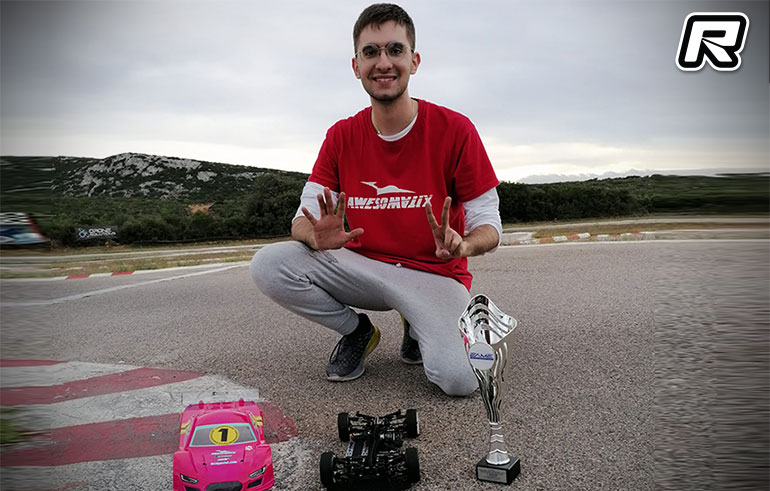 Last weekend, the fouth & final round of the Greek Nationals in 1:10 EP Touring took place in the fast track of Fanatix Racing Track(FRT) located in Stamata, Greece. The weather was cool with temperatures not exceeding 21oC. In the Touring Modified class, the battle for the championship was on between reigning champion Dimitris Ioannidis (Awesomatix), Andreas Koutras (Mugen-Seiki) and Nitro champion Dimitris Dimitriou (Xray) for the championship. Ioannidis had not participated in Round 2 as he was hospitalized while Koutras opted out from Round 1 and Dimitriou had participated in all rounds securing podium finishes in the first 3 races but had to hope for a not-good result from Ioannidis who had 2 out of 2 wins+2 TQs and Koutras who had one win and a P2. In qualifying, Ioannidis was able to take pole position winning Q1, Q3, and Q5 with a very solid and consistent drive while encountering issues with his powertrain resulting in significant fading in power. Koutras also showed competitive speed as he saved tires, taking Q2 and Q4 securing P2 on the grid while Dimitriou would line up P3 on the grid after displaying some very good speed too.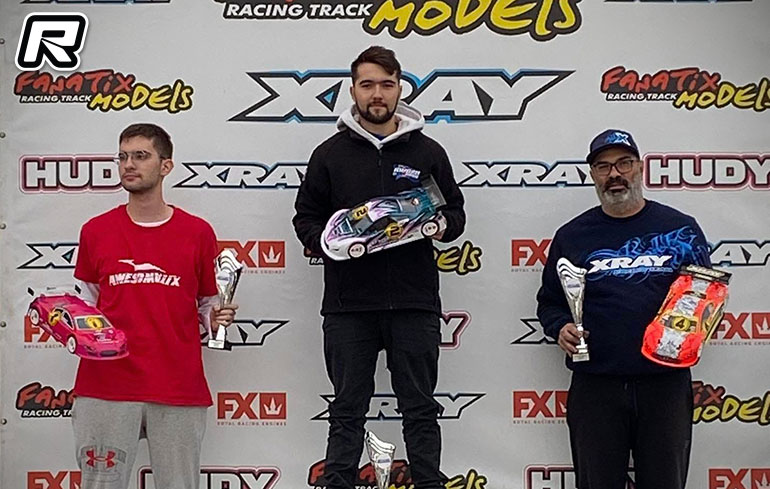 In the finals, Ioannidis' powertrain problems continued and Koutras capitalized on that overtaking him and winning the first 2 legs awarding him the overall victory of the race and the 'honorary' Greek Cup title as the winner of the last race of the season in Greece also wins this particular title. Ioannidis and Dimitriou battled fiercely in all legs displaying some very good action and bumper-to-bumper racing. After Ioannidis kept calm in leg 1 & 2 securing P2 and P1 in leg 3 combined with some bad luck for Dimitriou who had 2x DNFs in leg 1 and 3, Dimitris Ioannidis was able to win his 7th overall Greek Championship and 3rd consecutive Greek Championship in Touring Modified having now 3x titles on on-road classes and 4x on off-road classes. Andreas Koutras finished second in the 2023 championship losing the close tiebreak to Ioannidis as he had 3 TQs while Dimitriou finished P3 in the championship while finishing P6 in this race. Long-time driver and veteran Chris Kidis (Xray) rounded up the podium for the first time after intense battles with experienced Sakis Boubalis(Xray)!
Top 5 – 1:10 EP Touring Modified
1. Andreas Koutras – Mugen Seiki
2. Dimitris Ioannidis(TQ) – Awesomatix
3. Chris Kidis – Xray
4. Sakis Boubalis – Xray
5. Sotiris Diamadis – Xray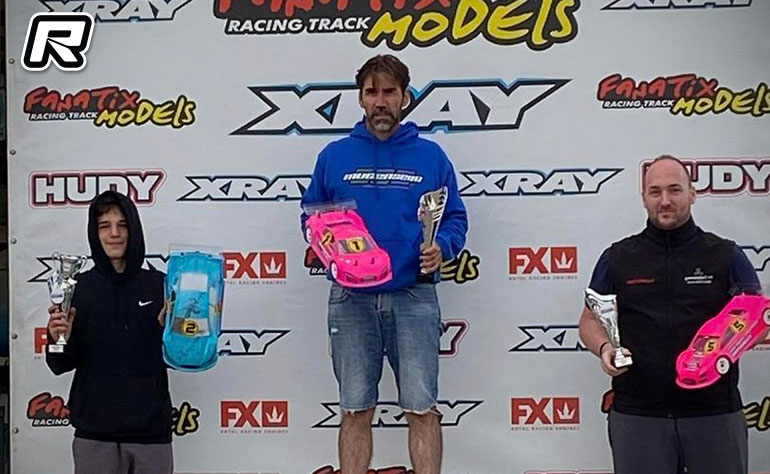 In the Stock class, young gun Filippos Oikonomou (Awesomatix) had already secured the title mathematically from Round 3. The battles for this race would be for P2 and P3 for the championship among young Andreas Kouretas, Greek champion Giorgos Kalantzakis, and Greek champion Giorgos Maricholas (Awesomatix).  In qualifying, it was the Mugen duo of Kalantzakis and Kouretas who were ahead of the field and traded positions with the former taking pole position winning Q2, Q4, and Q5 while the latter won Q1 and Q3. Reigning champion Oikonomou was a little bit further behind, securing P3 on the grid after experimenting with the car setup.  In the finals, Kalantzakis and Kouretas were able to have a big gap compared to the rest of the field. Veteran Kalantzakis was able to defend successfully from a charging Kouretas and secured his 2nd victory of the season securing him P2 overall in the championship while Kouretas secured P3 overall in the championship and P2 in this race. For the last podium place heated battles took place between Oikonomou, Maricholas, Stratinakis (Xpress), and the rest of the field with Maricholas taking overall P3 in the race.
Top 5 – 1:10 EP Touring Stock
1. Giorgos Kalantzakis(TQ) – Mugen Seiki
2. Andreas Kouretas – Mugen Seiki
3. Giorgos Maricholas – Awesomatix
4. Michalis Stratinakis – Xpress
5. Filippos Oikonomou – Awesomatix
Thanks to Dimitris Ioannidis for race report.
---