November 6, 2006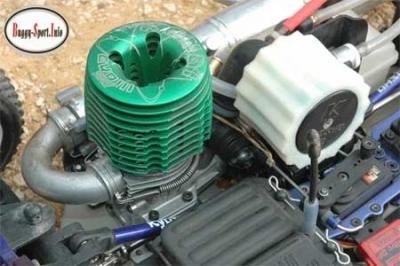 Buggy-Sport have the scoop on the new Sirio Kanai Evo III STI 3.5cc off road motor. Now we don't know whose car this is in but the engine is seen in a Kyosho buggy and because of the timing we reckon it was taken at last weekends 'GP International De Pierrefeu'. Now Sirio employee and Kyosho racer Adrien Bertin was there so we are going to call it and say that this is his car….just like that (we'll write a correction when found to be wrong :). By the way Adrien finished 9th after some problems in the final.
UPDATE: The car belonged to Stéphane Deroch and you can see him here with his car.
Also seen in the same car was a new Sirio pipe system, which you can be seen over at Buggy-Sport so check that out.
Source: Buggy-Sport.info [buggy-sport.info]
---