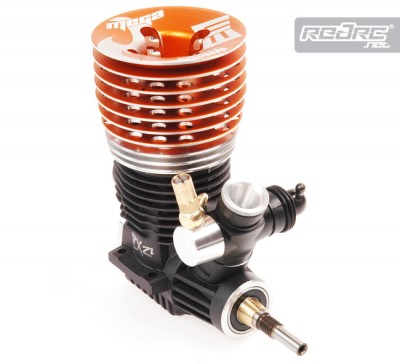 Following on from the release of the new DS4 on road engines earlier in the week, Mega have introduced their new DS4 buggy motors. The result of continuous development in cooperation with the Mega team and Picco, the new ZX12 DS4 comes in a 7 port and 3 port version with the former featuring improved liner fit, which is set a little higher in the crankcase than the previous version creating a better alignment with the ports. The engine also sports a new lightweight cooling head and finned combustion chamber as well as a new carburetor with improved needles. Also available in an EM version, it has a black case, improved lightweight crankshaft, hand selected piston/liner and work done to the ports of the liner. The 3 port engine is a basic buggy motor which also comes in pull start version.
Click here for more engine photos
Friday, March 19, 2010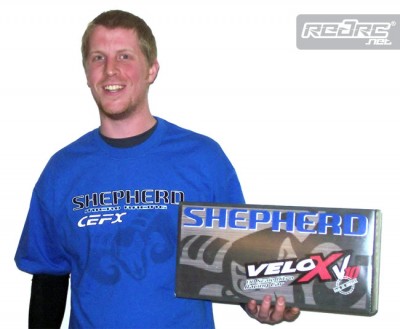 Shepherd Racing have announced that front running 1/10 IC Track racer Bobby Flack is joining the Shepherd/CEFX team for 2010. Bobby brings years of experience and speed to our team making it even more likely you will be seeing the V10 in the winner's circle this year. Here is what Bobby had to say about joining the team:
I would first like to thank RC America and Xray for all their support over the past 5 years. They have been great to race for and work with over that time. I truly appreciate everything they did for me. With that said I am very excited about this new opportunity with CEFX and Team Shepherd. I am looking forward to working with Josh and the rest of the team this season. Hopefully, many great results will be coming soon!
Bobby joins the team of defending IFMAR World Champion Daniele Ielasi, IFMAR Worlds Top Qualifier Jilles Groskamp, Josh Cyrul, Brian Thomas and another top level driver soon to be announced for this years IFMAR WC in Houston. The Shepherd team is looking stronger and stronger heading into this years World Championships later in the summer.
Source: Shepherd [team-shepherd.com]
Friday, March 19, 2010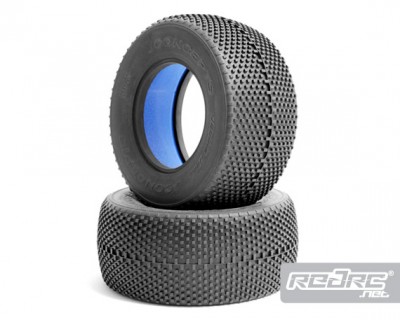 JConcepts send us a quick mail to say that they are debuting three new products for Short Course trucks at this weekends Cactus Classic. The new items are Double Dees and Subcultures SC tires along with Tense wheels for the Slash 4×4. We expect to see the official release very soon along with detailed descriptions and details.
Friday, March 19, 2010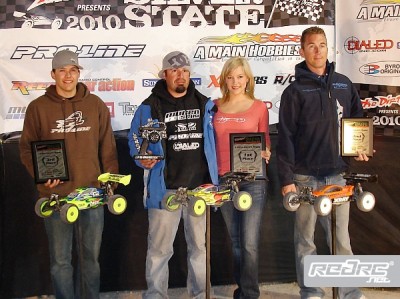 Tekno RC are reporting that their chassis conversions scored another win in the Pro Electric 1/8th class. This time it was at the Silver State Challenge, where Travis Amezcua put in another great run with his Tekno equipped Mugen MBX6 buggy. Starting 3rd on the grid, he followed TQ Josh Wheeler closely all race. One mistake by Josh in the treacherous whoops section gave Travis a pass opportunity, once passed he held on and brought home the win in the 10 minute main event to become the Silver State Challenge Pro Electric 1/8th Champ. Also, in the Open Buggy class, Pres Ilog brought home the win in his Hot Bodies D8 buggy. Pres was rocking the Tekno RC LCG chassis and front and rear Tekno RC CNC shock towers.  He almost completed the buggy/truggy sweep, but got caught for 2nd in Open Truggy.
Source: Tekno RC [teknorc.com]
Friday, March 19, 2010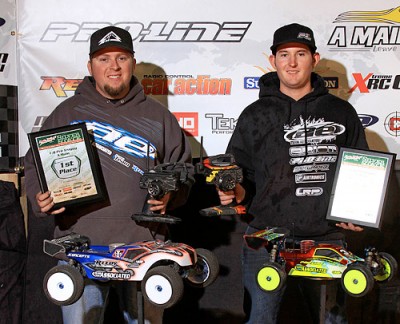 Team Associated are reporting on the 2010 Silver State Nitro Challenge which moved from Boulder City Raceway in Boulder City, NV to down into the valley of Henderson just a short drive from the famous Las Vegas Strip. Also new for 2010 was the race promoter. World-famous track designer and event promoter Joey Christiansen brought his "Dirt" crew to transform the Silver Bowl track into a Supercross-style layout while taking into account the treacherous surface and weather conditions.
Continue reading the report here
Thursday, March 18, 2010
AKA have announced the release of the Enduro and Wishbone tires, designed specifically for 1/10 short course trucks and to fit the stock wheels from all the popular brands. Gil Losi, Jr. and Mark Pavidis designed these tires which feature 2.2"/3" bead design and an inner carcass design made to perfectly fit the industry standard AKA closed cell foams. This results in a much more controlled outer sidewall for more consistent handling and tread wear meaning no more cranking in tons of camber to keep the tire patch flat on the ground. The AKA Enduro tread pattern is an all round good tire for just about any surface condition, while the Wishbone is suited to high bite blue grooved clay tracks or indoor clay tracks. AKA have also released of their next generation of tire foams. Based on the original industry standard closed cell foam insert, their new grooved insert is designed to take advantage of the radial ribs the carcass of their Wishbone and Enduro tires while still providing great performance in the other treads. This new grooved insert design is replacing our original non-grooved insert.
Source: AKA [raceaka.com]
Thursday, March 18, 2010
HPI Racing have released a number of new items for their Short course truck, the Blitz. This heatsink motor plate is precision machined from high strength 4mm 7075S aircraft grade aluminium for extreme durability and anodized brown to match other Blitz aluminum option parts. The plate uses heat sink fins to draw heat away from the motor to keep it running cool, for longer run time and extended motor life. A new lightweight mud flap set helps you save critical weight and still keep the authentic short course look. There is also new aluminium step screws that are approximately 70% lighter than the stock steel screws. They are sold in sets of 10 and available in brown, orange and silver. Other lightweight parts include new aluminium thin lock nuts, a replacement parts for Z663 steel M3 lock nuts. Again sold in packs of 10 and available in orange and silver. Finally there are two new aluminium ball studs, 4.8×12mm and 4.8×15mm, which are sold in packs of 10 and offer 70% weight savings over the stock steel part. Most of these parts are also suitable for the E-Firestorm truck.
Click here to see the other option parts
Thursday, March 18, 2010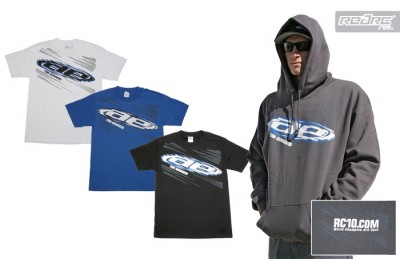 Team Associated have revamped their apparel line for 2010 with the new Vertigo design. The new line incorporates a new grey hoodie, as well as 3 new tees in white, blue and black with all sporting the new design across the front, with the hoodie also having RC10.com on the back. Available in all the usual sizes.
Source: Associated [rc10.com]
Thursday, March 18, 2010