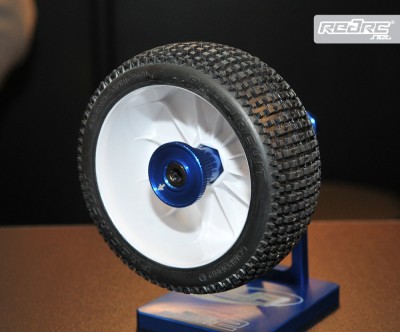 Spanish company Ultimate Racing have chosen the toy fair to introduce their new line of off road tires under the Pro Circuit name. They had two patterns on show but expect a third to be available before the line's official release in March. All the tires will come in 4 different compounds, yellow (hard), blue, green and purple (super soft) and the patterns that were on display here at the fair were the Marathon and Square Impact. The former is good on hard packed tracks with very little dust, while the latter is good on high grip and wet surfaces. Ultimate will also provide wheel stickers with the sets of tires, which will be sold pre mounted in a pack of 4.
Click here for more information and photos
Friday, February 5, 2010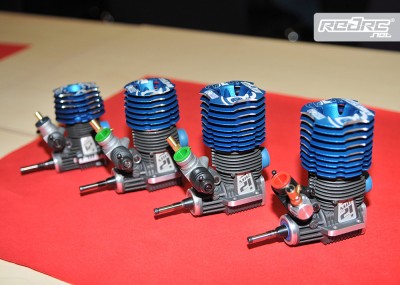 We bumped into new company GI-MAR in the halls of the fair who were keen to show off their new line of Novarossi based engines. A collaboration between French man Jean Paul Calandreau of JP Racing, who stopped with the production of his own engines last year, and Italian Giovanni Crea. Using Novarossi engines as a base they will introduce a complete line of top level hand tuned engines as well as high performance non hand tuned versions.
Click here for more information and photos
Friday, February 5, 2010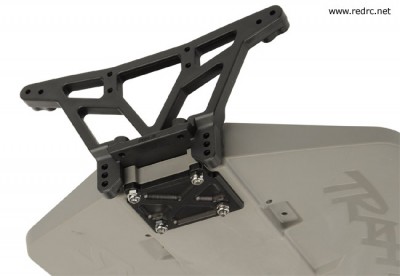 Pro-Line have released two new items, the first being the chassis saver for the Traxxas Slash. During track testing of the ProTrac kit for Slash, it became clear to the Pro-Line development team that the the short course truck's chassis had a weakness resulting in numerous broken chassis and shortened track sessions. To resolve the issue they created this chassis saver set, which strengthens the rear shock tower mounting ears. The second new item from Pro-Line is the 1:10 Caliber 2.2″ truck tires. The Caliber takes tire technology to the next level by optimizing traction, control, balance, and tire wear with its dual-stage design. The smaller top pin penetrates through loose dirt while delivering unbelievable side and forward bite. The base pin works as a support for the top pin while acting as a dual-stage design once the top pin is worn down. You can rely on the base pin for greater tread life wear and it works well on those tracks that are prone to blue-groove or have a super clean surface.
Friday, February 5, 2010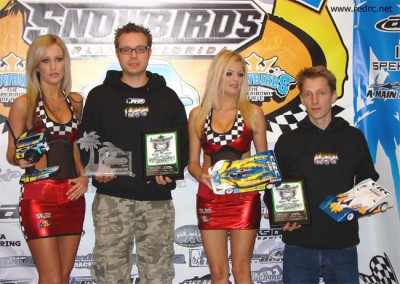 At the 2010 Snowbird Nationals in Orlando, Florida, Hupo Hönigl continued his hot streak that started in Vegas in September 09. Hupo was Top Qualifier in both the 1:12th 10.5 class and the 1:10th WGT class with his CRC rides. In the hotly contested World GT class, Hupo took his CRC Gen-X 10 right off the track from his win in Cleveland and continued his victorious ways in Orlando. Hupo won every round of qualifying and the main for a dominant victory. Joining Hupo on the podium was 2nd place qualifier Brian Wynn. Brian took his Advanced powered Gen-X 10 to the front setting quick times all weekend. In 1:12th 10.5, Hupo used his CRC Gen-XL 1/12th car complete with CRC Pro Cut tires to cut up the competition again. Joining Hupo on the podium was Dutch driver Jilles Groskamp.
Source: CRC [teamcrc.com]
Friday, February 5, 2010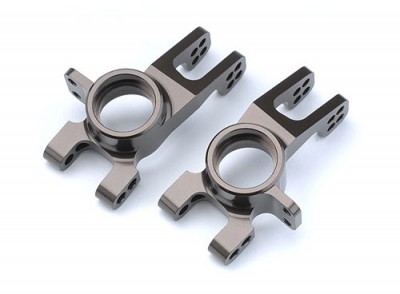 Kyosho has released two new sets of aluminium rear hub carriers, suitable for the MP9 and also the RB5, ZX-5 FS and RT5. The new aluminum rear hubs increase the rigidity of this area helping prevent any power loss. For a wider scope for different setting options each hub is supplied with four upper arm mount positions.
Click here to see the other rear hub carriers
Friday, February 5, 2010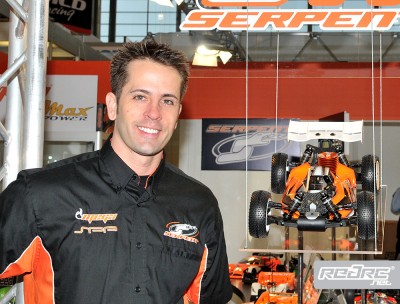 While new products were the stars of the opening day of the Nurnberg Toy Fair there was also a number of top international racers to be found on the various manufacturers' stands in Hall 7 and 7A yesterday.  Some where here just to check out what is new for 2010 while other where here on business.
Friday, February 5, 2010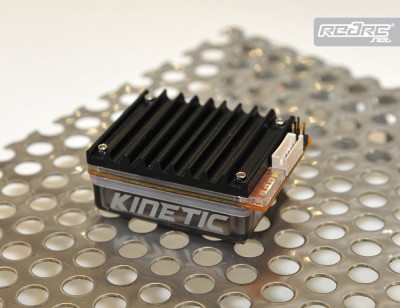 Novak have shown their new Kinetic competition speed controller which is on display here in Nuremberg. The new speedos have dynamic timing advance for optimal motor timing and performance and electronic power control for precision digital current limiting to reduce wheel spin. Compatible with up to 2S LiPo, 2S LiFe and 4-6 cell NiMh it comes supplied with the ESC cooling fan.
Click here for more various new products
Friday, February 5, 2010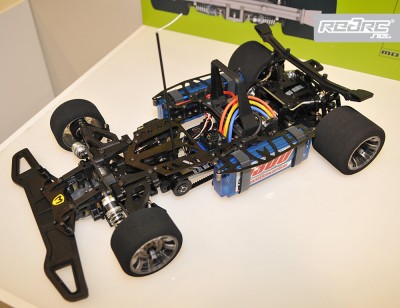 Motonica have introduced their new line of Electron cars, which are essentially brushless versions of their current car line up. Available for the P81, P8C and P8F, the kit can be bought separately to upgrade the car or as a complete kit including the rolling chassis. Each Electron kit allows the user to mount either 1 stick pack, or 2 stick packs in series or in parallel to suit the driver. We have been told that you can get 15 minutes of running with this setup and you will have more than enough power to play with.
Click here for more information and photos
Friday, February 5, 2010