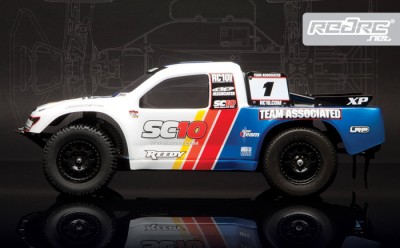 After winning the ROAR Short Course Nationals, Team Associated's engineers got to work on taking the SC10 to the next level. Improvements were made to enhance performance and durability, as well as applying the full Factory Team treatment. The result is the SC10 Factory Team Kit, a 1:10 scale electric 2WD off road short course competition race truck kit. This special version is loaded full of high performance features including JConcepts Subcultures rear tires, Factory Team V2 threaded shocks, V2 slipper clutch, ball differential with lightened outdrives, and an optimized setup to make the best handling SC10 to date.
Click here for more details and photos
Monday, April 5, 2010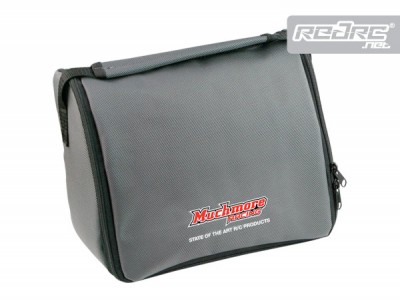 New from Much More comes their Legend charger bag. Designed for safe and easy transportation of the CTX Legend Charger series, the bag hold two CTX Legend chargers and one CTX Power Master Legend power supply. It is made from a strong canvas material and provides protection from light rain and is lightweight too, making it ideal for travel.
Click here to see inside the bag
Monday, April 5, 2010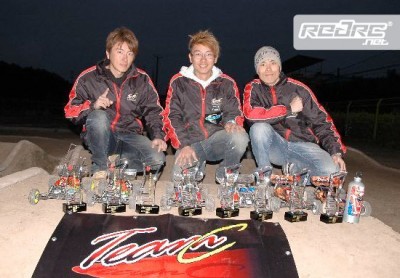 Team C Racing are reporting on their success last weekend at the ACE Cup in Shanghai, China. The event was open to racers across 3 different classes, 1/10th 2wd buggy, 1/10th 4wd buggy and 1/8th electric buggy and it was the Team C TC04 4wd buggy that TQ'd the 4wd class in the hands of Tommy, while team mate Lam took the win for the car with Tommy finishing 2nd, while Jerry rounded out the top 3. In the 2wd class Lam took the TQ and win with the TC02, while Jerry took 2nd and Tommy 3rd.
Source: Team C [teamcracing.net]
Monday, April 5, 2010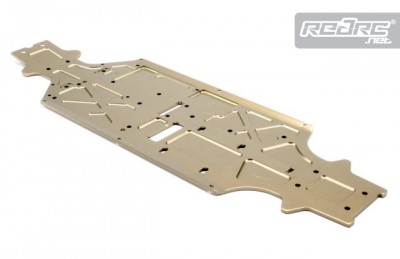 New from Hot Bodies for the D8 buggy is this specially machined lightweight chassis. Starting with a 3mm thick aluminum chassis and strategically milling areas that don't affect strength, they have dropped some serious weight while maintaining the proper flex in the most critical areas. An overall lighter vehicle results in greater acceleration speeds, stopping speeds and steering input response. You can now also beef up the front of the car with this new 5mm shock tower replacement. Also suitable for the HB-Ve8 and the HPI Vorza it is great for that racer that crashes a lot or just wants that extra security.
View the new front shock tower here
Monday, April 5, 2010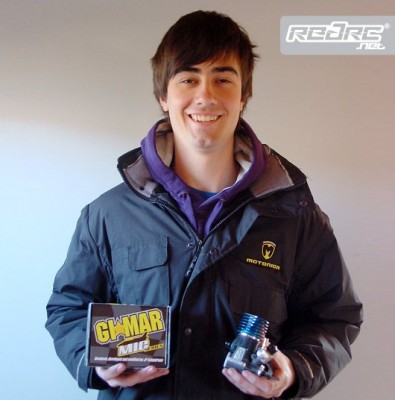 Italian company Gi-Mar, whom we introduced for the first time at the Toy Fair back in early February, have announced that front running Belgian driver Robin D'hondt will join their team in a 2 year deal. The World and European Championship finalist, will use the JP Calandreau developed MIG series motors and exhaust systems in his Motonica chassis as part of the deal.
Source: Gi-Mar [jpgimar.com]
Sunday, April 4, 2010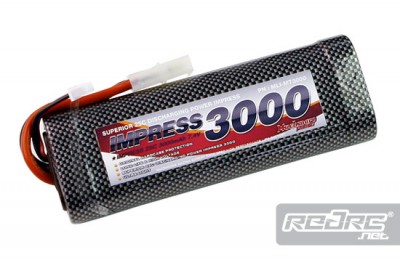 Much More have released another new Impress pack, this time a 25C 3000mAh LiPo pack. This high quality Sub-C configuration pack features a carbon look hard case with rounded edges to allow it to fit into all cars that accept conventional NiMh stick packs. It comes pre wired with Tamiya connector and JST-XH balancing plug.
Source: Much More [much-more.co.kr]
Sunday, April 4, 2010

Here we have this weeks round up of product releases and race reports from our site sponsors Xray. Our summary includes everything published by the Slovakian manufacturer on their own website in the past week, so if you didn't find the time to visit, be sure to read on. This weeks round up includes the following stories.
- T3 Dominates Winter Czech Championship R2
– T3 Wins Danish Championship – R6
– NT1 Dominates 1/10 Portuguese Nationals – Round 1
– XB808 & XT8 Dominate Texas Pro State Series R1
– XB808 Wins Malaysia National League 2010 R1
Click here to view the round-up
Sunday, April 4, 2010
Väst-8 Gothenburg, one of Sweden's largest R/C-racing clubs, proudly presents the 7th EFRA European Championship for 1/10th scale I.C 200mm touring cars. Spring is turning to summer and the clock is ticking towards one of the highlights of the whole season. With 150 racers attending the EC-A, ready to fight for the title of European champion, the organisers believe this race that will set a new standard to future EFRA Events. The hottest starting field with several European Champions and World Champions from different classes, spread over 22 nations, the competition can't be much tougher than this. The official website to both the Euros and the Nordic Championship is where they'll be publishing news weekly with updates and happenings. The entry form to the Warmup & Nordic Championship can be found here, while the invitation to the Warm-up is online at the EC-website. There is also a Facebook group and YouTube videos published, just search for "EC-2010 Gothenburg" on each website.
Saturday, April 3, 2010