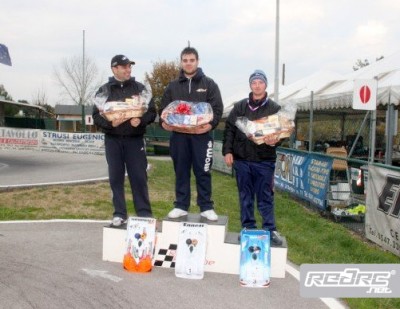 Last weekend the last 1/8th scale event of the year, the GP di Natale, took place at the Riccione tack in Italy. The beginning of the event was delayed by over an hour due to the cold with temperatures well below zero. Due to this the fastest heats of qualifying came at during the 3rd round and it was Alessandro Bracci set the fastest time with 27 laps followed by Sammarini Sandro and Manuel Tordi, both with 26 laps. After the lunch break for some Christmas food the finals got underway with a close battle for first place between Sammarini and Bracci, but an off by Sammarini gave Bracci the break he needed and he would go on to win with Sammarini in 2nd, 3 laps ahead of third place Manuel Tordi who made the best lap time of the day with a 15,269.
Source: Road Race Riccione [roadracericcione.com]
Thursday, December 16, 2010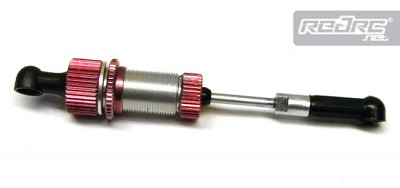 CRC have released a number of new parts including this Encore shock shaft extender that replaces the stock ball cup on the end of the shaft allowing you to use any size/length of standard 4-40 ball cup. This allows you to make the shock quite a bit longer to fit on other manufacturers cars. Popular on some 1/10th scale oval cars, these new aluminium shock tower mounts allow you to vertically mount your carbon fiber shock tower to your chassis and also work well for mounting mini servos, such as the JR 3650, flat in 1/12th scale and 1/10th scale pan cars. New for the RC12R5 and similar to the CRC front ride height shim set, this new set comes with 3 pair of shims, 1 pair each of .010″ (0.25mm), .020″ (0.5mm) & .030″ (0.75mm). Team CRC have also created these two molded plastic pinion trees. This all new design sports pinion storage on all 4 sides which allows you to store a huge range of gears. The smaller tree holds pinion gears 18-45 teeth, while the larger tree holds 46-67 tooth gears. Finally CRC have released this simple foam car stand, perfect for under your pan car.
Thursday, December 16, 2010
JConcepts have introduced their Carvers directional ribbed front tire for Short Course trucks. The advantage of the Carvers tire is the ability to tune steering response by utilizing a radial rib to present the tire compounds to the racing surface. Typically, ribbed tires net a less aggressive and more predictable front end response which can ultimately deliver faster and more consistent races. With the 2.2" x 3.0" design, the large sidewall retains the realism of the class while providing an additional tuning option. The Carvers front tire is perfect for a variety of track surfaces. The sharp angular and directional ribs provide the ultimate in control and direction on the most common dry and wet condition surfaces. The compact tire body combined with the JConcepts firm profiled inserts allow for precise steering input and response for the most consistent laps times available. Carvers in new condition excel on low traction surfaces as well as high 'loamy' traction and wet surfaces where no rubber has been taken into the racing surface. Worn Carvers excel on indoor or outdoor clay tracks where a light blue groove has formed. Available in Soft (Blue), Super Soft (Green), and Indoor Soft (Gold) compounds.
Source: JConcepts [jconcepts.net]
Thursday, December 16, 2010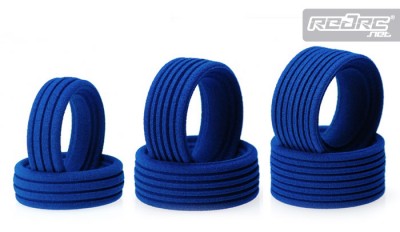 JConcepts have released a whole host of new products starting with the 1/10th off-road tire inserts. Racers have asked JConcepts for a firmer and more durable insert and after much deliberation the new JConcepts Profiled insert is ready. Having the insert with proper density for track conditions pays dividends to the racer and especially toward the end of races. To add to the construction and performance, JConcepts have added cut / grooves into the profile of the inserts to add an even greater driver to track feel. JConcepts has your 8/32″ locking wheel nut needs covered, for both buggy and truck with the new Illuzion wheel nut set. These precision wheel nuts are flanged and knurled for locking security and feature a lightweight design. When the weather turns cold it's a good idea to warm-up with the JConcepts Beanie hat. Manufactured in a durable material with JC embroidered logo the beanie has a low profile fit and finish which provide a stylish yet protective look. Finally, the JConcepts tire rubber bands have been given an update and the set now includes 4 narrow and 4 wide versions and help with mounting tires.
Thursday, December 16, 2010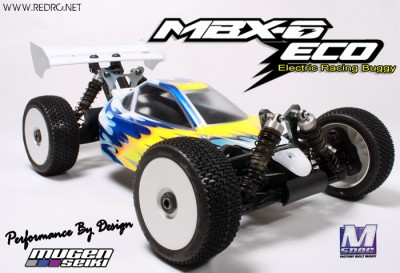 Mugen Seiki Racing have introduced the new 1/8 scale MBX6E M-Spec factory built Electric buggy. The MBX6E is based off their championship winning MBX6 buggy platform but sold in their M-Spec version which is built to Mugen's specifications. All the differential and shock oils, shock springs, ride height, camber and caster adjustments are straight from the Mugen race team. The world of 1/8 Electric buggy racing just got much easier with the MBX6E M-Spec. Expect a January 2011 release date.
View more details & images here
Wednesday, December 15, 2010
CRC have introduced this new steering arm for the Blitz, which adds a ton of strength, more precise steering control and is pretty sweet looking to boot. The aluminium construction adds a ton of strength and rigidity without adding too much weight. Many Blitz drivers have complained that even after they invest in a quality steering servo, they still didn't have the feel that they were looking for. This is mostly because of the flex and deflection of the stock plastic pieces. This piece eliminates this weak link in the chain.
Source: CRC [teamcrc.com]
Wednesday, December 15, 2010

The organisers of the Silver Pennes 2011 have gotten in contact to tell us about their annual event which will this year take place from the 11th to 13th of March next year. This big international off road event, which is held at 'Les Pennes Mirabeau' in the south of France, close to Marseille, is expect to attract many big names including last year's winners Jérôme Aigoin and Yannick Aigoin to name but a few. The race is open to gas buggy and truggy classes and registration will open on the 20th of December.
Visit the official event site here.
Wednesday, December 15, 2010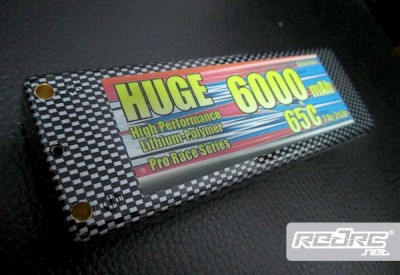 Huge R/C Products is the new brand from 2002 IFMAR ISTC World Champion, Surikarn Chaidajsuriya. He has released the first product, a 6000mAh 65C Huge power, Pro series LiPo battery pack. This pack aimed at the competition market and is better suited to stock classes due to its increased power output. Features a hard case for crash protection and comes supplied with 4mm bullet connectors.
Source: Huge [huge_rcproducts@live.com]
Wednesday, December 15, 2010