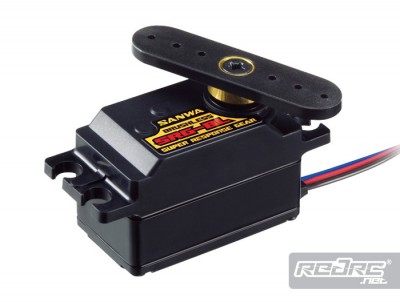 With the brand new SRG-BL servo, Sanwa now offers the new SSR signal transmitting technology also in sensationally small dimensions. With super fast transmission and response times the servo's brushless motor uses high-quality, maintenance free and extremely long-life brushless technology. Due to its small size, it can be mounted in every R/C car chassis without any problems. Weighing in at only 44g, it makes the SRG-BL the perfect servo for touring cars.
Source: LRP [lrp.cc]
Saturday, October 16, 2010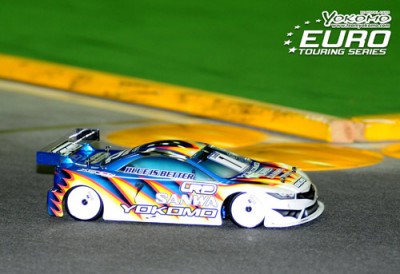 Qualifying for the Xenon Modified class got underway this morning with Ronald Volker taking the first TQ run here in Kastellaun, German.  The Yokomo ace ended the five minute run well clear of the opposition with Freddy Sudhoff just over 5 seconds adrift with the second fastest time.  Volker said it was definitely a good way to start the day but admitted his car was still difficult to drive and he was having to drive a very fine line which on this occasion was possible as he faced no pressure from other drivers during the heat.
View our full ETS coverage here.
Saturday, October 16, 2010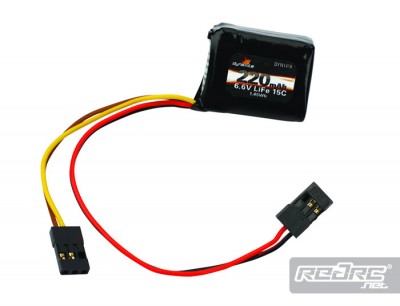 These new Dynamite 6.6V 220mAh LiFe Receiver packs were designed specifically for 1/12th scale on-road enthusiasts looking for increased power over traditional NiMH packs. These packs are lighter than standard NiMH and include an on/off switch for ease of use. LiFe chemistry makes the batteries safer than conventional LiPo batteries but offers the advantage of decreased weight versus NiMH packs providing improved power to weight ratio.
Source: Dynamite [dynamiterc.com]
Saturday, October 16, 2010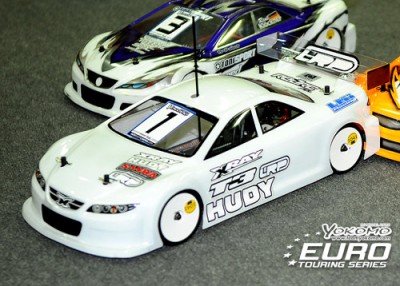 Eric Dankel has TQ'd the opening round of qualifying for the Xray Pro-Stock class as day 1 of the Yokomo ETS comes to a close here in Kastellaun.  The German Indoor National Pro-Stock Champion was the only driver to record 29 laps, despite a driver error which saw him roll his Xray luckily landing rubber side down.  Afterwards the accomplished nitro racer described his new T3 '11 chassis as perfect with it being very easy to drive
View our full ETS coverage here.
Friday, October 15, 2010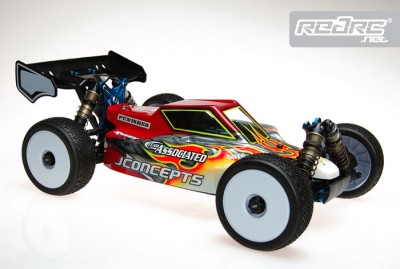 The Punisher body by JConcepts for the RC8B-e is now available. The slight cab-forward treatment is amongst the most aggressive in class giving the Punisher top notch performance. Blended wing / body design gives additional downforce to the side-pods and windshield which increases drivability, corner speed and jump control. The rear base of the cab area represents the latest offering for 1/8th E-buggy racing featuring a super low profile design for increased air flow, escape and body placement. The new Punisher T-shirt features background imagery loaded with various popular JConcepts key words, making a statement with powerful blue Punisher drip logo graphics on the front and large JC print on the side. Finishing off the back of the shirt is a large blue drip with pressed logo so you can show JConcepts pride while coming or going.
View the Punisher t-shirt here
Friday, October 15, 2010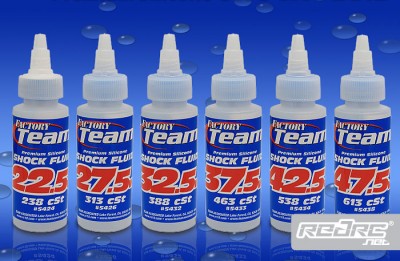 No more mixing your shock fluids to get the right viscosity, with these Factory Team half-weight shock fluids. Sold in 2 fl oz bottles, they are available in 22.5wt, 27.5wt, 32.5wt, 37.5wt, 42.5wt & 47.5wt, you can now get the right weight every time. Made in the USA exclusively for Team Associated by Lucas Oil Products Inc.
Source: Factory Team [rc10.com]
Friday, October 15, 2010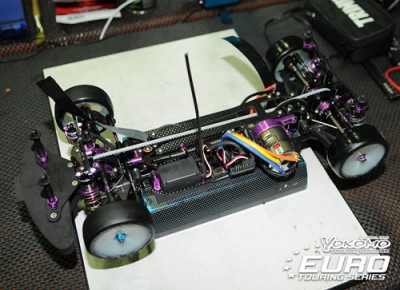 Schumacher have a first production version of their new Mi4CX at the first round of the ETS, driven by Belgian team driver Manuel Henriet, which is an update to their British Championship winning chassis. The main changes are the new front and rear drive axle mounting blocks which have been put on a diet, while attached to those blocks are new composite lower wishbone mounting brackets which replace the current aluminium versions. Due to the reduced materials used in the areas, an updated chassis sporting additional mounting points for the blocks help increase stiffness. Up front the car also has a new spool and beefier front drive shafts.
View more new products as well as more images here.
Friday, October 15, 2010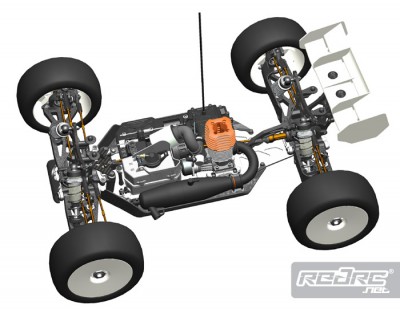 Following yesterdays release of the video showing Billy Easton testing the new Serpent truggy, the Dutch company have released details and CAD images on the new Billy Easton designed Cobra-T. Sharing many of the same parts and design elements of the buggy, the Truggy is different in many aspects and requires quite a selection of specific parts as well. The larger wheel/tyres and different body-type style, together with longer wheel-base do require intensive testing to find again the right balance in the car, as well as the correct level of grip and to be very good on large jumps too. The end result is a very sleek and "low" design, with a perfect left to right and front to back balance, making it a very nimble car and easy to push very hard out on the track. The Serpent Cobra-T will most likely feature CNC machined 7075 T6 shock towers, instead of the carbon ones, as standard. Release of the new truggy is planned for early December 2010.
Friday, October 15, 2010