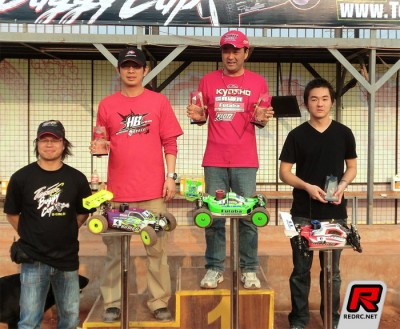 The Team C Buggy Cup took place last weekend at the FT Buggy Track in Guangzhou, China and it attracted 120 drivers from Japan, Malaysia, Singapore, Thailand, Brunei, Taiwan, Hong Kong and of course China. After 5 rounds of qualifying it was former World Champion Yuichi Kanai from Japan that would take the TQ spot. In Sunday's 45 minute A-main, Kanai was challenged early on from Team C driver Eason Chi, who took the lead after Kanai made a mistake at 5 minutes. Kyosho factory driver Kanai settled down, found his rhythm and was able to get back into the lead a few minutes later and extend his lead to 2 laps by the end of the race. Hot Bodies driver Ping from China took the 2nd spot with Wen Yi from Singapore taking 3rd with his Mugen.
Monday, March 14, 2011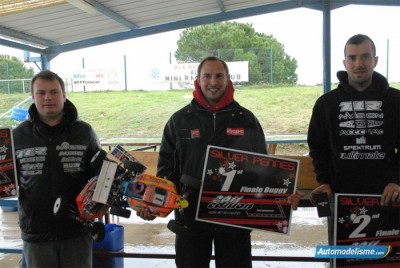 The annual Silver Pennes race in Les Pennes Mirabeau, France took place this weekend and attracted some top drivers from around Europe for the event. Qualifying in the buggy class saw the on form Jerome Aigoin take the TQ spot for Kyosho Novarossi ahead of his brother Yannick Aigoin in 2nd and Martin Bayer in 3rd, both running nVision powered Losi cars. David Ronnefalk would line up in 4th just ahead of Robert Batlle, Elliot Boots and Miguel Mathias. In the truggy class it was Yannick Aigoin that took the top spot once again in front of team mate Martin Bayer in 2nd with Edouard Hugon in 3rd and Ales Bayer in 4th. Unfortunately for finals day the rain came down hard and with only the bravest racers going on track the buggy semi finalists voted to take the qualifying results and so Jerome Aigoin took the win from Yannick Aigoin with Martin Bayer in 3rd. The truggy final was run and that was won by Martin Bayer in front of brother Ales Bayer with Julien Lattanzio taking 3rd spot.
Sunday, March 13, 2011
This weekend sees the Psycho Nitro Blast take place in Georgia and as a little side event Losi Factory driver Adam Drake busted out his rocket propelled Losi 8ight for another high jump record attempt. Check out the video above for the action and destruction.
Video: Alex Pilson
Sunday, March 13, 2011

Here we have this weeks round up of product releases and race reports from our site sponsors Xray. Our summary includes everything published by the Slovakian manufacturer on their own website in the past week, so if you didn't find the time to visit, be sure to read on. This weeks round up includes the following stories.
– XB808 Dominates Winter Europe Paradise, Canary Island
– XB808'11 Wins 2011 Portuguese Open
– T3'11 Triple Win at Finnish Nationals R2
– XB808 2011 Wins MRCC Buggy Challenge 2011, Indonesia
– T3'11 Double Win at Swiss Nationals R1
– T3 2011 & XII Win the 2011 Mid West Grand Slam
Click here to view the round-up
Sunday, March 13, 2011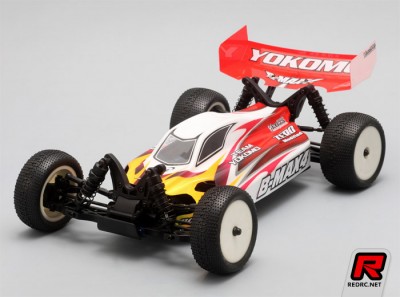 Yokomo have released details of their new B-Max4 II 1:10 4wd off road buggy kit. Available in 2 versions the standard kit only comes with the new cab forward body shell for more steering while the Factory 2011 version additionally comes supplied with a whole host of option parts as standard. It comes with a LiPo compatible main chassis, motor mount with bigger range of adjustment, c-clip universal drive shafts, carbide diff balls, lightweight diff joints and hex head screws throughout. Both are available at the end of this month.
Saturday, March 12, 2011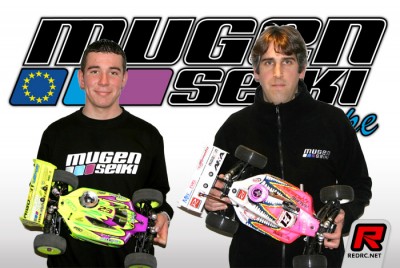 Mugen Seiki Europe have announced the addition of French drivers Maxime Noble and Nicolas Reynaud to their French and European team. Maxime is the current National B Champion in France and will receive their full support during his first year in the National Elite class. He is a young and growing talent and has already shown that he has the ability to mix it with the big boys. Nicolason the other hand is a regular A finalist in the French National Elite championship and MSE are happy he has chosen for Mugen this year. He is an experienced driver and will be a great addition to the team as its leader, so do not hesitate to approach him at the race track for any help and support you may need.
Source: MSE [mugen.eu]
Saturday, March 12, 2011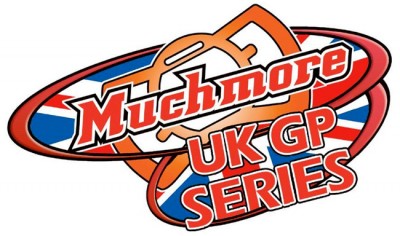 Much-More Racing UK are pleased to announce their 2011 GP race series, taking in two venues this year and with a special bonus of all entrants receiving a free BRCA approved touring car body shell. The first round of the series will be held on 29th to 31st July at Carlisle Radio Model Car Club, a superb track set in scenic surroundings with plenty of space for racers wanting to camp.  Round two will be held two weeks later on 12th to 14th August at the large and challenging Stonehaven circuit. The GP meetings have brought together racers from all around the world and delivered some of the closest racing ever seen in the UK.  Andy Moore, Chris Grainger, Elliott Harper and Olly Jefferies have all taken the GP title in previous years and points from both the 2011 rounds will determine this years Series Champion. For further information and to download an entry form, go here.
Saturday, March 12, 2011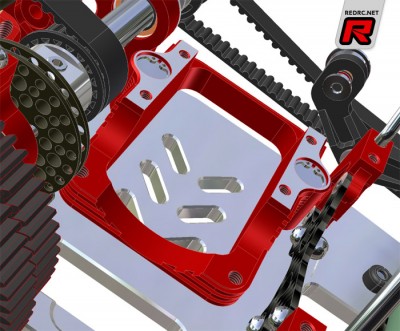 Capricorn have introduced their new anti-vibration engine mount. Many hours of work and testing have led Capricorn to develop this new anti vibration system, specifically made for the brand new Lab C801. This patented system has been designed to work with any brand of engine available on the market and each engine will need a specific engine mount with a dedicated mass damper. The purpose of this device is to dampen the alternate movement of the piston with a specific counter balance weight. The calibrated weight, that is located in a cavity between two dampening materials, reduce the vibration made by the engine which is normally transferred to the engine mount and then to the chassis. No word on a release date.
View more images of the system here
Friday, March 11, 2011