Also new from Losi is the MSC-MXPro brushless controller for 1/10 designed for Short Course trucks and any other application that allows the use of slightly larger controllers. The Fwd/Brk/Rev speedo is usable with an input voltage of 5.5 to 25.4V, has no motor limit when used with 540-size motors and sports an adjustable BEC voltage. The controller comes pre-wired with 13 Gauge wires, EC3 battery and 4mm bullet type motor plugs.
Click here to view the specifications and another picture
Thursday, August 18, 2011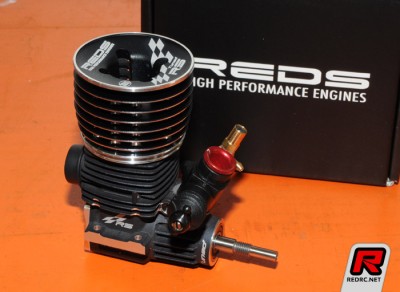 During the European 1/8 scale Buggy Championships in Germany, Marco Rossi showed us the latest Reds Racing buggy engine, the R5T. Tuned by M. Rossi, the completely new designed long stroke 5-port motor features a new exhaust port with a booster function for increased acceleration, a new port design for better fuel economy, a new CNC-machined piston and an updated 14mm balanced crankshaft.  Other features include ultra-high-quality Swiss ball bearings, a new composite slide carburetor and a cooled combustion chamber. Also new is a lightweight crankcase and cooling head with updated head design for a lower centre of gravity. The R5T will substitute the older XR line and becomes available starting from October 2011.
Thursday, August 18, 2011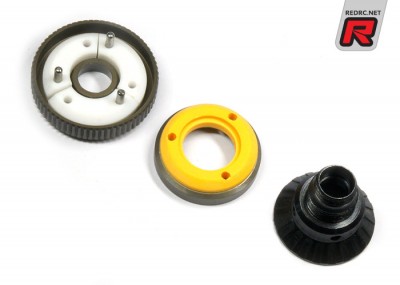 DnM release the version 2.0 of their clutch system for 1/10 scale 200mm nitro chassis. The updated clutch offers a more linear power supply, smoother engagement and comes with a hard anodised flywheel and pressure plate for enhanced durability. Available for Xray NT1 and Kyosho R-series chassis such as the V-OneRRR and R4.
Source: DnM Tech [dnm-tech.com]
Thursday, August 18, 2011
Losi have released the Ten-SCTE 4WD electric Short Course truck as Ready-to-run variant with new JS Motorsports/Discount Tire/IronClad Energy body shell design. The truck features a black anodised aluminium chassis, 4WD drive train with three sealable differentials, large oil-filled big bore shock absorbers, 12mm wheel hexes and realistic beadlock-style wheels as well as a 550-size 4-pile 2800kv motor, adjustable SC speed controller, digital high-torque steering servo and DX3E 2.4GHz Spektrum radio system.
Click here to view the features and more pictures
Thursday, August 18, 2011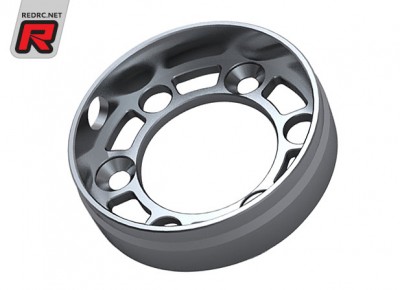 Arrowmax have released a new 2nd gear housing for the Mugen MRX5. Machined from 7075-T6 aluminium and featuring a lightweight design the part is also much stiffer.
Source: Free Max [freemaxmp.com]
Thursday, August 18, 2011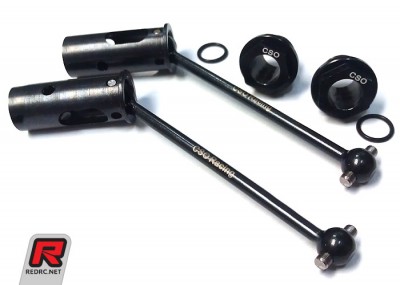 CSO release new option parts for the Xray RX8, Mugen MRX5 and general use. The front universal swing shafts for the RX8 are machined from high-grade spring steel, hard coated and allow the use of either wheel nuts of quick change systems to secure the tyres. Made for the RX8 and MRX5 are lightweight front oneway steel axles. Again the parts are hard coated to maximise durability.   Also new are high temperature silicone engine gaskets for .12 and .21 engines. The durable purple-coloured parts make for a tight fitment of the manifold and pipe to avoid performance losses caused by insufficient sealing.
Click here to view the other new parts
Thursday, August 18, 2011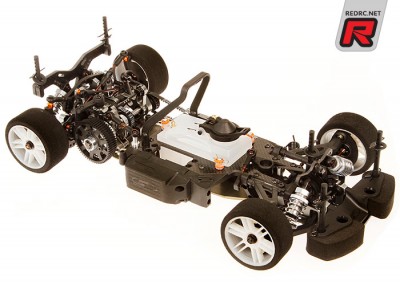 Serpent introduce the new 733 Team Edition kit featuring many updates as used by the team and factory drivers. The kit features the new SL6 gearbox with lower inertia and new gears, a new brake disc and 3-pin type adaptor. The rear-end aluminium-rubber connector set is now a standard item and also included with the Team Edition. Other additions are an updated 75cc fuel tank with the Cobra tank-cap and seal system, the Direct Link system, a rear camber bracket that allows to run the normal rear end or the DLS rear end, new rod-type side stiffener on the gearbox side, orange anodised wheel hex and spacers, the mono-type engine mount and an updated manual. The 733 TE makes its debut at this week's 1/10 scale 200mm Euros in Germany and will also be the team's choice at the US Nationals later this year.
Click here to view more pictures
Thursday, August 18, 2011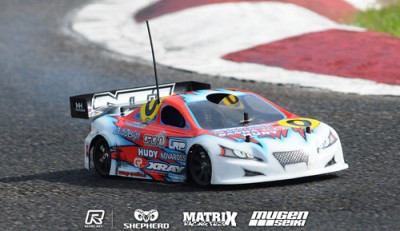 Continuing his free practice pace Dirk Wischnewski has topped the first round of controlled practice this morning at the 200mm European Championships in Ettlingen, Germany.  The Xray driver set the pace over 7-minutes from Mugen's Robert Pietsch with Italian teenager Biagio Spataro 3rd.
View our event coverage here.
Thursday, August 18, 2011