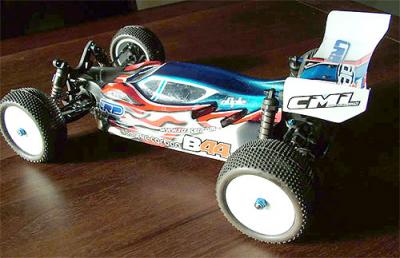 Former European Champion Chris Doughty has the first pictures of the Atomic-Carbon B44 optional body that is used with the Atomic-Carbon B44 optional Carbon Fibre Tub Chassis. The shell is still in its prototype phase so final details need to confirmed but the front and rear towers have been shaped to allow airflow over the body so as not get blocked by the tower. The body is lower than that for the S4 yet there is plenty of room for full size servos, receivers and TC style fan mounted speed controllers.
Check out more pictures here.
Source: Doughty UK [doughtyuk.net]
Monday, February 11, 2008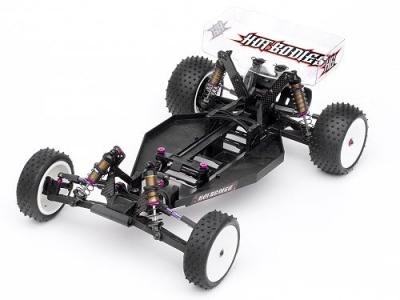 We already brought you some information, as well lots of close up photos of the new Cyclone D2 from Hot Bodies during the Toy Fair last week, but now HPI have published complete information about the car. In development for over a year it has been designed with strength, tuning, maintenance and compatibility in mind. The most unique thing you'll notice is the aluminium main chassis, machined from 7075-series alloy, serves as the backbone of the Cyclone D2 and also as a solid mounting point for all the critical components of the buggy. The battery tray can fit standard 6 or 7 cell sub-C batteries or any hard case Li-Po pack designed for RC cars, held in place with large thumbscrews for a secure fit. By using stiff foam padding and offset cell trays you can easily alter the weight balance of the buggy for increased steering or more traction.
Continue reading… (more…)
Monday, February 11, 2008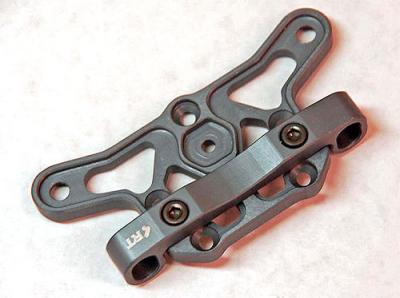 Reckward Tuning will release this new upper steering plate for use on the Associated RC8 1/8th scale buggy. Made by Vita Tuning, the grey anodised aluminium top plate increases the stiffness around the steering system and improves crash resistance. The plate also incorporates the upper wishbone mounting point, which can easily be removed by just 2 screws, in place of 6 on the standard system.
Source: Vita Tuning [vita-tuning.de]
Monday, February 11, 2008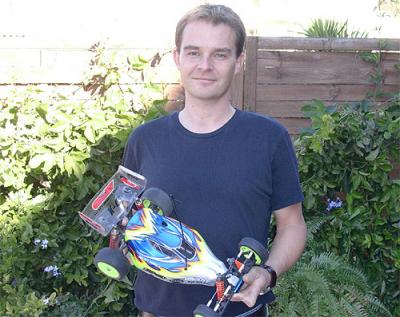 2007 French buggy Champion Alexander Valente has joined the X Factory Team. Valente drove his own X -6 to win in the first three events of the 2007 French Championship and took second in the fourth event to lock up the title. "I'm looking forward to this season so much," said Alex. "It's hard for me to believe that now I'm part of the X Team". Valente added,
I was hooked on The New Math when I first heard about the concept. If just makes so much sense, I had to get one. And what a dream to drive, right from the start. Brian Kinwald calls this car 'cheating,' and I knew why right from my first lap. Now I'm part of this exciting innovative Team. It's amazing! The X – 5 is the perfect car for our French outdoor tracks. I haven't driven 4WD for quite some time, and can't wait to start driving it. That single-belt driveline is just ballistic, and the xx-4 suspension is still the best one ever built. With a year of driving the mid-motor X – 6, I know I'll be right at home with the X – 5. Support from the other Team drivers has been fantastic. It's so much fun being with a group of guys who are so smart and share my desire to win. So far it's just been E-mails because of distance, but it's a super Family.
Valente will run the full schedule of French National Championship races, as well as the Coupe De France and Petit R/C races in 2008.
Source: X Factory [2wdrc.com]
Monday, February 11, 2008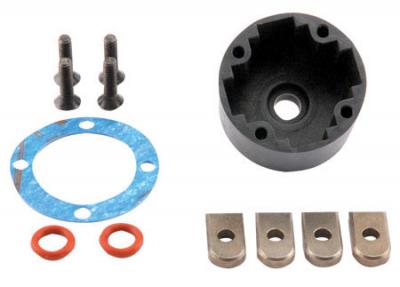 Losi have introduced this heavy duty differential case that is suitable for the Losi 8ight, 8ight-T and LST2. Through the use of new heat resitant metal inserts, the differential can now withstand serious punishment and because the differential pins are now press fit they keep from beating against, and ultimately damaging, the differential casing.
Source: Losi [losi.com]
Monday, February 11, 2008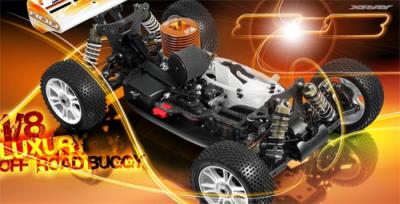 We brought you pictures and information about the new Xray XB808 from the Toy Fair but Xray also sent us press information and photos which are now putting online. The new car features balanced load distribution that creates outstanding driving dynamics and excellent track stability, making the car super-easy to drive in any racing condition no matter if you drive on flat fast track, bumpy technical track, or sky-high jumps. Loaded and equipped with premium high-tech materials and engineering throughout – all new suspension and geometry; improved oversized shocks; optimized and centralized weight balance; all-new drivetrain concept – the 808 is easy to drive and control, making it a top performer under all racing conditions.
Click here for more pictures and feature list… (more…)
Sunday, February 10, 2008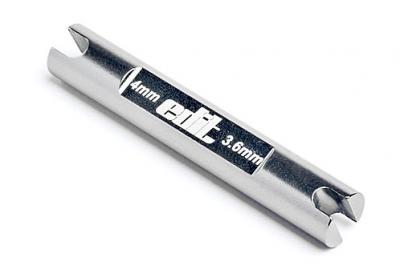 Edit have released a number of new items including this Turnbuckle Adjusting Tool, which fits any turnbuckle with a 3.6mm or 4mm center hex. This CNC machined 7075 aluminium tool lets you get on with the business of fine-tuning your car, buggy or truck without adding unsightly scratches and without wasting time using pliers or other tool unsuited for the job. New for the Cyclone D4 is a heavy duty titanium differential screw, which has already been proven to work in the Cyclone touring car, that is made from the same high grade titanium and offers a 40% reduction in rotating mass which increases acceleration and strength. And finally is the company's Ultimate tuning screw driver, which like the THS Racing tempdriver, combines a long reach tuning screw driver with a engine temperature gun.
Click more to see the other products… (more…)
Sunday, February 10, 2008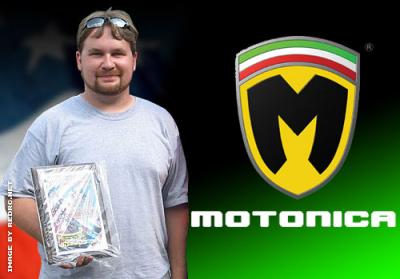 We heard this mentioned at the fair on the Motonica booth but thought the announcement was still a time away, but today we have gotten confirmation from Motonica USA that Josh Cyrul will race their car for this season. Cyrul is a former IFMAR World's TQ, and multiple national and international race winner and he brings with him many years of racing knowledge and engineering experience. His debut with the Motonica P8.0R 08 will be at the upcoming Winternats held in Ft. Myers, Florida and joining Josh will be sedan racing ace Ron Atomic and one of the best 1/8th on road drivers in the US, Scotty Barrera. This is the second announcement regarding Josh this week, having been confirmed as a TOP team driver on Thursday.
Source: Motonica USA [motonica-usa.com]
Saturday, February 9, 2008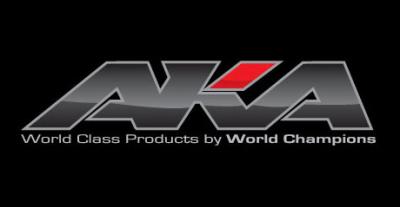 An interesting rumour that we heard floating around the fair was the impending release of a new brand selling competition based products. There was little or no further information to be found regarding what type of products they are, other than it was something to do with Kyosho and it was called AKA. We'll let you know more information when we get it. Remember you heard it here first.
Saturday, February 9, 2008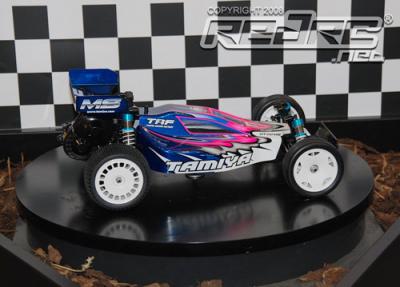 On one of the biggest stands at the fair, Tamiya and Carson, had their latest and greatest products on show. On the Tamiya side of the booth, the Japanese company was focussing on its DB01 off road chassis, which is the basis for the Durga buggy, while also very much in focus was the Limited Edition DT-02MS 2wd buggy. Given a very large section of their own was the TamTech range of mini retro 2wd buggies, but the highlight of the stand was the display of a full size Porsche 911GT3 racing car. This was present due to the release of a RC replica of the car, based on the RTR TT-01 Type E 4wd chassis and which comes with built in lights for that realistic effect.
Continue reading… (more…)
Saturday, February 9, 2008