The innaugral "European Short Course Masters" took place last weekend at the MC Welden track near Munich, Germany. A total of four classes were on the cards with "Pro2" 2WD SC and "Pro4" 4WD SC being the main classes along with 2WD "RTR" SC and 1/8th 4WD SC also featuring. The track is a mix of surfaces with the majority of the track being split between dirt or astroturf. Saturday's qualifying was dominated by Team Durango's Hupo Hönigl followed by Martin Achter (Team Durango DESC410R), Jörn Neumann DESC410R (Team Durango DESC410R), Robert Hart (Team Associated SC10 4×4) and US superstar Ryan Maifield (Team Associated SC10 4×4). Come the finals Hupo, Martin and Jörn swapped places with the better end for Jörn winning the first ever European Short Course Masters ahead of team mate Hupo and Martin. Austria's Gerd Pfeiffer claimed fourth place from Robert Hart who finished 5th at the end. The 2WD class was dominated by Hubert Hönigl followed by Jörn Neumann and Ryan Mayfield (all Team Associated SC10).
Source: Team Durango [team-durango.com] & savys.de [savys.de]
Wednesday, June 15, 2011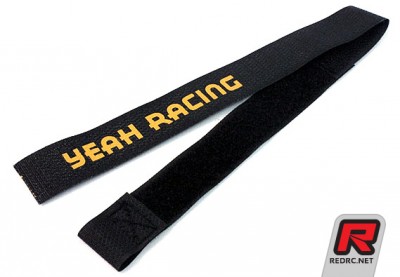 Yeah Racing release the LiPo & Sub-C battery straps for Team Associated's TC6 and 3Racing's S Zero electric on-road chassis. Specially designed to securely fit the battery to the chassis the black Velcro strap sports the yellow Yeah Racing logo for easy recognition.
Source: Yeah Racing [yeahracing.com]
Wednesday, June 15, 2011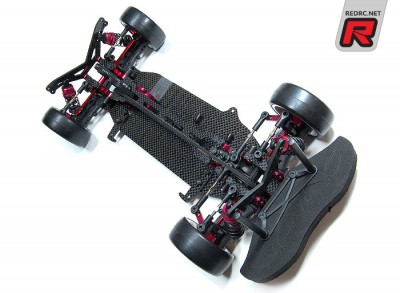 Exotek Racing have released the EXP performance ultra narrow LiPo chassis for the Top Racing Photon. Cut from 2.3mm thick quasi weave carbon fibre the part improves steering and rear traction while allowing to run lower ride heights thanks to the only 88mm wide main section. The design allows for lateral and longitudinal mounting of the steering servo giving more choices for electronics and fan mounting. The set includes adjustable slider style carbon fibre battery holds for a perfect fit of most batteries.
Click here to view more pictures
Wednesday, June 15, 2011
Jammin release more option parts for Losi's Ten SCTE 4WD Short Course truck in the form of carbon fibre mud guards and aluminium wheel hex hubs. The rear mud guards are cut from carbon fibre and designed to protect the rear drives and shock absorbers from rocks, debris, mud and dirt while being strong and lightweight at the same time. The CNC-machined aluminium lightweight wheel hex hubs come black anodised and laser-etched with the Jammin logo. Being of a lightweight design four of these hubs weight the same as one Losi standard hub reducing the rotating mass for a quicker spool up. Set screws securely locate the hubs on the wheel axles for hassle-free wrenching when the wheels are taken off.
Click here to view the wheel hex hubs
Wednesday, June 15, 2011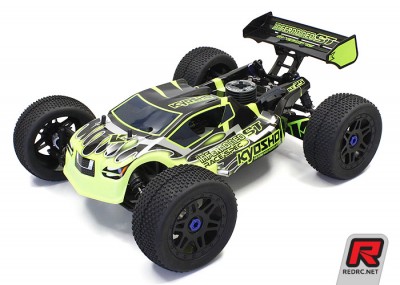 Available from August 2011 is Kyosho's new Inferno ST Neo 1/8 scale RTR race truggy. A total of 15 newly designed components have been integrated into the Inferno Neo ST Race Spec ReadySet such as the large capacity big bore oil shocks, front & rear stabilisers, front universal joints and the special Race Spec hard chassis. Also included is the KE25 engine that is both easy to start and adjust. Included in the set is the Perfex 2.4GHz KT-201 RC system that automatically manages its own frequencies and features dual-rate function and a failsafe that throttles down in the event the radio signal is lost or interrupted.
Click here to view the features and more pictures
Wednesday, June 15, 2011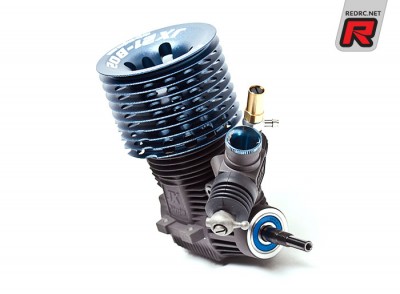 Mugen USA got in touch to tell us about the new Ninja JX21B02 .21 off-road buggy and truggy nitro racing engine. The company teamed up with O.S. Engine to create a 3-port long stroke engine with a new piston/sleeve design. The long stroke creates a stronger more linear power band from low end top fuel high end speed while the redesigned crankcase and crankshaft make for better performance and higher fuel economy. The light weight cooling head is 10 fins high but it sits 8mm lower than the previous Ninja engine for a low centre of gravity.
Click here to view the features and more pictures
Wednesday, June 15, 2011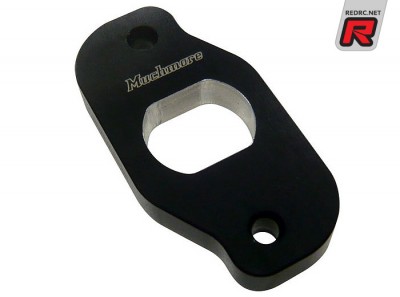 Much-More Racing release the shock cartridge tool for Kyosho ZX-5 and RB-5 1/10 scale EP buggies. Made to properly fasten the lower cartridge cap on standard and big bore shocks the tool also helps to unscrew rotted caps after a long time of use. Also available for TF-5 touring car shock absorbers.
Source: Much-More Racing [muchmoreracing.net]
Wednesday, June 15, 2011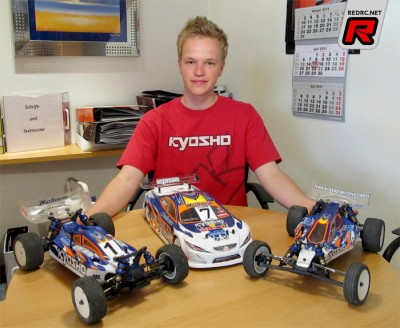 Front running German electric 1/10 scale touring car and off-road driver Christopher Krapp got in touch to tell us that he extend his deal with Japanese manufacturer Kyosho by another year. The 4th placed driver of last year's electric touring car World Championships and winner of the recent 2011 European Championships warmup race has the following to say about his deal:
I am really happy to announce that I made a one year extension with Kyosho Japan. I had a really good season and I look forward to make it even better this and next year. I will compete at the 1/10 on-road and off-road European and World Championships with the Kyosho TF6, Lazer ZX-5 FS 2 and the RB-5 SP2. I am happy to represent Kyosho's product range at the tracks and looking forward to a good time.
Tuesday, June 14, 2011