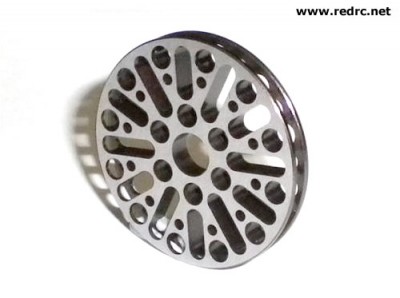 New from CSO Products in Hong Kong, is this lightweight brake disc for the Serpent 966 and 733. CNC machined from high quality steel, it has been hard coated for a longer lasting finish. The machined slots and holes help cool the disc ensuring fade free braking while also preventing the brake pads from glossing over.
Source: CSO [cso.com.hk]
Sunday, January 10, 2010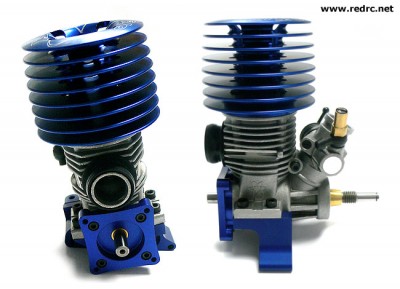 Team Epic have announced the release of this Sirio .27 engine, which is a direct fit for the Traxxas Revo and T-Maxx. This 7 port engine features an ABC piston and sleeve, high performance ball bearings and slide carburetor and uses a standard starting system. Comes supplied in two versions with a specific engine mount for each of the two chassis'.
Source: Team Epic [teamepiconline.com]
Sunday, January 10, 2010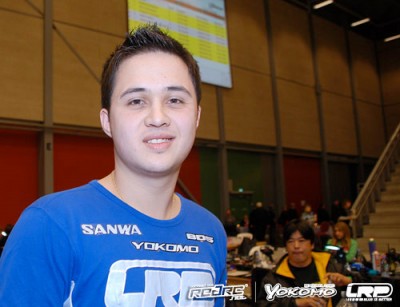 Team Yokomo's Ronald Volker has taken victory in A-Main Leg 1 here at the 10th Anniversary DHI Cup after a thrilling climax to the opening race.  Initially it looked as though Top Qualifier Christer Andersson was checking out and that the big battle of the race would be for second but in the final minute the Associated driver caught a dot flipping his TC5.
View our full event coverage here.
Sunday, January 10, 2010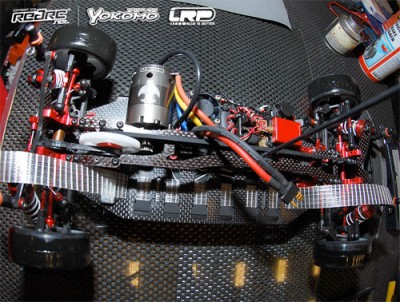 Seen for the first time in International competition, this pre-production version of the all new Kyosho Touring car is being raced at this year's DHI Cup by European Championship finalist Christopher Krapp, who tells us that the new car is much better balanced for use with LiPos. Developed by Shin Adachi, it features bigger bore shocks, which are also longer, new shock towers front and rear, new rear hubs, new stabilizer points front and rear and a higher top deck for accommodating LiPo packs, such as the latest Team Orion version installed in his car. The motor mount is also new and brings the motor 1mm closer to the centre line for better weight distribution.
Click here for more information
Sunday, January 10, 2010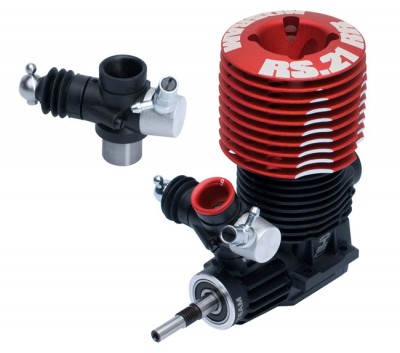 Nosram have introduced the 2010 tuned version of their RS.21 RR buggy engine. The highly improved RS.21 RR engine draws a stunning 2.71hp out of 35,400rpm and provides your buggy with maximum power and speed while maintaining its bulletproof reliability. Supplied with a new 7mm factory team carburetor that has been designed for easy tuning, it generates a smooth and efficient throttle control, resulting in an extremely low fuel consumption.
Source: Nosram [nosram.com]
Sunday, January 10, 2010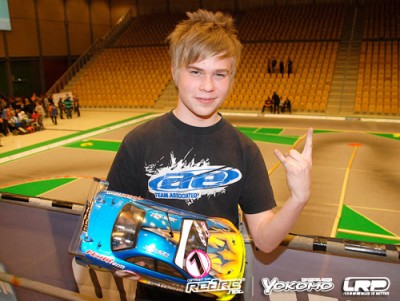 Having just signed a new contract with Team Associated last week Finnish star Christer Andersson has opened his new term with the American company in the best way possible by claiming the Top Qualifier spot at the opening international touring car race of 2010, the 10th Anniversary DHI Cup.  The 18-year-old claimed his third consecutive international pole position start when he backed up his Q2 and Q4 TQ runs with second in the final qualifier behind Ronald Volker.  His third time to qualify for the A-Main of the prestigious Danish event, Andersson said he is really pleased with the result which he sees as just reward for the hours of development work he has put into the TC5 over the past 12 months.
View our full event coverage here.
Saturday, January 9, 2010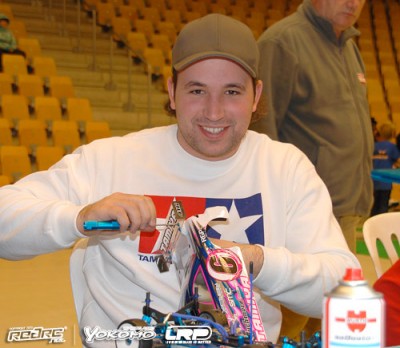 Defending DHI Cup Champion Marc Rheinard has upped the pace here in qualifying to claim the third round and move to the top of the Qualification Ranking with two heats remaining. The German was pleased with the 19 laps in 5:04.658 result but feels his Tamiya, which is fitted with 4 turn Speedpassion motor, is too easy to drive. Although very consistent he feels that his 416X can be quicker and so he plans to lower the camber link, something he hopes is the right direction to take.
View our full event coverage here.
Saturday, January 9, 2010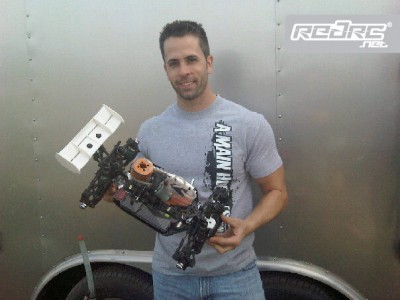 Having released images of their all new Serpent 1/8th scale buggy yesterday, today we have received the first shots of the new car in the wild. Spotted in Ft Lauderdale in Florida, the all new S811 Cobra from Serpent was being put through its paces by chief designer and former World Champion Billy Easton.
Click here for another shot of the car
Saturday, January 9, 2010