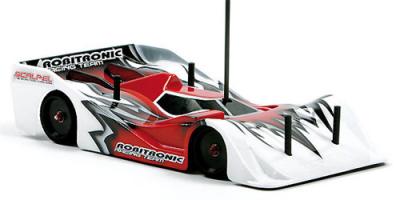 Robitronic have released 2 new items for their 1/18th scale Scalpel, one of which is the Loletta body shell that sits very low to the chassis and features a big rear spoiler for lots of downforce. This body is suitable for the 4 cell kit and also works with the new 6 cell chassis. The new 2mm carbon fibre chassis comes with 6 battery slots, which sit very low for a better centre of gravity, while due to the increased number of cells the wheelbase has been increased from 130mm to 142mm giving better performance on long straights.
Click more to see the 6-cell chassis… (more…)
Monday, December 3, 2007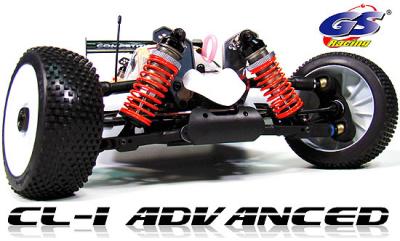 GS Racing has released the first spy image of the upgraded version of the CL-1 competition buggy, called the CL-1 Advanced. With only this picture to go on, the only thing we can see thats different so far are the big bore front shock absorbers that also feature a spring tension adjustment collar. More news about the car is expected to be released soon and we will bring it to you when we get it.
Source: GS Racing [gsracing.com.tw]
Sunday, December 2, 2007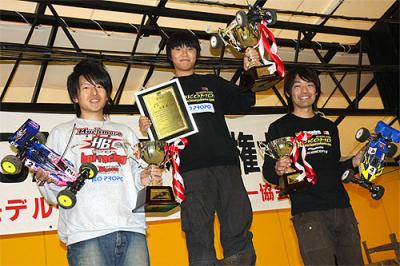 This weekend saw the indoor Yatabe Arena once more play host to the Japanese Nationals, this time for electric off road buggies, with the event open to both 2wd and 4wd classes. In 4wd it was Yokomo racer, and current 12th scale National Champion, Naoto Matsukura that took the TQ spot ahead of current 2wd World Champion Hayato Matsuzaki, racing for Hot Bodies in 2nd and Shin Adachi for Kyosho in 3rd. In 2wd qualifying it was Hiroshi Suzuki that took pole position in front of Akira Suzuki in 2nd and Hayato Matsuzaki in 3rd. The 4wd final saw complete domination for the young Matsukura who took wins in the first 2 finals, the second final seeing a winning margin of 12 seconds, to take the overall title ahead of Hayato Matsuzaki, who won the 3rd final, while Yokomo racer Hiroshi Suzuki took 3rd. In the 2wd finals Yokomo team driver Hiroshi Suzuki took 2 clear wins in the first 2 finals to secure his 2wd title, ahead of Tamiya racer Satoshi Maezumi in 2nd, who took the last final win, while Hayato Matsuzaki wrapped up a great day with 3rd overall.
Click here for the 2wd podium picture… (more…)
Sunday, December 2, 2007
Upgrade RC have added another skin design to their already extensive range with the introduction of the RC Ink style. Made in black and white, this is a very unique and stylish design and as its Upgrade RC you can also cutomise it to have your own sponsors logos where applicable. Available for the Radios, Soldering Irons, tool box, pit light, power supply, chargers and starter boxes.
Source: Upgrade RC [rcidcustom.com]
Sunday, December 2, 2007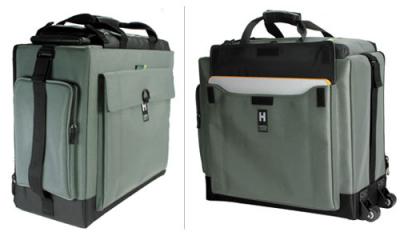 HARD have released another great looking wheeled bag, as an addition to the previously released Compact line Touring bag. Made from the highest quality materials and constructed to last, each bag has 5 drawers (boxes) designed to hold any type of R/C gear available. The larger bottom box is capable of holding your 1/10th scale car, while the remaining boxes are ideal storage spaces for batteries, motor, spare parts, etc. One side of the 1/10th bag includes a large pocket ideal for items like setup gauges and documentation, with a large pocket on the back of the bag is big enough to fit even the largest setup board.
Source: HARD [hard-racing.com]
Saturday, December 1, 2007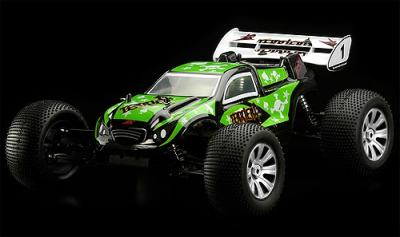 German firm, Ansmann have announced the upcoming release of a new range of 1/8th scale stadium trucks called the Terrier. No information about the vehicles is given, but we know it will be available in Kit version, Non RTR version and RTR version and will most likely be based on the company's Virus 1/8th scale buggy.
Source: Ansmann [ansmann.de]
Saturday, December 1, 2007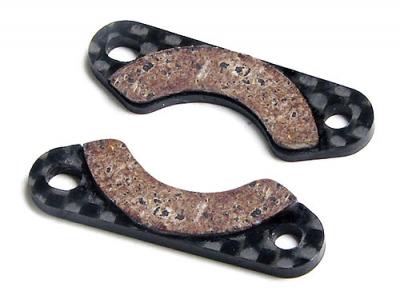 KM Racing's love affair with the Xray NT1 continues with the release of more new products this popular 200mm. First up are some new brake pads that have been mounted on 2mm thick carbon fibre plates and sport a premounted brake material that promises to deliver consistent fade free braking while also being very durable. Also new are two 2mm thick carbon fibre inserts for the cars servo saver, that offers 4 more Ackermann settings and adds strength to this area. Lastly for the NT1, for now, are a set of 4mm offset aluminum hex wheel adaptors that use a centrally located grub screw to attach itself to the wheel axle. Also new from KM, but for all on road gas cars, is a foam air filter that is suitable for .12 to .21 size engines and has a base made from super soft rubber for making it easy to mount to the carburettor.
Click more to see the other products… (more…)
Saturday, December 1, 2007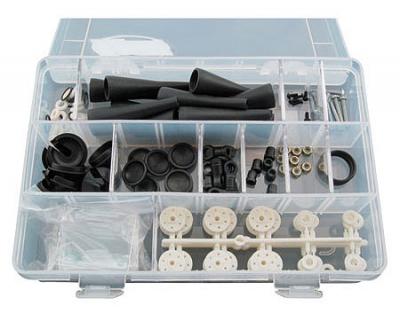 New from Team Losi, for racers of the 8ight or 8ight T, comes this shock service box containing all the parts needed to repair your shocks and keep them in perfect working order. Included in the supplied Losi branded plastic compartmented box, are new shock pistons, ball ends, diaphrams, o-rings, shaft rubbers, spring ends and various other fasteners and parts. If you take your racing serious then this set is a must.
Source: Horizon Hobby [horizonhobby.com]
Saturday, December 1, 2007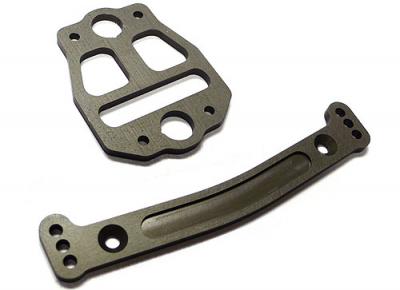 Trinity have announced the release of a number of new Billet Aluminum hop-ups or the Team Associated RC8. Included in the range a new center bulkhead top plate, steering rack and not pictured, a new front and rear shock tower. All parts have been precision machined from aircraft grade aluminum and hard anodised for more strength and super close tolerances.
Source: Xtreme RC [rc411.com]
Friday, November 30, 2007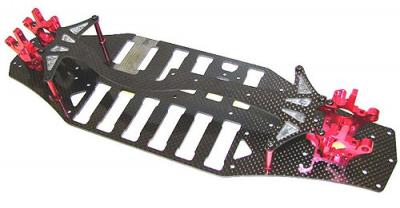 TOP have announced the release of a carpet conversion kit for the Scythe 190mm touring car which contains a 2.75mm thick carbon fibre 'carpet flex' chassis plate, with milled motor mount. Also included in the set is a 2.25mm thick carbon fibre carpet top deck, 2 sets of red alloy lower bulkhead, 2 sets of new design red alloy single sided upper bulkhead parts, 4 red alloy top deck support posts and 4 suspension pins for use with the bottom deck. Also available for the Scythe is a red anodised alloy option combo kit that includes the bulkhead cover, front and rear bulkheads, motor pod base, right side motor pod and top deck support post.
Click more to see the combo kit… (more…)
Friday, November 30, 2007